When she was studying in Paris and just before marrying John F. Kennedy, Jackie (her maiden name was Bouvier) became enthralled by French elegance. Proof: she packed it in her suitcases and imported to the US at the same occasion the Chanel suit, silk scarves, XXL sunglasses and the combo sailor top-high waist pants that made her the "First Lady" with a couture style.
It's to pay homage to this ultimate fashion icon that Gerard Darel has launched a capsule collection with a very 60's collection entirely inspired by Jackie O: all-terrain wedgies, bandana scarves for open-top outings, blousy shirt to wear with a pair or flare jeans and cashmere sweaters.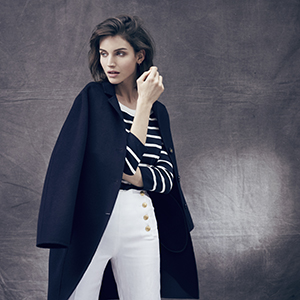 We adore: the "Jackie" t-shirt (45€) and the sailor pants (155€) to be associated with a timeless trench coat (350€).
Collection available in the Sèvres, Saint Germain-des-Près and Passy boutiques of the brand and on their internet site.
Par Suzanne Langlais @suzannefls