Because they were starting to be homesick, Lucie and Marion dropped everything to open their Provencal table at the heart of the trendy 11th arrondissement. Recipes, suppliers, products, the young ladies scouted their native region to bring back a top notch selection. Thanks, girls.
Result, a slew of small sun-filled plates, starting with the fab pissaladière on bread very close to a focaccia (€7), the secca from Entrevaux presented as a carpaccio (€12), a duo of finger-licking black and green olive tapenade (€8)  and the anchouïade (anchovy delight) of Mémé Denise, whose recipe we would gladly have taken home with us (€8). A happy hour worthy of a fanciful Pagnol, where each one picks and choose while sipping a local beer from the Var (€6.50) or an organic rosé labeled AOP Côtes de Provence (€6).
Also delicious,the authentic salade niçoise (€15) and the shoulder of lamb with an outstanding caviar of eggplant (€16), before finishing with a legendary tarte tropézienne by Alexandre Micka, their very own little madeleine, sourced directly from Saint-Trop' (€9).
The plus? The grocery shop corner to stock up on socca chips, lemon terrine and pastis calissons.
We like: the highly instagrammable decor with its beach cabin suspensions, its wall of straw hats and large tables of buddies. Bonsu point, the farniente terrace.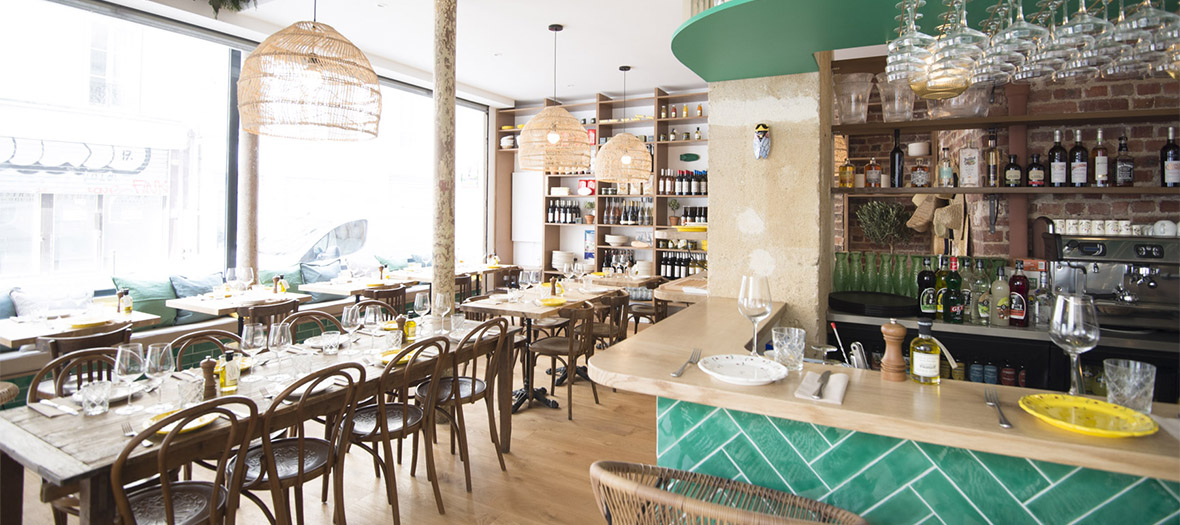 Open Tuesday to Friday from 7pm to midnight, Saturday from noon to 3pm and from 7pm to midnight .
Also check out the Baieta restaurants and Bagnard Saintonge.