A lovely sunny afternoon? The ideal pretext to indulge in this supreme small luxury in an enchanted garden for a tea time worthy of Alice in Wonderland.
Come discover a divine setting of freshness and greenery hidden behind the façade of the über chic Hotel Royal Monceau-Raffles Paris. The perfect place to savor this amazing treat… An ice cream cup signed by the great pastry guru, Pierre Hermé, composed of delicious flavors, real fruit as well as heavenly Chantilly cream.
So just choose from one of the four frosty options of signature recipes: Mogador (Passion fruit, milk chocolate, pineapple), Céleste (strawberry, passion fruit, rhubarb, Envie (vanilla, violet, black current) and our fave, Ispahan flavor with raspberry, lychee and rose, sherbets and a raspberry topping, Chantilly cream and macaroon biscuit, yummy.
We also like: cocktails and iced tea inspired by Ispahan, the cult cake of Pierre Hermé, rose, raspberry and lychee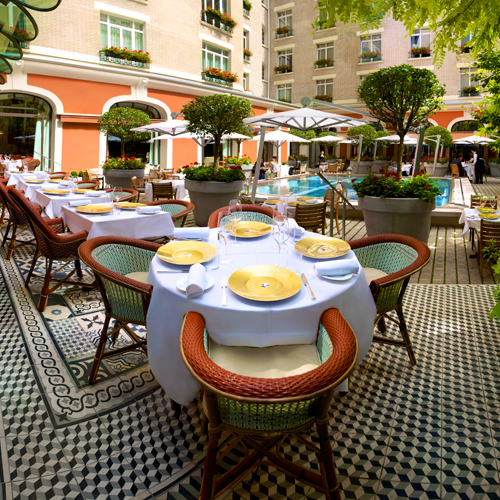 (starting at 19 €).
Les Coupes Glacées Pierre Hermé (20 €), available all day on the Terrace as well as the Bar Long, lunch and dinner at the start restaurant La Cuisine La Cuisine.
Le Royal Monceau Raffles Paris