It's that time of the year again: Fashion week is starting in Paris, and of course twigs are everywhere, having lunch in trendy restaurants with fashion editors and model agents. So where do they all go for a super light orgy ?
To the Ciné Café by Merci, a lovely dining room, decorated with old-fashioned posters of movie stars hung on the walls, an old-school film playing in a continuous loop in the back. You get to sit on comfortable leather banquettes and gossip with your friends while having a lunch that won't endanger your diet.
What do they serve? Super delicious organic eats
We love: the carpaccio of bresaola is fabulous (16 euros). The homemade juices. The yogurt and its raspberry sauce, as light as it is delicious (6 euros).
Kudos for: all the dishes displayed on a long counter. You choose with your eyes and your heart !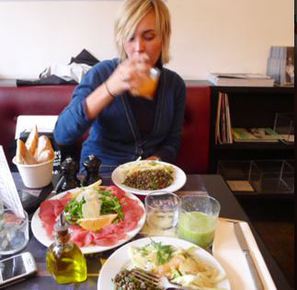 Open Monday to Saturday, 10am to 6.30pm
Picture Credit: Do it in Paris