You are always on the lookout for the latest tip, off the beaten track Sunday promenades with your lover, glam outings and anti-blues ideas when you are solo? Here is some great news, a new stylish place has just popped up for the greatest pleasure of Parisiennes.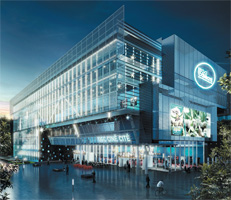 Much more than just a high-tech movie house, this is an arty-cool temple designed by super-star architect Jean-Paul Viguier. This new address flirts with the Brooklyn-style spirit and has just opened its doors near Porte d'Aubervilliers and Porte de la Villette.
We love: their salon with the Ciné Café, imagined like a cool coffee-shop. So go check it out with the gals and gossip for hours after a flick in the designer sofas while sipping a tea, nestling in the cozy armchairs with your laptop and surf on the net thanks to their free Wifi access or come  nibble a bite or have a drink before a film.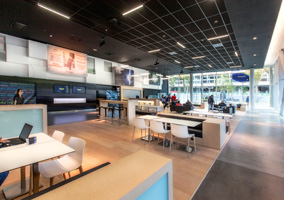 We like to watch! Finally a movie house with 14 super comfy and high tech rooms without feeling you are in a factory without soul, and can enjoy a program fore every taste. Just choose between Gravity, the latest Georges Clooney or La Vie d'Adèle. Those who are more into big budget US romantic comedies or underground films will also be satisfied.
We love: walking down the red carpet before previews as though we were at the Cannes film festival, with the actors and film crew.
The hot tip: for the opening of UGC Ciné Cité 19, you can win 20 film sessions with the person of your choice. Now just choose your film and your hour.