Put on your prettiest boots and make a beeline for the most rejoicing and gourmet events of the Christmas holiday season. Tomorrow, at 225 rue du Faubourg Saint-Honoré, you will discover special couture words imagined by Franck the poet, to be slipped into your box of chocolates.
On Thursday, it's the turn of Marie, the wonderful illustrator, who will be on deck all day long at La Maison du Chocolat, 8 boulevard de la Madeleine, to create a customized drawing with an assorted dedication. So now imagine an illustration just for you… And ask for an Eiffel Tower surrounded by plenty of gifts, a gourmet Xmas tree, a pretty Parisienne … It's your turn to play.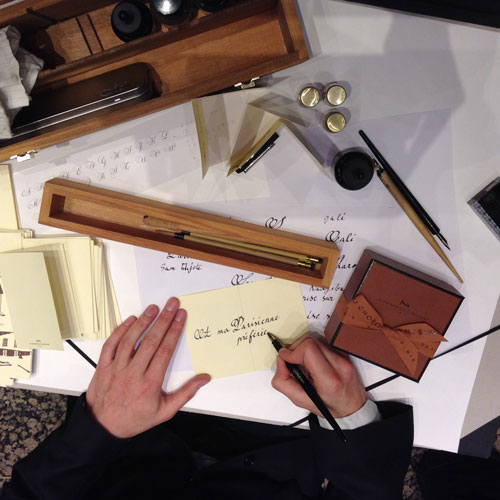 Here is the perfect occasion to customize a unique box from the best chocolate maker in Paris: soon you will savor marvelous ganaches and pralines, amazing glazed chestnuts. Here is a terrific gift idea that is truly personalized and über stylish.
The really chic rendezvous of Friday? Roland, the incredible calligrapher, is setting down his vintage writing instruments at the Maison du Chocolat, located at 52 rue François, to dedicate in a chic and romantic manner your favorite chocolates. The utmost in elegance and refinement, to be placed under a Xmas tree …
Tip top: Let yourself be tempted by a delicious free macaroon while your Creator of Dreams imagines the romantic words of your pretty personalized card.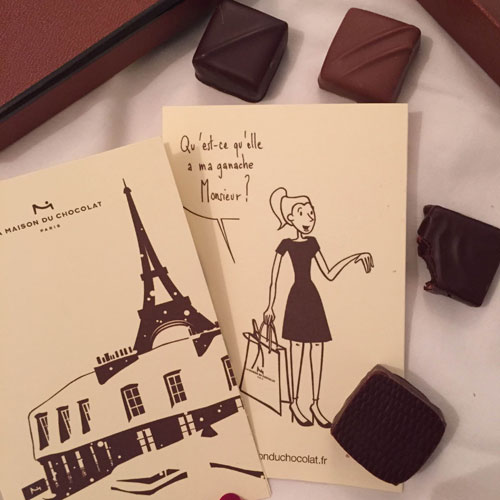 Discover here the best chocolate maker in Paris
Franck, the poet: Wednesday December 10th from 11am-3pm and from 4pm 8pm. 225 rue du Faubourg Saint-Honoré, Paris 75008
Marie, the illustrator: Thursday December 11 th from 11am-3pm and from 4pm 9pm. 8 bd de la Madeleine, Paris 75009.
Roland, the calligrapher: Friday December 12 h from 11am-3pm and 4pm 9pm. 52 rue François 1er, Paris 75008.