Next to La Trésorerie, the huge neo-hardware shop of the 10th, Café Smörgas surfs on comfort-food from the cold.
On the menu, smörgås (pronounced "Smeurgosse"), the famous couture black bread, darling snacks of the Swedes.
Seen on the counter: guacamole, eggs, coriander; those with red bean houmous, cinnamon and radish; or traditional smoked salmon, avocado, sesame seeds. And also revigorating small salads (fennel, orange, arubul, rice, gomasio) as well as warm soups (pumpkin, curcuma).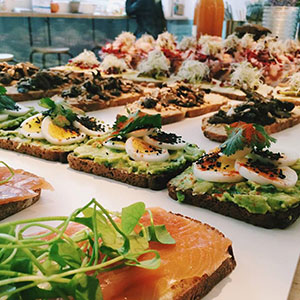 We adore: squatting a table with our laptop while sipping an organic cookie, while eating a cookie or their house granola.
Tartine 3€. Granola 5€. Cookie 3€.
Café Smörgas: Monday to Friday from 9am to 3:30pm, Saturday from 9am to 6:30pm and on Sunday from noon to 6:30pm.
La Trésorerie: Tuesday to Saturday from de 11am to 7:30pm
Also discover La Trésorerie, the chicest concept-store in Paris.