Everywhere he goes, Pharrell Williams creates the buzz. Once again, the activist musician surprises his fans with the exhibition by the Japanese artist Mr. at the Musée Guimet, where he is the curator. Baptized A Call To Action, this major project, which required 5 years of work, takes on the shape of an important immersive installation under the dome of the Parisian institution dedicated to Asian arts.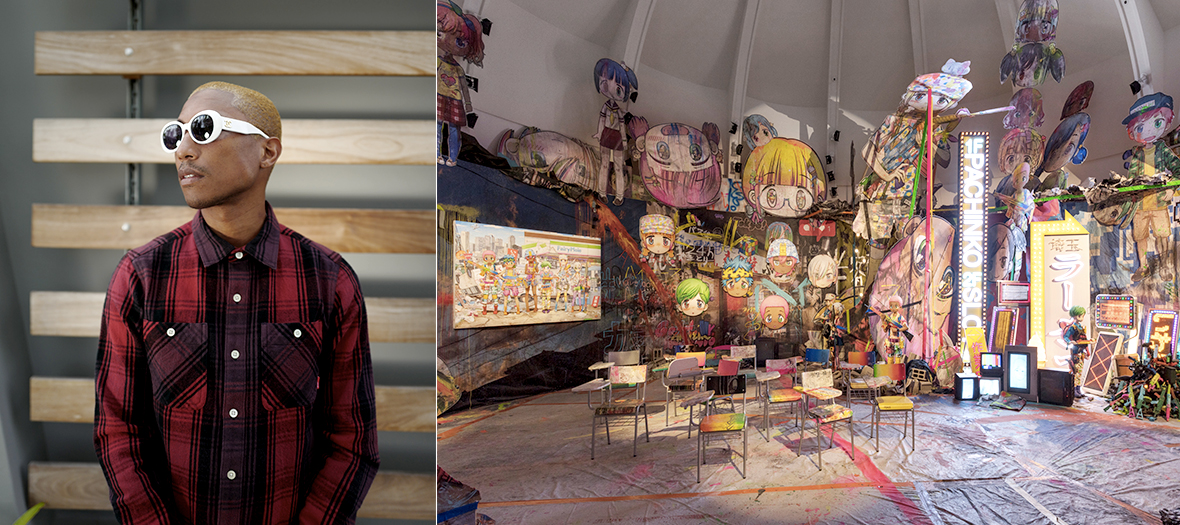 Don't expect a long course, yet the exhibition, that takes place in the circular room of the rotunda is really worth the detour.
Known for his kawaii style, the neo-pop artist Takashi Murakami spreads out, from floor to ceiling, a chaotic world where children, represented as manga characters, go up in arms. The audience is invited to freely wander in the middle of this chaos composed of paintings, sculptures, videos, luminous flagships, school tables, tagged canvases, abandoned cement blocks. An immersive visit designed to whip up emotions.
A committed collaboration
A message to onpass? This in situ work, with a highly optimistic vision, is the result of the reflexion led by Mr. and Pharrell on our society and the future expecting future generations.
Through this installation, the interpret of Happy hopes to awaken consciences: "Children make the world go round and this project is a challenge to leaders, summoned to act immediately, for a better future—an incredible new outlook on life."
It's too bad this exhibition did not have a vocation to travel, we would have liked to see the White House. Donald, if you are watching us!
Carte blanche to Mr. and Pharrell Williams, "A Call To Action", until the 23rd of September 2019. Full rate €11.50.
© 2019 Mr./Kaikai Kiki Co., Ltd. All Rights Reserved. Courtesy Perrotin
© SayWho / © 2019 Mr./Kaikai Kiki Co., Ltd. All Rights Reserved. Courtesy Perrotin
Also check out the Marilyn Monroe, Jackie Kennedy and Banksy exhibitions.