I scream, you scream, we all scream for ice cream. Finally stepping out of the house in post lockdown mood to "stroll with a goal" on a beautiful day for a gourmet treat, combined with a sun-filled moment! Here is a quick tour of the best frosty delights in the capital.
BACHIR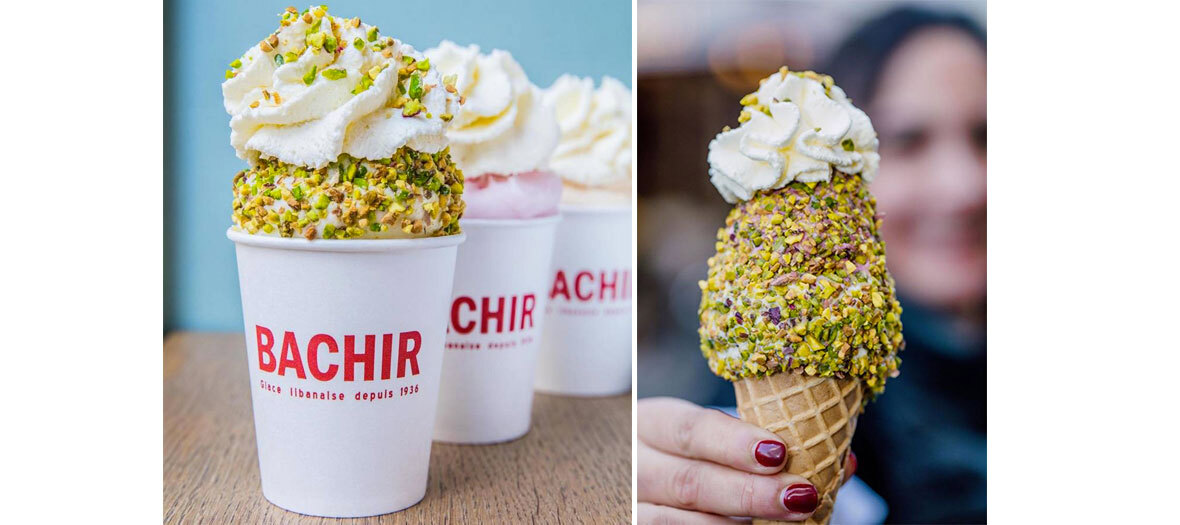 The latest Parisian chic? Lebanese ice cream. Especially if it comes from Bachir, the ice cream parlour on Rue Rambuteau, where there is naturally always a queue. Their 100% organic achta ice cream, made with milk and orange blossoms, topped with crushed pistachio, is a new must-eat. Unforgettable. (€4.50)
Bachir 58 Rue Rambuteau Paris, 3rd
FRUTTINI BY MO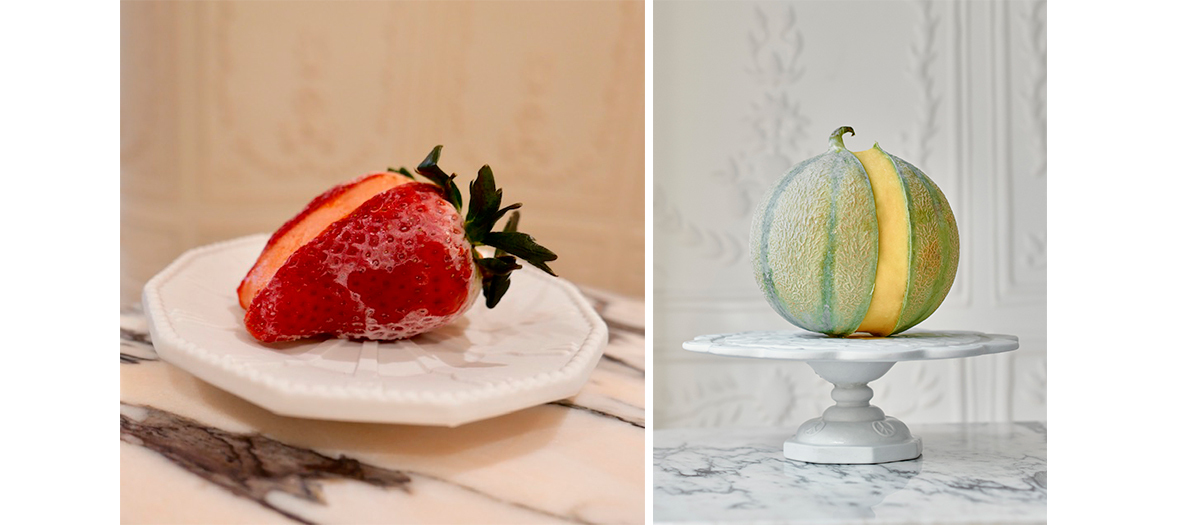 Literally obsessed with fruttini, a souvenir of their Italian holiday, Laure and Olivia have decided to revive these transalpine delights in Paris, under a very couture aura. As beautiful and delicious as a cake, as light as an ice, these life-size fruit gems convey total refinement, with a velvety sherbet in the shell of a seasonal fruit. Yum: melon (€35), apricot (€10), strawberry (€5) or nectarine (€10).
Fruttini by MO 24 Rue Saint-Placide, Paris 6th
DAVID WESMAEL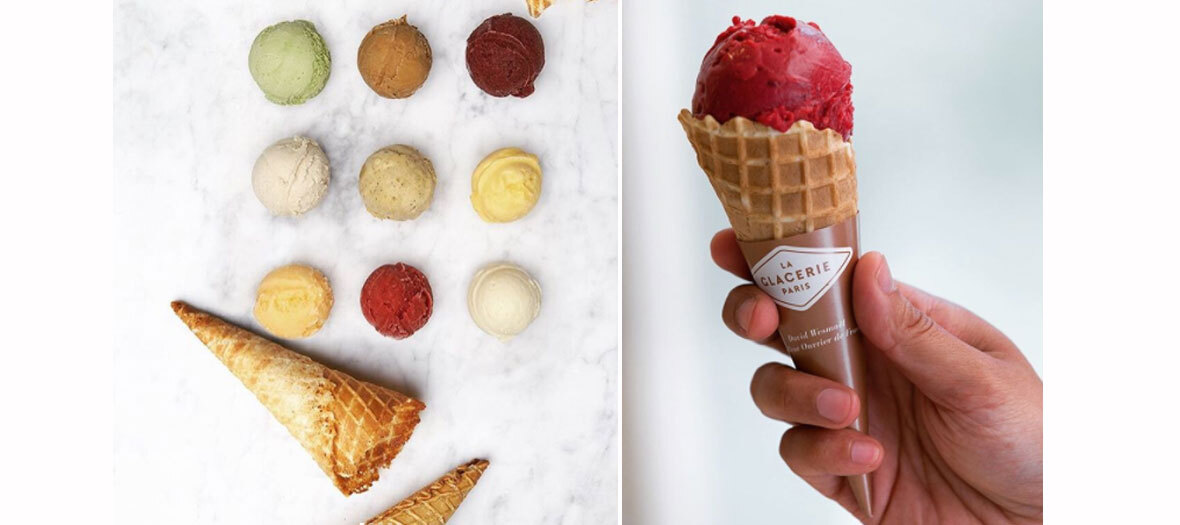 When Meilleur Ouvrier de France David Wesmael tackles the legendary frosty Twix and Mars bars of our teenage years, the result is deluxe junk food. Our favourite one? The pistachio ice pimped with black current and speculoos praline, nestled in milk chocolate (6€). Wild.
La Glacerie Paris 13 Rue du Temple, Paris 4th
BERTHILLON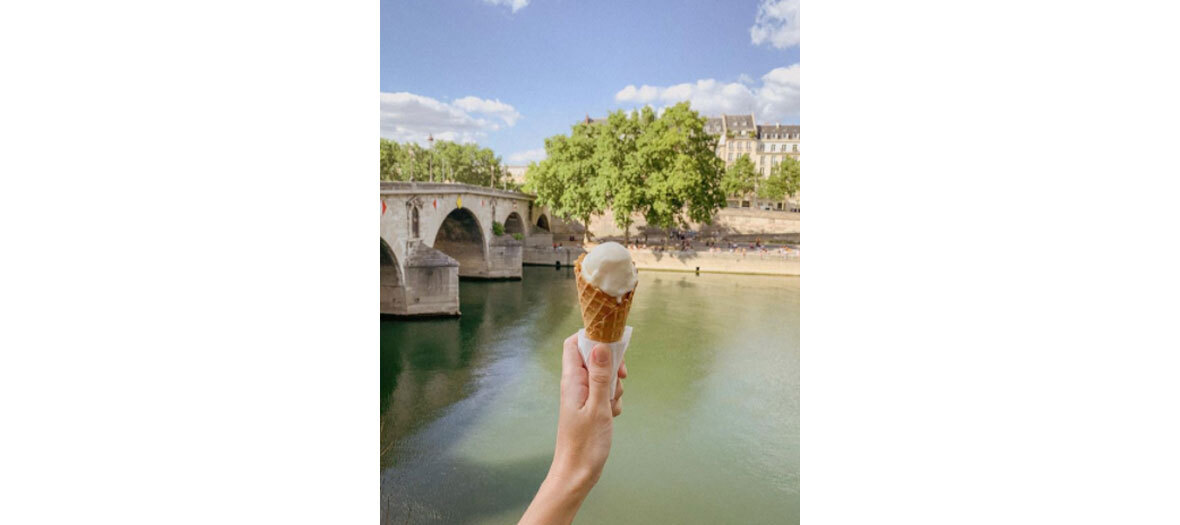 The ice cream to be tested once in a lifetime? A cone from Berthillon, the cult address of Parisiennes since 3 generations. The legendary ice cream parlour of the Ile Saint-Louis continues to hit the bull's eye with their signature vanilla or coffee, but also marvellous seasonal flavours: wood strawberries, blackberry or rhubarb. (€3 per scoop).
Berthillon 31 Rue Saint-Louis en l'Ile, Paris 4th
LA MAISON DU MOCHI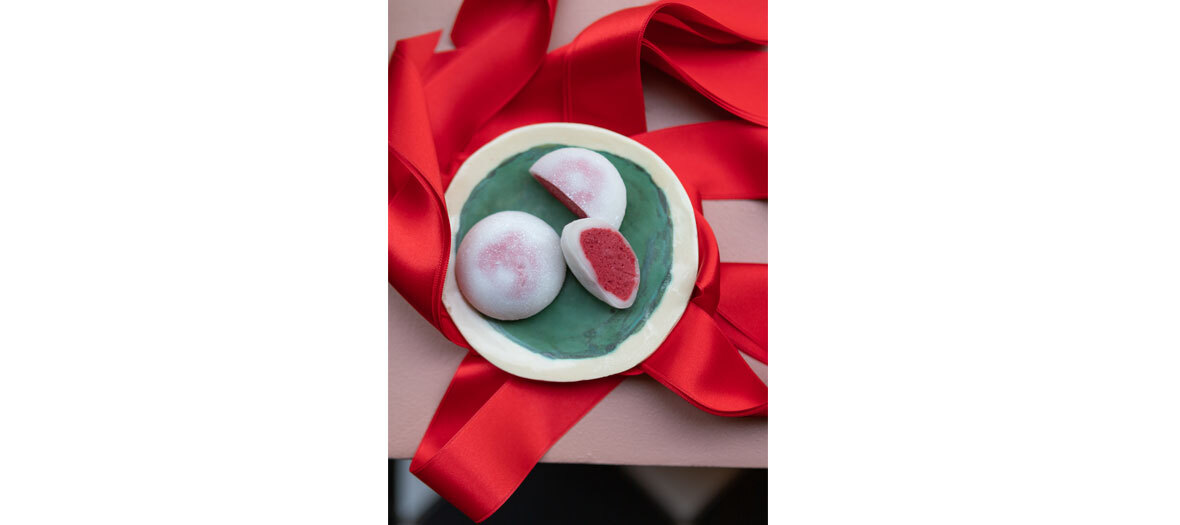 It's the must-know Japanese address for gourmets with a sweet tooth: the French temple of mochi, this incredible treat— half-way between a coconut ball and the macaroon reinterpreted by the Land of the Rising Sun. Its frosty version happens to be infinitely delicate: hazelnut or yuzu lemon. The absolute must? Red cherry mochi created in collaboration with pastry chef Ophélie Barès. Incredible!
La Maison du Mochi 39 Rue du Cherche-Midi, Paris 6th
EMKIPOP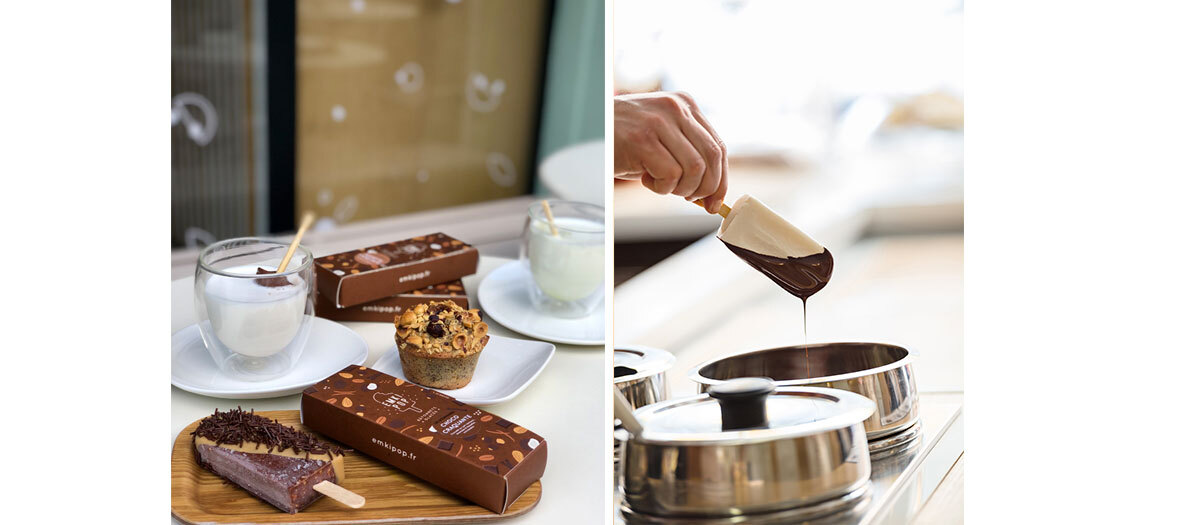 ©BenjaminBechet
The super cool label from Marseiles, EmkiPop, is a big winner. Its signature? Revisiting the old-fashioned popsicle with seasonal products + sourcing from the best local producers + made in Marseille craftsmanship in a lab near the Old Harbour. Then, it's possible to pimp your sweet stick (rhubarb, sesame, black chocolate, no lactose coconut or then an ideal marble mix of chocolate and vanilla) to be dipped in chocolate and stylish toppings (coconut, cocoa slivers…). Joy!
Café Emikipop 13 Rue Antoine Vollon Paris 12th.
Pop Up in front of Le Bon Marché, 24 rue de Sèvres, Paris 6th
MAISON CHRISTINE CHAMPAULT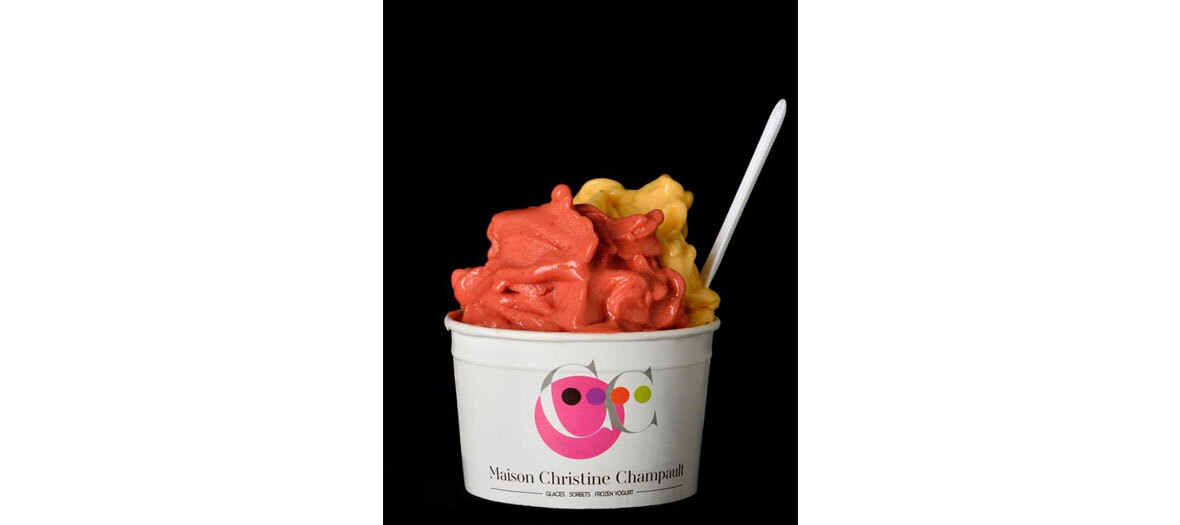 The Saint-Germain-des-Prés shop of Christine Champault shelters a hidden lab allowing it to whip up on a daily basis its ice creams and frozen yogurts with no preservatives, to be enjoyed in a small jar, featuring seasonal fragrances made with local fruit, of course. Fun fact: the dairy supplies the best restaurants and… the National Assembly!
€28 for a one-litre jar and complementary cones
Maison Christine Champault 5 Rue de Montfaucon, Paris – 6th and kiosque in the Luxembourg garden, or by delivery (order on 06 03 47 97 88) until the reopening, planned early June
À LA MÈRE DE FAMILLE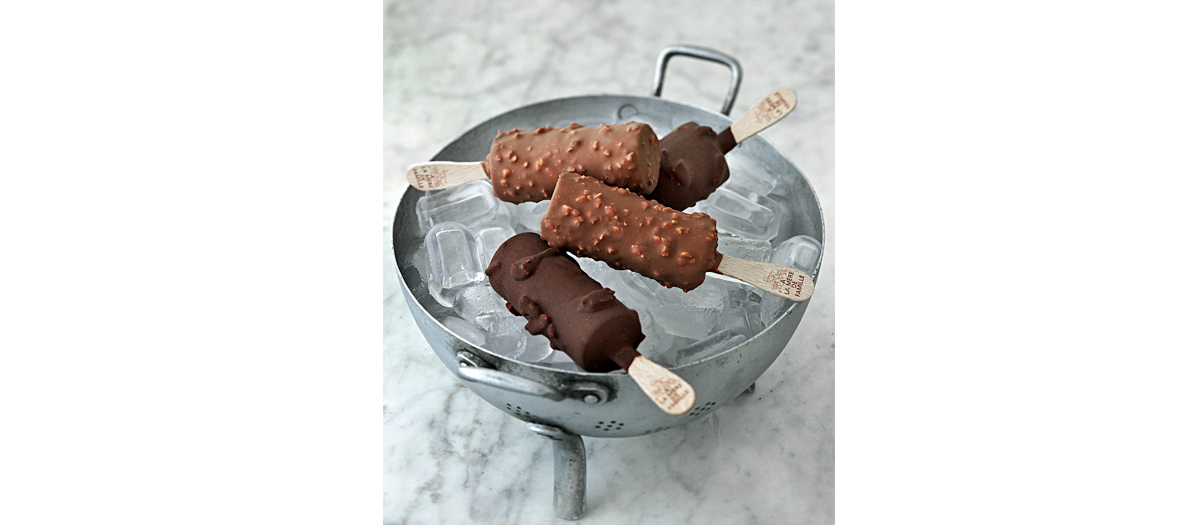 The oldest chocolatier in Paris, known for its addictive sweet treats, is right on target when they revisit chocolate popsicles (€4) while presenting ice creams with candy flavours: vanilla ice cream, caramel or chocolate topping and white sesame with nougatine slivers. Yummy! A delightful small luxury!
À la mère de famille 35 rue du Faubourg Montmartre, Paris 9th
GELATO DEL MARCHESE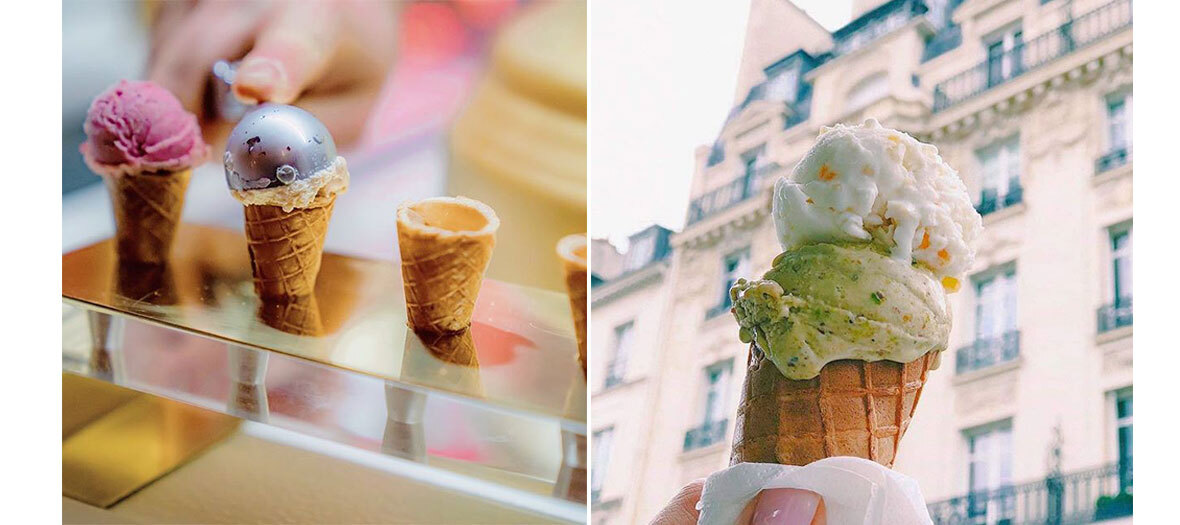 In Rome, nobody kids around when it comes to gelati: as testifies this Italian ice cream maestro, installed at Odéon. Everything is home-made on a daily basis, resulting in high end products: they claim a gastronomical ice cream. A kept promise!
Gelato del Marchese 3 Rue des Quatre Vents, Paris 6th
PIERRE MARCOLINI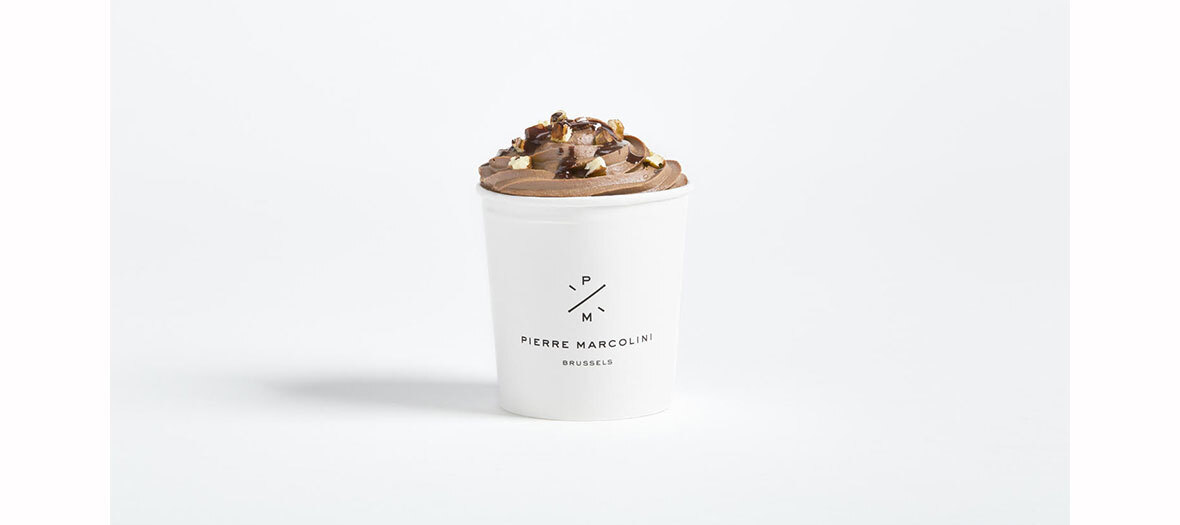 The favourite Belgian chocolatier of Parisiennes always finds a way to attract us like flies! The latest irresistible gourmet treat: its collection of "shivers" such as frosty almond milk with raspberry toping, vanilla from Madagascar and runny caramel or praline with hazelnut topping, served on the spot in little pots to be sprinkled with roasted almonds, hazelnuts or pistachio slivers. You said foodporn? (€4.90 for 125ml). In boutiques starting on the 5th of June.
Pierre Marcolini 235 Rue Saint-Honoré, Paris 1st
MARTINE LAMBERT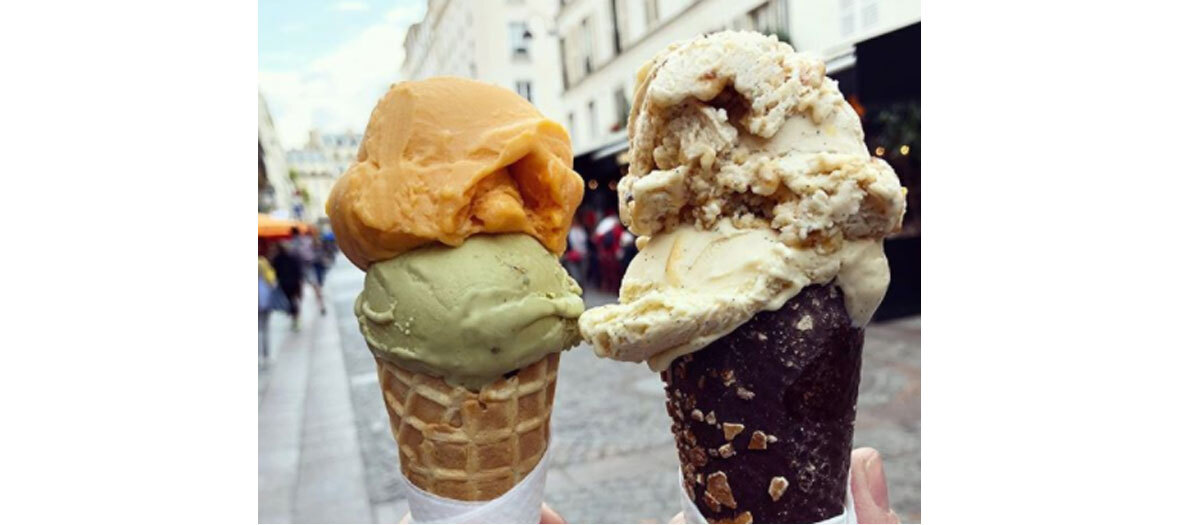 The dairy queen of Deauville and Trouville where one comes for a cone after the beach can also be found in Paris, on the busy rue Cler... Top flavours: Quiberon (salty butter caramel), Ispahan sherbet, crème brûlée, melon or pistachio. (€3.50 per scoop)
Martine Lambert, 39 Rue Cler 75007 Paris - 01.40.62.97.18