Nothing could me more cool and trendy than a sharing box photo booth to keep as many souvenirs as possible of a unique moment !
The concept? A photo booth for selfies with your buddies and the family!
The principle is simple: place yourself in front of the mini sharingbox, take the pose, select the filter of your choice—the one that will make you look even better than you already are— and print your pretty photo instantly!
The print comes right out, in one of the four formats chosen ahead of time (polaroid, landscape, portrait or strip).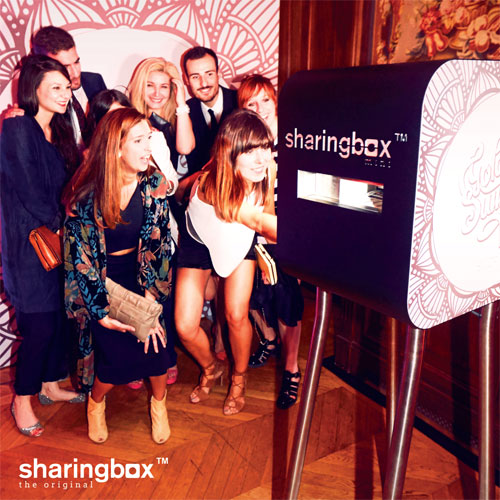 Mini, as its name indicates, it's very easy to transport and can be set up without any tools or installer, which allows you to be totally autonomous!
We adore: the "digital" side of the mini sharingbox that also allows to receive our super photos by email along with a cute comment from our hosts—and especially to stock all the photos of the event in a web gallery!
Our small tip? Go for a series of accessories: boas, large glasses, small message slates, clown nose … A furiously friendly workshop with your family and friends.
The must? The possibility of customizing your own mini sharingbox from A to Z with your wedding colors and your theme! From tactile interface to the outside decoration of the booth, including the photos themselves, let your imagination run free, in order for each aspect of the booth to look like you!
To be noted: Sharingbox is one of the furiously trendy partners of Ameliste, the list for cool newlyweds.
Rental starting at 449€.
All the information on: sharingbox.fr