We were desperately digging for a fun golden nugget in Grands Boulevards, far from the run of the mill tourist traps and soulless bistro. We hit the bull's eye with BAT (as in bar à tapas) already well known by all inside track tapas fans and raw-meat addicts. So if you liked the tartare bar on rue Tronchet that sadly closed, you will adore this address opened by the same group, Les Dîners d'Héloïse.
A streamlined and modern-style decor where the kitchen is at the centre of the space, allowing starving customers to watch chef Jun Sik Cho work his magic.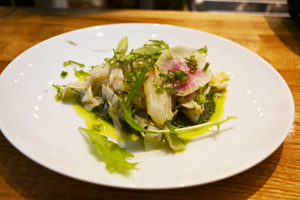 His credo? A menu with renewed Basque influences permanently renewed, composed of seasonal products of quality for a reasonable budget. In terms of tartares, everyone will be satisfied; you will just have to choose between duck, beef, sea bass, or scallops (15 € per dish).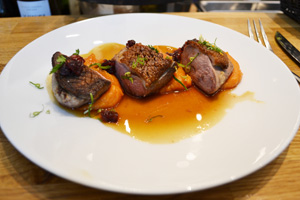 In the evening, it's tapas mania, so you can satisfy your curiosity and taste everything. So just imagine an array of small portions featuring the dishes served at lunch such as the unctuous celery soup (6€),the seafood salad (6 €), roast duck from Challans (9€), boned Spanish pork shoulder (9€) or rice pudding with milk and tangerine (6 €), and other mouth watering fantasies, as well as a wide choice of terrines (12 €).
We love: a super refined cuisine, a very pleasant presentation and savory combinations worthy of star-studded tables.
Lunch formulas: appetizer+dish or dish+dessert 24 €, appetizer +dish+dessert 29 €
Opening only for lunch on Monday. Tuesday to Friday from noon to 2.30pm and 7pm to 10pm. Closed on Sunday.
More info on the Facebook page of BAT