Paris would not be Paris without its mythical street signs apposed on the facades of Haussmanian buildings? This iconic emblem of the capital inspired a pretty collection of bracelets to Isy, a young French label of designer jewelry.
From Place de l'Etoile, to Canal Saint-Martin, as well as boulevard Saint-Germain and Place de la République, you can now wear the streets of Paris on your wrists engraved on a silver plaque.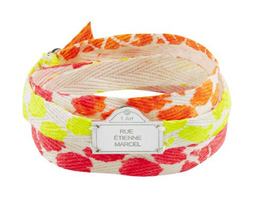 Will you be Place Vendôme, Canal Saint-Martin, rue des Abbesses or are your more into upscale avenue Montaigne ? Just choose your favorite spot and a bracelet color… Coral, candy pink, turquoise, grey, dozens of nuances that come as a simple link or in multiple layers for a lucky charm effect.
We like : a pretty piece of easy-to-wear jewelry and100% made in France.
Tops : choose the winning combination on the online boutique.
Starting at 39 €