The fashion drink of trendy Asians has finally landed in Paris! Forget Starbucks and diet coke cans: bubble tea, the must-have of Taiwanese gals, is THE new drink to sip on the Parisian cobblestones.
So what's the story? A very girly tea, customized with milk or syrup, enhanced with chewy little pearls, that you sip with an extra large straw! Yummmy is all we can say.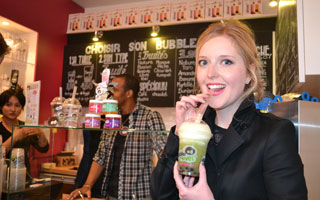 Good news, this little potion is the starlet of Bubble My tea (former Bubble Fever Café) a new tea bar at the heart of the Latin Quarter. And it just happens that the joyful team is alreadys supplying places of reference such as Cojean and Miss Kô, the new hot restaurant decorated by Starck.
The concept of this tea bar? Create your 100% customized drink. Start by choosing the simple version with an aromatic tea or the unctuous version mixed with milk. Then select your favorite flavor: vanilla, peach, exotic fruits, green lemon, taro (a tropical plant with a biscuit taste), coconut and other exotic savors. Finish with gelatinous tapioca pearls, the famouse topping, and with a delicious taste of caramel.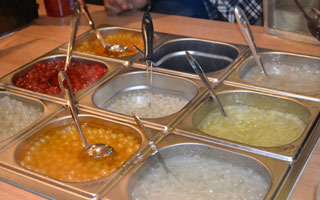 We like: the crunchy syrup pearls with fruity flavors (coco, pineapple, lychee…) that snap when you bite into them.
Mon-Sat: 11.30am - 7pm
Picture credit: Facebook page Bubble My Tea