Dorian Gray? "The" sulfurous masterpiece, signed Oscar Wilde, is back on stage at the Lucernaire, behind the Luxembourg gardens.
So here's a quick reminder of the pitch. London, end of the 19th century. Once upon a time, there was a handsome dandy named Dorian Gray. His friend Basil, madly in love with him, decides to paint his portrait. Under the influence of the machiavelic Lord Henry, Dorian realizes that time is slipping by and dreams of eternal youth.
He signs a pact with the Devil and wishes for the painting to age in his place — a wish granted in exchange for his soul. Now being able to enjoy the pleasures of the flesh to the infinite, he is finally caught up by his cursed double...
A quick historical lesson: Dorian Gray, the very autobiographical work of the decadent Oscar Wilde, caused him to go to prison for what he had written. Understand debauchery right in the middle of the Victorian era, assiduous frequentation of orgies, exacerbated homosexuality and hedonism. How shocking!
We adore: the acting of Valentin de Carbonnières, devilishy sexy as the leading character, as well as the scenography of Thomas Le Douarec, who is also terribly convincing as a very misogynous dandy.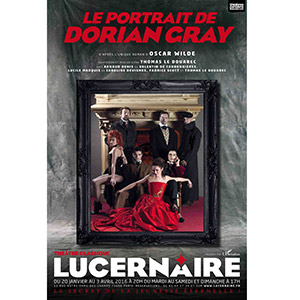 The Portrait of Dorian Gray, until the 3rd of April 2016 at Théâtre du Lucernaire. At 8pm from Tuesday to Saturday, 5pm on Sunday. At 6pm on Sunday the 20th and 27th of March and the 3rd of April.
By Clémence Renoux @clemence_rnx