And what if a TV were a work of art? Bertrand Planes, French video artist, has created a monumental installation to be discovered on the Bon Marché walkway.
38 hanging from the wall show in loop archive videos of Rede Globo, the equivalent of TF1 in Brazil. Immersion into Brazilian society through TW shows. And from the street, the screens display the local time in Rio, a nice invitation for day-dreaming!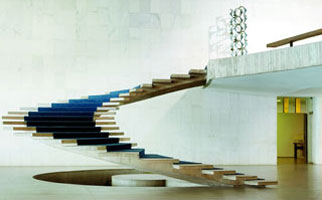 Also to be seen: at the– 1 level gallery, the ultra clean photos of Brasilia taken by Vincent Fournie. A nice homage to Oscar Niemeyer, the architect, who imagined the urban project of the capital, known also for having designed the headquarters of the French Communist Party.