Two twigs are chatting in front of an avocado toast, a burger and a green juice. It feels like being in a made in Los Angeles cantina. Except that you are in Paris, right near the rue Clerc.
Here is the scoop on Marlon. In the very Parisian family of Bonton and Marcelle, we now have the Californian cousin: a super chic rendezvous in the 7th, teeming with the healthy & comfort food spirit of Los Angeles, where the stylish  younger set hangs out...
And with reason : the coffee-shop is filled with pretty creatures craving to taste these Pacific delights. A la carte : all the food symbols of the Californian Way of Life : tuna poke (€13) salmon & cream bagel (€13) fab tacos (€15) stuffed with shrimp tempura, veggie grain bowl (€15), the must-have burger (€16) the famous "Grilled Grapefruit", or dulce de leche sundae. To be washed down with a choice of matcha latte and pink lemonade or if you really want to live it up, a Moscow Mule (€10) in the evening.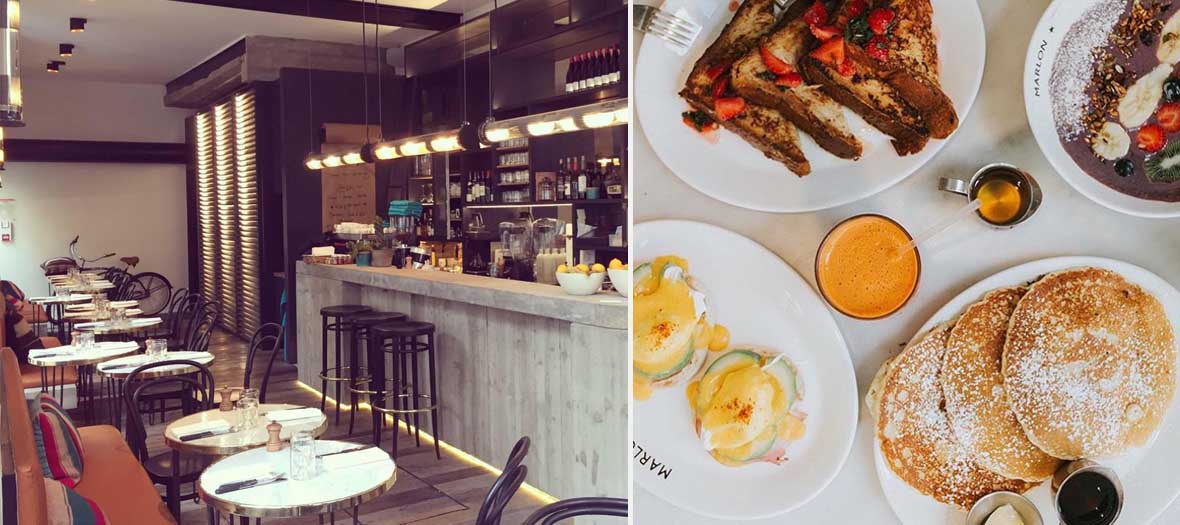 Special kudos for the great Sunday brunch canon. Each table has a list and you just tick the boxes for your order amongst the 30 mouth-watering propositions: Avocado Benedict (€15), pancakes (12€), acai bowl (€11), burrito (€14), chocolate churros (€7) or cheesecake (€8)
To be noted, the real West coast breakfast served every morning.
Open every day from 10am to 11pm and on Sunday from 10am to 7pm.
Also discover the XXL coffee-shop of Wild and the Moon on place du Marché Saint-Honoré.