The big come-back of the falafel is announced with this little nugget (no pun intended) opened by two very stylish girlfriends of Armenian origin and well decided to give a glam touch to their grandmothers' traditional meatballs in a lovely girly cantina.
In other words: if you were fans of the fab As du Fallafel sandwiches we already spoke about on DO IT, you are going to adore this veggie ball that plays the glamour card when it comes to light and healthy eats...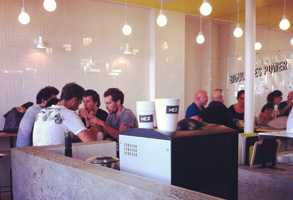 The idea? Make your own mezzes. So just make your choice: a veggie ball for falafel addicts or bombastic beef keftes to dip in amazing sauces: tarama obsession, humus fever or their fabulous eggplant caviar.
Our passion? the Middle East formula at 13€ with falafel + taboulé + houmous at 13€.
We like: its open in the evening, a rare occurrence for street-food spots.
Open every day except Sunday.