What better perspective than a healthy breakfast while loading up on energy in a cantina filled with vitamins…
The concept? Enjoy an amazing breakfast wearing Light-therapy glasses to recharge the melatonin in your body during 20 minutes (count 2€). This will really boost your immune defense and reset your biological clock. (8,90 breakfast + Light-therapy  included)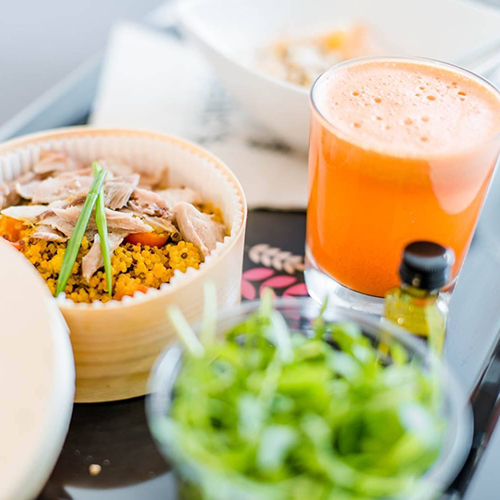 On the program of delights: warm drink very couture freshly squeezed  juice+ tartines + muesli, to be customized with a wide array of cereals and different milks (cow milk, rice or soya milk, farmer cheese) and many yummy toppings (dried fruit, chocolate chips).
We also like: the lunch formula + Light-therapy  at12,90€. A "cocotte party" (meat/fish/veggie) with cereals (quinoa, spelt, rice, lentils), without forgetting pastries for dessert or tea time (cheesecake, gluten free hemp cake…).
The must : for 3€ extra, nestled in a shiatsu massage armchair…who is in a good mood?
Flash info,  A Yello clone  is coming to Beaugrenelle. To be followed !
Breakfast : fresh juice+warm drink+ bowl of cereals+ tartines, 8,90. Lunch formula : dish+salad+cheese/dessert+ café/ fresh juice, 12,90€
Open Monday to Friday from 8 to 4pm. On Saturday from 9am to 6pm.