Are you looking for the perfect traditional galette, a yummy brioche des rois or a gluten-free version? To celebrate Epiphany: we scouted all of Paris in order to come up with the galette of your dreams. Just make your pick.
In the "tradtional" category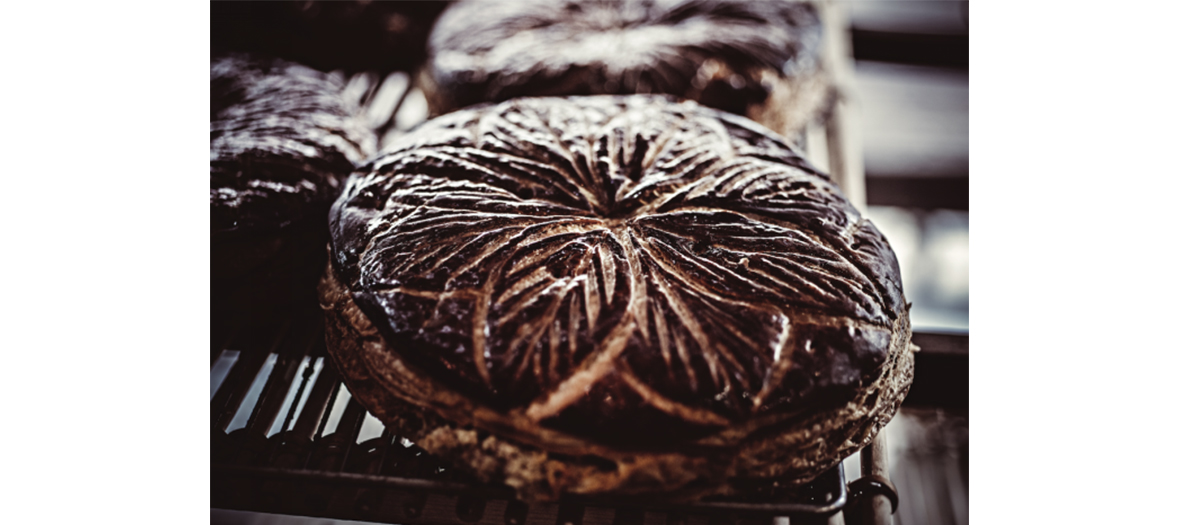 © Du pain et des idées
- Like each year, the most la plus instagramed vintage bakery of Paris, aka Du pain et des idées pulls out of its oven a deliciously retro galette. Tops, they even have single person slices.
22€ for 4 persons.
34 Rue Yves Toudic, 75010 Paris. 01 42 40 44 52. www.dupainetdesidees.com
- An impeccable flaky pastry, a more than perfect almond pastry, maestro Claire Heitzler, the new Ladurée creative pastry chef, signs this silversmith's galette.
27,20 € for 4 persons.
All the information on www.laduree.com
- La Parisienne: it's the best 2016 baguette in Paris and the official supplier of the l'Elysée. Mickaël Reydellet, the artisan from Normandy, was sure to come up with the cream of traditional galettes (or pistaccchio-chocolate) for his 6 marvelous bakeries in Paris. Mhhh!
14,90 a galette for 4 persons.
All the info on www.boulangerielaparisienne.com
- It's a well-known fact, the mini-galettes don't taste as great as larger ones: too many flakes, not enough frangipane… Good news, the best galette of Paris can also be had by the slice, understand pure selfish gourmet indulging.
No need to wait for a family reunion to savor this tasty frangipane, just go pick up a slice at the chocolaterie of Jacques Genin.
28€ for 4 persons.
133 rue de Turenne, 75003 Paris. 01 45 77 29 01. www.jacquesgenin.fr
In the "no-gluten" category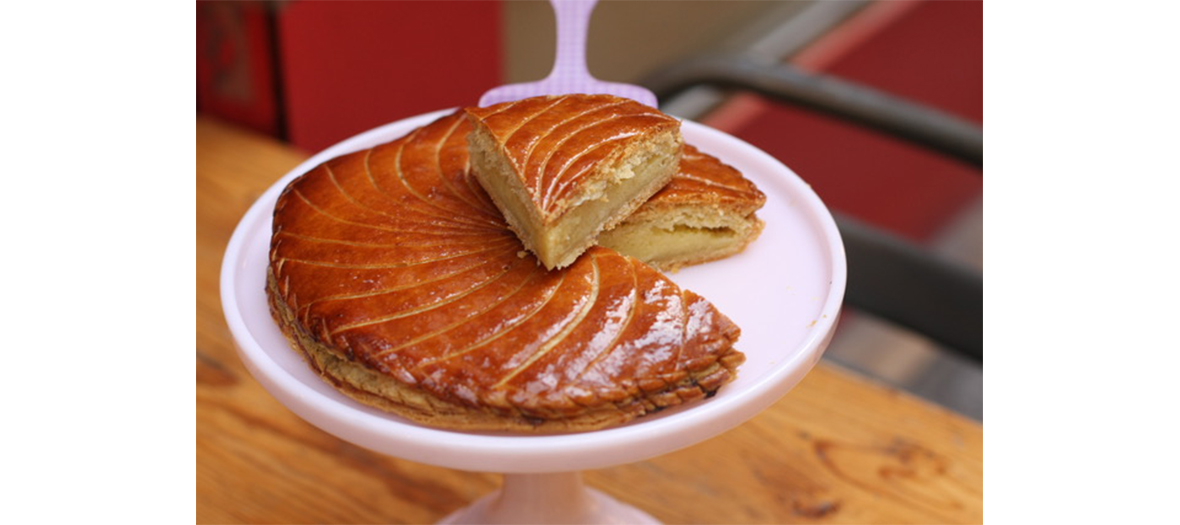 © Noglu
- It looks likes a galette, it tastes like a galette… Without the gluten. It's quite obviously the newborn of Noglu, the Parisian, pioneer of gluten-free pastries. This should make twigs melt.
26€ for 6 persons, 5€ for an individual slice.
- A super light version of the Epiphany galette, Foucade with a flaky pastry made with chestnut flower + brown rice flour and marzipan with much less lactose than a traditional galette (clarified butter) make with raw almond or orange blossom and orange marmelade.
Individual galette 6€50. 6 persons galette 51€ to be ordered.
Foucade. 17 Rue Duphot, 75001 Paris. 01 42 36 11 81. www.foucadeparis.com
- For those who systematically leave the flaky pastry scattered in their plate, the « carreau des rois » 100% marzipan (almond + egg + cream) is a must. Quite normal, it's Chambelland, the queen of no gluten pastries (supplier of the restaurant Alain Ducasse) who is in charge. Individual slice 4,80 € or for 6-8 persons 35€.
Chambelland 14 Rue Ternaux, 75011 Paris. 01 43 55 07 30. www.chambelland.com
In the "brioche" category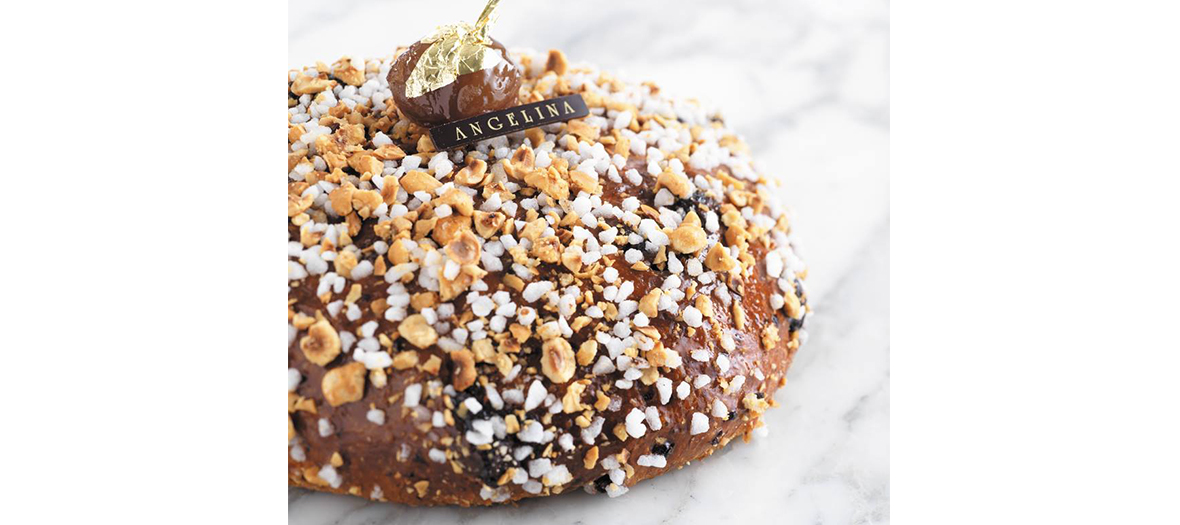 © Angelina
- Plump and sprinkled with zests of citrus fruit, glazed chestnuts and chocolate chips: the brioche made with butter and orange blossom by Angelina is sure to be a big hit.
Individual 5,20€ – 4/6 persons 25€
226 Rue de Rivoli, 01 42 60 82 00. www.angelina-paris.fr
- The chef Cyril Lignac signs a brioche des rois "like in Provence" with orange blossom, pistachio, glazed fruit, orange zests. A gift from heaven, available in each of his 4 Parisian pastries!
Gâteau des rois for 8-10 persons : 25€.
All the infos on www.lapatisseriecyrillignac.com
In the "citrus fruit" category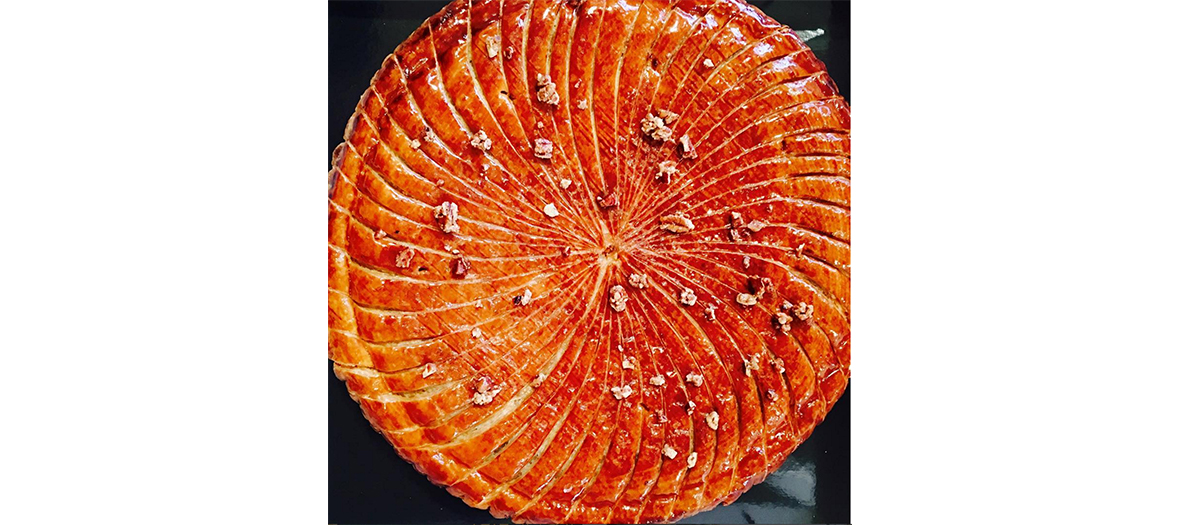 © Karamel
- Barely open, the Karamel pastry shop-tea salon de thé of Nicolas Haelewyn is already a hit. Of course, there is caramel along with marzipan doped with tangarine for the "fresh touch". And the killer detail : cubes of soft caramel to be melted quickly in the over. 100% foodporn.
21€ pour 4-6 persons. www.karamelparis.com
- When the Meilleur Ouvrier de France Boulanger Frédéric Lalos gives a twists to his fabulous galette, the result is stunning lemon and lime cream with coconut.
19,70€ for 4 persons.
22 rue des Belles Feuilles, 75016 Paris. 01 47 27 48 17. www.lequartierdupain.com
In the "nutty" category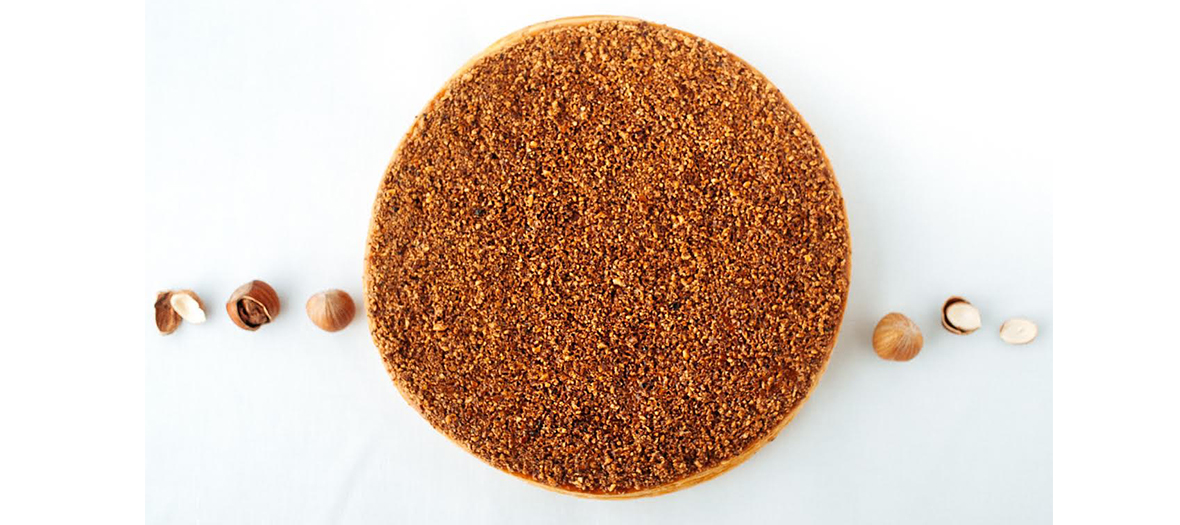 © Shangri-La
- Big crush for the galette of Michael Bartocetti, pastry chef at the Shangri-La. Its heart assets? Inverted flaky pastry with marzipan and Piedmont hazelnut, old-fashioned nutty praline. Topped with melted caramel powder. Yummy.
58 € for 6-8 persons.
10 avenue d'Iéna, 75016 Paris.
- Who says hazelnut, obviously says Cédric Grolet. The Meurice pastry chef (considered as the new Pierre Hermé) who sublimates his star ingredient in a haute couture galette: amazing flaky pastry, high competition hazelnut marzipan. Great art.
80€ for 6 persons. 16€ per share at the restaurant tea time.
228 rue de Rivoli, 75001 Paris.
- The nutty galette of Yann Couvreur (ex-Prince de Galles) features an irresistible inverted butter flaky pastry. Inside, hazelnut marzipan sprinkled with a touch of fleur de sel and a collector fox lucky charm fève.
24 € for 4-5 persons. www.yanncouvreur.com
The most "wahou"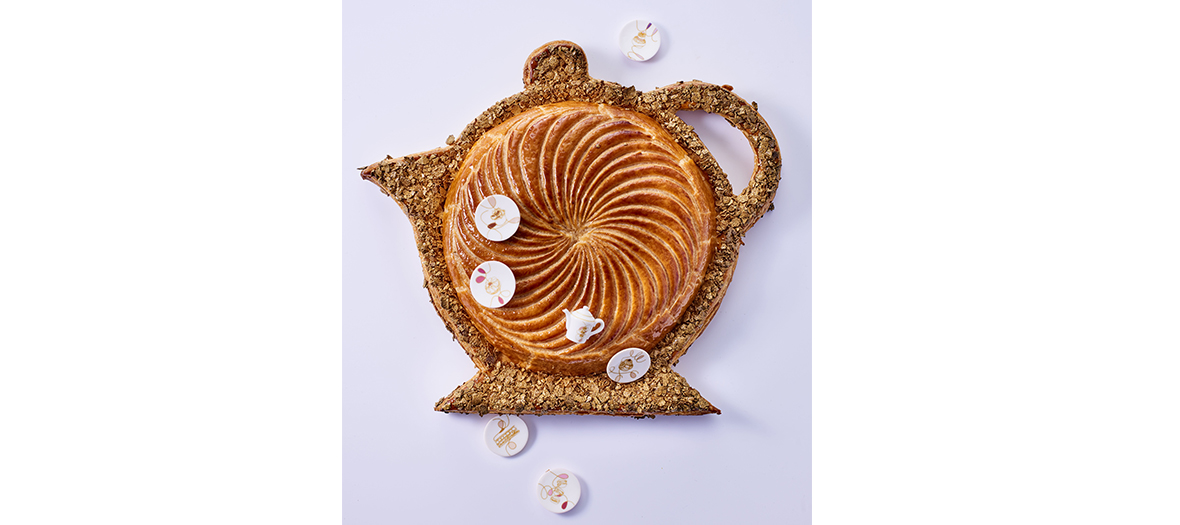 © Lenôtre
- It would have found its place on the table of Alice in Wonderland. With its tea pot silhouette and its inimitable recipe inspired by a British cake, the galette "with a twist" of Lenôtre plays the outsiders. We adore this soft biscuit with almonds and hazelnuts enhanced by a raspberry topping confit and a layer of Bourbon crème from Madagascar, all wrapped in pure butter flaky pastry.
59 € pour 6-7 personnes. www.lenotre.com
- A galette with truffle? Somebody had to pick up the challenge ! And it was done with success by the Maison de la Truffe, who gave carte blanche to the hot pastry chef Gilles Marchal. Result a resolutely traditional base (almond powder, nut from the Piedmont) inlaid with black gold (melanosporum black truffle). The ultimate ultimate Parisian snobbism.
39 € for 4 to 6 persons. www.maison-de-la-truffe.com
- Here is a perfect mix between a galette des rois and a brioche crown, the creation of Nicolas Bacheyre, pastry chef of Un dimanche à Paris, only offers the best. Stuffed with nutty cream and tonka—everyone will love it.
34€ for 6-8 persons
- 3 in 1, is the clever idea of La Grande Epicerie. Concealing 6 individual galettes, this large crown features 3 different tastes to pick in keeping with your tastes: marzipan, gianduja nuts, apple. Careful: there is only one fève, lucky charm inside.
29,50€ for 6 persons www.lagrandeepicerie.com