The loud music , the overdressed clientele and the crazy atmosphere that pushes you to sing loudly, drink shots, wiggle your buttocks on the benches and raise your arms in the air: long live the festive restaurants! Get out your stilettos and your sequined dress !

Giulia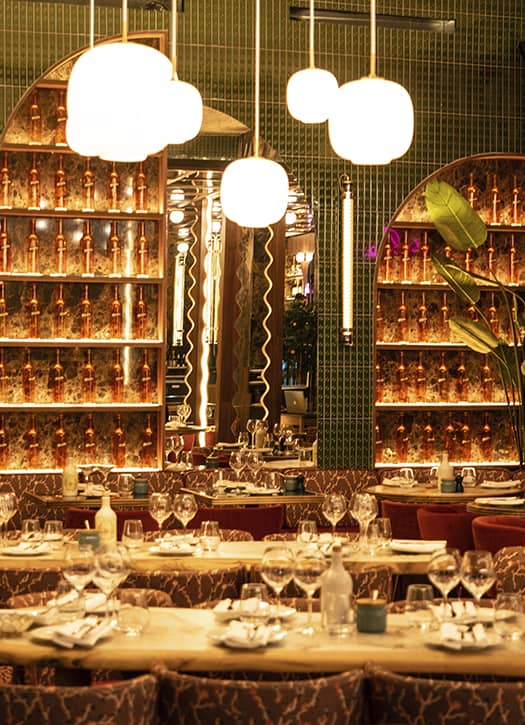 The Place: Just a stone's throw away from the Champs-Élysées, Italy brings its good taste within the walls of this lively restaurant, pulsating with live performances and DJ sets. Giulia embodies the sweetness of a chic and enveloping setting, adorned with plush carpets, bucolic wallpaper, and velvety banquettes that create a warm ambiance. This night beauty welcomes groups of friends with open arms, inviting them to celebrate while enjoying the utmost comfort in its spacious XL area, filled with alcoves and accompanied by a repertoire of Italian songs that inevitably make everyone hum along to the unmissable hits!
And on the plates? It's the Italy we adore: the one that embraces the spirit of sharing, indulgent and generous. The appetite opens with the essential antipasti: a generous 300-gram burrata accompanied by colorful tomatoes (€33), tender vitello tonnato with its tangy tuna-mayo sauce embellished with capers (€32), and tempting truffle arancini drenched in an utterly sensational mozzarella sauce (€24). A pasta dish is a must to continue the feast. While the tonnarelli al parmigiano prepared right before your eyes, presented in a large wheel of Parmesan, is visually impressive, we recommend the less ostentatious pappardelle al ragù (€38). If you still have room, indulge in the thinly sliced beef fillet with roasted potatoes (€42). The best moment arrives with the dolci: intensely cocoa-flavored tiramisu (€18), delicate hazelnut panna cotta (€16), and refreshing lemon verbena sorbet fruttini that cleanses the palate (€18)! Italy's essence is even found in the glasses with country wines boasting assertive tannins, and for cocktail enthusiasts, the iconic Negroni, Bellini, and Spritz prepared to perfection. Tutto a posto!

Open Monday to Friday from 11:30 AM to 2:30 PM and Wednesday to Sunday from 7 PM to 2 AM.

Giulia, 20 rue Quentin Bauchart, Paris 8th. +33 1 89 71 01 11.
Mondaine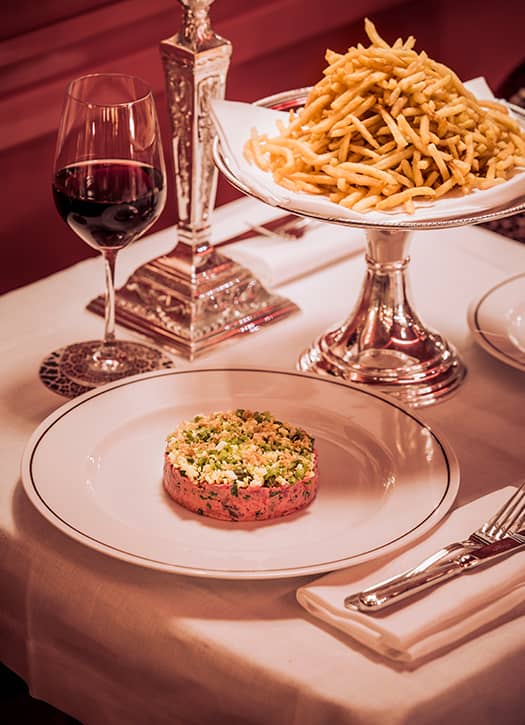 The place: the ex- Roxie , still in the hands of Paris Society , has given herself a nasty lift and is now called Mondaine . In a neo-cabaret spirit, this beautiful lady puts on her finest attire: all-over carpeting, animal prints ( leopard at the head of the pack), sexy mirrors and sulphurous four-poster beds . The game is played on two floors and distributes bar, alcoves, library and smoking room where you can wander around freely and slam your drink in favor of encounters. And for each " party ", a team of live musicians and singers take care of the sound by playing the string of nostalgia with the top French variety and the hits from elsewhere that we all know by heart and sing. willingly !
And on the plates? Delicate foods that appeal to beautiful people and ensure lightness to fall in love with at night: green beans & Paris mushrooms (€25), lemon olive oil avocado (€16) or scallop carpaccio and caviar (€42). But also more comforting dishes often pimped with a noble ingredient: linguine with truffles (€45), pasta au gratin with lobster (€42), chicken with morels (€46) and belissima sole meunière to share with new potatoes ( €170). As for sweets: gourmet tarte tatin with whole cream and caramel (€14), chocolate/vanilla ice cream tart (€24) or cute little puffs to share while whispering sweet nothings to each other (€28).
Open Tuesday to Saturday from 8 p.m. to 2 a.m. Reservations highly recommended.
Mondaine , 23 rue de Ponthieu, Paris 8th . 01 53 75 31 00.
CHEZ GALA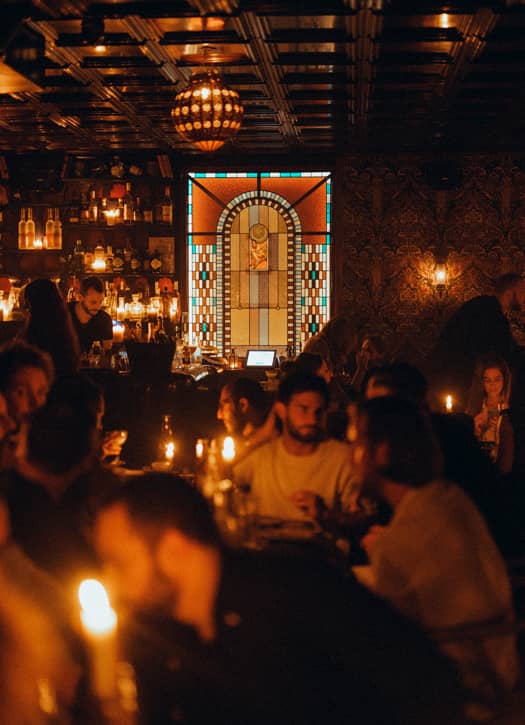 The place: just out of the ground, this new spot is already talking about it. This is the festive oriental restaurant we were waiting for in Paris! With its opulent luxurious palace-style decor featuring feather suspensions, colorful stained glass windows, velvety fabrics and a Berber tent where an XL table is hidden, Chez Gala renews the genre in elegance and transports neither one nor two, without a passport or suitcase, to the heart of Marrakech . Not to mention the live musicians who tease their oud and their violin , the oriental dancers undulating between the tables and the DJ's who swing heavy and get the room up until 2 am.
And on the plates? It is also here that the magic operates thanks to the talent of the young chef Vladimir Rapoport , who worked for Passard et Piège , author of a cuisine that beats the flavors and brings joy. To start with, the hummus in three colors sets the tone, the one with candied lemon and chilli ends downright on the finger (€20). Next, the lamb & veal kefta-style skewers with their stunning mint sauce (€24). As a main course, go for the chicken tagine , the more tender you die (€34) and its veggie version with divine frozen vegetables (€24). For those who like to share, the shoulder of lamb confit for 12 hours is suitable for 4 people (€142). And to finish, a tough choice between the Paris Casa cabbage with sesame seeds (€16) and the giant macaron with rose mousse and raspberry coulis (€28).
Open Wednesday to Saturday from 7:30 p.m. to 2 a.m. Reservations highly recommended.
At Gala , 6 rue Arsène Houssaye, Paris 8th. 06 17 93 52 38.
ORA x La Caserne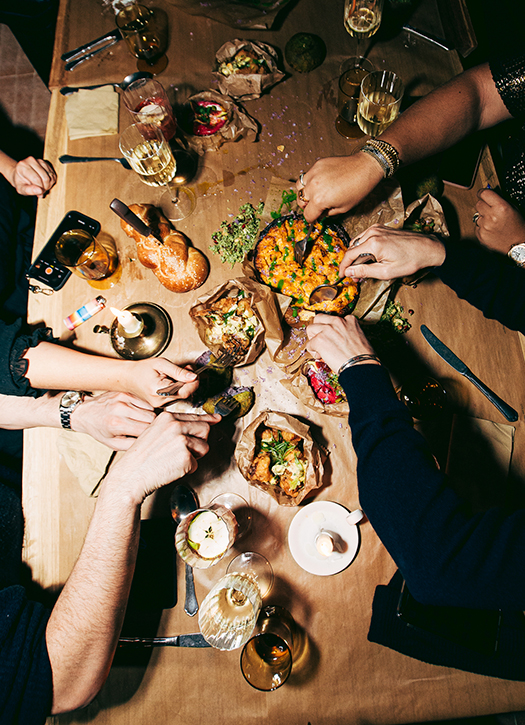 The place: fully embodied by the chef Saayann , author of the concept with Entourage Paris which oversees the place and the Caserne which hosts it, Ora makes a unique bridge between the plant and the fiesta. Wildly creative and devilishly atmospheric, this spot brings together djeun's, smart people, fashionistas and thirty-somethings who let loose between the walls of this boosted and ethical table focused on zero waste . The show is provided each evening by the chef who navigates the restaurant and places his vegetables on the table, on baking paper like one paints a canvas, then seasons them minutely in a choreography worthy of Broadway ! Downright sexy.
And on the plates? Well, no plates! In a fairytale of colors and flavors, a unique on the table menu that changes every week and balances seasonal vegetables, often " houmoussed ", drizzled with herbs and olive oil, visually beautiful and crazy in taste. A signature dish? Cauliflower from the market gardener, Normandy camembert roasted with honey and garlic in shirt. A dessert ? The chocolate and candied chestnut mousse (€49 starter, main course, dessert).
Open Monday to Saturday from 9 a.m. to 2 a.m. Reservations highly recommended.
Ora x La Caserne , 12 rue Philippe de Girard, Paris 10th . 06 75 70 59 72.

La Casbah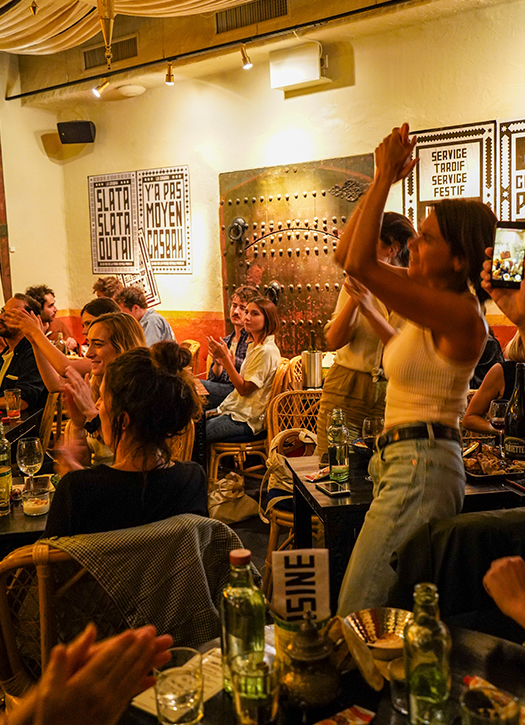 The place: a veritable stronghold of hype, this bistrosouk opened by Aurélien Delaeter (also founder of Badaboum ) is always full. It must be said that even in the kitchen, the program is all good. The media-focused chef Abdel Alaoui makes all of Paris love him with traditional Moroccan dishes revisited in tapas mode. A feast of hell in an atmosphere of madness! Note: the kitsch parties organized once a month by Benjamin Belin , the former editor-in-chief of Say Who , who promises top-notch parties.
And on the plates? On Wednesday, it's couscous party with kemias to share, royal couscous with lamb, chicken, merguez sausages and kefta (for veggies, it's always possible to arrange) and seasonal fruit salad with a delicious mint tea (€39). The other days, it 's à la carte : hummus of the moment (€9), Berber octopus (€15), confit lamb pastilla (€12), chicken with candied lemon for 3 people (€80), méchoui for 3 people (€95), cabbage (€9), tea or kawa (€2.50). Note: the great cocktails with exotic names, such as Café Clandestin, Souk Viril or Camel Kiss (from €13 to €15).
Open Wednesday to Saturday from p. from 8 p.m. Reservations highly recommended.
The Casbah Paris , 18-20 rue de la Forge Royale, Paris 11th. 01 88 33 41 78
© Julien Granel
Thoumieux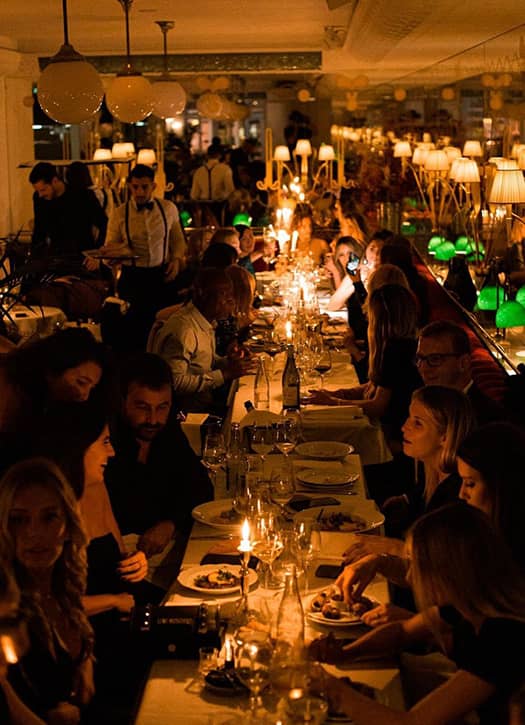 The place: we find the same socialite atmosphere and decor in red velvet fashion and Lalique moldings since the 1920s. The trendiest address on the left bank has not changed, especially since it was taken over by Thierry Costes where it-girls and successful entrepreneurs... Especially from Thursday to Saturday evening, when a pianist comes to create a very, very big atmosphere. Well-born thirty-somethings arrive around large tables to laugh, flirt, toast and sing loudly.

And on the plates? The classics of traditional cuisine that delight the bourgeoisie: gravlax salmon (€17) or buttered radish sausage (€12), truffle tarama (€14), mimosa egg (€7), Burgundy snails (€15 €), apple pudding (€21), poultry supreme and strong juice (€29), fillet of beef with pepper sauce and homemade fries (€46), chocolate mousse to share (€20). A feast !
Piano evenings from Thursday to Saturday from p. from 7 p.m. Reservations highly recommended.
Thoumieux , 79 rue Saint-Dominique, Paris 7th. 01 47 05 79 00
Le Bœuf sur le Toit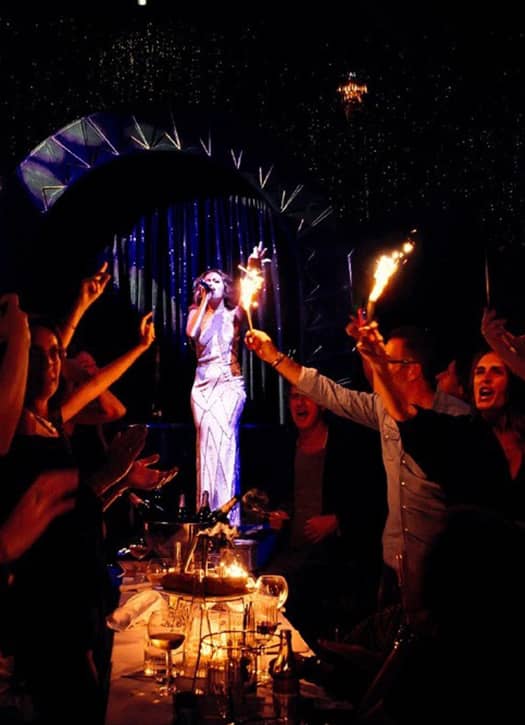 The place: we no longer need to introduce this cult address from the Roaring Twenties where Christian Dior , Brigitte Bardot and Yves Saint Laurent dined . Taken over by Patrick Bruel with Benjamin Patou (Moma Group), this lair appears more than ever as the HQ of the star system. Chic celebrities and fashion gangs jostle at the gate of the most glamorous restaurant of the moment in music-hall mode in a decor by Alexis Mabille with grand piano, aged mirror tables, crystal light fixtures, patterned carpet. Pianist Victor Le Douarec (ex-maestro of Piaf ) rocks the room with a cult transgenerational repertoire from Sardou to Céline Dion via Queen or William Sheller . Special mention on Tuesday when the music hall becomes a comedy club under the leadership of Samuel Bandy with a program that features stars ( Kev Adams, Roman Frayssinet, Mathieu Madénian ) and promising young talents.
And on the plates? A 3-course menu at €120, to choose from the most fashionable dishes of the moment: vitello tonnato, creamy burrata, green bean salad, truffle shells, macaroni with morels, stewed beef bourguignon style and matchstick potatoes, profiteroles and other Paris-Brest.
Open Monday to Saturday, 7 p.m. to 9 p.m. Reservations highly recommended.
The Beef on the roof , 34 rue du Colisée, Paris 8th
Also discover our cutting-edge addresses to order a good seafood platter and the chalet du ritz is making a comeback in place vendôme