Imagine you are sitting on the terrace of a café of a small place in a village of Provence… This is exactly what is offered on the very "beautiful people" terrace of Monsieur Bleu, redesigned by the incredible botanist David Jeannerot like a slice of Provence with a view on the Eiffel Tower and the Seine.
To make this Provencal decor picture perfect, Domaine de Peyrasol (the very chic wine that one sips from Gordes to Saint Tropez) has set up a furiously glamour bar with its best-seller rosé, white and red… (Wine glass starting at 7€. 35€ for a bottle)
It's the hot-spot of trendies, who come for a glam and festive happy hour. Ideal with the gals or to flirt to the tune of hot DJs. Girls whip out your high heels, and your it-bags, this is where it's happening this Summer.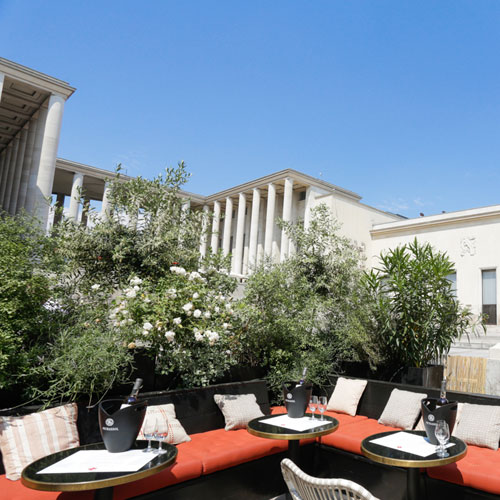 We like: the small tapas "terrace special" to nibble on all evening long: slices of courgettes with olive oil and lemon (10€), herb taboulé (8€) fab burrata (12€) pissaladière (8€) or plates of Italian charcuteries (12€) signed O divin, and ultra trendy eating spot in the 19th.
Every evening starting at 6pm until 2am.
Also discover Girafe, a terrace facing the Eiffel Tower.