What are the most stylish restaurants to enjoy a 2 in 1: dinner + trendy fiesta in the same place? It's the eternal question when you want to kick up your heels, celebrate a birthday or organize a party with your gang of buddies. The answer in 10 cool spots.
Balagan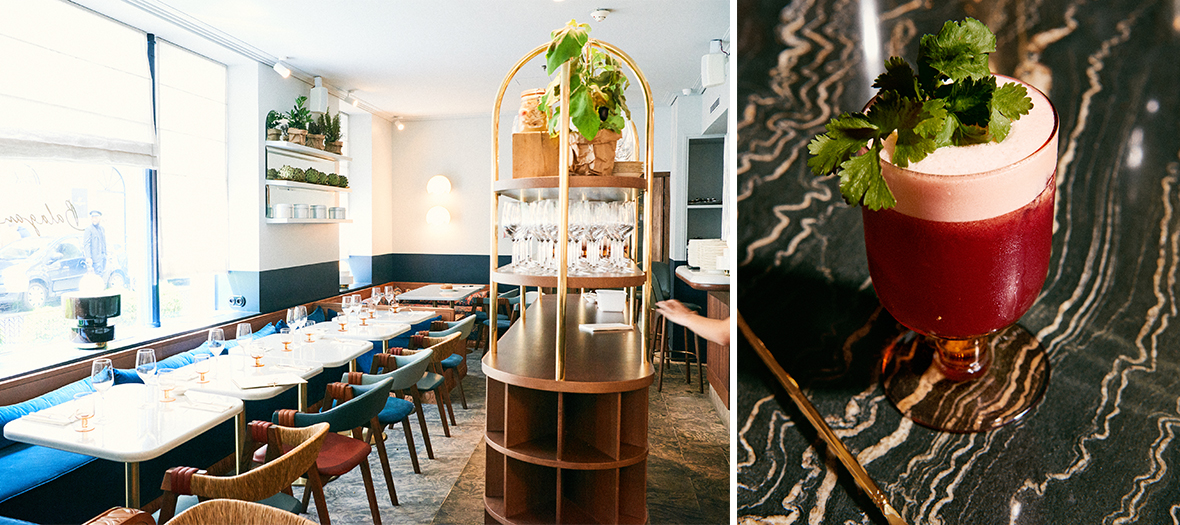 The place: the gang from Experimental Group has teamed up with Israeli chefs Assaf Granit and Uri Navon to set up this "Joyful Bordello" (literal translation of Balagan in Hebrew) designed by Dorothée Meilichzon. Result, a hot dining room, where all the VIPS visiting Paris come to enjoy mezzes and cocktails in a buzzing ambiance—unique in Paris.
The added plus: the cocktails bar with a very "coquettish-pop" look, hidden at the entrance, and where you can show up without reservations. A perfect spot for a first date.
9 Rue d'Alger, 75001 Paris. 01 40 20 72 14
Open every day, lunch and dinner, reservations highly suggested.
Bambou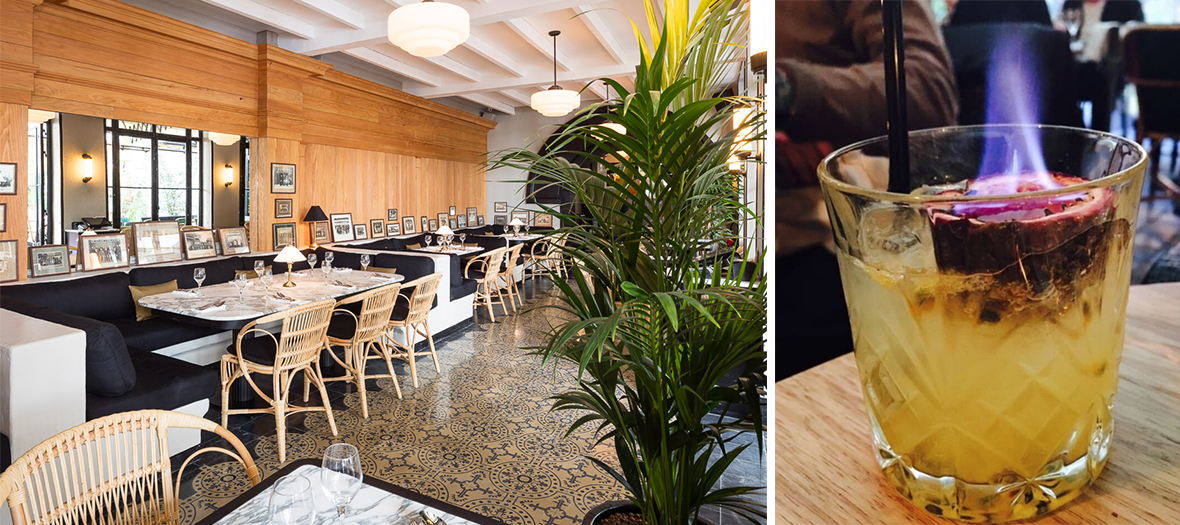 Atmosphere atmosphere. This amazing dining room, installed in an old Sentier clothing workshop of 500m2, has all the assets to organize large dinner parties. Literally morphed into an "opium den" decor, worthy of Tintin's Blue Lotus, filled with good sound, the couple of decorators, Clément and Clémence Goutal has done marvels. A la carte: no Thai, curry, dimsum and all the leading Asian classics to be washed down with zippy cocktails.
The added plus. The billiards room, the smoking room and the set of small salons, conceived like an English club, with a clandestine access. A far cry from the usual horrible smoke rooms, here you can puff away and drink cocktails by the fire to start off or finish the evening...
23 Rue des Jeûneurs, 75002 Paris. 01 40 28 98 30
Open every day lunch and dinner. Closed on Sunday. www.bambouparis.fr/
Froufrou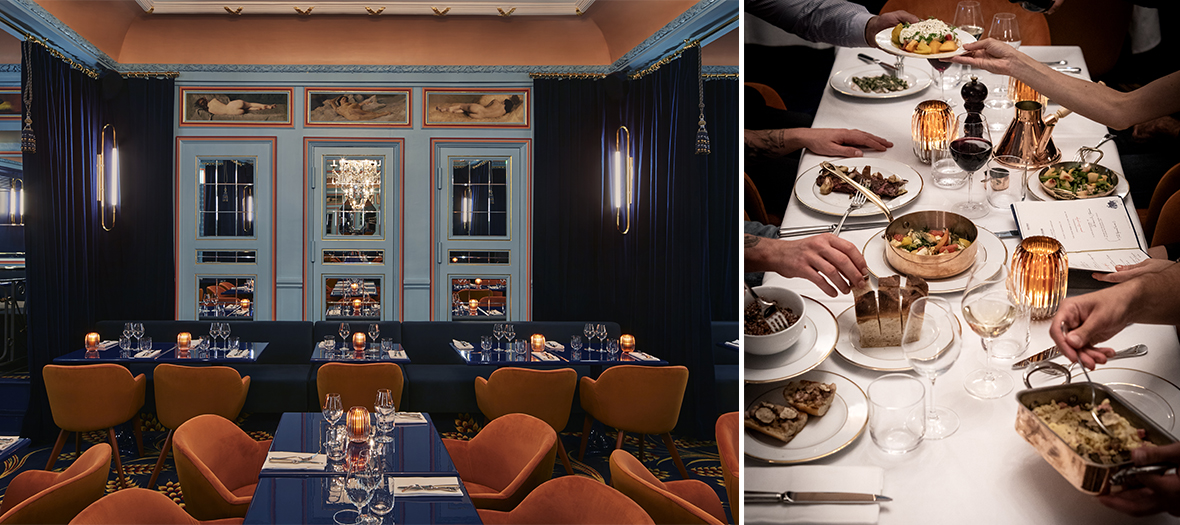 The place: the new table of the Théâtre Edouard VII has gone all out. Couturier Alexis Mabille, in charge of the decor, superstar chef Juan Arbelaez in the kitchen and the team of Moma Group to ensure the ambiance. An explosive cocktail between chic brasserie and cabaret, where you can share a glazed knuckle of veal.
The added plus: burlesque strippers, musicians and artists alternate in the lower level cancan bar.
10 place Édouard VII, 75009 Paris. 01 47 42 92 55 Open every day www.froufrou-paris.com/
Verde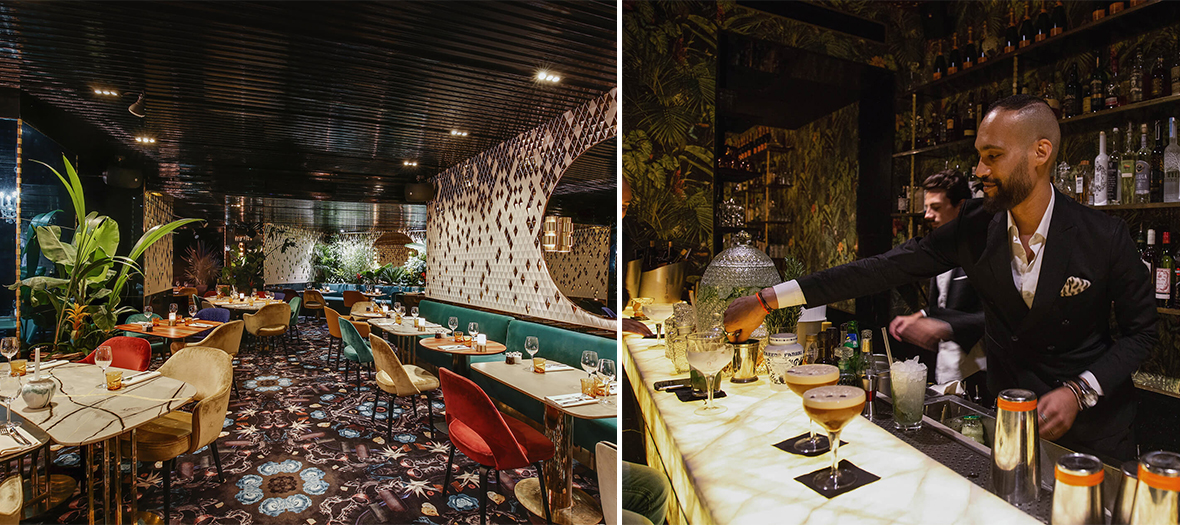 The place: well known by the beautiful people, the ex Yeeels has dropped the club side, but remains very festive. Ex Top Chef Thibault Sombardier (Antoine, Mensae, Sellae, Jacopo) signs a very gregarious Med menu in a glam' and psychedelic setting, totally tropicool.
The added plus: dj sets at the end of the week.
24 Avenue George V, 75008 Paris. 01 42 88 75 75 Open Tuesday to Sunday from 5pm until 2am. www.verde-paris.fr/
Manko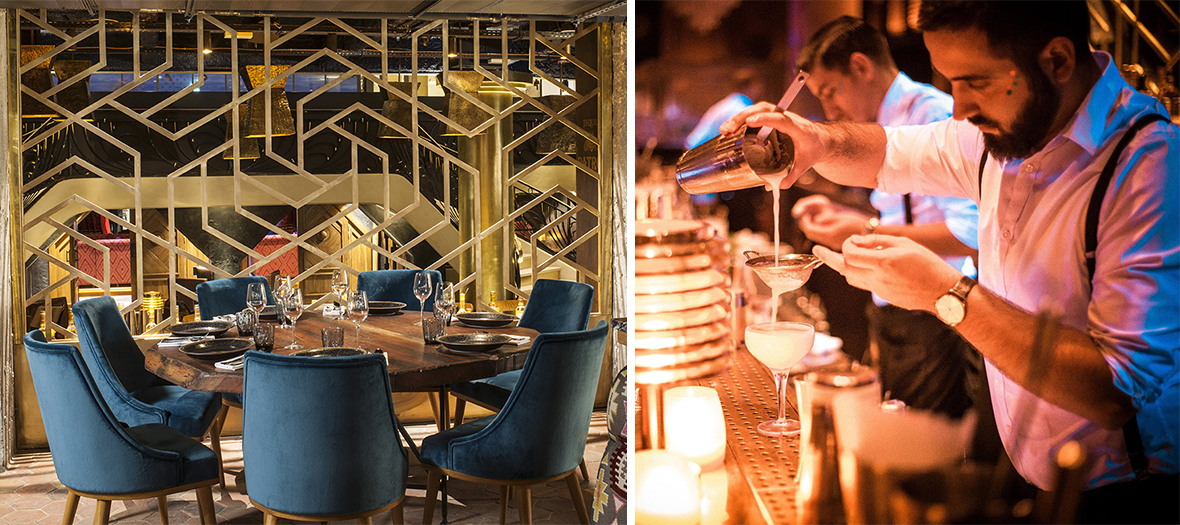 The place: always coveted for its wild parties, the restaurant-cabaret of Benjamin Patou 'Moma Group), in partnership with Peruvian chef Gaston Acurio and Garou, remains a sure value to have fun in a feel-good show-off spirit. At the table, ceviche, wok, top notch beef and sour pisco.
The added plus: the wild numbers of burlesque creatures and performers, present on Friday and Saturday night, cabaret side.
15 Avenue Montaigne, 75008 Paris. 01 82 28 00 15
Open Monday to Saturday from 11am until 2am.
Yaya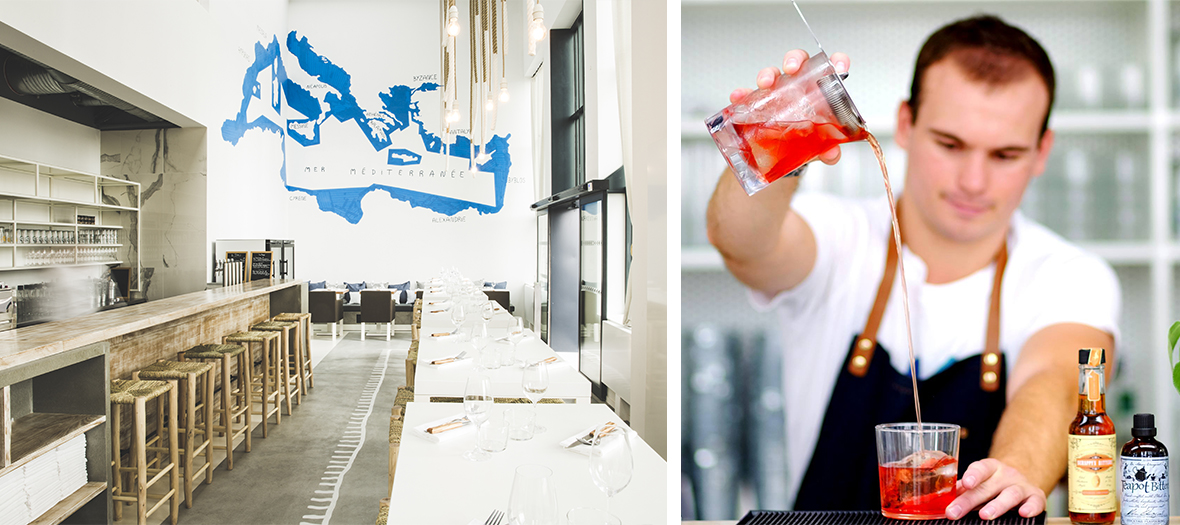 The place: Things are jumping in Saint-Ouen. The Kalios gang and chef Juan Arbelaez (him again) awaken the area with their XXL Greek neo-tavern, filled with a handsome fauna of trendy thirty-year-olds, motivated by the idea that everything is taking place on the other side of the peripherique: mezzés, grilled squid, signature black pita, cocktails…
The added plus: Yaya parties every last Thursday of the month, ending up in wild Sirtaki dancing and broken plates—in keeping with tradition.
8 Rue de l'Hippodrome, 93400 Saint-Ouen. 01 44 04 27 65
Open every day from noon to midnight.
Roxie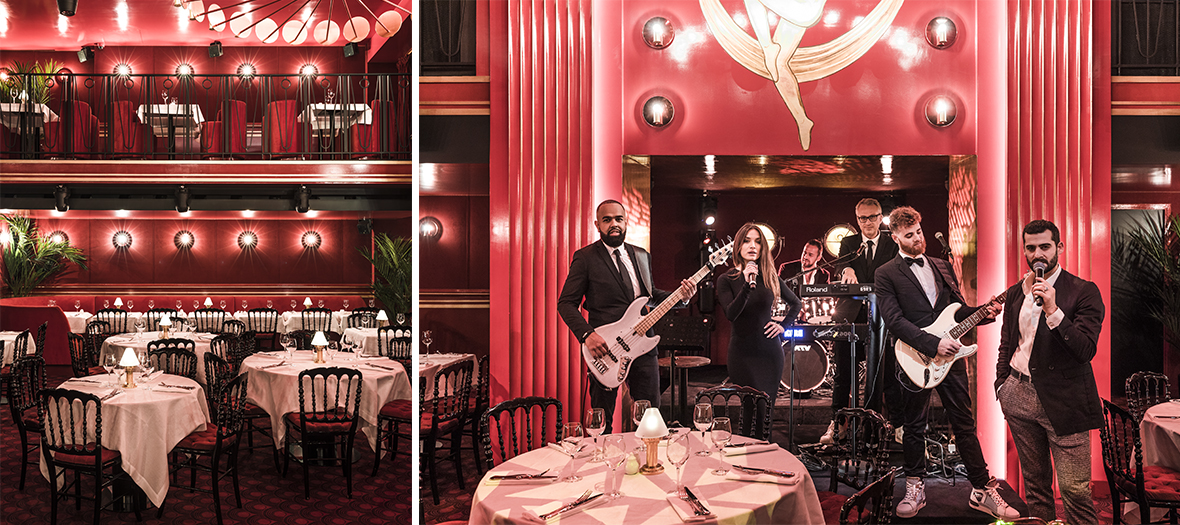 The place: freely inspired by Roxie Hart, star of the Chicago musical, this new stylish rendezvous, orchestrated by Laurent de Gourcuff and Olivier Salem (Paris Society), brings back music hall front stage. No dj, but a group of 6 musicians playing live, during the meal and until the end of the night­— a very joyful playlist from the 50s until today.
The added plus: the retro-chic eats with truffle pizzetta, King Crab salad, and pecan pie.
23 Rue de Ponthieu, 75008 Paris. 01 53 75 31 00
Open from 7pm to 3am, closed Monday and Tuesday
Le Piaf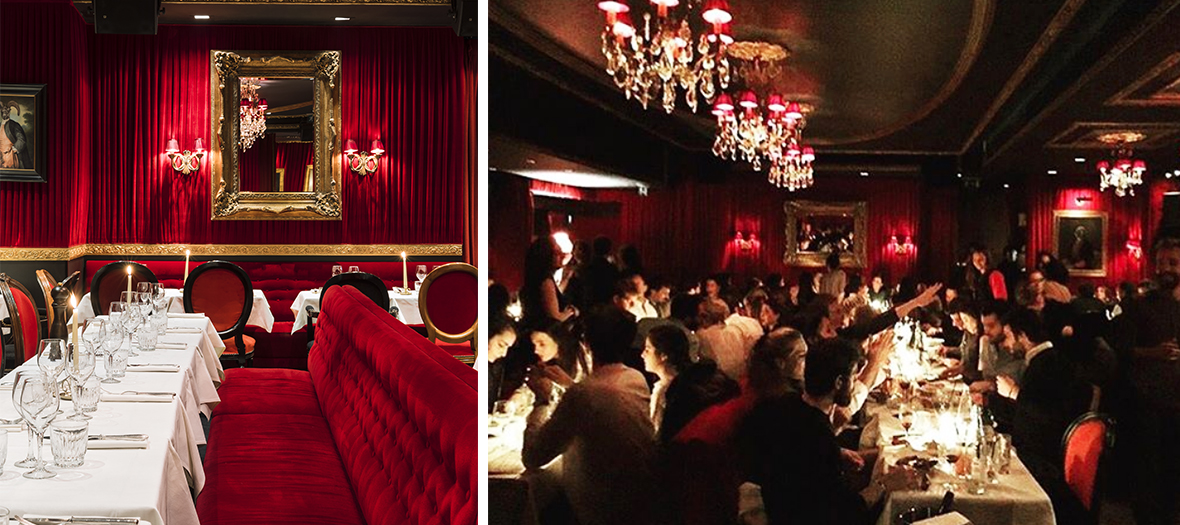 The place: this new hot rendezvous of the Western part of Paris gathers pretty young girls and financial whiz kids, successful entrepreneurs and upscale lawyers inside a 2 in 1 address with a very chic and low-key decor. A restaurant and a club orchestrated by real Parisian party pros: Olivier Salem, Romain Taieb and Jean Mat. Start with dinner…
The added plus: the fiesta that lasts until 5am, everyone standing on the tables and the banquettes with a very Frenchy musical program. In short: a club that recalls the best years of Castel or the Planches.

38 Rue Jean Mermoz, 75008 Paris. 01 47 42 64 10
Open from 7pm to 5am on Thursday, Friday and Saturday, from 7pm to 2am on Tuesday and Wednesday, closed on Sunday and Monday
Uma Nota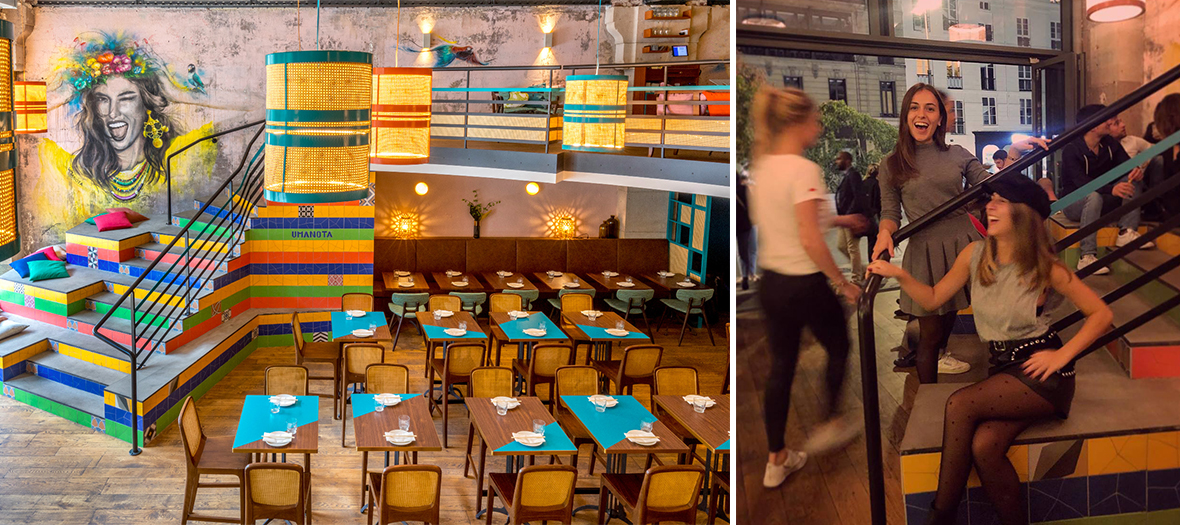 The place: already present in Hong Kong, where it's a big hit, this highly colourful tapas bar mixes Brazilian culture and Japanese influences: ceviches, squid salad, skewers to nibble on with the best Caipi in Paris.
The added plus: bleacher stairs, recalling the samba of Sao Paulo, the ideal spot to meet people.
86 Rue Réaumur, 75002 Paris. 01 42 33 07 71
Open every day, lunch and dinner, on Saturday at night only—closed on Sunday
Chinatown Belleville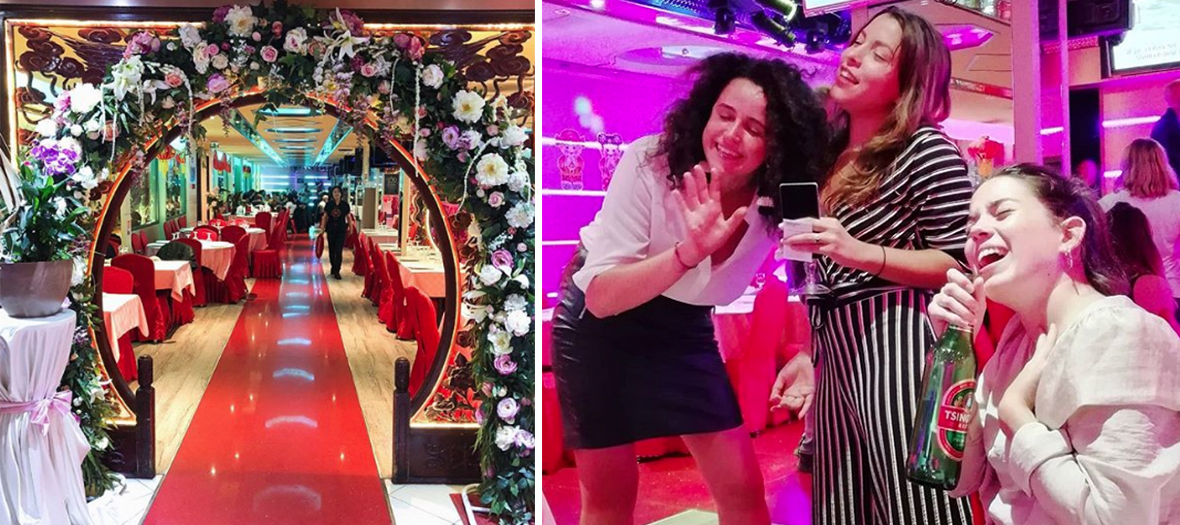 The place: kitsch is the new chic. The opulence of this Chinese karaoké is quite amazing, and this is why cool and inspiring people meet here to pick up a tune between two spring rolls.
The added plus: from the hits of Larusso, Patricia Kaas and Manau, including the latest tubes of Aya Nakamura, there is a wide array of songs in a totally jubilatory and loose ambiance.
44 Avenue d'Ivry, 75013 Paris. 01 45 84 72 21
Open every day lunch and dinner
Also discover the best restaurant with the gang and the restaurant opens all night