The very first gourmet-pub has just opened on rue Crillon, run by a super talented young group. The warm welcome aboard this British vessel is up to par with their cuisine. In order words, here is the foodie and trendy venue to be tested absolutely this Spring.
So what's a gourmet-pub? It's a concept that is a big hit in London—the equivalent of British style "bistronomia". A very cool way of revisiting pubs and traditional English dishes in a couture and trendy version.
Imagine a very light and highly stylish huge venue, built around a pretty courtyard, with wood paneling, wallpapers, freestone walls. The must? A real bar corner where happy hour can last all evening long on one side and a real dining room on the other for lunch or dinner.
We adore: sipping a Pimm's(8€) similar to the Spritz of English bobos) or British beers (6€) while snacking on ultra-addictive dishes. Special kudos to the mythical Scotch Eggs with a Piccadilly sauce or memorable breaded fish (8€).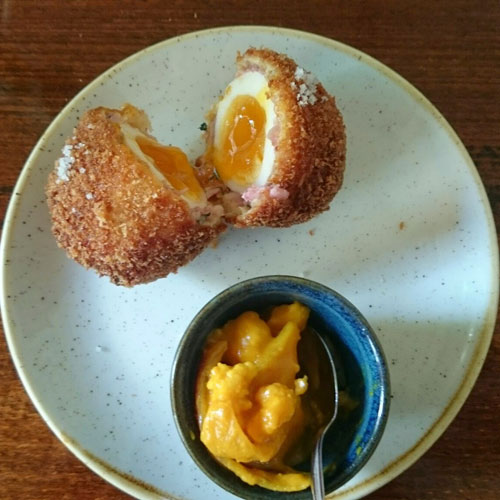 As for the restaurant, the really brilliant chef takes us on a wonderful adventure. As a starter, test their asparagus with Stilton cheese. Then move on with a Spring risotto with cheddar (check out the photo !), or a beef Wellington, with an ultra-sexy sauce and watercress salad.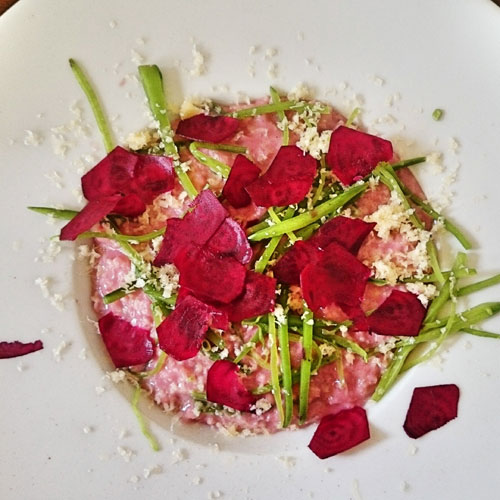 For the finishing touch, try the lemon carrot-cake cream-cheese or an amazing cacao-citrus fruit crumble!
We adore: the unique and reasonable prices for this quality: starter at 10€, dishes at 20€ and desserts at 9€.