We have delicious news for chocoholic DO IT GIRLS … If you're looking for a pretty, perfect and poetic gift for Christmas and you fancy being pampered like a very special client, here's the recipe!
Mix a beautiful box from the best chocolate maker in Paris add a pinch  of poetry, an extra touch of soul… the result: an haute couture gift to put under the Christmas tree. The family will be blown away with Maison du Chocolat's original, delicious and artistic gift.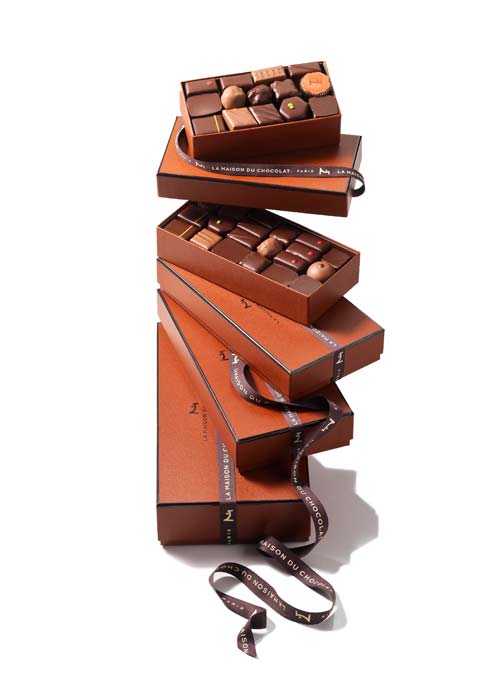 Rendezvous at MAISON DU CHOCOLAT where you will be welcomed by an in-house «Creator of Dreams». He will expertly customize the message card that will be slipped inside your chosen box of Chocolates, enhancing gooey ganaches and perfect pralines with subtle flavours, not forgetting the tender truffles and the many other deluxe cocoa treats available at this incredible boutique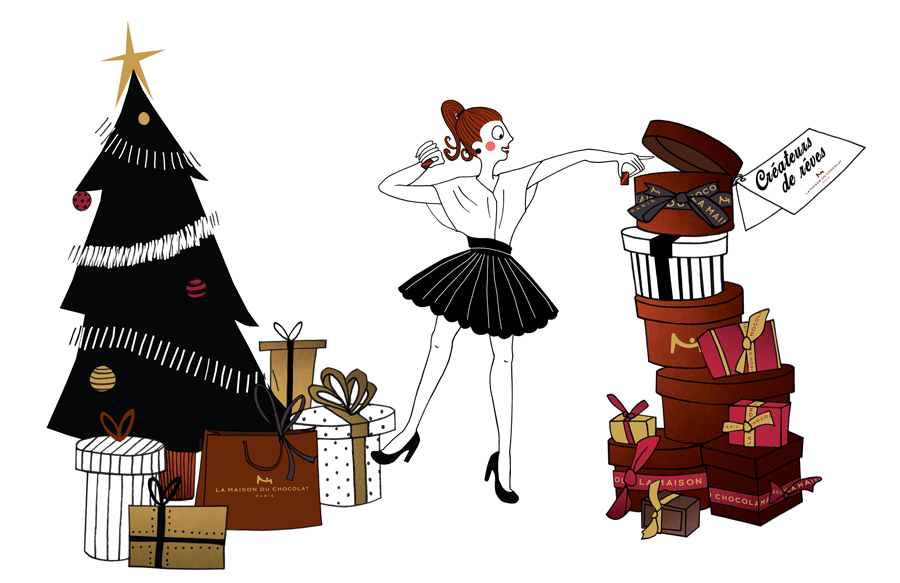 The Magic Touch? Three talented artists selected from the up and coming Paris art scene will be on hand to add their painterly touch and transform a divine box of chocolates into delicious « works of art» …
OPTION N°1. Franck, the urban poet, slips a HAIKU, a small personalized and lyrical text, very popular in Japan, a tender note for your lover or your dad…
Meet him, on Sunday 7 th and Wednesday December 10 th, at Maison du Chocolat, 225 rue du Faubourg Saint-Honoré, Paris 75008
OPTION N°2. Roland, Paris star calligrapher (Diptyque, Hermès) labels your chocolate box with a very couture silkscreen, ideal to impress your mother-in-law…
Watch him at work on Friday December 5 th and Friday December 12th, at La Maison du Chocolat, 52 rue François 1er, Paris 75008
OPTION N°3. Marie, the amazing illustrator imagines a gorgeous customized drawing (sketches of Paris, silhouettes…). A chic must that will transform your pretty box into a fashion object.
See Marie sketching, on Saturday December 6 th and Thursday December 11th, at La Maison du Chocolat, 8 boulevard de La Madeleine, 75009,
Hours: from 11am-3pm and 4pm 7pm. On December 10 th, 11 th, and 12th, late-night opening until 8pm
Need to know: take advantage of these very private meetings with Créateurs de Rêves:  Whisper the magic « DO IT IN PARIS secret code to the salesperson. Result? Our darling readers will be treated to a delicious free macaroon.
SAVE THE DATE
- Meet Franck, the poet, at 225 rue du Faubourg Saint-Honoré, 75009,
Sunday December 7th and Wednesday December 10th
- Catch Roland, the calligrapher, at 52 rue François 1er, 75008,
Friday December 5th and Friday December 12th.
- Marvel at Marie, the incredible illustrator, at 8 boulevard de La Madeleine, 75009
Saturday December 6th and Thursday December 11th
Hours: from 11am to 3pm and 4pm 7pm
on December 10th, 11th, 12th: late night until 8pm