After shaking up the Parisian pastry scene with their « Angel Cake », these funny light cakes in pop colors straight from Japan, Pâtisserie Ciel is now offering happy hours revisited with a kawaï touch.
Starting at 7pm, the counter of the rue Monge will be transformed into a bar serving cocktails and Japanese whiskies along with really original nibbles such as ultra graphic finger foods. 5 tartines of slim-cut toasted bread, topped with marinated salmon, miso foie gras, country pâté… In keeping with the inspiration of the star chef at Sola, the gastronomy restaurant open by the same team.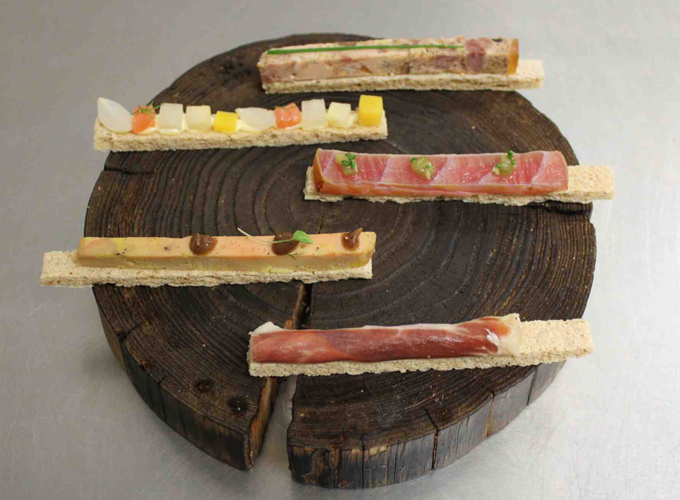 And if you have a sweet tooth, go for the « mini toads » and cocktail. An XXS version of the angel cake (yuzu, matcha and chocolate), placed on a short crust biscuit, to be tasted with a series of alcohols to mix in Do It Yourself mode. The concept? With each bite add a drink (prune rice alcohol, liqueur of whisky…) to be mixed with the previous concoction.
Open Tuesday to Thursday from 10h30 am to 11pm, Friday and Saturday from 10h30am to 1am and Sunday from 10h30am to 5pm. Closed on Monday.
10 € for 5 pieces of finger food – 6 € for 3 mini toads – 16 € for 3 mini toads and the cocktail