Friends, we promise not to make you feel guilty, because with this terrible weather, the only way to go is to grab a friend and have a tasty burger. We get it.
But if you are going to eat a greasy, full of cheese burger, you might as well go to a great diner. Make all the calories count.
Scene of the crime? Diner Bedford. Filled with good-looking guys and gals, this is a great place to flirt while eating fries, especially now that spring is around the corner.
In this very Brooklyn-style serendipity venue (100% vintage and stylish decor:metro banquettes, 70's armchair, old fashioned telephone…), we also love their healthy smoothies prepared on the spot (kiwi, carrot-ginger…) or delicious cocktails that will make you delightfully tipsy.
But let's talk burgers! The entire editorial team agrees to say that the « oh yeah ! » burger with Comté cheese, house and braised onions and the « blue cheese bacon »burger (15€) are incredible. On the side, try the potatoes pancakes. You will not regret it.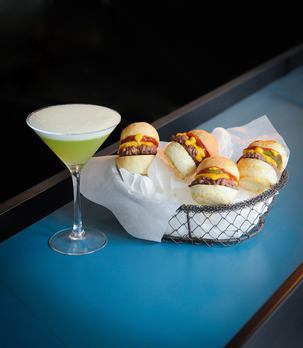 The must : their « original cheeseburger » a tad bigger but totally inspired by the same little cheese-burger they sell at McDonald's. It's the same taste, the same foodie rush, but better! Absolutely addictive, wrapped in paper and presented in a little basket.
We like: The Sunday brunches !!
Open 7 / 7 from 12am to 11pm
Picture credit : Facebook Page Diner Bedford