When one of our favorite Parisian gourmet venues opens up its Winter quarters with « a restaurant on the slopes » in tony Courchevel, we say yummy !
Because Frédéric Vardon, ex-Ducasse and star chef of the 39V off the Champs Elysées, has just launched his "gourmet bistrot " to give snow fiends his take on Savoyard recipes.
Local is chic! On the menu ? Great taste!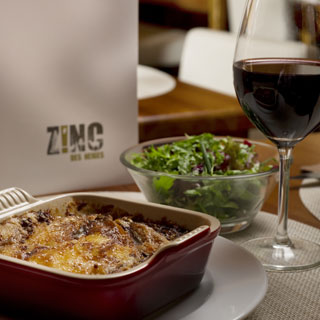 Crozets with ham (regional pasta) sprinkled witlh truffes, pela with raw ham, potatoes and reblochon cheese, a heart warming raclette, an outstanding fondue with the best cheese. And for the finishing touch ? A highly addictive French toast and a fab rice pudding.
The latest zany idea at ZINC? Apréski  & Apéropicurien, a mountain style happy hour for a last  pit stop before the last run. Have a drink and enjoy a gourmet plate of Alpine cheese—what a great way to finish the day and start the evening.
Cheese plate starting at 10€
Daily specials at 28€