Imagine the setting of a trendy and vintage bistro, hang out of all the hip locals and handsome bobos near rue des Martyrs.
In terms of decor: old parquet floors, industrial lamps and barber chairs, where you sit down for a king's brunch.
On the menu of the 25€ brunch: fruit juices + warm drinks+ main course + dessert.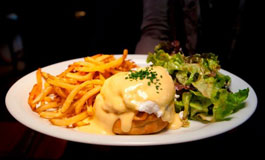 Salty treats : choose between the totally amazing cheeseburger with cheddar (bacon supplement), a nice slab of charcuterie (aka « la Planche du Barbu »), eggs Benedict with salmon and other delights for foodies…
Killer desserts ? Le Tiramisu la barbichette with strawberry, but also their famous treat Sablé of Petits Lus, Nutella, banana Chantilly, totally divine.
An addictive place says the Do It Girl !
Brunch Sunday from noon to 4pm – 25 €