We were dreaming of it: a really fresh brunch, really good, very Melbourne style in an absolutely stylish cantina…
Tuck Shop, is a really cute chic coffee shop, run by three gals straight out of  Australia wanting to wow Parisiennes with sexy organic eats, terrific juices, a pretty decor, free wifi … Just the kind of place that DO IT Girls adore.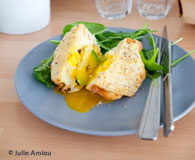 And what do you get for 12€ ? Their great croque madame muffin + un smoothie that is a real booster (frappé pineapple with fresh mint) + coffee or tea + a yummy cookie. Things could not get much better…
Good news :  they also have delicious sandwiches, salads and a choice of juices.
Brunch Saturday and Sunday.