Crazy about burgers ? Fan of ramen (the Japanese noodle dish)? Then you will surely love the ramen burger.
To replace traditional buns? Two noodle pancakes around a steak twisted with a sweet and sour sauce. Yummy
This hybrid creation comes straight from New York, and more precisely from Smorgasmurg, the hype market in Brooklyn, where Japanese chef Keizo Shimamoto unveiled it on his stand last Summer. Result, hours of queue just to taste this curiosity !
Cool, you can now bite into this "it-eat" in Paris at W for Wok, the fast-food wok specialist. Vincent Boccara, the co-founder, has concocted his ideal recipe after testing twenty varieties of noodles! Pasta is cooked in broth and perfumed with herbs, meat is ultra tasty, and with that comes arugula salad and a mix of sauces (ketchup, mayo and a secret sauce with shallots). As sides? No fries, but sweet potato chips made right there or edamame (soja beans).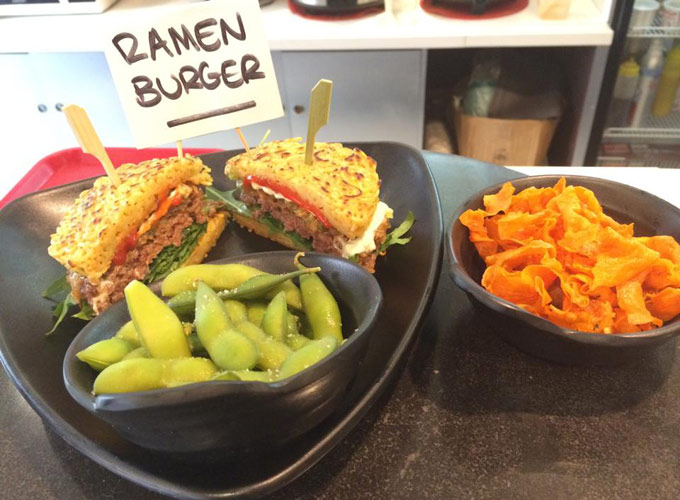 Our verdict? Having overcome the apprehension of the unknown, this variation is much lighter and more digest than a classic burger. A must for upcoming soccer evenings!
Careful, ramens burger are rationed at 20 per day (from 3pm to 10pm), to stay or to go, better reserve on 01 42 46 57 74.