When it comes to street-food, Marguerite du Pré, the new very French touch' food truck, with a furiously rustic-chic style in gingham, will be rolling through Paris this Summer selling 0% and organic frozen yogurt.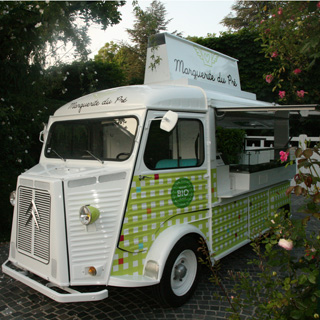 Exit industrial sugar filled ice cream, here everything is natural green and eco-friendly, starting with the made in Normandy milk, that comes from a little dairy farm with milking cows.
The result is Frenchy frozen yogurt, wildly unctuous and creamy, served in a jar or a crispy cone to bite into. Now you just need to choose your perfume (plain, vanilla, green tea or chocolate) that can be customized with « les Délices », toppings that are also 100% natural such as fresh fruit, slivers of chocolate, milk jam, glazed orange and lemon squares, a yummy fruit coulis, poppy biscuits …
We like: the it-dessert for twigs and no-gluten par excellence.
The must? The most gourmet foodies can choose chocolate glazing that covers up the ice cream scoop with a thin coat of black chocolate… yummy !
2 € for 140 ml, 3 € for 250 ml, 5 € for 350 ml, 6 € for 600 ml + 0,50 € with  Délices topping
The ice cream truck will soon be showing up on the streets of Paris, more info on margueritedupre.fr and on Facebook