Need a break ? Get away for a little R&R, by the seashore far from the Paris doldrums. Head for Basque country at the Grand Hôtel Loreamar  of Saint Jean de Luz where the sound of the waves is a nice change form traffic  noise and honks!
Nestled on a beach of fine sand, this human-sized 5 star is the ideal cozy refuge to relax and take the time to savor local seasonal products. Fish and seafood are the in the spotlight of this new restaurant under the aegis of star chef Michel Rostang: sole, wild sea bass, whole fish just back from the local marker to share, oysters and seafood platters, in short a good way to stock up on lots of iodine with these quoi gourmet and balanced menus. Treat yourself to a little sweetness with a pineapple pina colada or the warm pear soufflé to savor facing the sea.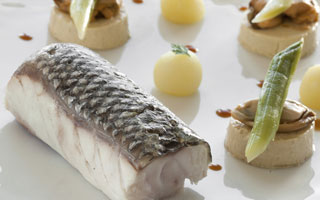 Dimmed lights and oriental ambiance, treat yourself to a  moment of relaxation in a magical spa decor of the hotel with the pool of heated seawater, bubbling baths, treatments, massages…
We like : a very cocooning place that combines spa, the benefits of the sea and good meals.
Reservation by email at the following address : reservation@luzgrandhotel.fr
Rooms starting at 165 €
Seashore menu starting at 39 €
Discover week-end, one night with one meal starting at 350 € per person