Live the dolce vita piloting a Vespa through the prettiest streets of Paris!
The site Paris by Scooter.com features guided visits of the capital onboard this mythical two-wheeler.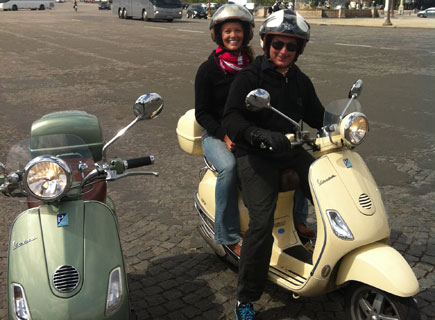 How does it work? Once the online reservation goes through, the guide comes to pick you up in front of your home with these super chic two-wheelers, gloves, helmets...
In short, you take care of nothing.
Want to play it romantic? Latch on to your darling from the passenger seat and enjoy the promenade. From Place de la Concorde, to the small streets of Montmartre as well as the Champs-Elysées, the Eiffel Tower and Place Vendôme, race through Paris in a super fun way and with no worries.
And also: for those who don't need a guider nor driver, rent your vintage scooter for an escapade all along the day.
Visit starting at 149 € for the driver and 50 € for the passenger
Scooter rental for the day starting at 69 €
(+30 € with a GPS)
Information and reservation on the site Paris by Scooter http://parisbyscooter.com