A family saga on billionaires with Kim Cattrall , the adaptation of a cult book by Stephen King , a crazy action film with Omar Sy or the last earthy comedy of Canal + with Melvil Poupaud : the return to school promises to be rock'n 'roll! Check out our four favorite new series for January.
Filthy Rich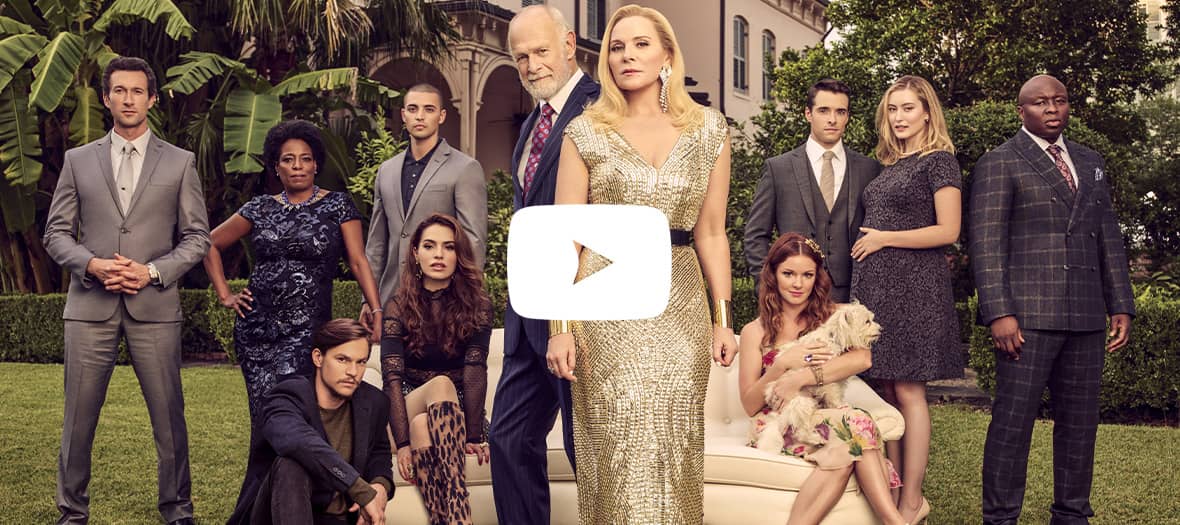 ©TWENTY CENTURY
If you liked… Dynasty , Dallas , Succession , Empire , in short, the cult series of extremely rich families who tear each other apart for power and money. Take out the popcorn!
The pitch. In the south of conservative America, the wealthy Monreaux host a Catholic television channel followed by millions of faithful. However, when the private jet of the devout father filled with escort girls crashes, the reputation of the family is inevitably shattered. Worse, the devoted wife ( Kim Cattrall ) learns that her dear husband has had other children with three different women. Cataclysm among billionaires: how to handle the crisis when bastards show up to claim their share of the pie?
Why are you going to love it? Hungry for crisp gossip involving big pennies, you'll be served. Filthy Rich seizes your voyeuristic instinct to deliver a series with a plot as improbable as it is addictive. Finding our Samantha Jones (also producer) in the role of a ridiculed and authoritarian head of the family who clings to the branches is particularly delectable, when the tasty dialogues clearly do the job with a whole bunch of punchlines. A rather joyful family saga, which holds in large part thanks to the incredible charisma of its main actress.
Available on Teva January 3
Lupine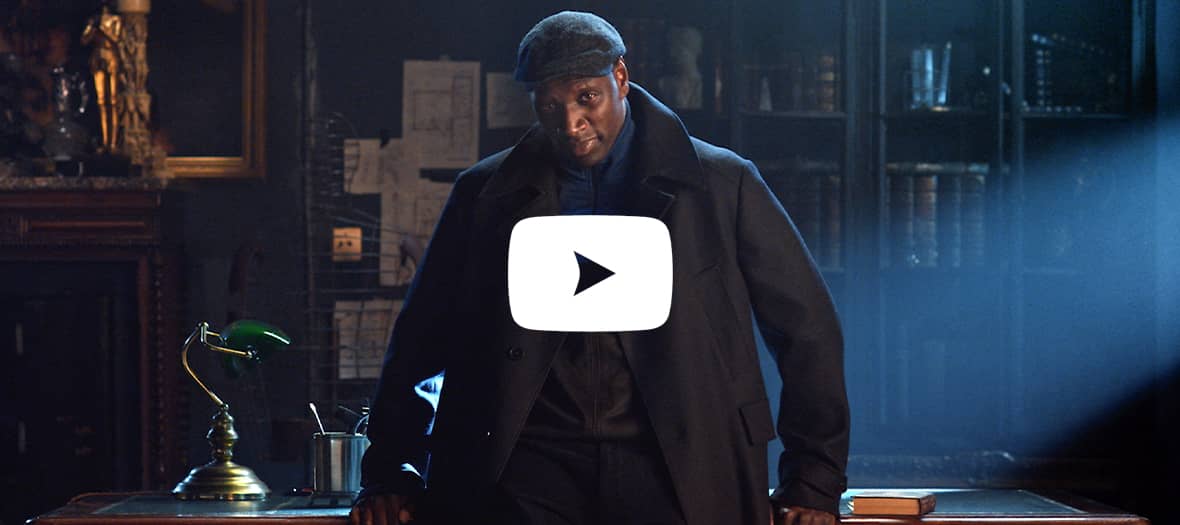 © "Lupine": Emmanuel Guimier
If you liked ... Action movies Detectives crazy like Sherlock Holmes Guy Ritchie and epics new gentlemen burglars of The Thomas Crown Affair through Ocean's Eleven.
The pitch. In 1995, Babakar Diop, driver of a billionaire, committed suicide in a cell after being wrongly accused of the theft of Marie-Antoinette's necklace… 25 years later, his son Assane ( Omar Sy ) was inspired by his idol Arsène Lupine to avenge his father and investigate. The Franco-British writers George Kay (Eve Killing) and François Uzan (Family Business) offer truculent heir to the character of worship e Maurice Leblanc in the new super production Frenchie Netflix.
Why are you going to love it? Like his mentor, Omar Sy changes personalities like shirt, journalist, super-geek, father, maintenance worker at the Louvre or businessman, crosses the VIPs of French cinema ( Nicole Garcia , Ludivine Sagnier , Clotilde Hesme ) in an ultra-rhythmic achievement with a chase or a Ferrari crash in the Louvre pyramid to the super catchy music of Mathieu Lamboley .
Available January 8 on Netflix
The Stand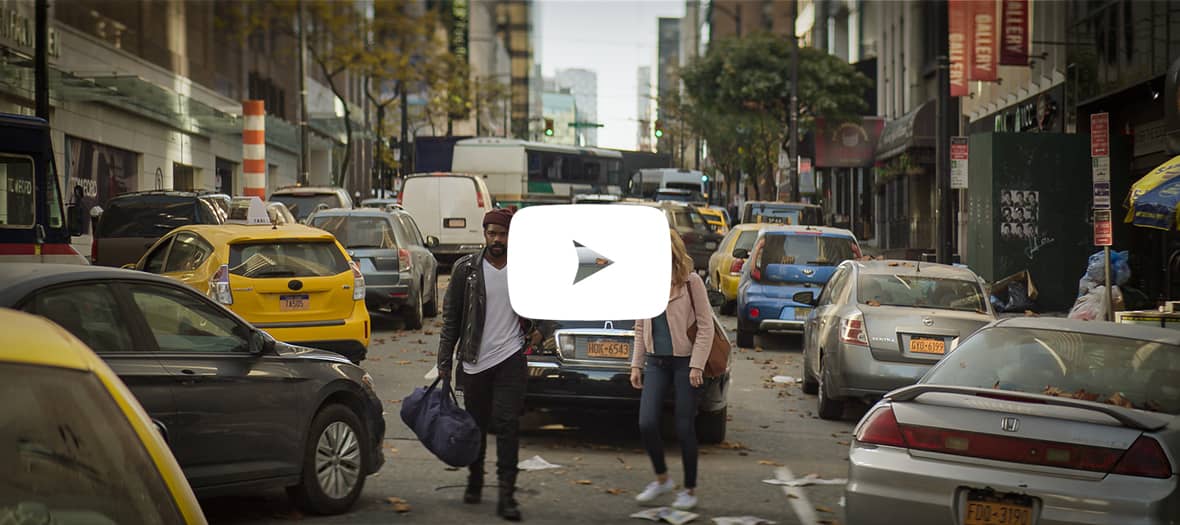 If you liked… The Shining , It and other awesomely creepy adaptations of the works of Stephen King , the king of horror and sci-fi literature.
The pitch. An apocalyptic flu pandemic decimates 99% of the world's population. The few survivors organize the resistance, torn between the will to do good and rebuild a better world or to play it personal, driven by lust and revenge. Everyone is seized with visions, some seeing a wise centenarian (mystic Whoopi Goldberg ) when the damned find themselves face to face with evil incarnate (seductive Alexander Skarsgård ).
Why are you going to love it? Definitely, Stephen King has the gift of visualizing (and worse) situations of the future. His novel published in 1978 clearly echoes what the planet is currently experiencing in the face of Covid. Shot before the global crisis, its adaptation of modern times proves resolutely effective thanks to its distressing music, its jumps in time and its high-level cast. Not to be left in the hands of those freaked out by the news: the realism is striking.
Available on Starzplay January 3
UFO (s)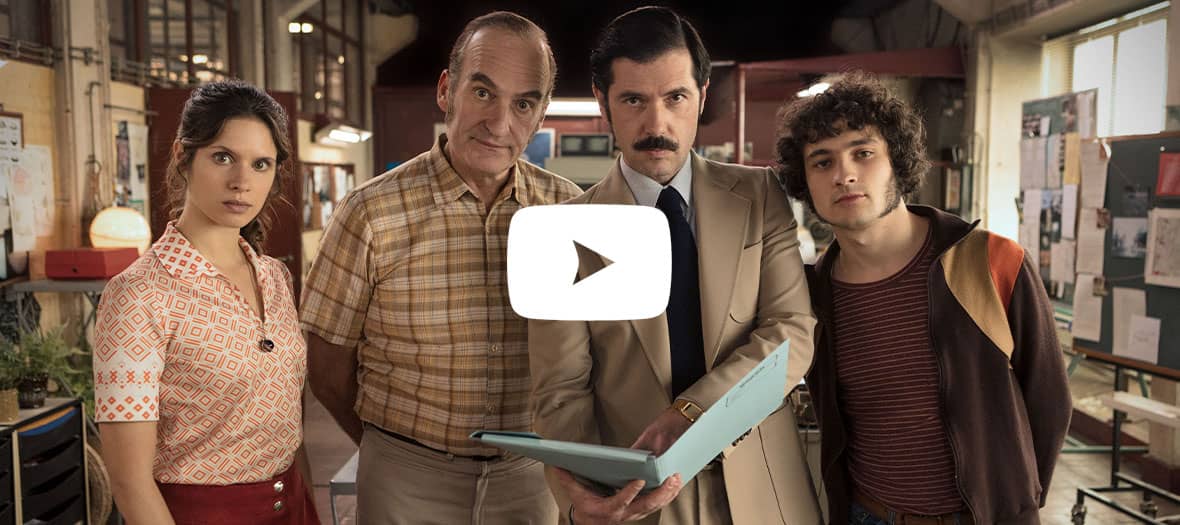 © Nicolas Velter / Montebello Productions / Canal + Photo credit
If you liked… Potiche by François Ozon and you cultivate a love for 70's French comedies with Patrick Dewaere . Special dedication to the credits of the series which takes up the melody whistled in the cult film Coup de Tête ...
The pitch. 1978. Didier Mathure ( Melvil Poupaud ), brilliant space engineer, sees his dream go up in smoke when his rocket explodes on takeoff and his ex ( Geraldine Pailhas ), whose wedding ring he still wears, refuses to work with him. Placed in the UFO specialist investigation office, his boss gives him a mission. If he can find a scientific explanation for the appearances of flying saucers which make the headlines of PPDA's news , he will be promoted on the Ariane rocket project . A Cartesian challenge for this dandy Professor Tournesol to take up with Michel Vuillermoz , an investigator plagued by conspiracy theories and Nicole Garcia twisting as director of military security.
Why are you going to love it? This new Canal + creation is a jewel of humor, joyful fantasy and aesthetics created by the brilliant Clémence Dargent and Martin Douaire (scriptwriters of Fais pas ci, faire pas ça ). A comedy in 12 30-minute episodes in the middle of American mythology against a background of floral wallpaper and garish orange furniture, VGE, jeans patte d'eph ', 2CV scarf and a whimsical touch that flirts with the SF delirium of the time between balls facets, flying saucers and a shower of pink flamingos. A treat to brighten up your curfews.
Available on MyCanal from January 11


And always...
The Undoing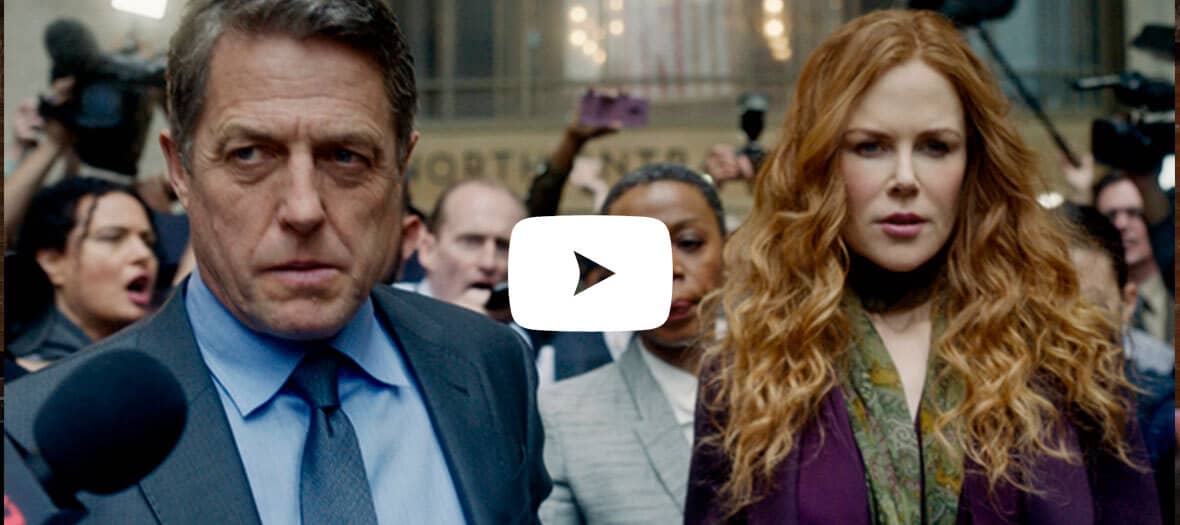 If you liked… the bourgeois and melancholy intrigues of Big Little Lies , which shares the same spirit and the same creator David E. Kelle , and the achievements of Susanne Bier to whom we owe Brothers and Birdbox .
The pitch. A successful couples therapist, Grace Fraser ( Nicole Kidman ) lives in New York City with her oncologist husband Jonathan (cabotin Hugh Grant ) and their teenager Henry. Always so magnetic, Kidman is courted heavily by a mysterious young recruit from his band of full-bodied friends. The latter is found murdered and Jonathan disappears in the process. All this pretty world is collapsing little by little ...
Why are you going to love it? We find the strings that made the success of Big Little Lies in this thriller of modern times, 16 years after Desperate Housewives . Major change: the context, shot in a hyperactive New York where the female characters are also recognized for their careers in addition to the eternal neighborhood gossip. And then, why did you wait until 2020 to marry the improbable duo Kidman and Grant? We want more. Special mention for the credits with a beautiful cover of Dream a little dream of me by Nicole Kidman herself , whose soft voice we had already loved in Moulin Rouge .
The Undoing, from October 26 on OCS
If you liked… The brilliant humor of the film Icelandic Wedding , or when everything gets out of hand during a disaster wedding.
The pitch. Two young women celebrate their union in the Swedish countryside. Shakespearean inspiration obliges, the two families have nothing in common except the love of their respective daughters, between the cool babes on one side and the stuck on the other. During the wedding feast, with the help of alcohol, the tongues are loosened more than reason. So much so that a key guest does the big mistake that may well break the cordial agreement ...
Why are you going to love it? The Nordics definitely have a knack for posing situations that are as comical as they are inextricable. We savor every moment of this super funny series where we sympathize so much with far-fetched characters, who inevitably remind everyone of the ugly uncles of Sunday lunches and other family Christmas dramas. We don't want to spoil you any further, it's a secret that we want to keep as much as the protagonist. So, faced with the obvious, more of the type to admit everything or deny it all?
Already available on arte.tv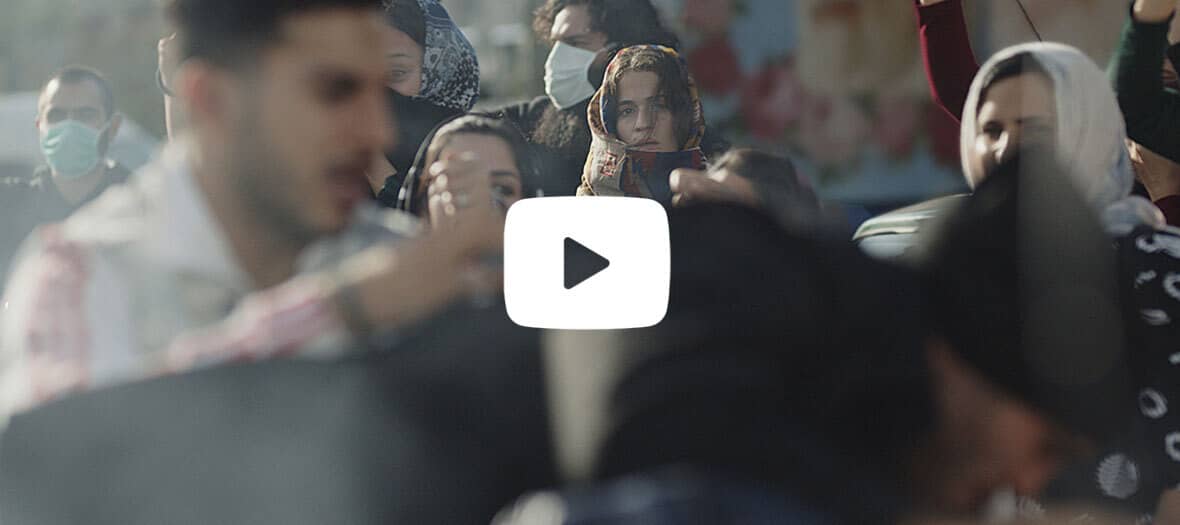 If you liked… Homeland adapted from the Israeli series Hatufim , and Fauda who shares the same screenwriter, the former Israeli journalist Moshe Zonder .
The pitch. Tamar, a young Mossad agent of Jewish faith and specialized in hacking, is sent under a false identity to Tehran to neutralize a nuclear reactor and prevent Iran from obtaining the ultimate weapon. However, she misses her mission and finds herself stranded in her hometown, struggling not to be unmasked.
Why are you going to love it? Another successful series on Israeli espionage, after Fauda , The Spy , Hatufim and False Flag . It must be said that the ingredients of this Israeli geopolitical thriller are all there. Never binary, very nuanced and ultra-documented (the teams went so far as to work with real Mossad agents), Tehran applied in eight episodes to show in an almost committed way a youth in search of freedom. Niv Sultan radiates in this resolutely feminist role when the viewer is invited to dream of a possible reconciliation between these historical enemies.
Already available on Apple TV
© Apple TV+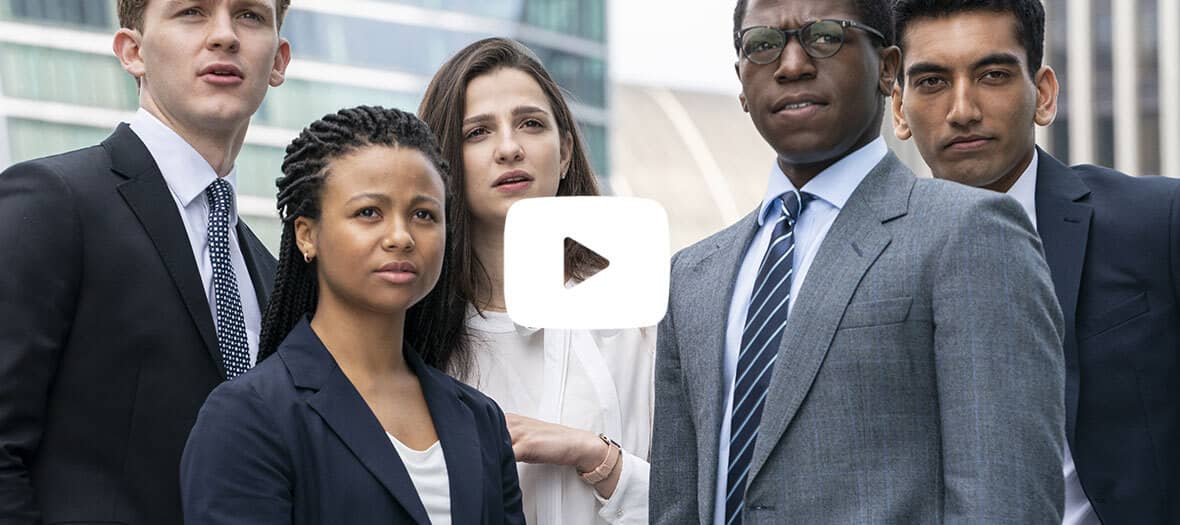 If you liked ... The sex and coke mood of The Wolf of Wall Street and the lucrative shenanigans of The Big Short with Ryan Gosling and Brad Pitt .
The pitch. In London , the investment bank Pierpoint & Co is opening a few recruitment positions. In competition, five young finance graduates will have to pull the plug to get noticed. Between hazing, drugs, sex and big money, a war of egos quickly sets in between the well-born Harper from New York, the ambitious Yasmin facing the obvious lack of respect from his superiors, Robert ready to do anything for s 'move away from his proletarian label or even Gus, formatted in the grandes écoles to withstand hellish work rates.
Why are you going to love it? Rare for HBO in coproduction with the BBC , no headliner in this series which highlights a new generation of actors with almost virgin CVs. Suddenly, we follow with an almost unhealthy voyeurism the evolution of these young recruits in a world of sharks, under constant pressure. Ubiquitous stress, frenzied pace, risk taking, low blows, humiliations ... Lena Dunham ( Girls ) is clearly releasing her long-awaited new series at the right time to electrify the latent softness of these days of confinement. Beware of the overdose of noise and orgies in nightclubs: we are no longer too used ...
Available from November 10 in France on OCS in US + 24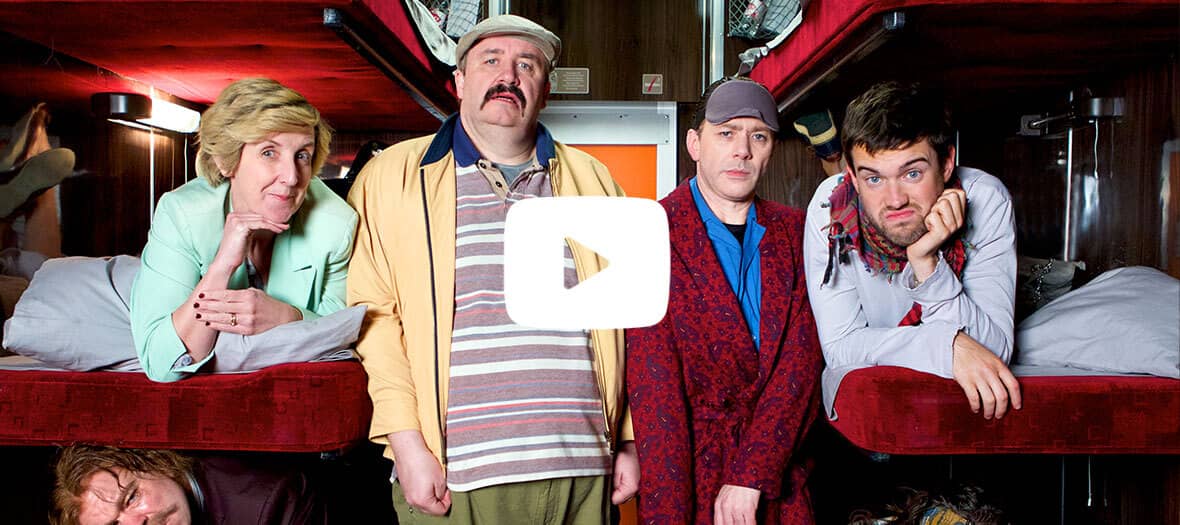 If you liked… Rowan Atkinson's crazy sketches in Mr Bean and the divinely tongue-in-cheek English humor of Four Weddings and a Funeral .
The pitch. One intrigue per episode with for each in common the number 9 and morbid fascination. That's about all that we can describe to you to avoid spoiling the totally burlesque situations that follow one another, starting with the first short story which locks a whole smala in a cupboard after a game hide and seek.
Why are you going to love it? This is THE audience card across the Channel. Unknown in France, Inside n ° 9 is the baroque UFO having gathered the most British stars: Gemma Arterton ( Gemma Bovery ), Helen McCrory ( Peaky Blinders ), Jason Watkins ( The Crown ), Anna Chancellor ( Four marriages and a funeral ) or Keeley Hawes ( Bodyguard ). Impossible not to fall for these vitriolic frescoes whose co-creators Reece Shearsmith and Steve Pemberton are in the cast of almost all the episodes, whether they are sung, in verse, edited backwards or without any dialogue. Worship.
Already available on arte.tv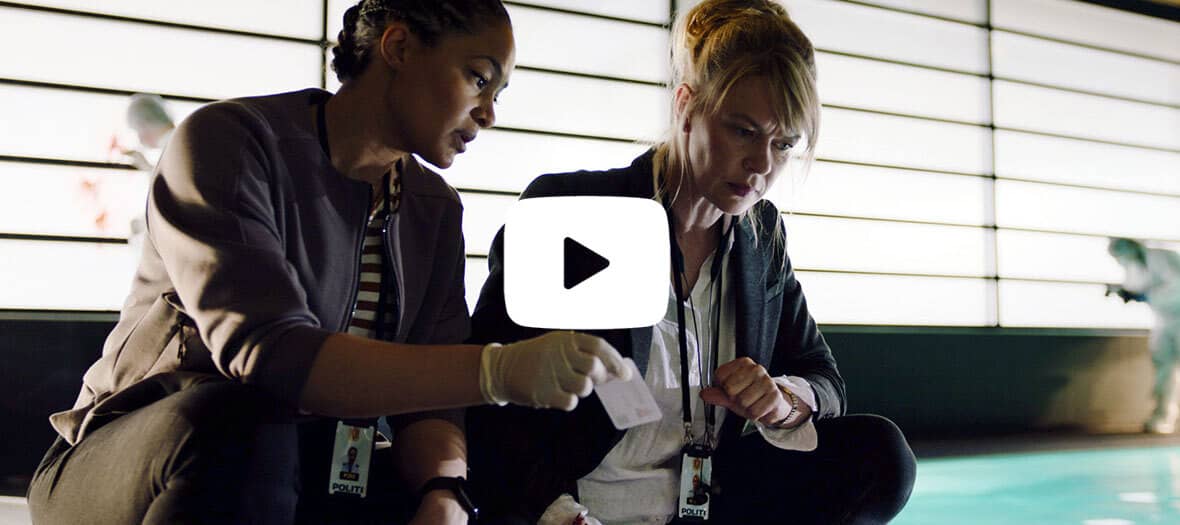 If you liked… The inimitable style of Norwegian fiction à la Bergen , In the name of the Father or Mammon , the first revelation series by Gjermund S. Eriksen, awarded at the Emmy Awards in 2017.
The pitch. 2035. Victoria Woll, formerly the head of Unit B in the Kripos agency of the Oslo police, has been sentenced to life for murder. 15 years earlier. Siv Bakke is found dead in the woods of Utensjovannet. When Victoria and her partner Ayla arrive there, they discover the deceased's daughter. The next day, the press reveals that the victim's ex-husband is missing.
Why are you going to love it? It's the Scandinavian anticipation thriller we've been waiting for. How does a perfect female cop take perpet? The realization with the line holds in suspense as in the best American series by revealing the clues like the pieces of a puzzle.
Already available on myCANAL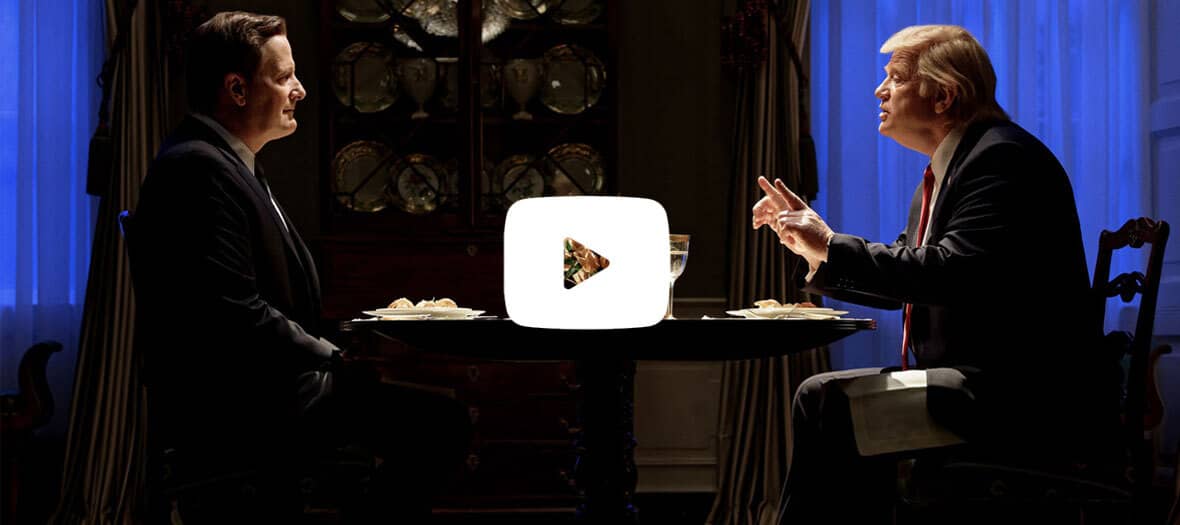 If you liked… the American elections with Donald Trump and Joe Biden as guest.
The pitch. He was accused of getting Trump elected through the Hillary Clinton email affair. A few months later, James Comey , director of the FBI , is fired by the American president despite the constitution and the separation of powers. At issue: the famous investigation into Russian interference and the links between Vladimir Putin and Donald Trump .
Why are you going to love it? After Trump's defeat, it's impossible to miss the CBS event miniseries, adapted from the shock book by the former FBI director and directed by Billy Ray , screenwriter of the Oscar-winning film The Richard Jewell Case . This fascinating political drama reveals the behind the scenes of the election of Trump 4 years ago, but especially of the story of a rivalry between two Republicans that all ideological conceptions oppose. To absolutely note: the subtlety of the character Trump, played by Brendan Gleeson , who despite his already very caricature nature, never falls into the grotesque.
Available in full on myCANAL
© 2020 CBS Television Studios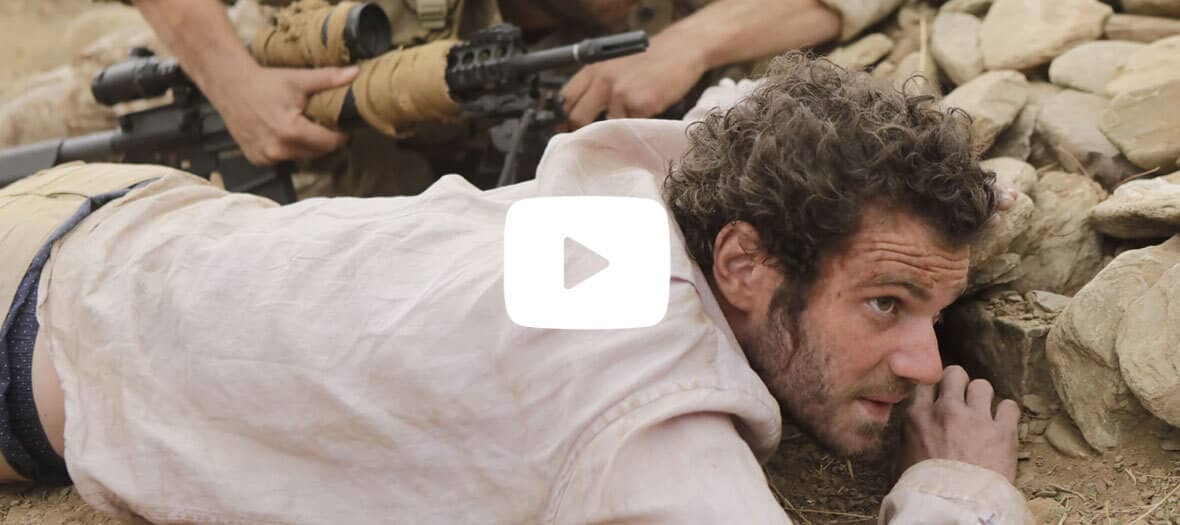 If you liked… Girls of the Sun with Golshifteh Farahani , who follows a Yezidi survivor of Daesh taking up arms with a 100% female battalion.
The pitch. In 2014, after seeing his silhouette in a report on Kurdish fighters in Syria, Antoine ( Félix Moati ) went in search of his sister Anna ( Mélanie Thierry ), who had been presumed dead for several years in a terrorist attack in Cairo. He is quickly taken prisoner by one of these battalions of armed women who suspect him of wanting to join the Islamic State.
Why are you going to love it? A clever mix of thriller , love story and family drama, created by the producers and writers of False Flag , No Man's Land is truly a series apart. Like Antoine, the spectator is a foreigner in a torn world and above all radically opposed to his little Parisian life, and learns to understand it as he manages to glean information. In short, we cultivate ourselves on the conflict which was raging in a particularly terrible way in 2014 thanks to this documented fiction and addictive by its human reach and its intrigue accessible to all. Patience: the first key to the plot will be unlocked in episode 4 with an unexpected flashback.
Broadcast on Arte on Thursday at 8:55 p.m. from November 26 to December 10, 2020, and already available on arte.tv
© Sife Elamine
A Young Doctor's Notebook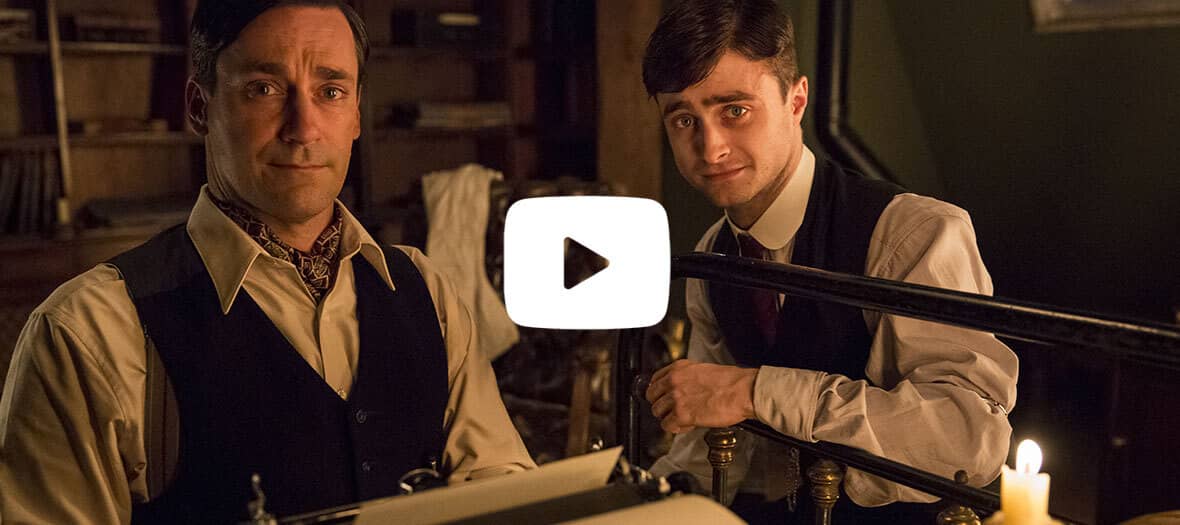 If you liked… The corrosive humor of the Monty Pythons in their burlesque questions on the meaning of life… and their cult character of Gumby , sometimes completely thrown out patient, sometimes nurse.
The pitch. In 1934, a Russian doctor reread his diary kept in 1917, on the eve of the Russian Revolution , when he was starting his career. The young doctor, an inveterate humanist and naive in the face of the eternal, finds himself confronted with the health problems of a rural and very poor Russia, between surgical butchers, misunderstandings and improbable diseases. A satirical adaptation to the madly British humor of Mikhail Bulgakov's short stories, in four episodes.
Why are you going to love it? What a pleasure to find Daniel Radcliffe ( Harry Potter ) in the absurd and burlesque register in which we had adored him in Swiss Army Man who made him incarnate… a corpse. He plays here a young country doctor (a well-landlocked village swept by snow) overwhelmed by the improbable situations of his patients, whose adventures are narrated by Jon Hamm ( Mad Men ) who plays this same doctor years later.
Already available on arte.tv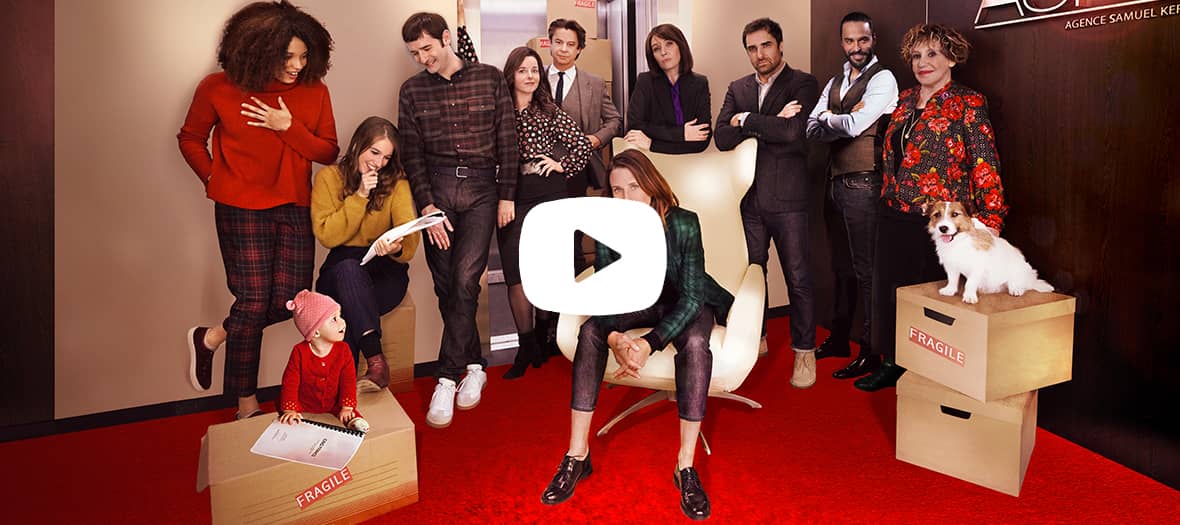 If you liked…. The first three seasons created by Dominique Besnehard behind the scenes of the ruthless world of agents of our favorite celebrities Camille Cottin , Thibault de Montalembert , Stefi Celma and Nicolas Maury .
The pitch. After the departure of Mathias, whose projects are still unknown (new agency, new job?), The entire ASK team is trying to retain its former clients at all costs: Nathalie Baye , Franck Dubosc or Dany Boon . For her part, Andrea is floundering between her new family life and CEO, and hires her eternal rival Elise Formain, who came from Starmedia ... Atmosphere!
Why are you going to love it? Is Sofia the new female hope? Will Thibault stay with his former secretary? No disappointment, this new opus turns out to be just as earthy and kidnapped with great reinforcements of brilliant guests, to trade by Charlotte Gainsbourg embarked in a turnip directed by her best friend, Franck Dubosc who dreams of being the headliner of authors and Télérama or Sandrine Kiberlain who is embarking on stand-up.
Dix pour Cent Season 4, from Wednesday October 21 at 9 p.m. on France 2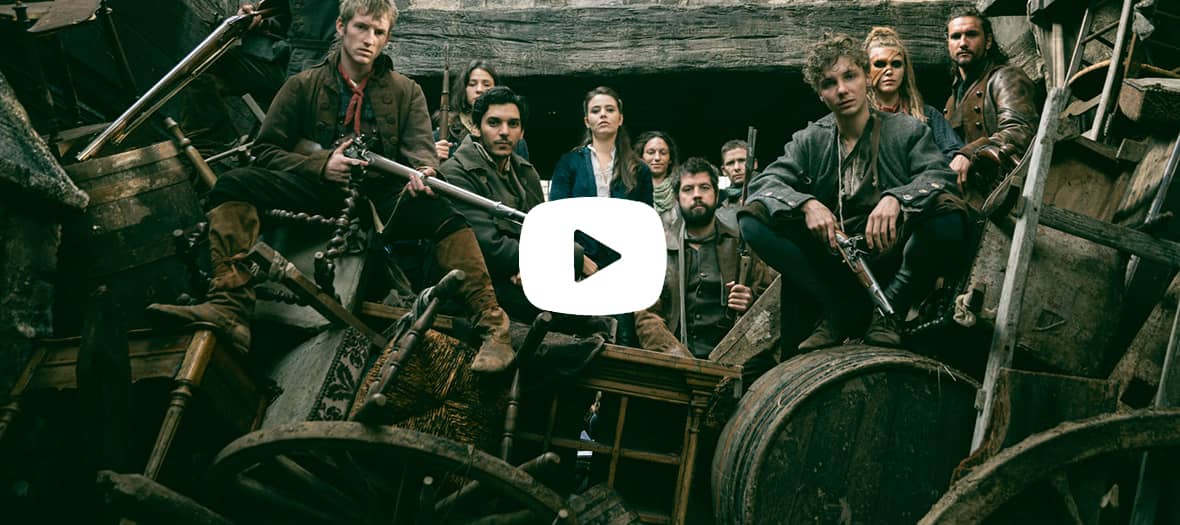 If you liked… Games of Thrones and Versailles (both at the same time).
The pitch. It all starts with the nightmarish visions that the young Madeleine tells Elise de Montargis. While investigating with Joseph Guillotin (future inventor of the guillotine ) on a series of mysterious murders, they discover the existence of a new virus which only affects blue blood. The disease spreads within the aristocracy and pushes the nobility to attack the people. It is the beginning of a revolt ...
Why are you going to love it? It is the perfect fantasy to watch by the fireside for lovers of major historical series in costume ( Angélique , Les Misérables , Le Comte de Monte Cristo ). Reread the French revolution against the backdrop of class struggle and the spread of a strange epidemic… It is necessarily tempting. If the ambition of uchronie, a true genre series, is not at the rendezvous, The Revolution clearly plays the effectiveness on an evening of curfew with a good soup in front of a cast of promising young talents: Lionel Erdogan , Marilou Aussilloux and Amir El Kacem .
The Revolution season 1 already available on Netflix
And also :
Going My Home . Fans of auteur cinema are in turmoil. Palme d'Or in Cannes, Hirokazu Kore-eda ( A Family Affair , The Truth ) signed a unique series for Japanese television. the main character Ryota, a publicist with a well-regulated existence, sees his life turned upside down the day his father Eisuke finds himself plunged into a coma following a malaise. He discovers his secret ... A jewel now visible in France. Available on Mubi
Sacred beast. Accused of sexual assault, the presenter of a game show sees his life and that of his relatives change. A disturbing English miniseries signed by the brilliant Jack Throne ( The Eddy , that's him), which delicately explores the explosion and the lackluster springs of business in a world. In replay on Arte TV
For the first time in France, the complete cult series The West Wing on Canal + and the double presidency of Martin Sheen as US president.
Also discover the new winter series and streaming movies not to be missed .