Unusual objects, stylish clothing, amusing gifts, small arty attentions … A selection of the best Xmas concept-stores, pop-ups.
La Maison d'Hiver Balzac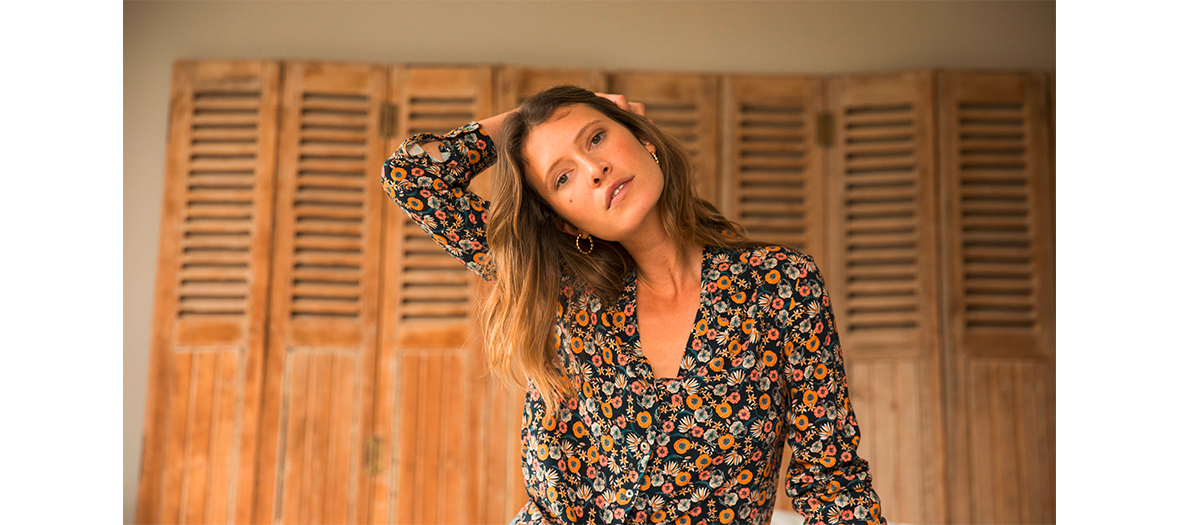 The label. The sustainable French label Balzac Paris has installed its pop-up in the Marais. On the programme: a selection of clothing and gifts of course, a comfy café and bookshop corner with Maison Nomade, a literary brunch on Sunday and inspiring encounters with a label in keeping with the times.
The right gifts. The onsite personalisation workshops which enable you to have t-shirts, blouses, shirts or jeans embroidered with your favourite private, his cute nickname or whatever you happen to think of, hot stamping a bag with aname, an initial or a date, and why not having a portrait sketched by artist Camille Fosse. A unique present that will certainly be right on target.
Until the 22nd of December, Monday to Sunday from 11am to 8pm / late night on Thursday until 6pm. 18, Rue de Turenne, 75004 Paris. www.balzac-paris.fr
90's Heroes at La Garçonnière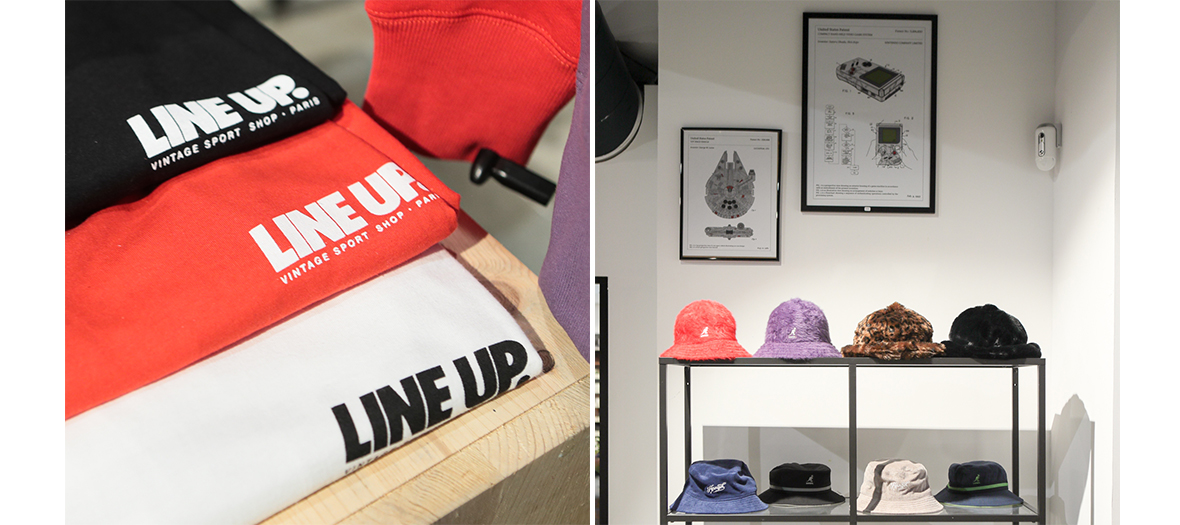 The label. La Garçonnière, the favourite concept-store of Parisians in the Marais shelters an amazing pop-up store for nostalgics of the 90's. Around a wild arcade games and a giant graffiti of Dragon Ball Z, we discover a selection of star brands from the era, signing their big come-back (Kangol, Casio, Champion, Cat, Eastpak…) as well as a selection of video games, consoles and vintage clothing of excellent quality.
The right gifts. A retro Lacoste gym outfit (€70), pretty notebooks (€8.90), a 1995 super rare PSG seasonal t-shirt (€220), a collector Gameboy Advance Pokémon (€65), posters from cult films such as Fight Club, La Haine or Back to the Future (€30), a Nintendo 64 that still works perfectly (€65) or a really good looking Kangol cap from the new collection (€70).
Until the 5th of January 2020. 47 Rue des Archives, 75003 Paris. www.la-garconniere.fr
Pet So Chic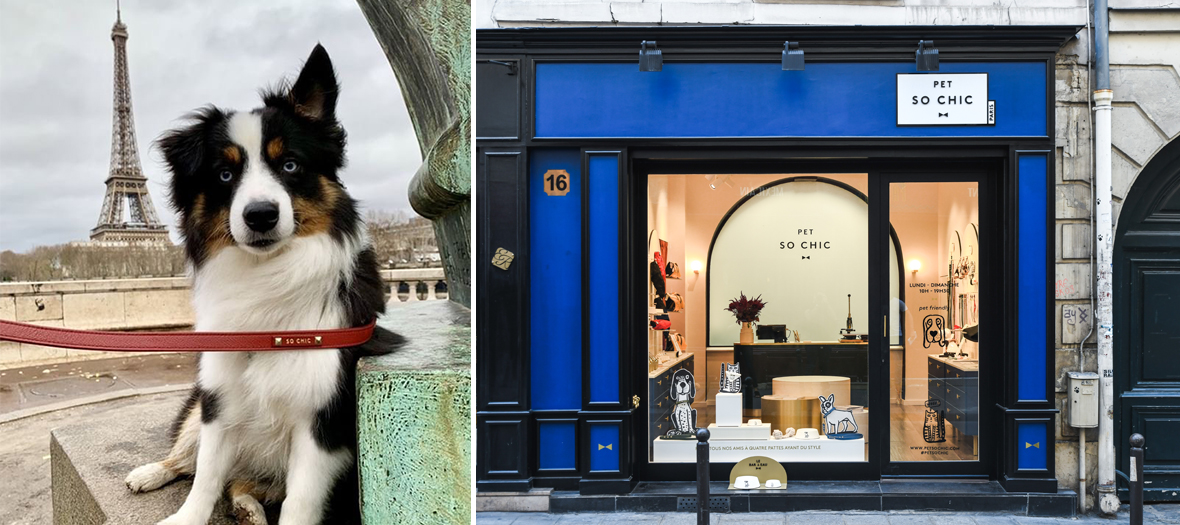 The place. In Saint-Germain-des-Prés there is a brand new flagship that is already imposing itself as the H.Q. of animal lovers. The first pet friendly brand to have its own boutique, Pet So Chic sells croquettes, leashes, harnasses, toys, and baskets for cats and dogs in a local grocery store ambiance, under the vigilance of Polka, the small pomsky puppy that keeps an eye on things.
The right gifts. If we adore this thermo-regulated jacket ideal in the rain (€65) and the pretty extensible leather harnesses—we have a heart throb for this royal blue necklace (€59) and leash (€79) bleu royal—the colour ordered specially by the Macron couple for their black labrador.
16 Rue Dauphine, 75006 Paris. www.petsochic.com
From Future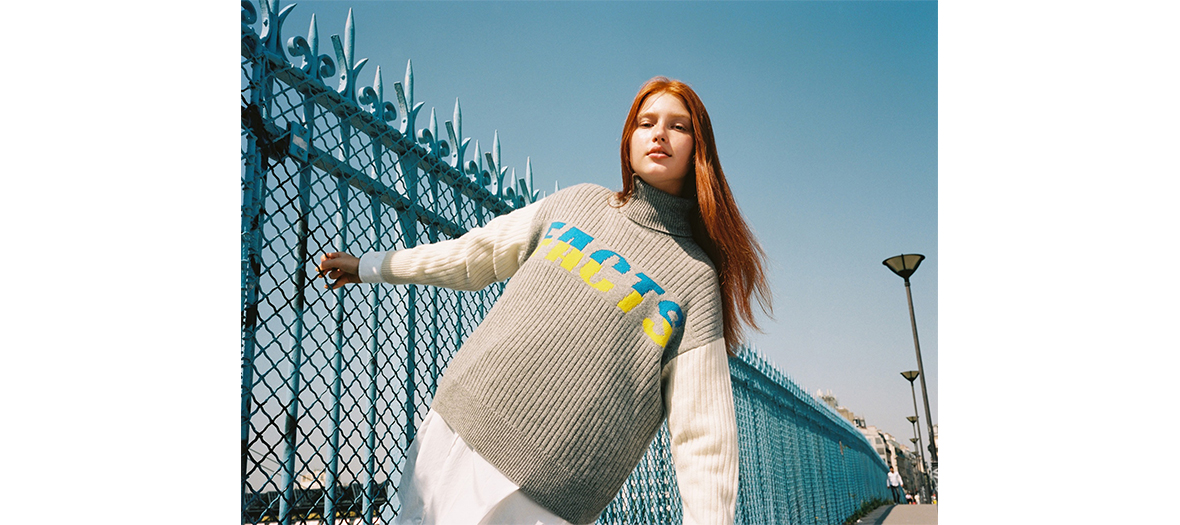 The place. A skip and a hop from Café de Flore, the colourful boutique of affordable cashmeres, From Future, appeals to all those who enjoy chic and comfy pullovers. An occasion to put a really beautiful gift under the tree without having to call your banker for a loan.
The right gifts. An oversize pullover in 2 ply cashmere with a flame motif for your boy friend (€169), the Candy pink cowl collar pullover for your sister (€89) or multi-coloured 10-ply bonnets (€49) All presented in a beautiful iridescent bag that is a big hit.
54 Rue de Rennes, 75006 Paris. www.fromfuture.com
Inouitoosh at Bon Marché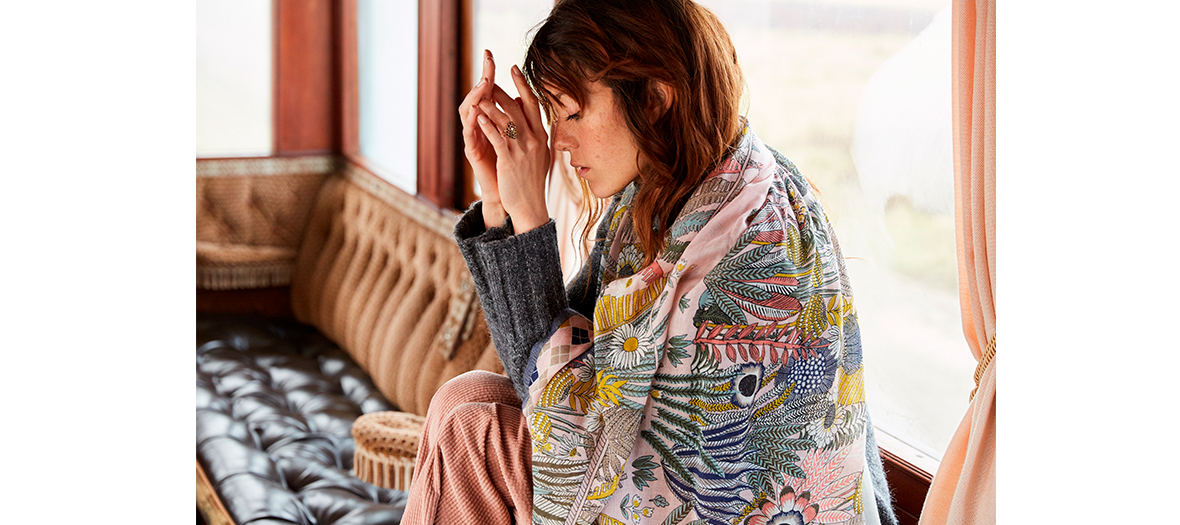 The place. The ultra creative French label Inouitoosh is installing its Xmas pop-up on the ground floor of Bon Marché. A great op to load up on poetic gifts straight out of the dreamy universe of the founder.
The right gifts. Adorable accessories for all budgets: a leather knapsack with wool yokes (€115), a large checked wool tote (€165), great looking printed super soft scarves presented like paintings under glass (€155) and lot of small curiosities to nab such as their perfumed candles or good looking precious jewellery pieces.
Pop-up store Inouitoosh at Bon Marché, until the end of the year on the ground floor of the Department store at 24 Rue de Sèvres, 75007 Paris. www.inouitoosh.com
émoi émoi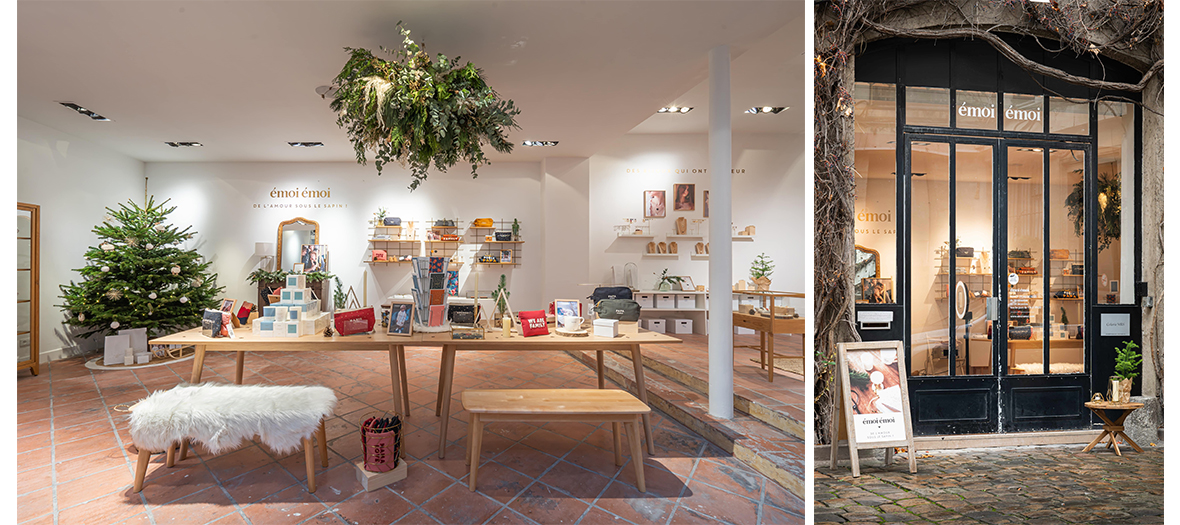 The place. The favourite label of assorted tribes installs its Xmas pop-up in the Marais. In addition to the already cult message clothing (mama bear, papa wolf and tutti quanti)—there is an adorable selection of limited editions for the entire family.
The right gifts. A "Petit Chef" apron in organic cotton (€25), a "Tata Cool" pouch (€24), leather keychains hot stamped to be personalized (€20) or a "Mini Poule" sailor top for your fave niece (€38).
Until the 24th of December, every day from 11am to 7:30pm. 8 Rue des Francs Bourgeois, 75003 Paris. www.emoi-emoi.com
Histoire d'Or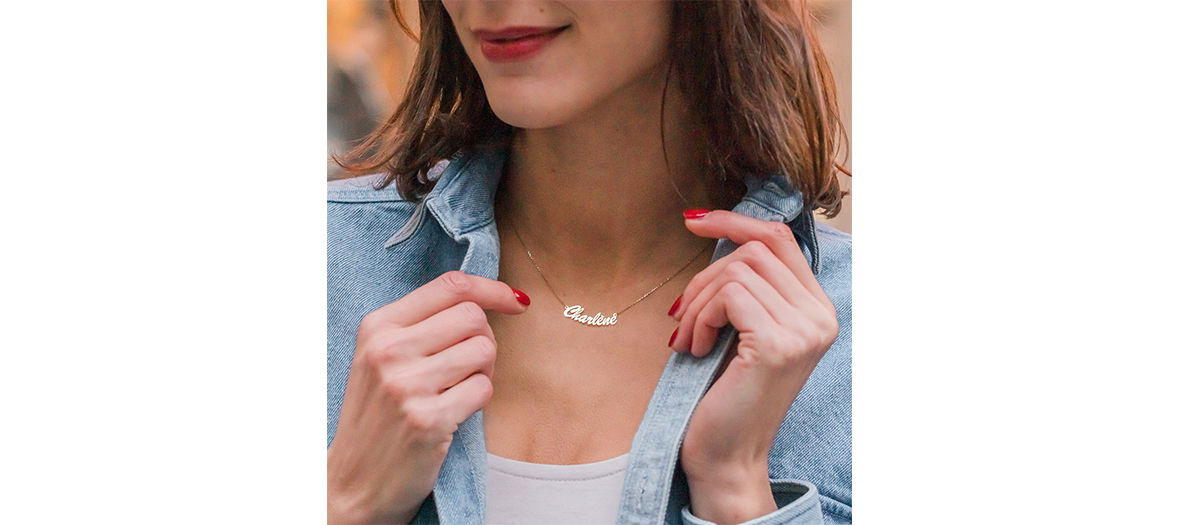 The place. In order to find the most good looking jewellery for the entire family and for all budgets, we have not found anything better than Histoire d'Or: lots of good ideas between the men's watches, the first precious jewellery for kids and precious stones for deluxe gals...
The right gifts. We opt for a jewellery piece featuring a medallion to be engraved on the spot with a symbol, name or date of your choice, so that your gift will be even more personal (free engraving starting at €89, otherwise €24). And for gals who sweat by Breakfast at Tiffany's, what could be more elegant than offering her a very first small diamond on an adorable bracelet with a cord (€39) ?
List of jewellery www.histoiredor.com
La Boutique Fantasque
© Frédéric Lucano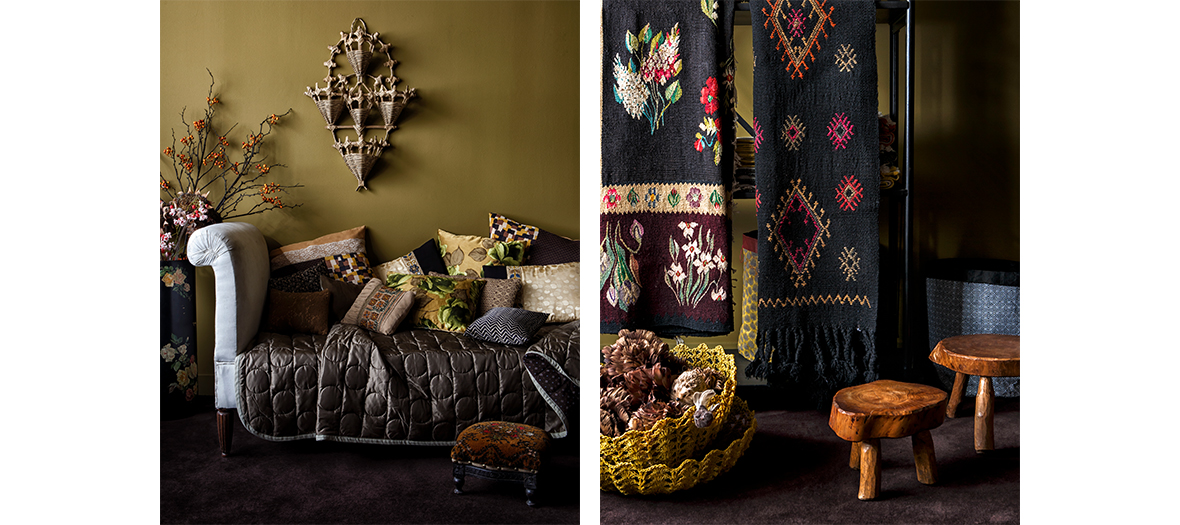 The place. The temple of chic and zany decoration chic, aka La Boutique Fantasque, is settling during an entire winter in the 7th. Joy. Inspired by the eponymous Russian ballet, the boutique is filled with great gift ideas: furniture, small poetic objects and other fantasies, like a theatrical cabinet of curiosities. Get ready to party!
The right gifts. Impossible to resist this superb and unique hand-embroidered carpet, woollen slippers, Manoush-style flowers (€60), the adorable crafted rabbit in painted wood, recently arrived from Japan (€95) and other small mascots, the pretty candle holder in caned gold metal (€50), the mini bee was candles (€17 for 10), handwoven masks (€120) and beautiful Majorcan chairs.
92 Rue de Grenelle, 75007 Paris
Diptyque
The place. It's the big comeback of decoration objects from the very famous and chic house of perfumed candles. Le Bazar de Diptyque is taking over its quarters in the 1st by opening a pop-up dedicated to design and other niche treasures. Understand: colourful nuggets galore by small creators and artisans bustling in a joyful mess—a dream come true!
The right gifts. Passion for dreamy super soft pyjamas in cotton poplin (€250) by sketcher and ornament artist Pierre Marie, inspired by emblematic house perfumes. Without forgetting the great looking notebooks (€35) and cushions in printed linen canvas (€130) by Antoinette Poisson, Gucci mood, the darling hand-embroidered bag jewellery by Macon & Lesquoy (€44) and the great looking painted tableware (starting at €98) by Julien Colombier, to be accumulated for large tables.
Until the 31st of December at 16 Rue Saint-Roch, 75001 Paris. More info on www.diptyqueparis.com
The Marin Montagut corner at Bon Marché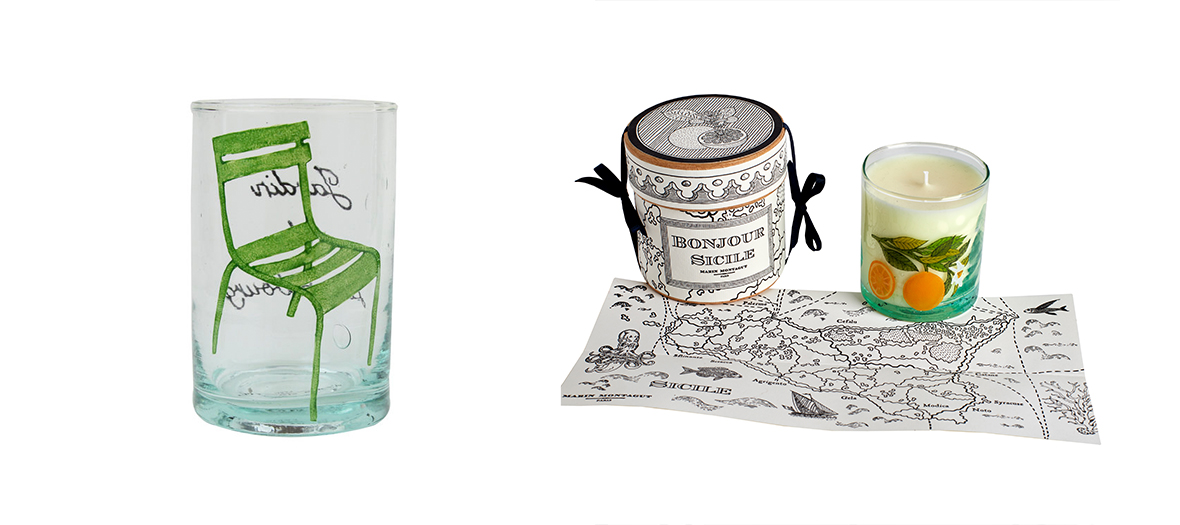 The place. Good news: Marin Montagut, the favourite French illustrator and creator of Parisians, has taken over the Bon Marché for Xmas. On the programme: glasses, scarves, boxes, cushions and other marvels illustrated by the artist, in the Marie-Antoinette vein. Her signature? Her delicate, meticulous crayon sketch, subtly imperfect and off-the-beaten-track that is the charm of all these objects.
The right gifts. The small box of secrets "Le Chat", as a trompe-l'œil book, to hide your most precious jewellery (€115), the 100 % hand-made "Chaise du Luxembourg" glass, mouth blown (€35), the superb window displays of "Amour" in papier mâché with adorable cut outs (€280) and the comforting Sicile perfume bottle (€68).
24 Rue de Sèvres, 75007 Paris
Arty Dandy Marais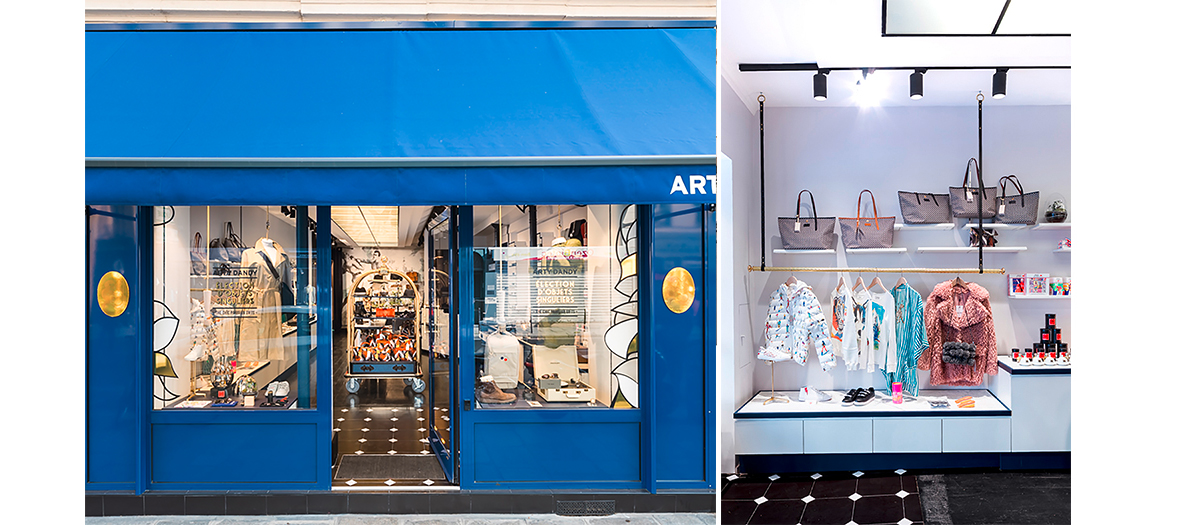 The place. For its 10th anniversary, the stylish select-store of Saint-Germain-des-Prés has opened a second address in the Marais. On the programme? Always more accessories for men and women, high-tech nuggets and decorative objects.
The right gifts. The mini Bluetooth Lexon loudspeaker to take along everywhere (€30), a pretty poster map of Paris (€24), a kissing pouch in leather and sequins, Bons Baisers de Paname (€75), a selection of the incredible Les Néréides jewellery (starting at €50), a Rains rainproof bag ideal for bike loves (€95) or then an elegant kit with everything you need to polish your shoes(€55).
46 rue de Turenne, 75003 Paris. More info on www.artydandy.com
Sandqvist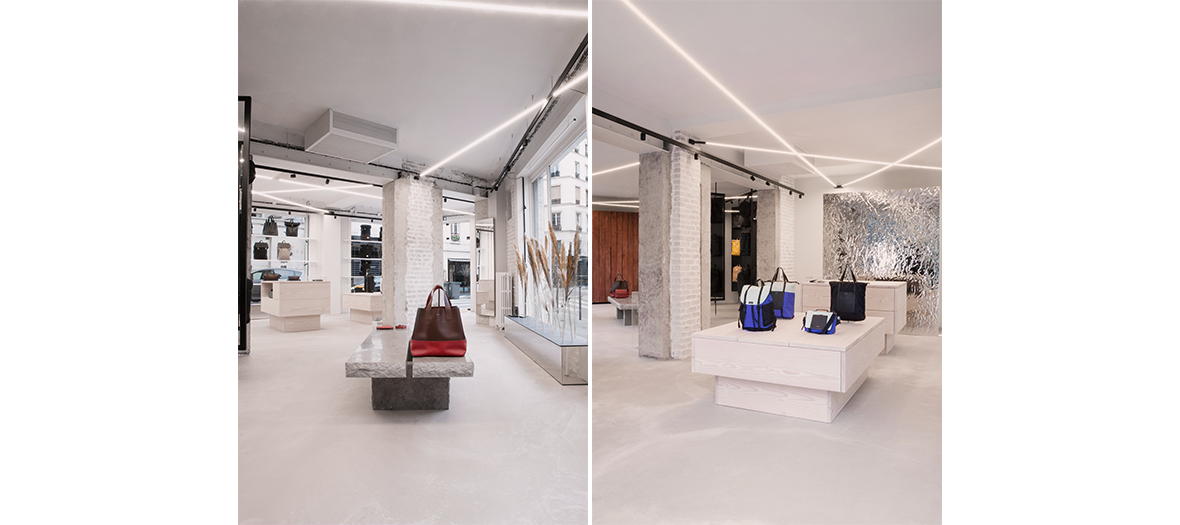 The place. Sandqvist associates the architectural cabinet Wingårdhs and opens its first boutique in the Marais. The concept? "Less is more": simplicity, streamlined allure and functionalities. In short, models for great looking bags and change-purses in sustainable, planet friendly materials.
The right gifts. For a perfect equipment: the darling change-purse in natural leather (€49), the waterproof backpack made with odd pieces (€149), the super chic satchel (€349) or the weekend bag in organic cotton (€239).
47 Rue de Saintonge, 75003 Paris. More info on sandqvist.com.
The place. Lisa Gachet and her gang have taken up their quarters in a fab flagship on canal Saint-Martin. Spread out on more than 380 m², the place gathers the clothing of the brand with a lemon, a notions store, friendly labels, a workshop place and a coffee-shop. Wild.
The good gifts. Their notebooks with exclusive motifs (€6), their jacquard pullover from the last collection (€120), the dried flower bouquets of Pampa (€33), Prescription Lab cosmetics, an illustration by Léa Maupetit.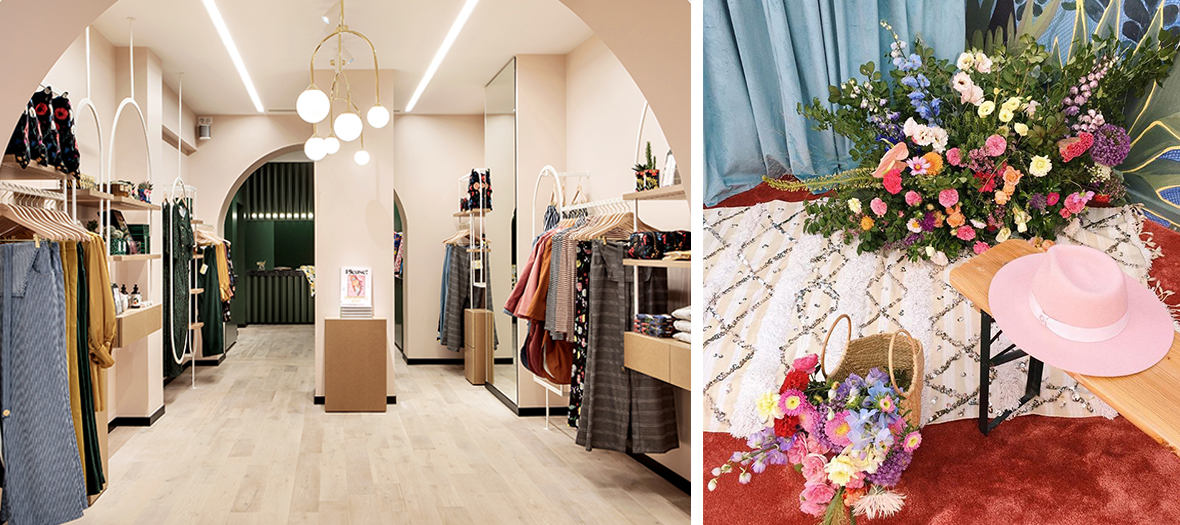 61 Quai de Valmy, 75010 Paris.

More info on www.doitinparis.com
The place. Half-way between a tag sale and the vegetal bar, the first boutique-workshop of Barbara Kratz-Leperlier, aka The Blond Cactus, opened just on time to find curio objects in cactus pots.
The good gifts. A porcelain cup, a ceramic pitcher, glasses in brass, choose a retro piece and a "succulente" plant, Barbara repots them on site in front of your with the pebbles of your choice (starting at €30). Cool also, the DIY kits with everything you need to do it at home (starting at €40).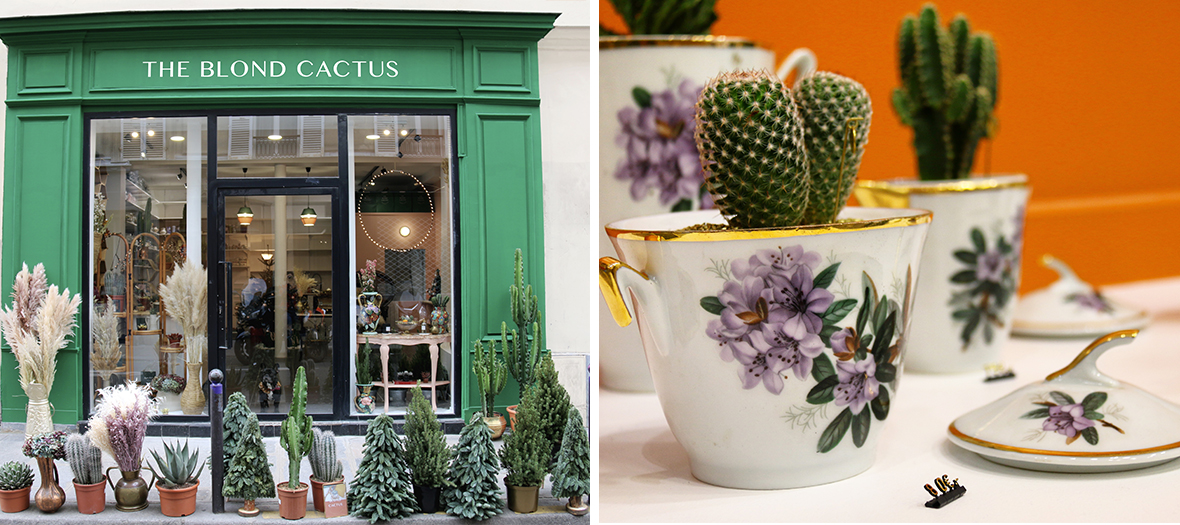 17 Rue de Crussol, 75011 Paris

More info on www.theblondcactus.com
The place. Young Parisian designers have talent, so much so that Sept Cinq has opened in the Canopée des Halles a cozy boudoir with a real tea corner.
The good gifts. Samo candles in soya wax (€29), pretty DIY Britney Pompadour embroidery sets (€25), the must hearts t-shirt of Elise Chalmin (€48), elegant men's watches by Charlie Watch (€185), without forgetting mobile-style earrings created by the team of Sept Cinq (€75).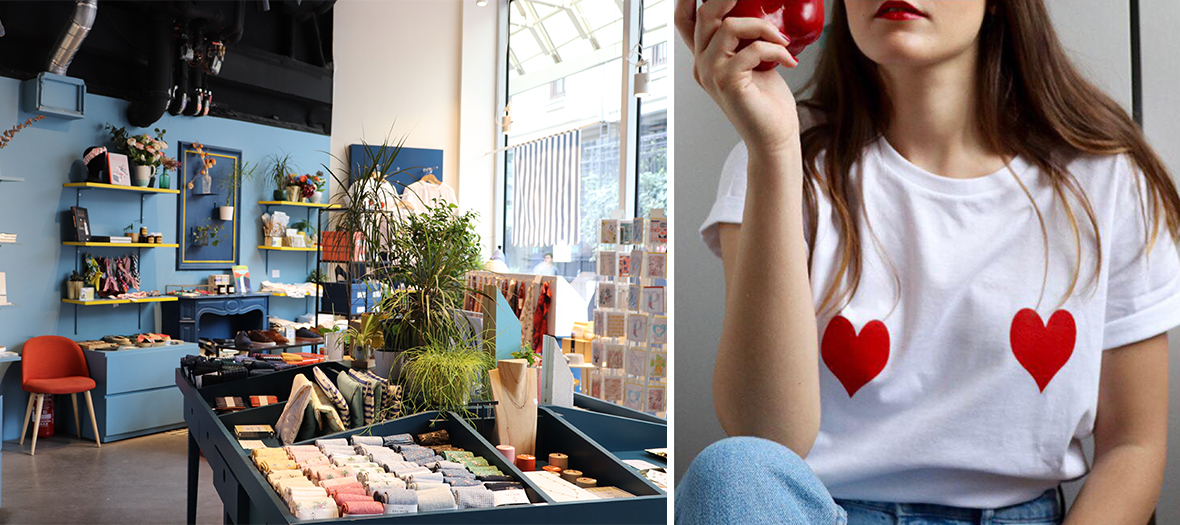 26 Rue Berger, 75001 Paris.

More info on www.sept-cinq.com
La Seinographe x Bloc de l'Est
The place. One scouts and refurbishes great looking vintage Soviet furniture, the other one spots fashion labels mode and trendy French decoration. Together, Kamila Sokolska from Bloc de l'Est and Marina Mussat from the e-shop La Seinographe imagined a feel-good and inspiring place very close to Square d'Anvers.
The good gifts. The pretty tropicool stationary of Emilie Bouguereau (€15), the ceramic swallows in ceramic with pop colours to be fixed on the Monochromic wall (€25), Petitjean Paris silk lavallines to tie around the wrist or in the hair (€75), woven suspensions in cotton thread Maison Paloma (€380) and the vintage lamps picked up by Kamila.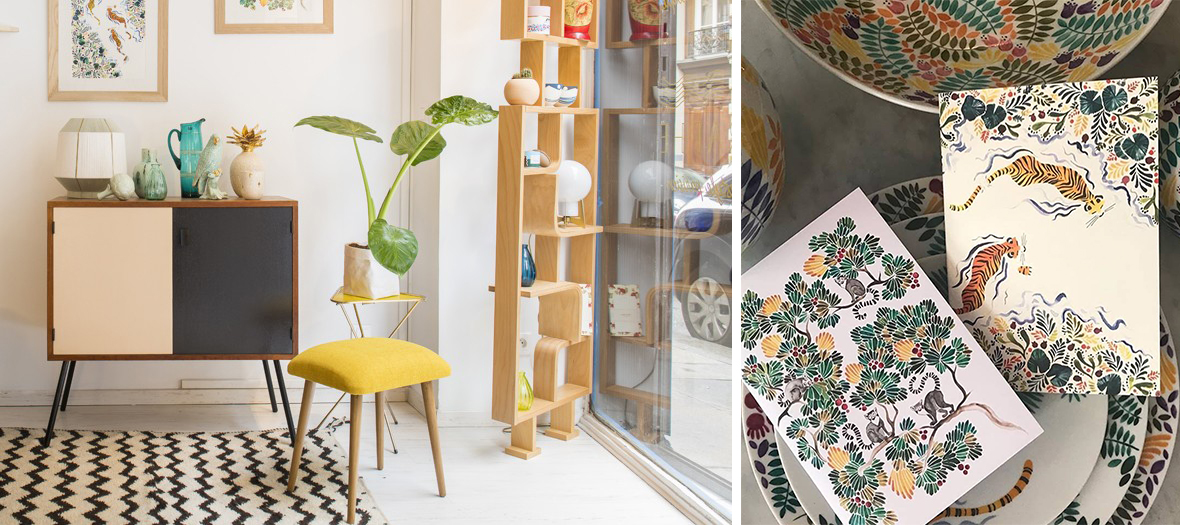 28 Rue Condorcet, 75009 Paris.
More info on Do it in Paris
The place. Buoyed by the success of its pop-up last year, Les Boudeuses is now opening for good on Rue Saint-Denis. The philosophy remains the same: gathering in a single place a trendy selection of up and coming labels (fashion, decoration, food), with a cafeteria corner to have a drink and a nail bar, to be pampered.
The good gifts. Lucky charm by bracelets Lili & Koh, bonnets with interchangeable pompons by Cabaïa (€35), squares of vegetalized walls by Paris Pousse, the vintage pitchers and ashtrays by Armand & Colette. For foodies, Les Petites Françaises chocolate cups (€25 for 6) and Kalios olive oils (€16.50). And for those who already have everything, Clap jewellery to clip on a bag or shoes for a personalized touch (€35).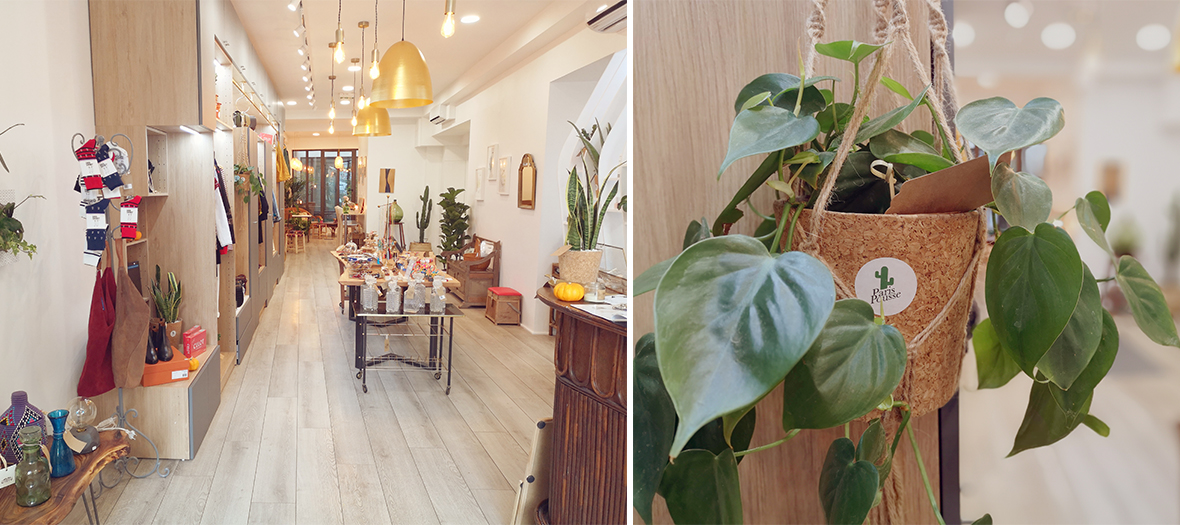 216, Rue Saint-Denis 75002 Paris.

More info on les-boudeuses.com/
Maison Plisson Saint Honoré
The place. In her new Maison Plisson set up on two floors of Place du Marché Saint Honoré, Delphine Plisson has opened a place half-way between a concept-store and general deluxe foods. A treasure trove to find gifts for everyone…and not only foodies !
The good gifts. The mythical tee-shirt with messages "Paris Champagne Team" (€25), the vegetable Papier Tigre x Maison Plisson calendar to display seasons in your kitchen (€29), a box of gummy bears by À la Mère de Famille (€6.50), vintage glasses picked up exclusively for Maison Plisson (starting at €25), an amazing panettone with dried fruit and raisin (€35) or a "Toi" bowl, created exclusively for Maison Plisson by the Faïencerie of Pornic (€12).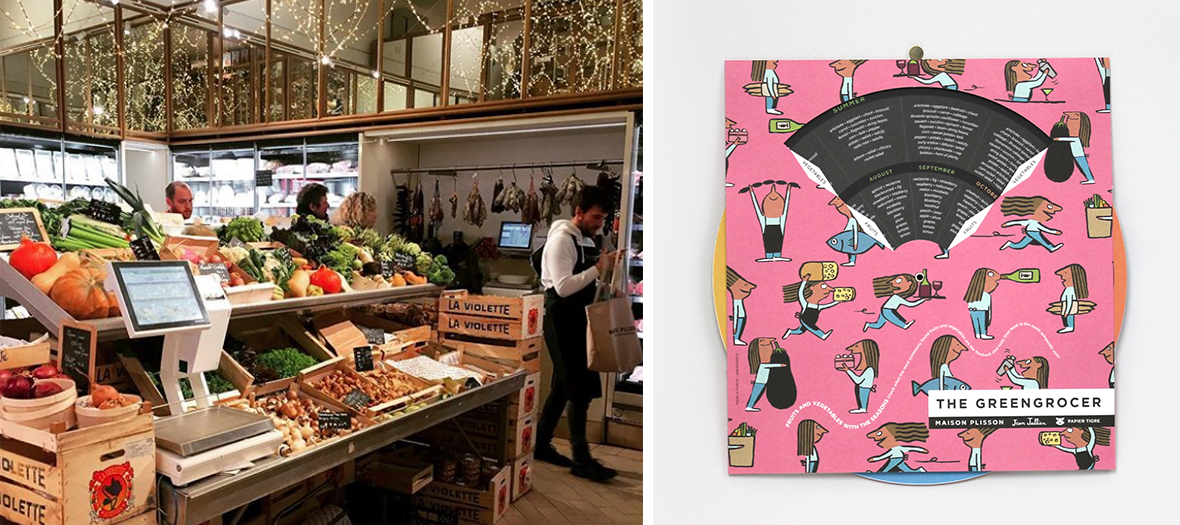 35 Place du Marché Saint-Honoré 75001 Paris

More info on lamaisonplisson.com
The place. Ex-marketing director in the agribusiness, Christine Ball dropped everything to open her pretty boutique dedicated to craftsmanship a young creation. A whiff of fresh air right next to the canal Saint-Martin.
The good gifts. A superb ceramic goblet by Sonia Oudry (€20). All the jewellery of Laetitia Piffeteau. If you kept just one? The trip of bracelets in brass, hammered with 24 carat gold (€95). A large graphic Ma Poésie pouch to slip under the arm (€68). And the Lotus MySen ring, that comes in several formats (€35-55).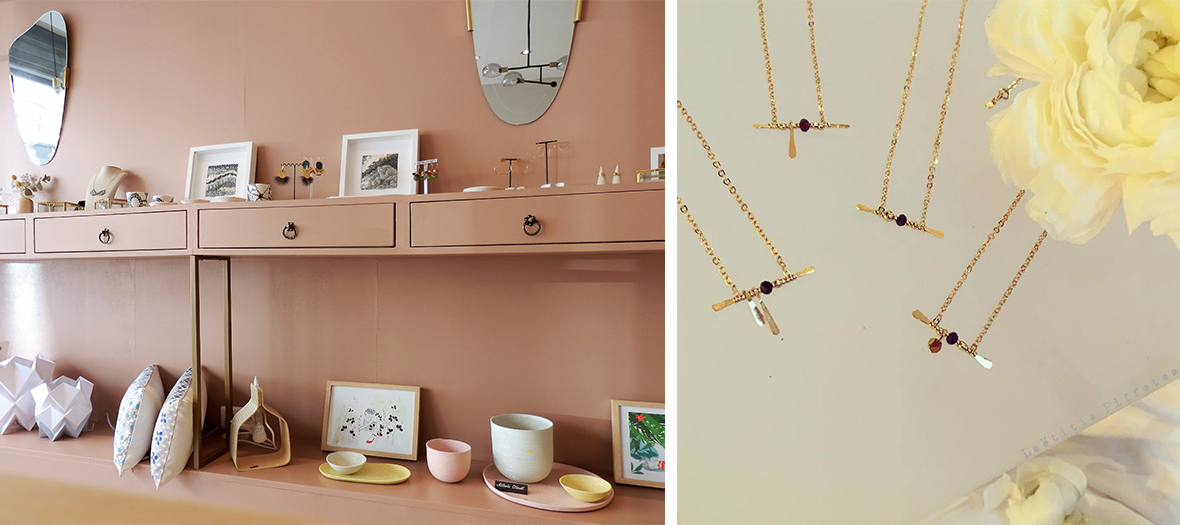 32 Rue Bichat, 75010 Paris.

More info https://soliza.fr/


Discover also the xmas wishlist for men and xmas shopping for lazy bones