Unusual objects, stylish goodies, fun gifts, small arty attentions … A selection of the 10 best concept-stores and boutiques for Christmas.
The apartment of Madame M
The place. When Studio Marant and Chez Moi Paris take over Galerie Joyce, in the Jardins du Palais Royal, the result is the coolest and most inspiring Xmas boutique of the season. And with reason. Emily Marant and Jean Baptiste Charpenay-Limon imagined a persona from a 19th century novel : Madame M., a spiritual woman from the 19th century, a true prima donna, writer and activist. In her fantasized apartment, one finds design, paintings, far-flung souvenirs of travels, furniture, games, and all sorts of treats that could have filled her interior.
The good gifts. Ceramic plates by Lola Moreau (€36), a tube of truffle ketchup (€13), the amazing Cornaërt socks (€19), Blu Melody, the small book with the backstage of Jane Birkin shooting (€19), hilarious ceramics signed Les Religieuses in the shapes of "Fannies", "Tits" and "Dicks" (€16) that Louise Bourgeois would not have denied, without forgetting Antoinette Poisson notebooks, the 7 families game to colour on your own Supereditions (€8) or glitter leather mittens signed Toasties (€65).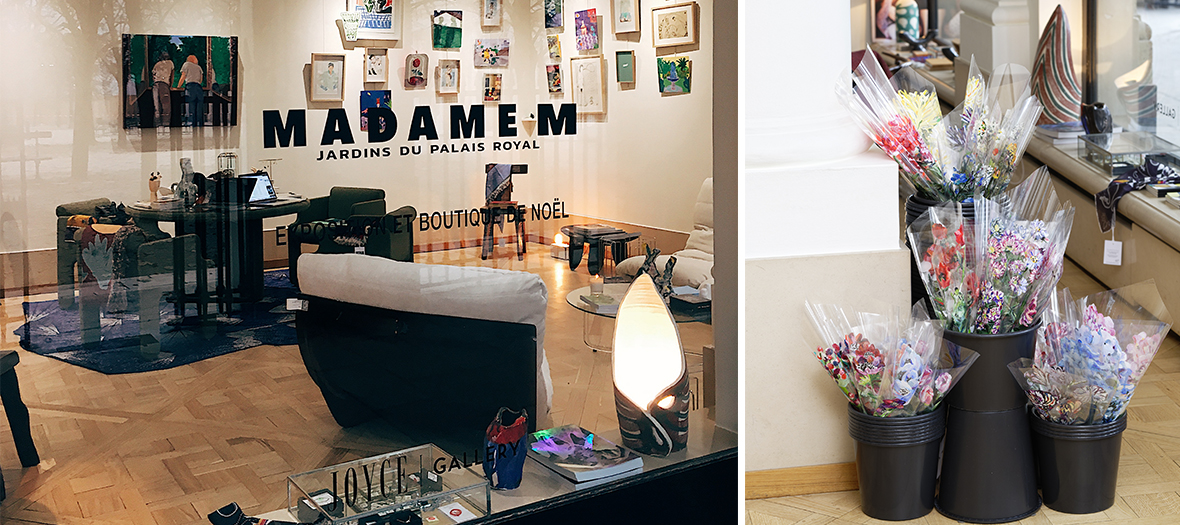 L'Appartement de Madame M. , from the 23rd of November to the 5th of January.
At Galerie Joyce, 168 Galerie de Valois, 75001 Paris

More info on www.studiomarant.com

Make My Lemonade
The place. Lisa Gachet and her gang have taken up their quarters in a fab flagship on canal Saint-Martin. Spread out on more than 380 m², the place gathers the clothing of the brand with a lemon, a notions store, friendly labels, a workshop place and a coffee-shop. Wild.
The good gifts. Their notebooks with exclusive motifs (€6), their jacquard pullover from the last collection (€120), the dried flower bouquets of Pampa (€33), Prescription Lab cosmetics, an illustration by Léa Maupetit.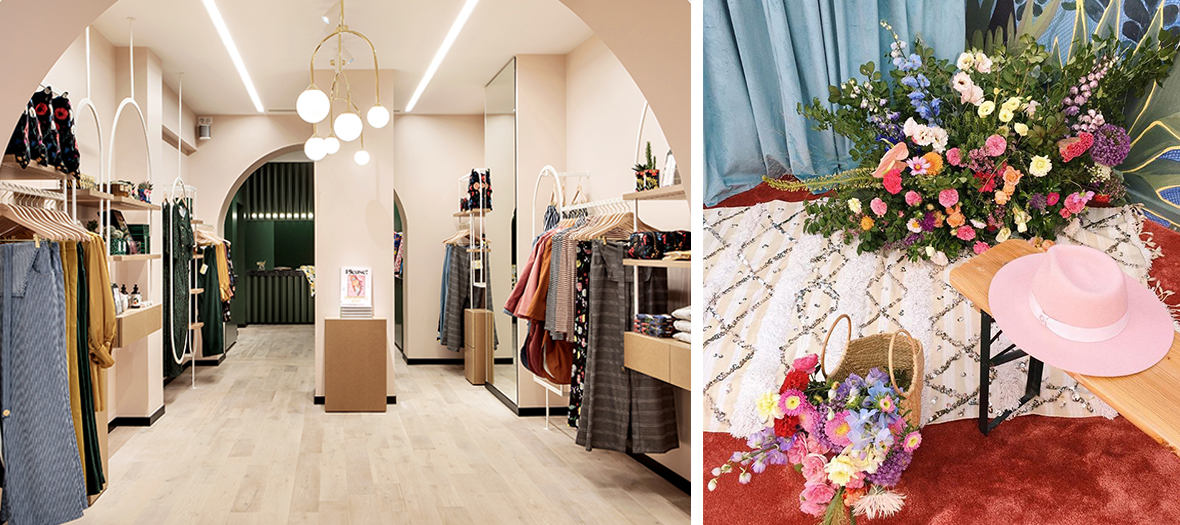 61 Quai de Valmy, 75010 Paris.

More info on www.doitinparis.com
The Blond Cactus
The place. Half-way between a tag sale and the vegetal bar, the first boutique-workshop of Barbara Kratz-Leperlier, aka The Blond Cactus, opened just on time to find curio objects in cactus pots.
The good gifts. A porcelain cup, a ceramic pitcher, glasses in brass, choose a retro piece and a "succulente" plant, Barbara repots them on site in front of your with the pebbles of your choice (starting at €30). Cool also, the DIY kits with everything you need to do it at home (starting at €40).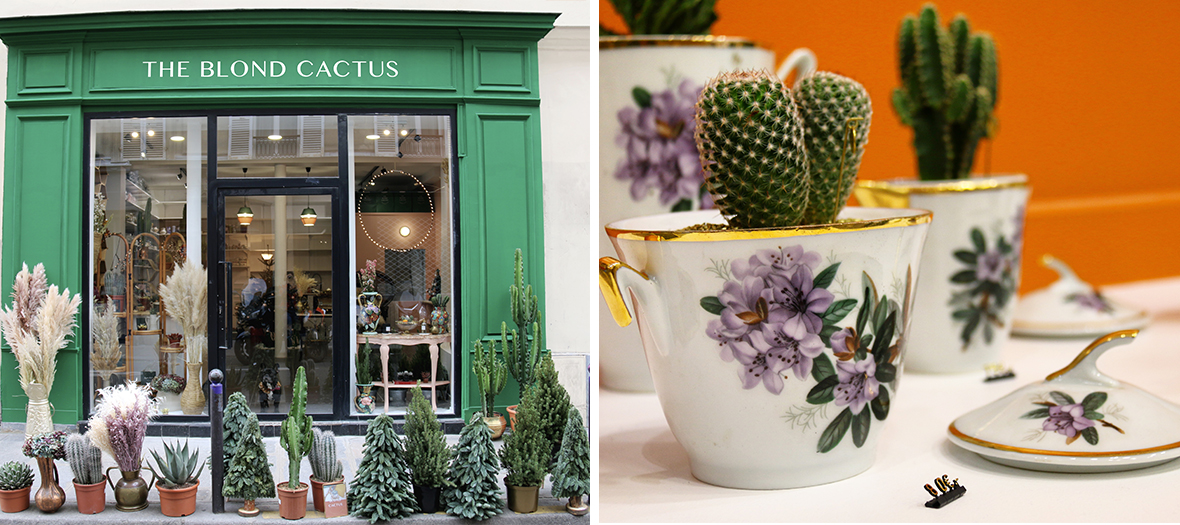 17 Rue de Crussol, 75011 Paris

More info on www.theblondcactus.com
Arty Dandy Marais
The place. For its 10 years, the stylish select-store of Saint-Germain-des-Prés is treating itself to a second address in the Marais. On the programme? Still more accessories for men and women, high-tech nuggets and decorating objects.
The good gifts. The mini Bluetooth Lexon speaker to take along everywhere (€29), a Triwa watch for a punctual guy (€139), the super chic Octaevo lobster brass bookmark (€15), the hipster Bleu de Chauffe backpack (€349) and an Anne Thomas reed bracelet (€65).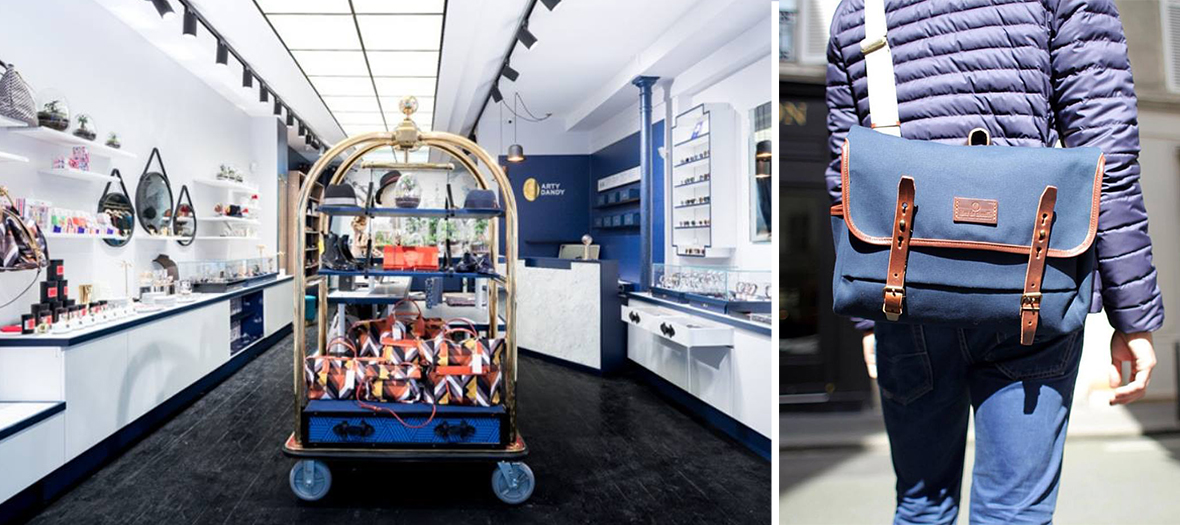 46 Rue de Turenne, 75003 Paris.

More info on www.artydandy.com/fr/
Sept Cinq Châtelet
The place. Young Parisian designers have talent, so much so that Sept Cinq has opened in the Canopée des Halles a cozy boudoir with a real tea corner.
The good gifts. Samo candles in soya wax (€29), pretty DIY Britney Pompadour embroidery sets (€25), the must hearts t-shirt of Elise Chalmin (€48), elegant men's watches by Charlie Watch (€185), without forgetting mobile-style earrings created by the team of Sept Cinq (€75).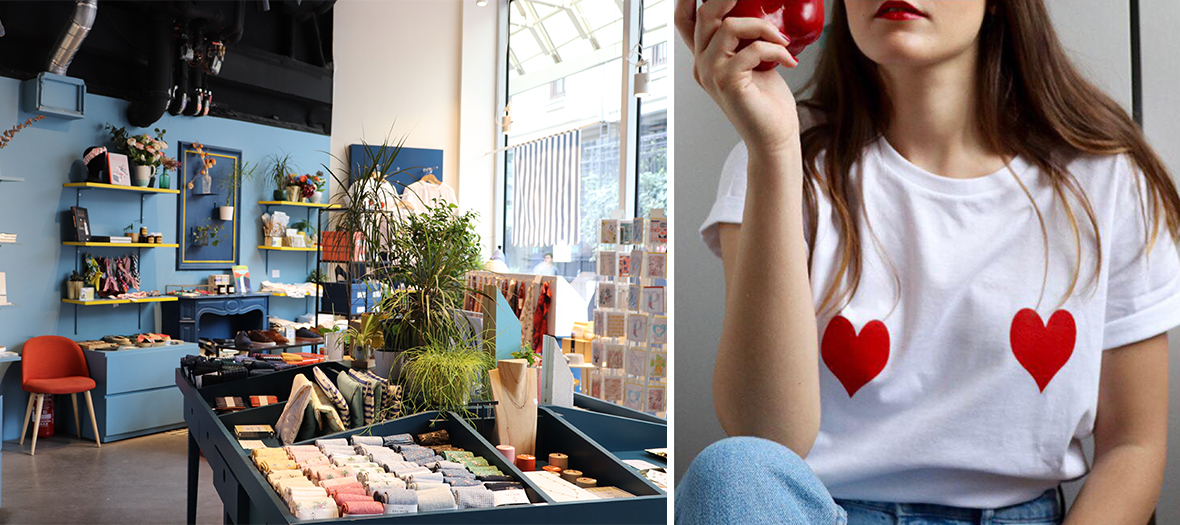 26 Rue Berger, 75001 Paris.

More info on www.sept-cinq.com
La Seinographe x Bloc de l'Est
The place. One scouts and refurbishes great looking vintage Soviet furniture, the other one spots fashion labels mode and trendy French decoration. Together, Kamila Sokolska from Bloc de l'Est and Marina Mussat from the e-shop La Seinographe imagined a feel-good and inspiring place very close to Square d'Anvers.
The good gifts. The pretty tropicool stationary of Emilie Bouguereau (€15), the ceramic swallows in ceramic with pop colours to be fixed on the Monochromic wall (€25), Petitjean Paris silk lavallines to tie around the wrist or in the hair (€75), woven suspensions in cotton thread Maison Paloma (€380) and the vintage lamps picked up by Kamila.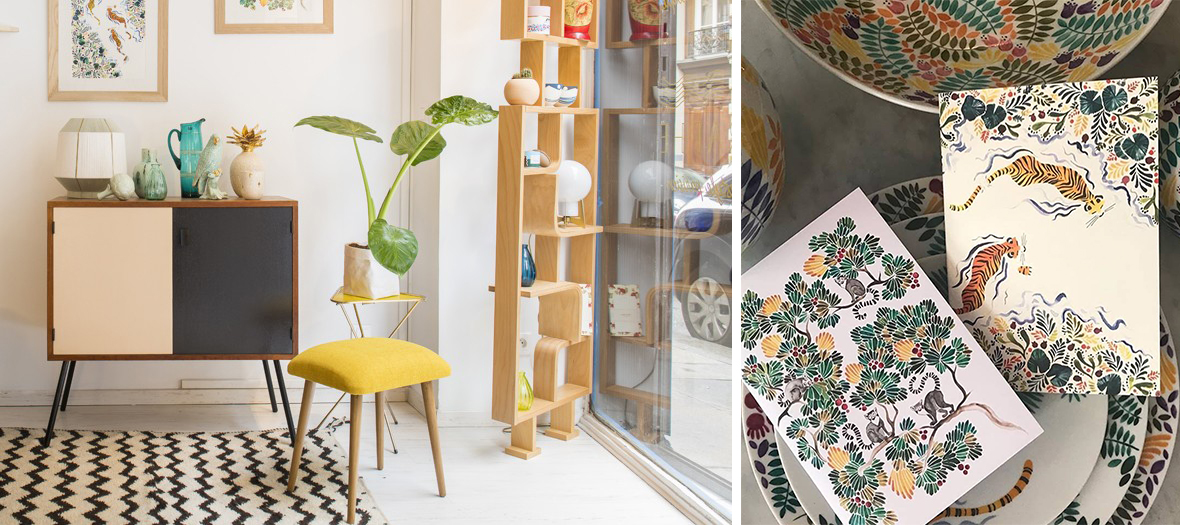 28 Rue Condorcet, 75009 Paris.
More info on Do it in Paris
Les Boudeuses
The place. Buoyed by the success of its pop-up last year, Les Boudeuses is now opening for good on Rue Saint-Denis. The philosophy remains the same: gathering in a single place a trendy selection of up and coming labels (fashion, decoration, food), with a cafeteria corner to have a drink and a nail bar, to be pampered.
The good gifts. Lucky charm by bracelets Lili & Koh, bonnets with interchangeable pompons by Cabaïa (€35), squares of vegetalized walls by Paris Pousse, the vintage pitchers and ashtrays by Armand & Colette. For foodies, Les Petites Françaises chocolate cups (€25 for 6) and Kalios olive oils (€16.50). And for those who already have everything, Clap jewellery to clip on a bag or shoes for a personalized touch (€35).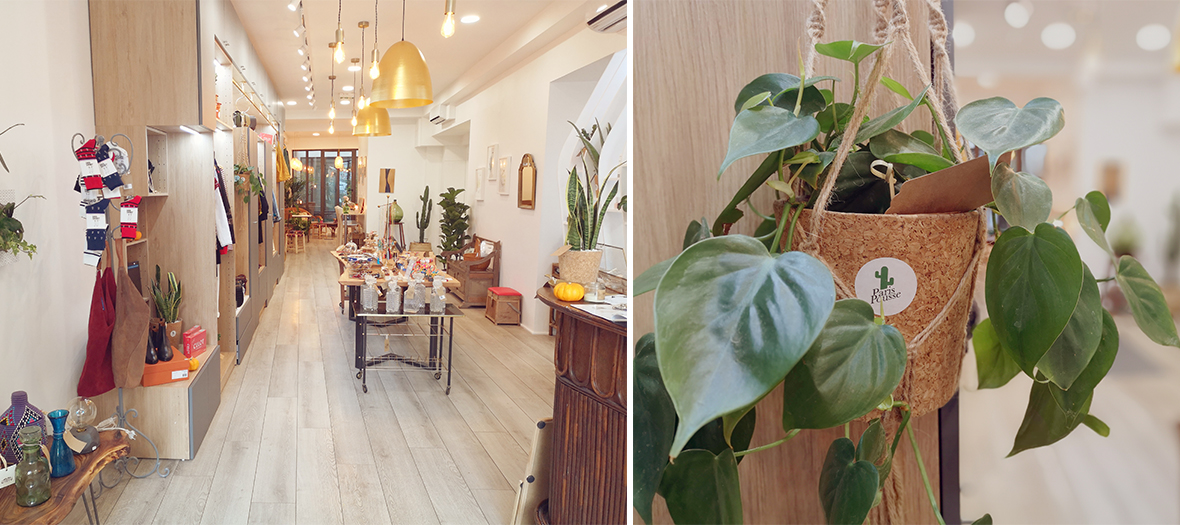 216, Rue Saint-Denis 75002 Paris.

More info on les-boudeuses.com/
Maison Plisson Saint Honoré
The place. In her new Maison Plisson set up on two floors of Place du Marché Saint Honoré, Delphine Plisson has opened a place half-way between a concept-store and general deluxe foods. A treasure trove to find gifts for everyone…and not only foodies !
The good gifts. The mythical tee-shirt with messages "Paris Champagne Team" (€25), the vegetable Papier Tigre x Maison Plisson calendar to display seasons in your kitchen (€29), a box of gummy bears by À la Mère de Famille (€6.50), vintage glasses picked up exclusively for Maison Plisson (starting at €25), an amazing panettone with dried fruit and raisin (€35) or a "Toi" bowl, created exclusively for Maison Plisson by the Faïencerie of Pornic (€12).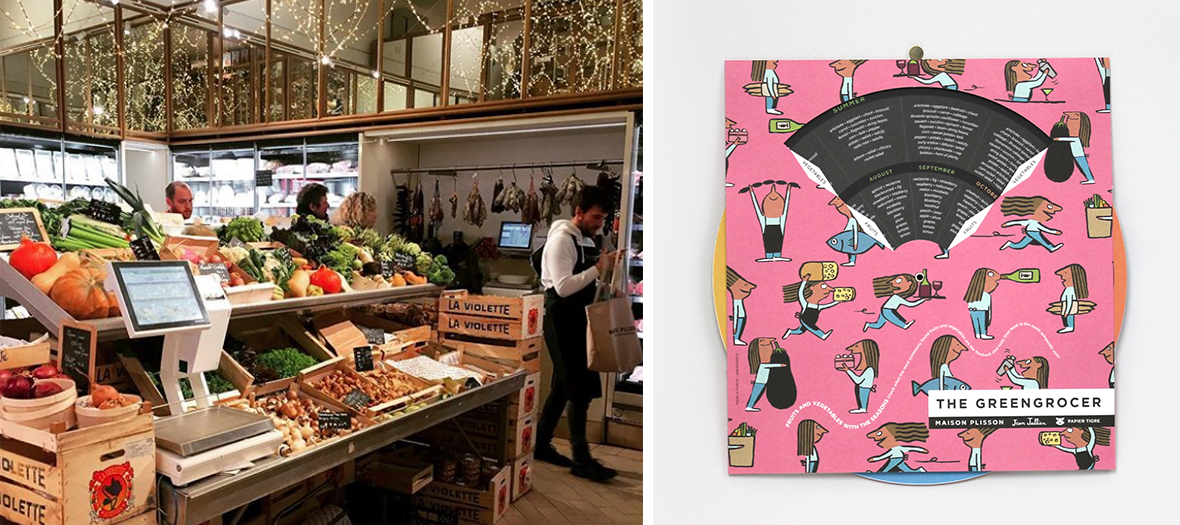 35 Place du Marché Saint-Honoré 75001 Paris

More info on lamaisonplisson.com
Chat-Malo chez La Garçonnière
The place. Pegged to its move in the Marais, the men's concept-store La Garçonnière entrusted its ephemeral children's space to Julie Caby. The founder of Chat-Malo the best kids-friendly labels.
The good gifts. The assorted Chat-Malo sweats for little ones (€55) et grands (€89), Vega glitter sneakers tiny size (€79), the giant book to start reading at 1 year old, Tendre Bestiaire by Marcel and Joachim, a stuffed hippopotamus toy from La Pelucherie.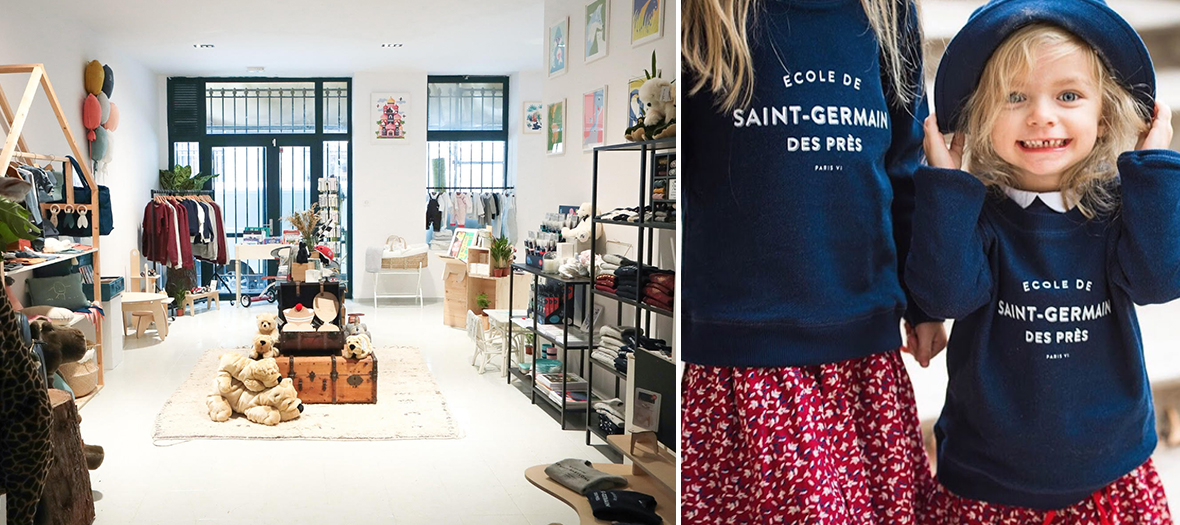 47 Rue des Archives 75003 Paris. Pop-up Chat-Malo open until the 31st of December
More info on www.chat-malo.com/
Soliza visuel
The place. Ex-marketing director in the agribusiness, Christine Ball dropped everything to open her pretty boutique dedicated to craftsmanship a young creation. A whiff of fresh air right next to the canal Saint-Martin.
The good gifts. A superb ceramic goblet by Sonia Oudry (€20). All the jewellery of Laetitia Piffeteau. If you kept just one? The trip of bracelets in brass, hammered with 24 carat gold (€95). A large graphic Ma Poésie pouch to slip under the arm (€68). And the Lotus MySen ring, that comes in several formats (€35-55).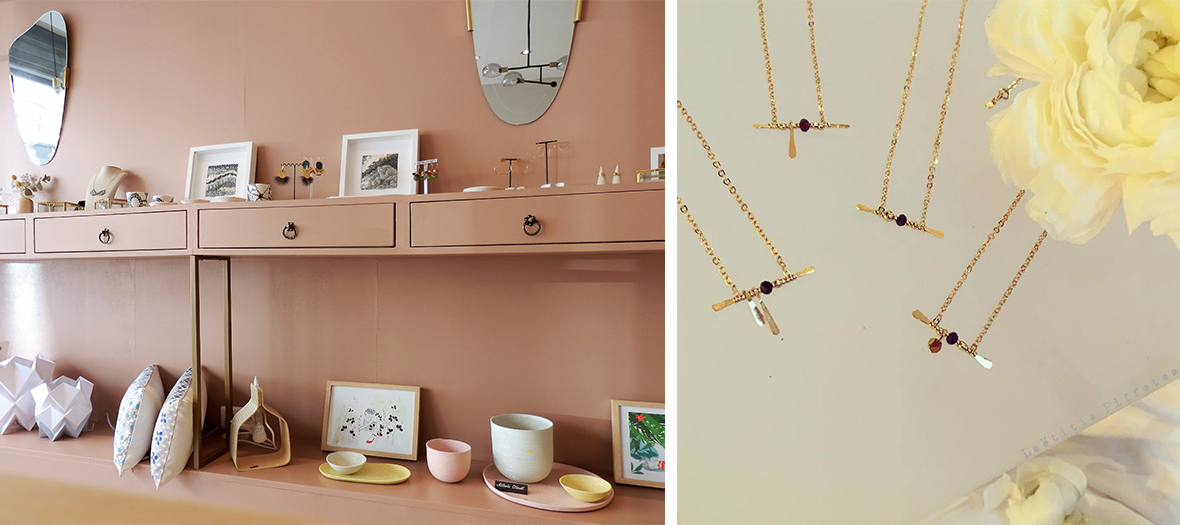 32 Rue Bichat, 75010 Paris.

More info https://soliza.fr/


Discover also the xmas wishlist for men and xmas shopping for lazy bones