Unusual objects, stylish clothes, funny gifts, arty little touches... Here is a selection of boutiques that are too beautiful to find the perfect Christmas gifts . Between original concept stores and whimsical boutiques , our short list of good addresses to spoil our loved ones.
My Mother's Castle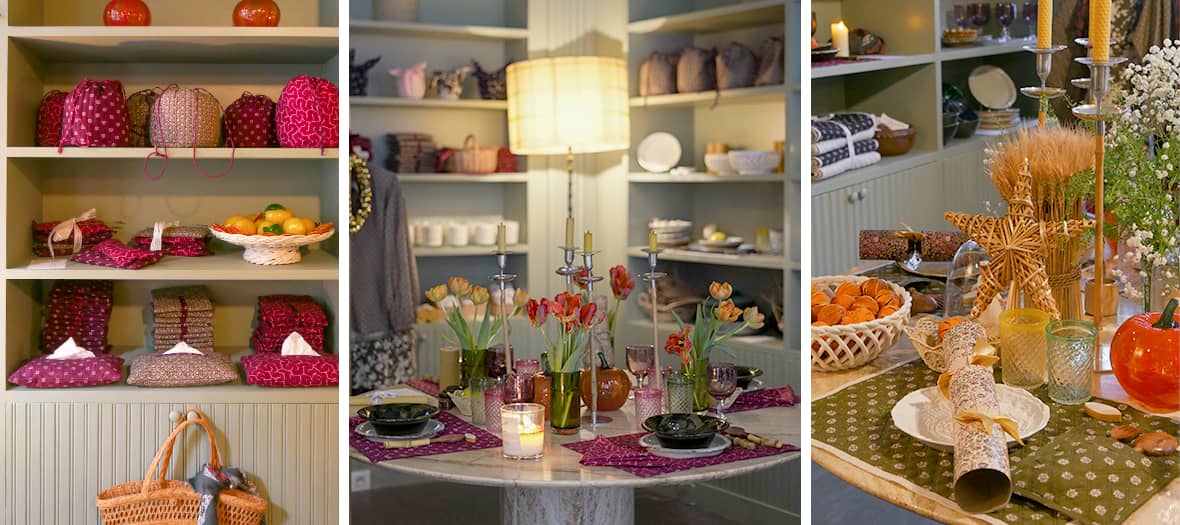 The place. A shop where Provence is glorified! Director of her own press agency, Sophie Douzal gathered her summer memories in Provence to create her sublime brand Le Château de ma Mère . His colorful shop on rue de Grenelle only makes you want to retreat to the South and curl up in flowery sheets that smell like lavender .
Good gifts. Beautiful placemats and cutlery pouches (€180), a nicely printed toiletry bag (€65) or even lemon-coloured pillowcases (€90) or Lubéron Azur pompom motif (€90) to get in the mood and read Marcel Pagnol before sleeping.
Le Château De Ma Mère , 84 bis rue de Grenelle, Paris 7th, open Monday to Saturday from 11 a.m. to 7 p.m. and every Sunday in December (same hours).
© Mathide Ganoux and Amberti
The Good Market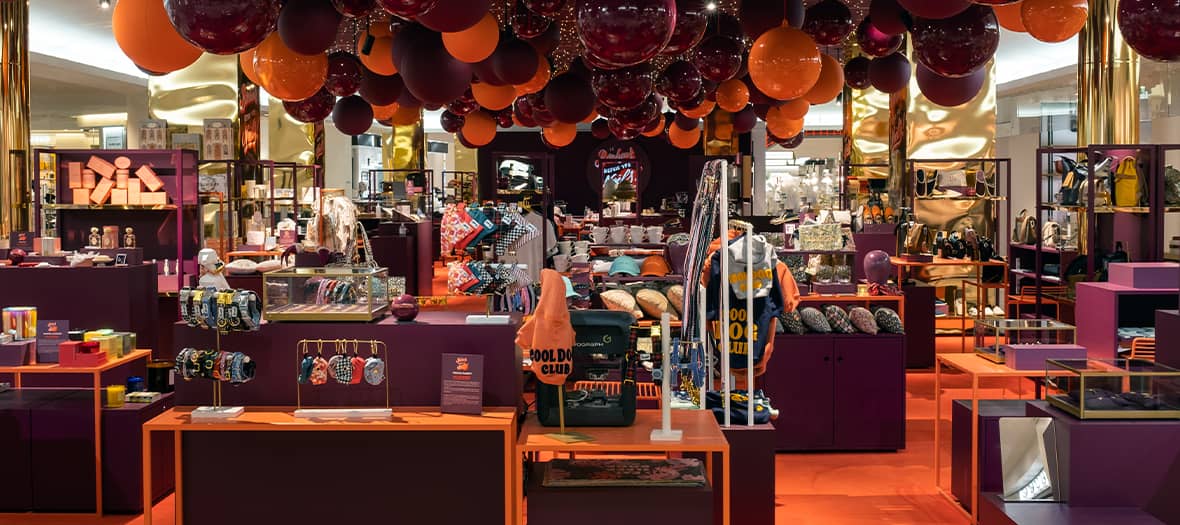 The place. Like every year, the ground floor of Le Bon Marché unveils its Christmas space full of designer gifts and surprises . The holidays are in the spotlight: sublime decorations and a strolling atmosphere in rows of merch' worked and always in good taste.
Good gifts. A Petit Nicolas Puzzle designed by Goscinny and Fabrice Ascione (€30), an overly chic powder pink clutch to stuff all your beauty essentials (€149) and a plethora of accessories and beautiful jewelry for all tastes and for all budgets .
Le Bon Marché Rive Gauche , 24 rue de Sèvres, Paris 7th, open Monday to Saturday from 10 a.m. to 7.45 p.m., Sunday from 11 a.m. to 7.45 p.m.
Cash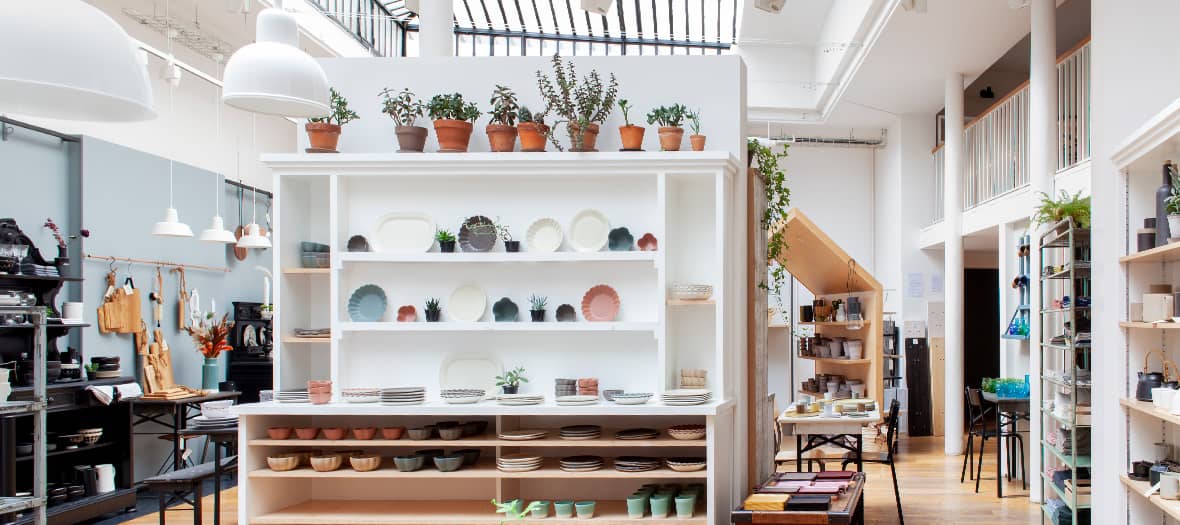 The place. Halfway between the Scandinavian bazaar and the chic drugstore with an extraordinary selection: La Trésorerie turns out to be a truly singular and insane concept-store that will captivate decorating madmen , little gourmands , chic desperate housewives , aces of the system D and home sweet home fashionistas…
Good gifts. A pretty matcha bowl (€14.59), a delicate Romantic Nice eau de toilette with rose and citrus notes, a mohair throw in blue foam (€169), a beautiful lifestyle champagne coupe in crystal glass ( €6.20), a large ceramic carafe (€75), a small box of shea butter and argan oil soaps (€19.50) or a honeycomb bathrobe (€183.90) .
La Trésorerie 11 rue du Château d'Eau, Paris 10th, open daily from 11 a.m. to 7 p.m., Sunday until 6.30 p.m.
© Mollyeyes
Rock the Kasbah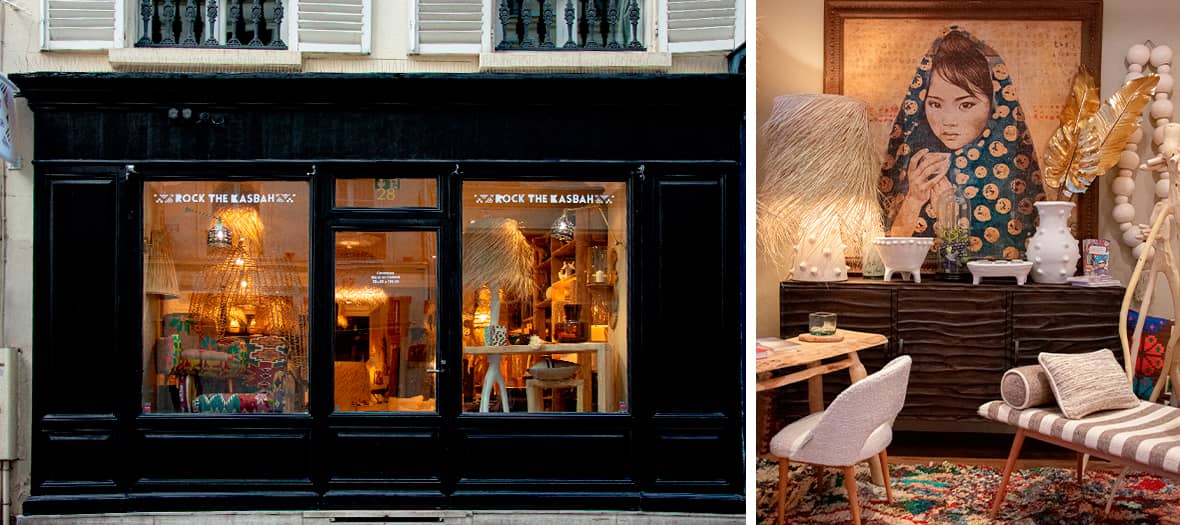 The place. Friends of Berber decoration , welcome to the temple of the genre. Rock The Kasbah and its germanopratine boutique have not finished inspiring us. On the program: natural materials , beige, ivory, palmito, weavings and linen galore.
Good gifts. A candlestick in olive branches (€45), a giraffe coat hook (€40), beautiful sconces in natural rush (€89), a pretty Simpson mirror in braided esparto (€75), a branch lamp in palm fibers (€225), a Ciuta armchair in beech wood and cotton terry (€650),
Rock the Kasbah 28 rue Jacob, Paris 6th, open Tuesday to Saturday from 11 a.m. to 7 p.m.
Marine Montagut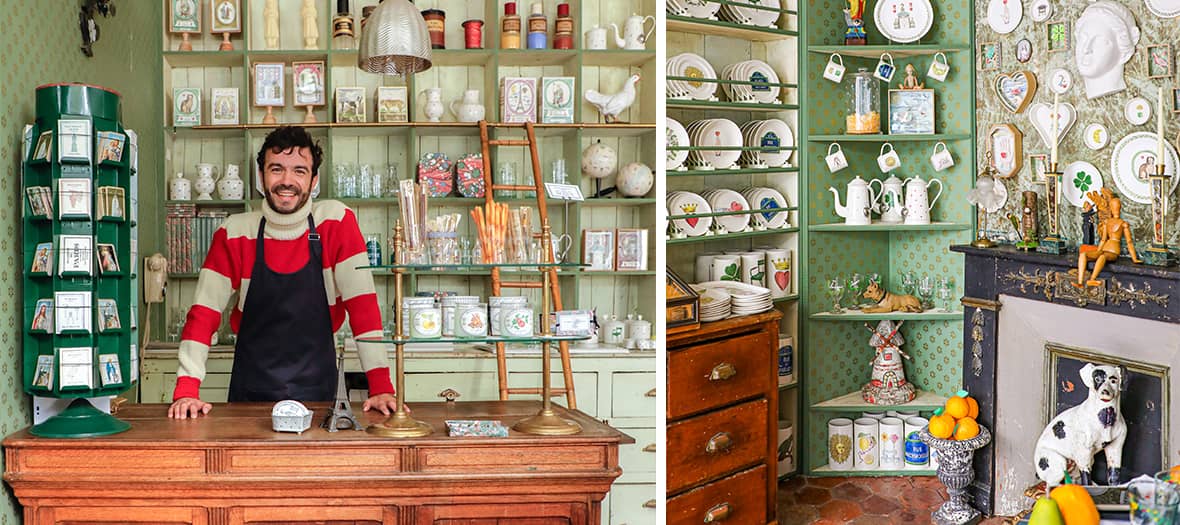 The place . Good news: Marin Montagut , Parisians' favorite French illustrator and designer, has set up his marvelous cabinet of curiosities in Saint-Germain-des-Prés . On the program: glasses, scarves, boxes, cushions and other marvels illustrated by the artist, à la Marie-Antoinette . His signature ? His delicate, meticulous, subtly imperfect and quirky pencil stroke that makes all the charm of the objects there.
Good gifts . The little " Paris je t'aime " secret box , in a trompe-l'œil book, to hide your most precious jewels (€115), the Jardin du Palais-Royal glass (€39) 100% handmade, a lovely Maison du bonheur cushion (€110), or the comforting Sicily scented candle (€78).
Marin Montagut , 48 rue Madame, Paris 6th, open Monday from 1 p.m. to 7 p.m., Tuesday to Saturday from 11 a.m. to 7 p.m., opening hours for Saturdays and Sundays in December online
Baobab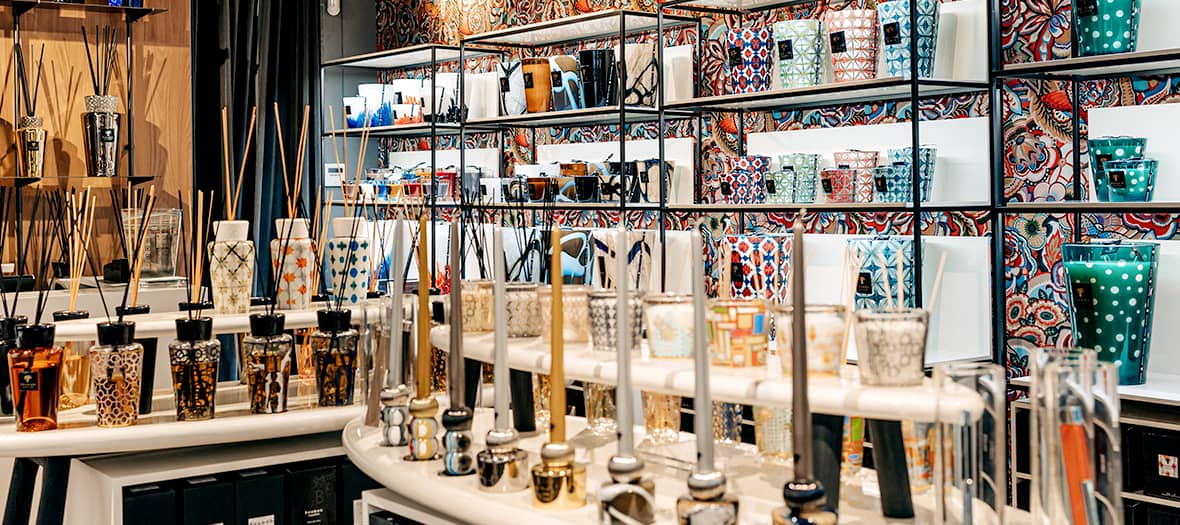 The place. These candles are true works of art, inspired by the colors and smells of Africa . A chic setting that necessarily contains very beautiful gifts that smell good.
Good gifts. Candles of course, but not only. Candlesticks and candles , home fragrances , scented candles of all sizes and all designs, diffusers, small sprays, lighters… Our favourites? The Rosemary-Mint-Cassis and cardamom scents of the too beautiful Saint-Tropez candle (€47), or those of the Stones-Lazul with Sea Salt and Musk, pure beauty to display in your living room.
Baobab , 134 avenue Victor Hugo, Paris 16th open daily from 11 a.m. to 7 p.m.

The Seinograph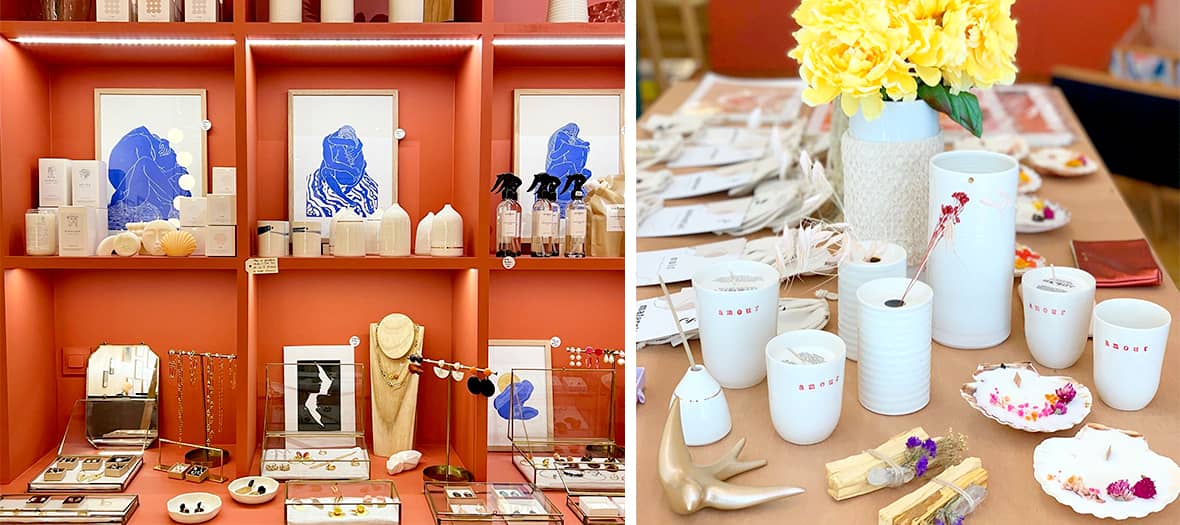 The place. If you have to remember only one, it's her! Marina Mussat , aka La Seinographe , who installed her committed holistic concept store , as an ode to the art of living and well-being. Vintage , responsible creation and a yoga room with treatment cabins to spend the winter in an even more cocooning mood.
Good gifts. T he Petitjean silk headbands to tie on the wrist or in the hair (€49), the Mour earrings by Helmut Paris (€69), small posters that are too beautiful with the names of our favorite neighborhoods in Paris (poster Saint- Germain €24), very beautiful porcelain vases (€62), a roll-on with Idées Claires essential oils from the Lyon brand 100bon (€19), an Ayurvedic tea with plants that gives you the energy to conquer the world ( €15.80), or a Unum Design cane lamp (€430) .
La Seinographe , 41 rue Notre Dame de Lorette, Paris 9th, open Tuesday to Saturday from 11 a.m. to 7 p.m.
Arty Dandy Marais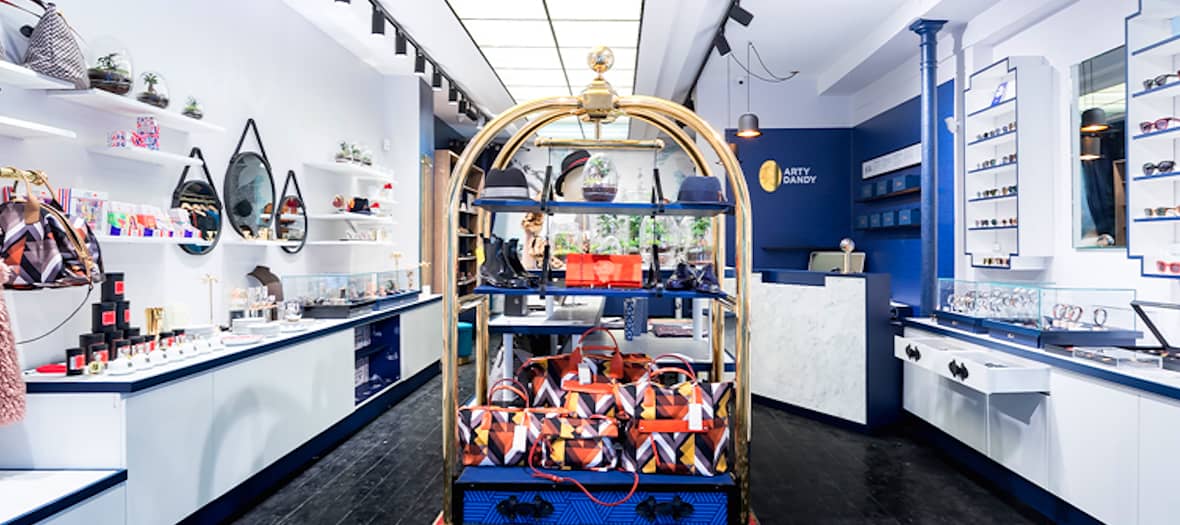 The place. This second address of the stylish select-store in Saint-Germain-des-Prés asserts itself as the place to be in the Marais for shopping stylish gifts . In the program ? Always more accessories for men and women, high-tech nuggets and decorative objects .
Good gifts. Cuddly blankets (€99) from the Scandinavian brand Cozy Living , Simone Eyes sneakers (€135) from the Parisian designer Bonsissers de Paname that fashionistas love, a pretty Secrid Miniwallet card holder (€65) designed like the most practical accessory of the moment to draw credit cards and business cards faster than your shadow, or even a Lexon Mini LED Lamp (€29.90) inspired by the very famous Pipistrello by Martinelli Luce .
Arty dandy , 46 rue de Turenne Paris 3rd, open every day from 11 a.m. to 7 p.m., Sunday from 1 p.m.

Also discover The Ritz chalet is back in Place Vendôme and 7 pop up shops in Paris to find christmas gifts