If it's a dream, it's beautiful! Behind this stunning restaurant on rue du 4 Septembre , we find the team from the charming Comptoir des Petits Champs , who are setting the stage again and propelling the young Chimère restaurant into the unmissable stylish Parisian spots.
A hyper scenographic decor
Entrusted to Necchi Architecture , the aces of decoration to whom we owe the restaurant Alfred , the aesthetics of Chimère plays the nostalgic-chic card, inspired by the 70's . A delicious mix that borrows a few notes from the worlds of François Catroux , Giorgio Armani , Gae Aulenti and as a starting point a cinematographic reference that sets the atmosphere: American Gigolo with the sexy Richard Gere .
The atmosphere ? Sensual ++ with mirrors that surround all the walls, a red carpet, a black bar, velvety benches, chairs covered with a leopard fabric and a warm light provided by vintage lamps with a fabulous look. More than an address, a declaration.
A restaurant dream…
That of a former notary, Cédric Saint-Marc , who put on the hat and took up position behind the stove to pursue his passion for gastronomy . His hobby? Bistro dishes that he twists with daring seasonings and condiments and by cooking over embers which brings that little extra soul to vegetables, fish and meat. Everything is supported by nickel sourcing, direct from producers (fish and seafood from Terroirs d'Avenir , meat from Ferme de Clavisy , creamery from Maison Borniambuc ).
A card that brews wide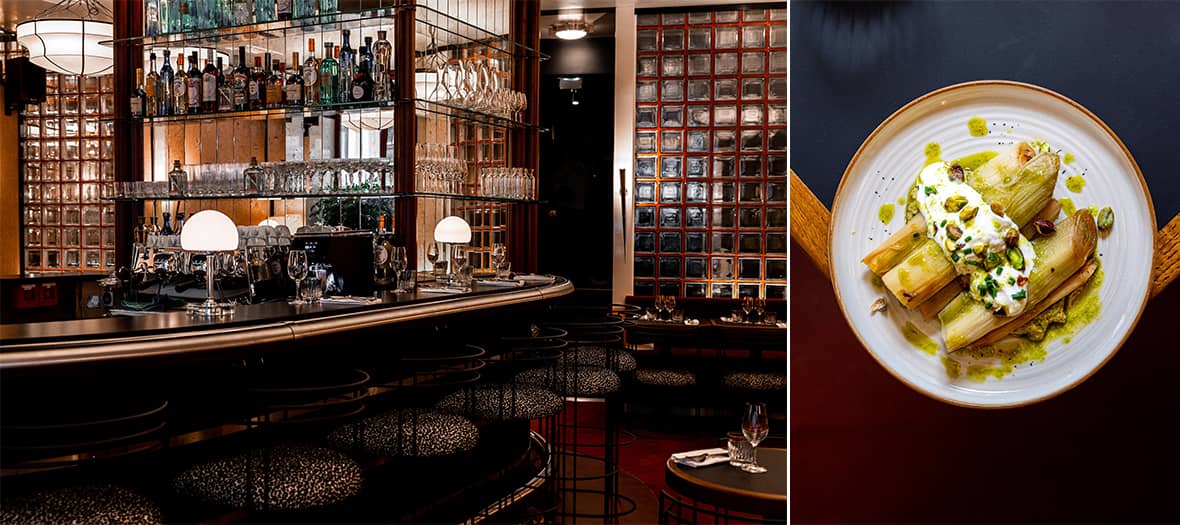 Firmly rooted in the bistro spirit, the menu at Chimère has yielded to the whims of small sharing plates to ensure the start: grilled oyster mushrooms with agave juice and tamari accompanied by hummus (€9), sea bream carpaccio with ginger (€9 €), cheeky wild boar , venison and pork terrine (€14). Next, dishes to satiate hearty appetites: grilled sirloin of beef, chimichurri sauce (€38), veal breast, root vegetables and quinoa (€25).
And delicate appetites: pollack with XO sauce and Swiss chard (€27) or bucatini with vegetarian bolognese, sage and walnut pesto (€21). Are we tempted by a dessert? Go for the basil and passion fruit cheesecake (€10). For the thirsty, a nice selection of wines and well-shaken cocktails. And for the boost, great coffee from L'Arbre à Café .
Open daily from 12 p.m. to 2 a.m.
Also discover the expected first gastronomic table of Omar Dhiab and the new Japanese restaurant which is making the buzz .