After the success of its winter rooftop Hors Piste, Compagnie des Bateaux-Mouches is back on track May 15th with its buzzing summer rooftop— Mademoiselle Mouche, a garden of Eden in the middle of Paris.
Check it out: a couture cocktail with just the kind of DJ sets background we like on the waterfront with a diving view on the Eiffel Tower… An ultimate high!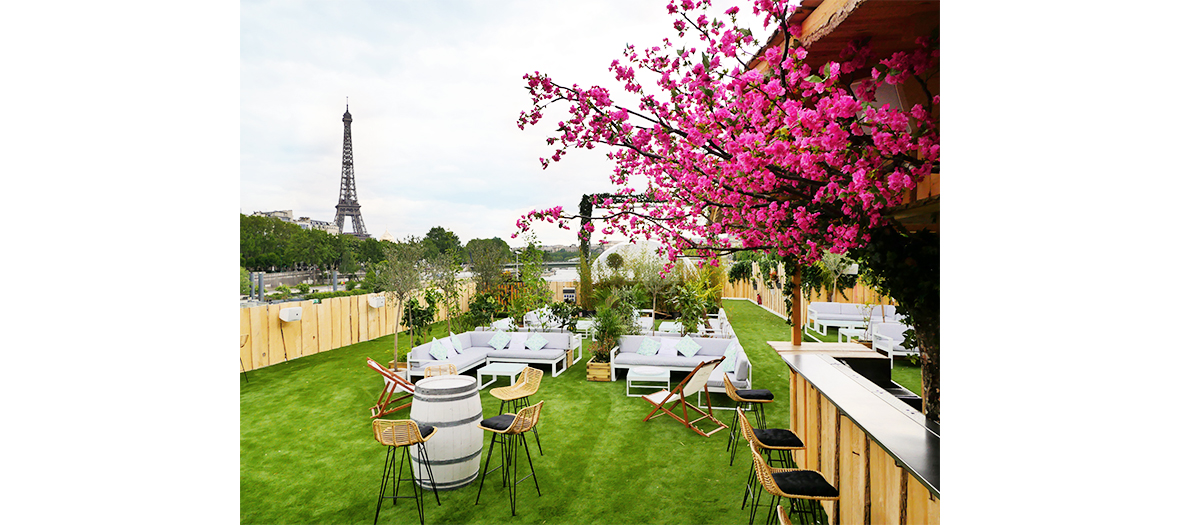 It's under the impulse of Thibaut Sinclair and his team that Monsieur Mouche, Hors-Piste and Mademoiselle Mouche were born. A deep down adventurer, the idea was to dust of the ageing Compagnie des Bateaux-Mouches and make it once of the trendiest places in the capital #theplacetobe.
Gatsby with a Parisienne touch
At Mademoiselle Mouche, the Roaring Twenties are in the spotlight, in homage to Éléonore Mouche, daughter of the ship-owner and epicurean Alphonse Gaston Mouche and cabaret dancer Jeanne La Violette. For the occasion, the terrace was renovated and morphed into a real waterfront garden with a superb flowery pergola where Parisians can come enjoy sunsets. Big crush for the grass sensation under our feet.
How to be sure to get in?
Way to go: arrive as early as possible to avoid the queue, order ahead of time without having to run after your waiter for a bottle of Minuty Prestige rosé (€40). One of them is sure to have you play the game: if you are lucky and roll a 20—your refill is free!
We adore: wild cocktails concocted by mixology acrobat (starting at €13). And for gourmets, lots of small treats are offered, such as an incredible crispy chicken.
A brunch with a view
To be noted: for daily birds, the Club brunch (the next door panoramic restaurant). Concept of the moment? A picnic in the grass, with a guaranteed anti hangover brunch from 11am to 3pm: mixed salad, sausages, bacon, egg, veggies, verrines... (€50).
Monsieur Mouche Rooftop Cocktails Bar, open every good weather day from the 15th of May to the 15th of October (verify on the Official Facebook Page) Wednesday to Saturday from 6pm to 1am and on Sundays from 4pm to 1am.
Also discover the most stylish summer festivals.