Hôtel Bachaumont: Experimental does it again!
The dream-team of l'Experimental Cocktail Group continues its success story (Paris, London, New-York) by opening a new hotel in Montorgueil that is attracting the Paris in-crowd filled with hype and good humor.
Their latest baby has everything it takes to please, starting with a particularly festive and glam' set up signed Dorothée Meilichzon, (skylight, marble, geometric shapes) reminder of the Roaring Twenties. The ultra sparkling atmosphere recalls the frenzy of the past century with its Parisian dandies and socialites.
In terms of food, it's the same mood as Beef Club with clever advice by Gregory Marchand, chef of Frenchie. Top notch products and roguish dishes include leeks with vinaigrette, squash and mushroom soup, flank steak with shallots and mashed potatoes, a wild baba for dessert.
We also like: the "Night Flight", a handsome cocktails bar (in homage to Saint Ex') Ideal to drop by for just a drink or a nightcap in party mode!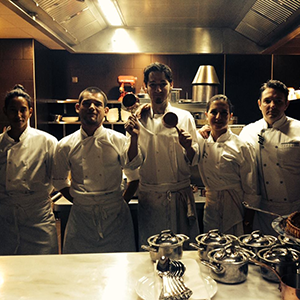 © Paul Bowyer