Are you looking for the perfect traditional galette, a signature brioche des rois or a gluten-free version? We have scouted Paris from East to West to find the galette of your dreams. Take your pick.
IN THE TRADITIONAL CATEGORY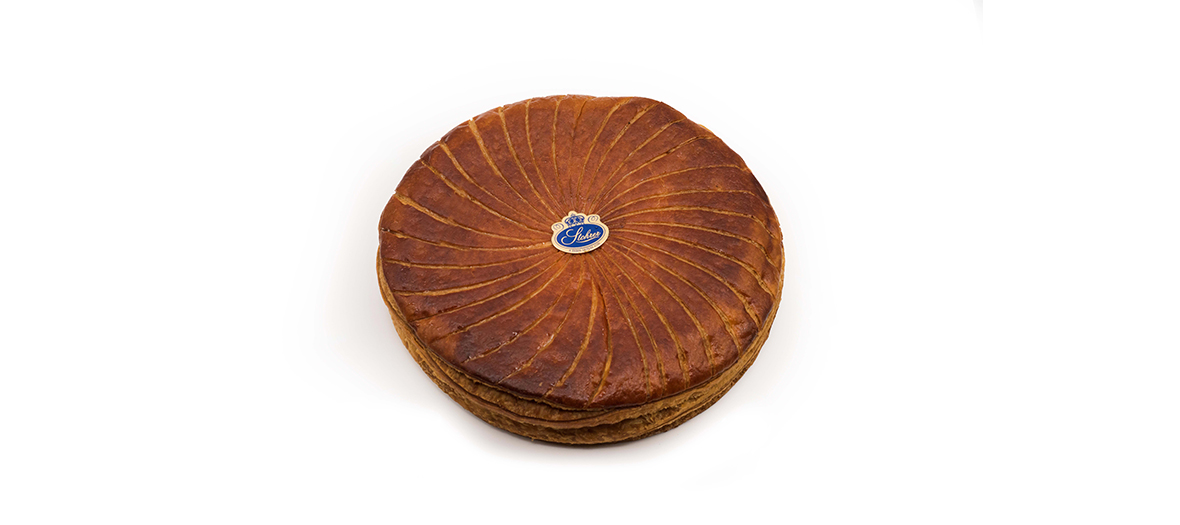 Simple, basic. For the best old fashioned galette, you can count on Stohrer, the oldest pastry shop in Paris. In keeping with traditions, its pastry chef Jeffrey Cagnes promises to make you rediscover the taste of yesteryear with its almond marzipan. His secret? A few drops or amber rum.
Galette starting at €26 and €5.50 for individual slices. Starting the 6th of January. More info on the site of Stohrer.
IN THE HOME DELIVERY CATEGORY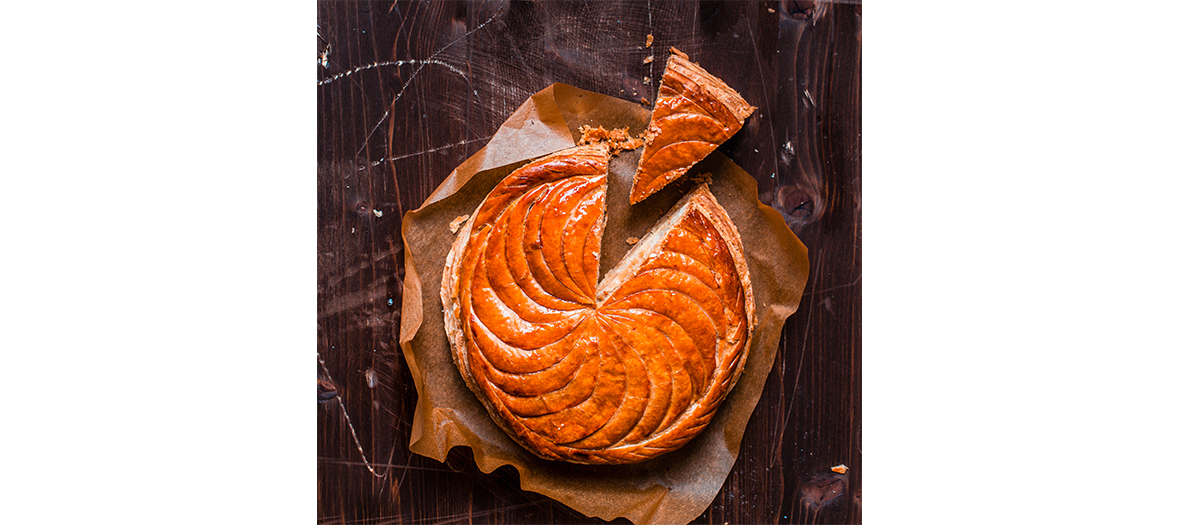 SOS I totally zapped the galette! For air heads, lazy bones and working girls who leave the office when everything is closed, Frichti delivers its marzipan starlet 7/7 in all of Paris and close suburbs. What a relief!
€19.90 for 6 persons, starting the 2nd of January. More info on the site of Frichti.
IN THE BLING-BLING CATEGORY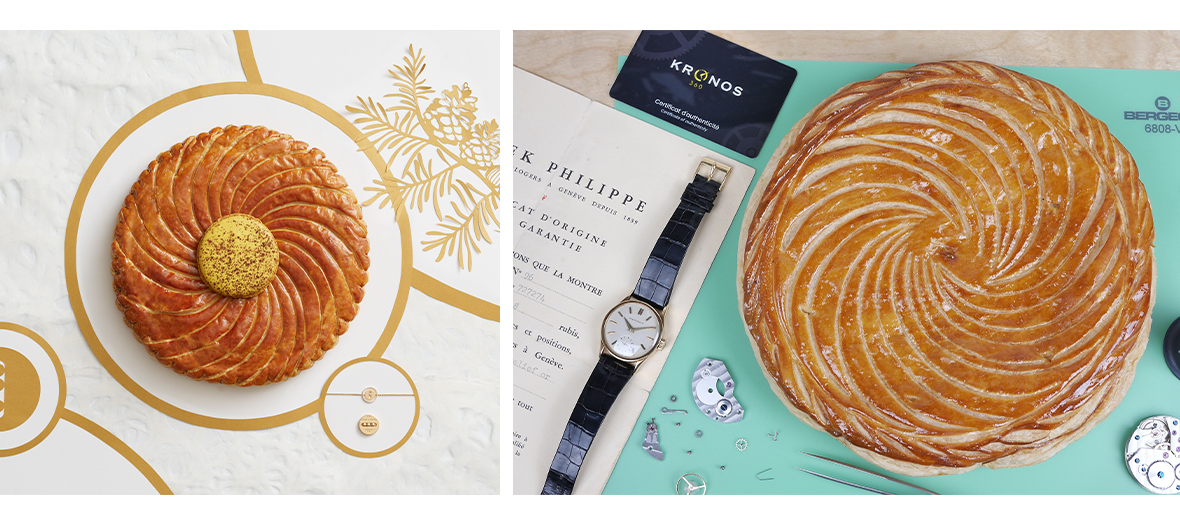 Better than a "fève", Objectif Horlogerie and KRONOS360 are putting on the market 500 winning galettes. The big prize? A 1956 second-hand Patek Philippe "Calatrava" watch in yellow gold, valued at 8,500 euros. The site Objectif Horlogerie has opened orders since the 26th of December, so hurry up!
For diamond buffs, Pierre Hermé and Messika have hidden twelve precious Lucky Move bracelets in yellow gold and diamonds to be nabbed in the chef's galettes and brioches des rois, after a random draw. A collector fève inspired by the brand's jewellery is hidden in each one.
Objectif Horlogerie and KRONOS360, orders starting the 26th of December.
€27.90 for a galette. More info on the site of Horlogerie.
Pierre Hermé x Messika, starting the 1st of January, galette starting at €35.
More info on the the site of Pierre Hermé.
IN THE CATEGORY PARIS JE T'AIME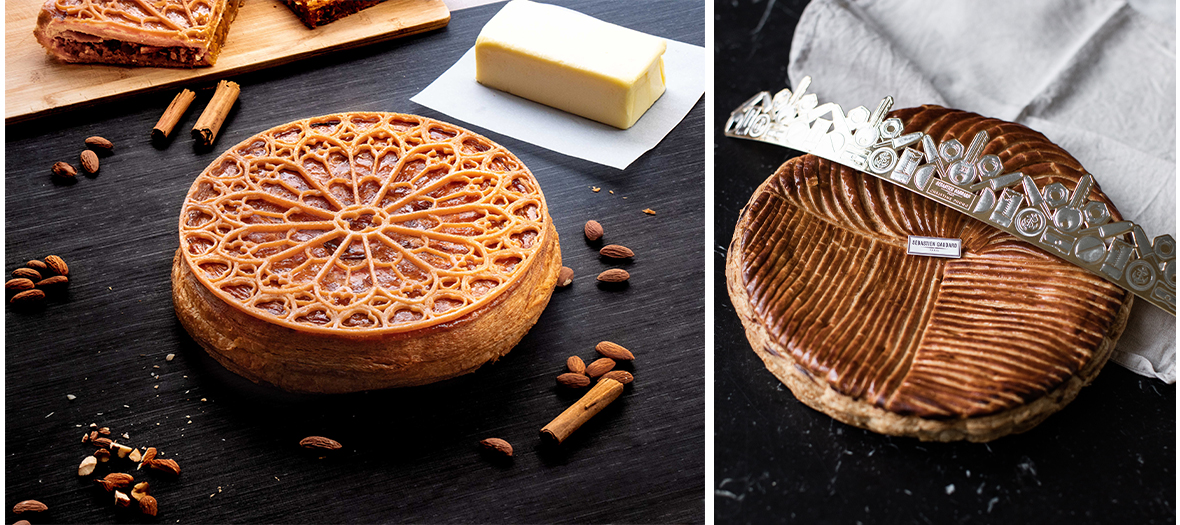 When the trendy bakers of The French Bastards invite Nina Metayer (ex-Jean-François Piège and Pouchkine) as a featuring for the Epiphany, it creates the buzz. And with reason, the pastry chef who is a great success in London has created a marzipan with Charentes-Poitou AOP butter sprinkled with cinnamon, specially covered with a rosace, in homage to the Cathedral of Notre-Dame-de-Paris.
At Sébastien Gaudard, its creator Christine Phung, who has just designed fèves in the shape of an aspirin pill, a clef, chewing-gum or buttons… daily objects which Parisians always have handy—to be found in the classic marzipan and chocolate marzipan galettes.
Galette Nina Métayer available exclusively at The French Bastards. €40.
Starting the 4th of January. More info on Facebook.
Photo credit: Mathieu Salomé/Nina Métayer for Beurre Charentes-Poitou AOP
Galette Sébastien Gaudard x Christine Phung. €24
Starting the 1st of January 2020. More info on the site of Sebastien Gaudard.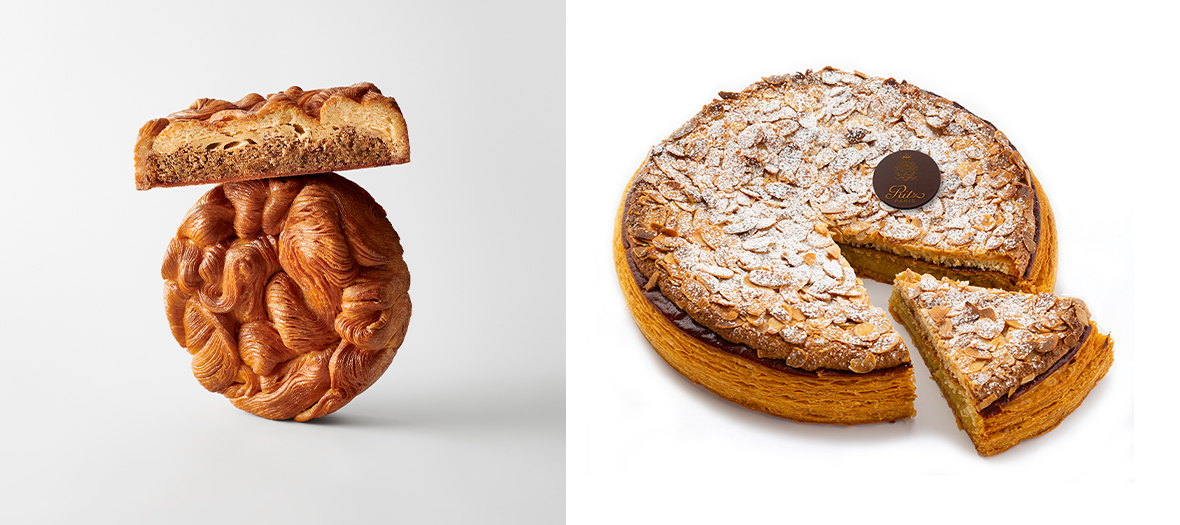 For his first Epiphany at the Four Seasons George V, Michael Bartocetti goes all out with a silversmith marzipan galette inspired by the floral creations of the talented Jeff Leatham!
While his exceptional residence on Place Vendôme is in full swing, François Perret, pastry chef at the Ritz, elected Best Restaurant Pastry Chef, will be celebrating Epiphany on the 4th and 5th of January directly from his ephemeral chalet. Two exclusive days during which it will be possible to pick up his unique with an inverted flaky crust and almond marzipan. You missed the action? Catch up session from the 6th to the 12th of January at Bar Vendôme, but this time only by the slice (€16).
Four Seasons George V, Photo credit: Laurent Fau. More info on the site of Four Seasons.
More info on the site of Ritz Paris
IN THE BRIOCHE PROVENCAL CATEGORY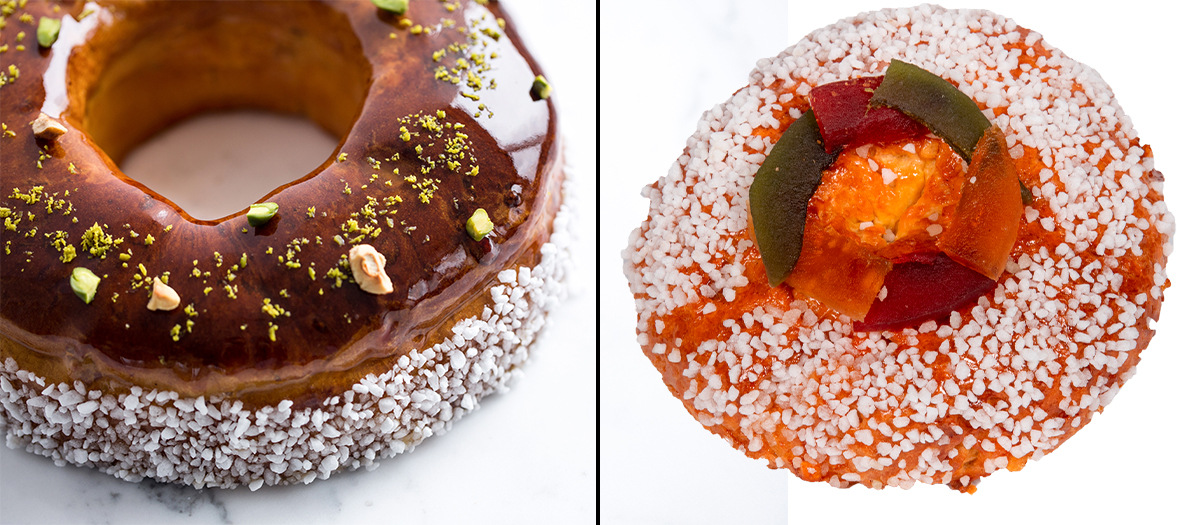 The must-try "gâteau des Rois" by Cyril Lignac once again sends us over the top with its Provencal brioche as soft as a cuddle, perfumed with orange blossom and spiked with pistachio, glazed fruit and orange zests #gourmandcroquant.
Cyril Lignac, from the 3rd to the 26th of January 2020.
Gâteau des rois €27 for 6 persons.
At Maison Landemaine, the real brioche from Bordeaux (orange blossom, orange rind and lemon zest). And with 15 boutiques all over Paris, there is necessarily one near you.
Maison Landemaine, from the 2nd of January to the 26th of January 2020. Brioche bordelaise €17. More info on the site of Maison Landemaine.
IN THE NO GLUTEN CATEGORY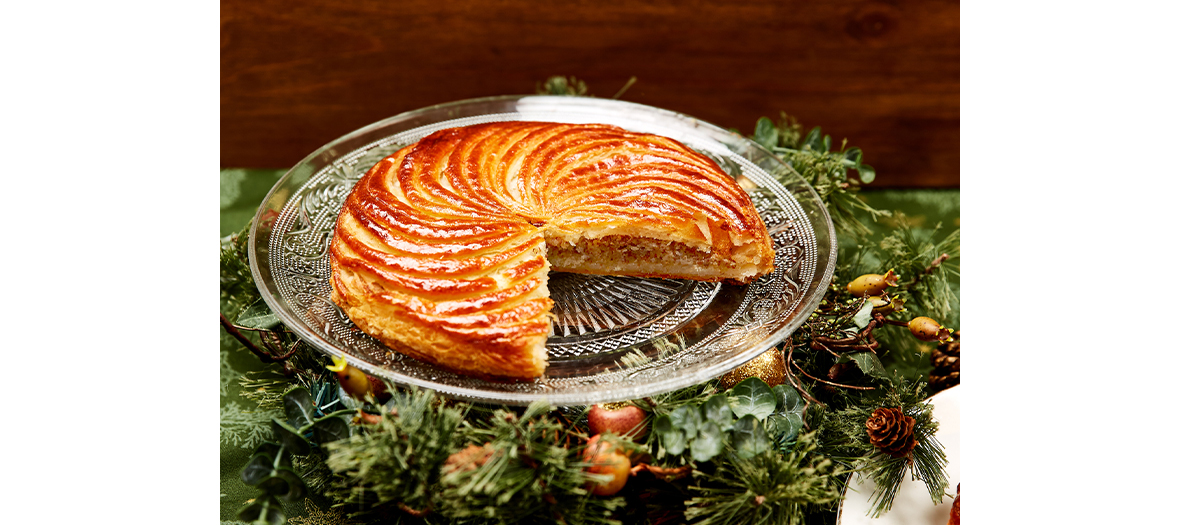 It looks like a galette, it tastes like a galette… the only difference, no trace of gluten on the horizon. Helmut Newcake, the first gluten-free pastry shop in Paris, is offering a sweet alternative to intolerants.
€28 for 6-8 persons and €5.20 per slice. More info on the site of Helmut Newcake.
Photo credit: Mélanie Denizot
IN THE THOUSAND AND ONE NIGHTS CATEGORY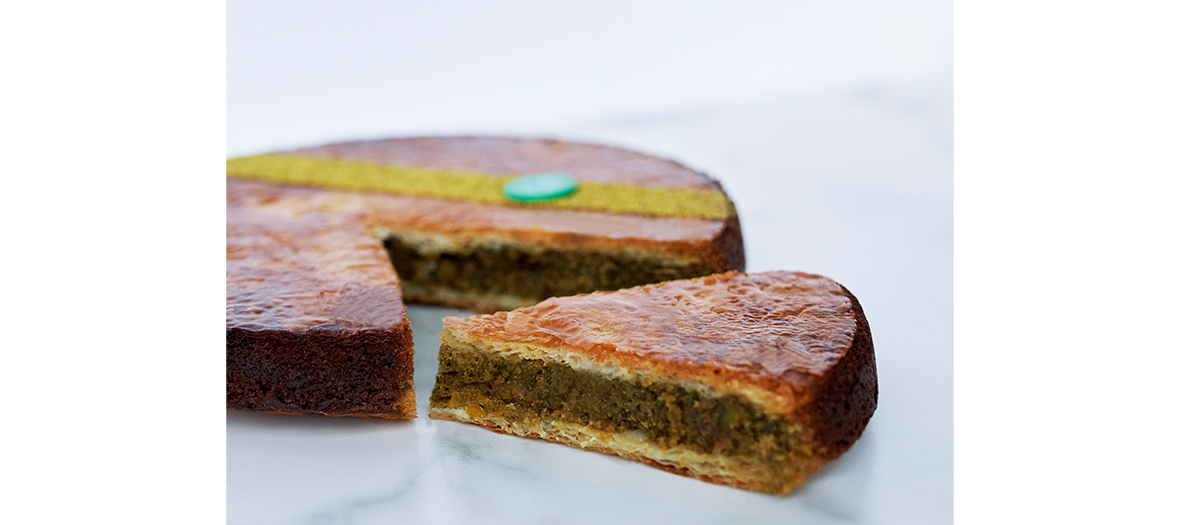 At Maison Aleph, galettes feature Oriental fragrances with three bewitching off-shoots: alva sesame, orange blossom and pistachio from Iran. In addition to highlighting her star ingredients, Myriam Sabet has concocted a flaky filo dough caramelized leaf by leaf.
From the 26th of December to the 31st of January, galette starting at €26 and €6 per slice. More info on the site of Maison Aleph.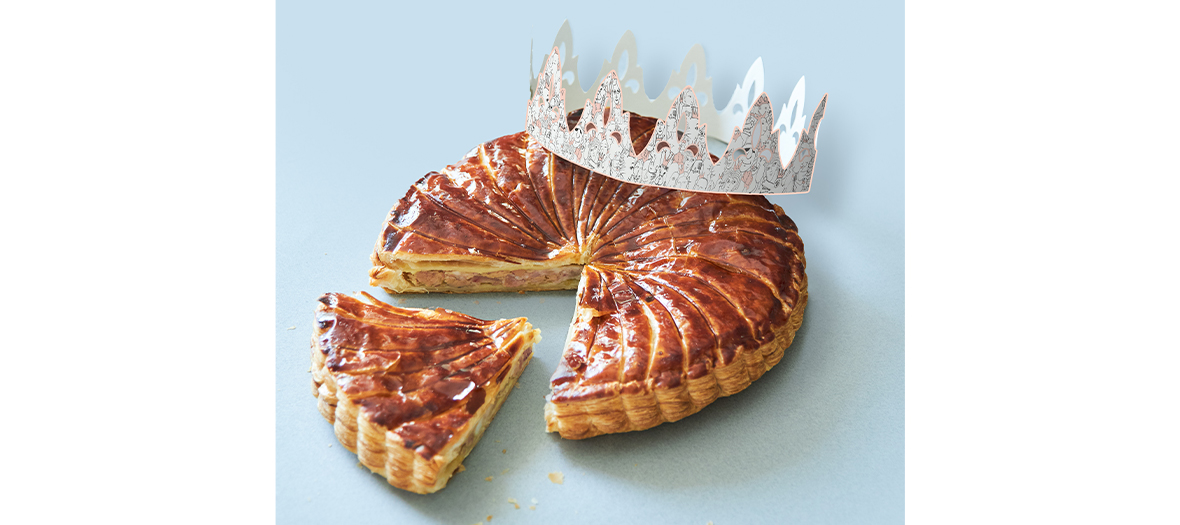 This year, gourmets with a sweet tooth will not have the monopoly of the galette! The Maison Vérot charcuterie is presenting for the first time in its history a furiously "piggish" galette with a flaky crust, stuffed with pork and foie gras. And in the same vein, restaurant L'Escudella has concocted a "pâté-tourte des rois"—a deep dish pie with duck, foie gras and black truffle. Royal.
Galette des rois salée Maison Verot, from the 3rd to the 19th of January, €26 for 4 persons. More info on the site maisonverot.
Pâté-tourte des rois L'Escudella, from the 15th of December to the 15th of January by order, 42 €. More info on escudella.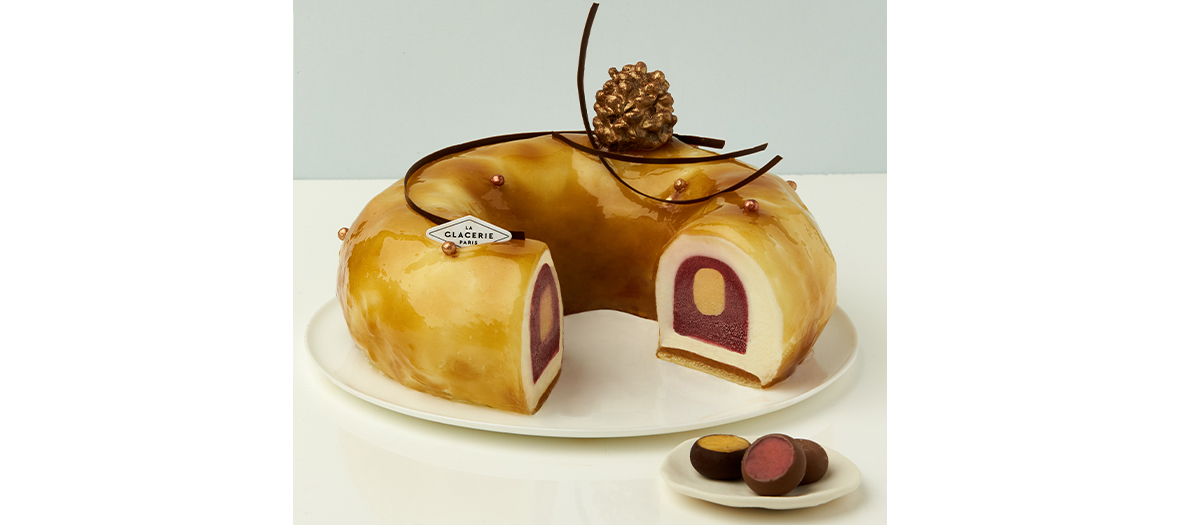 For snow princesses who only swear by frosty delights, La Glacerie de David Wesamaël presents its "kings crown" to be kept cold until the last minute. Inside? A dacquoise base with caramelized almonds, almond ice cream, vanilla caramel along with blackberry and apricot sherbets with badian. Yum.
€72 for 10 persons, starting the 28th of December. More info on the site of laglacerie.
Photo credit: Thierry Malty
Also check out the best boulangeries in Paris.