Are you looking for the perfect traditional galette, a brioche from the kings of author or a gluten free version? We have crisscrossed Paris from east to west to offer you the pancake of your dreams. It's up to you to draw.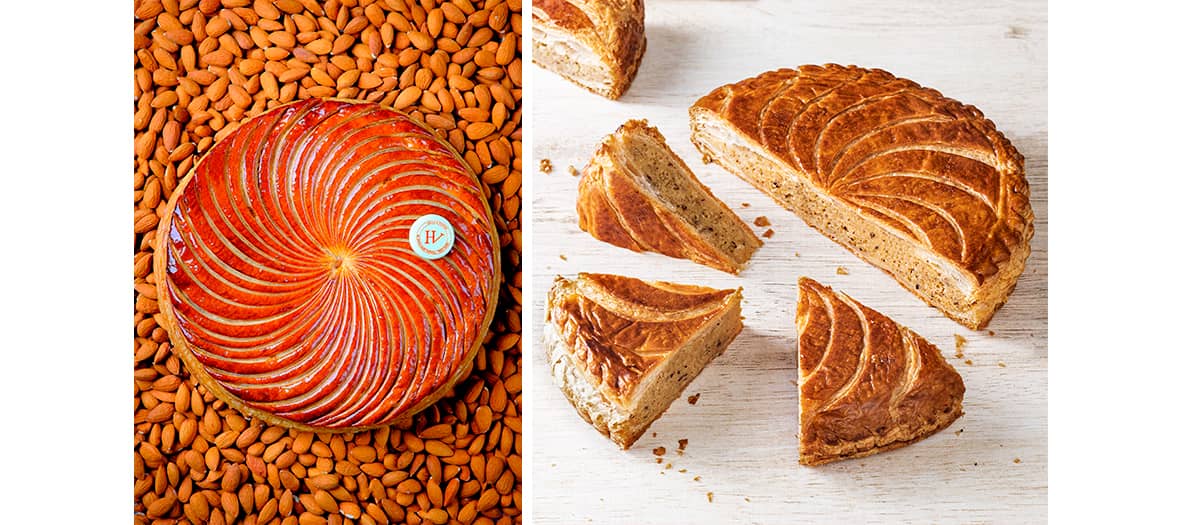 And the winner is ... The price of the best almond galette Ile-de-France in 2021 was awarded to Lionel Bonnamy La Fabrique to Delicacies in the 14th arrondissement. While waiting to know who will wear the crown in 2022, we can count on the goldsmith's cake from pastry chef Grégory Doyen, in residence at Le Temps et le Pain . Same story with MPépite , which wins the exclusivity on the frangipane pancake made in Alsace from the pastry chef Christophe Felder , to be found only on the MPépite website in very limited edition. Just installed in her store in Levallois-Perret, Claire Heitzler turns heads with her frangipane in the rules of the art.
Mamiche signs a highly gourmet version. Its particularity: it is as thick as that of Little Red Riding Hood with a large dose of almonds for frangipane addicts.
Tapisserie , the pastry shop of Septime, offers a perfect double version: the classic or the " Galette des Bois " with smoked frangipane and walnut praline. Divinely crisp.
For the chauvinists, go to Hugo & Victor which offers a pancake made in France, with 100% French ingredients: Charentes-Poitou butter, Occitanie almonds, French wheat porridge flour. Cock-a-doodle Doo.
La Fabrique aux Gourmandises, € 16 for 4 people, € 22.50 for 6 people.
Le Temps et le Pain, € 26 for 4/5 people, € 39 for 6/7 people. Photo credit Guillaume Czerw. More info on the site .
MPépite, orders from p. from January 5, 2021, delivery from January 7 to 16 in Paris and the suburbs. € 39 for 6 people. More info on the site . Photo credit @ Betül Balkan.
Claire Heitzler & Producers, € 38 for 6 people. More info on the site .
Mamiche , 4-6 people € 26.
Tapestry , € 24, available until January 16.
Hugo & Victor, from January 1, 25 € for 4 people, 45 € for 6/8 people, 55 € for 10/12 people. More infoon the site .
In the category brioche des rois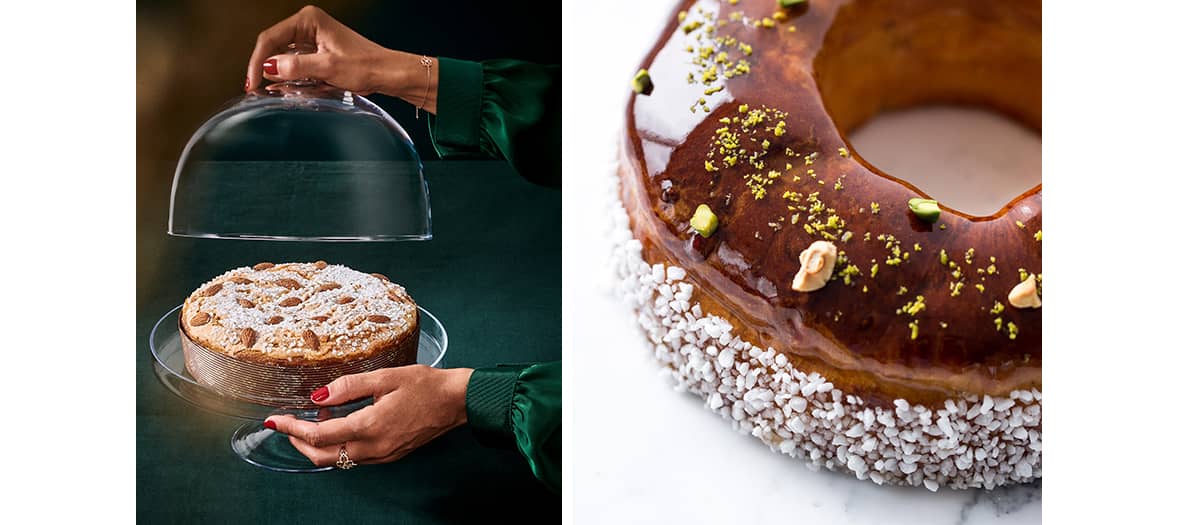 At Epiphany, there is not only the galette, there is also the brioche cake from the South of France. And this year, it is imposed in force. Demonstration with the Ladurée house which unveils an extraordinary brioche with candied fruit inspired by the world of crowned-heads jeweler, Mellerio dits Meller . This jewel of indulgence signed by pastry chef Julien Alvarez reveals a bitter almond and orange heart, all set with a panettone macaroon and whole almonds.
Another must, the cake of the Kings by Cyril Lignac . Like every year, the Aveyron chef delivers his remarkable interpretation of the brioche crown, flavored with orange blossom and sprinkled with grains of sugar, pistachios and caramelized hazelnuts.
Ladurée x Mellerio, available from January 1 to 25, 2022, € 38. More infoon the site .
Cyril Lignac, available from January 2 to 23, € 30 for 6 people. More info on the site.
In the last minute category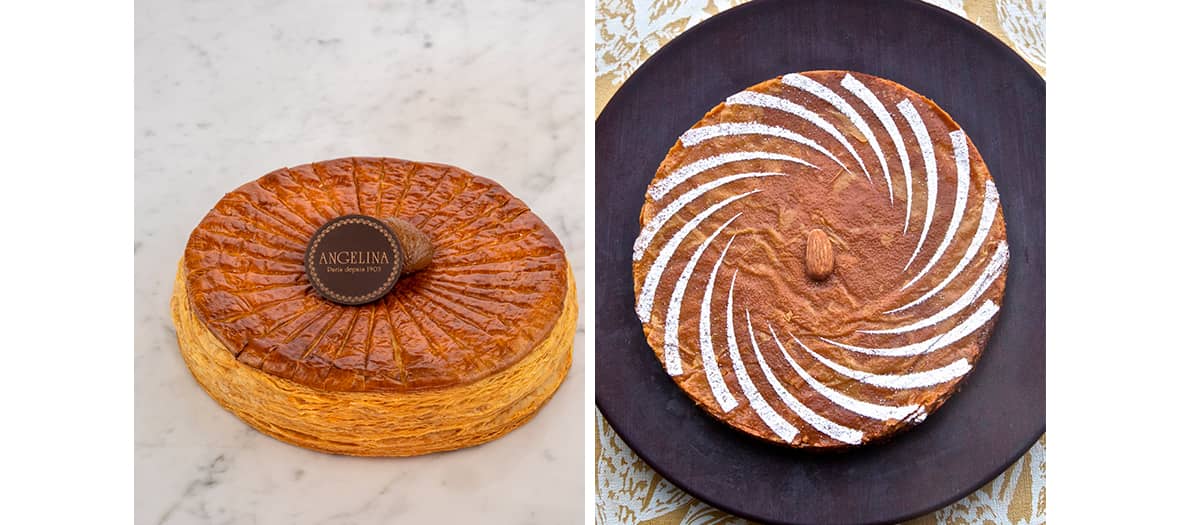 No time to go shopping? Friends who show up unexpectedly? Or just lazy to go out? In two clicks, epicery delivers the crème des galettes to you, from Christophe Michalak to Babka Zana , including Kevin Lacote and Angelina , not to mention that of the Prince of Wales in world exclusivity. Forty brands are in the catalog, the hardest part will be to choose!
Epicery, from January 3 in pre-order, from € 15 for formats to share and € 5 for individuals. More info on the grocery website.
In the bling-bling category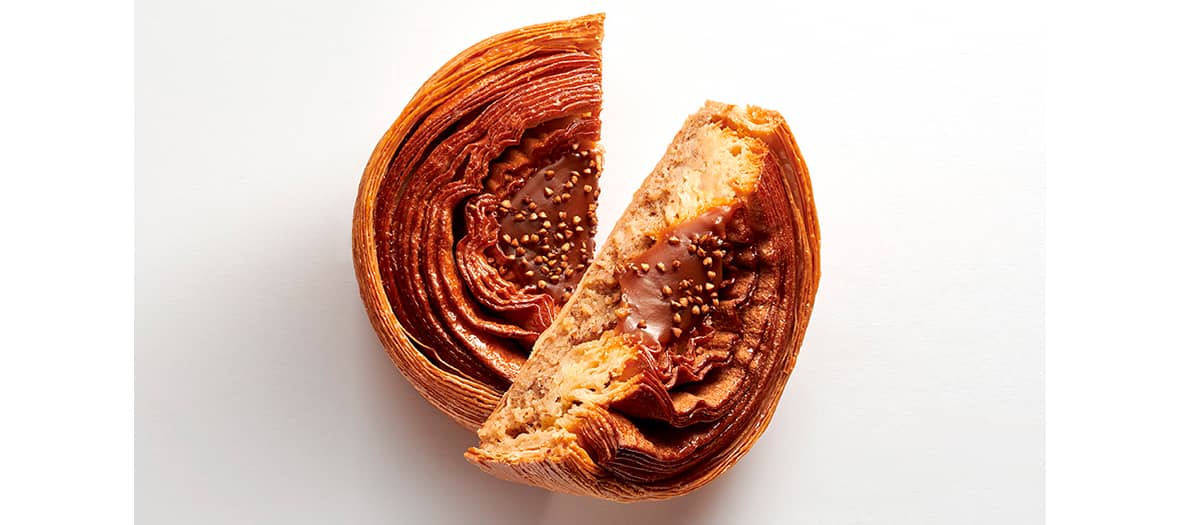 The Shangri- La pancake can save you big money. By partnering with Maison Bucherer, the Parisian palace is increasing the price of its vanilla cake signed Maxence Barbot. The first 100 are winners: invitation to a gemology workshop, € 600 voucher to smack in diamonds… The jackpot? A gold and diamond necklace and breakfast at the Shangri-La to parade with your new jewel.
Do you prefer watches? Objectif Horlogerie and KRONOS360 feature a Tag Heuer Twin Time GMT and other stylish gifts.
Shangri-La, from January 2 to 7 inclusive, to order 72 hours in advance. Galette for 6 people, € 68 More info on the Shangri-La website .
© Laurent Fau.
Objectif Horlogerie and KRONOS360, more info on the Objectif Horlogerie website. More info on the Objectif Horlogerie website .
In the gluten-free category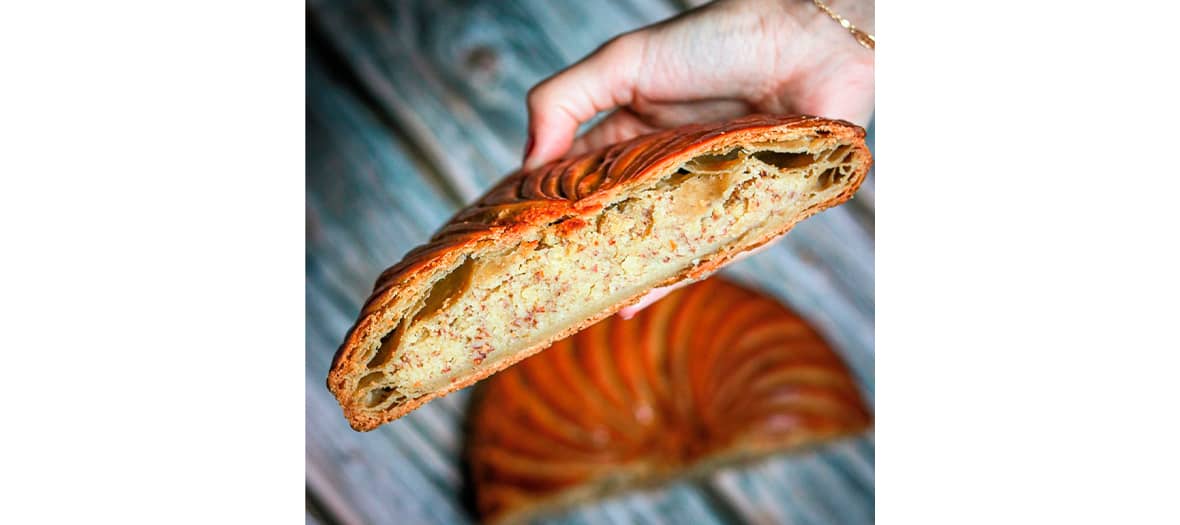 It looks like a pancake, it tastes like a pancake… The only difference: not a trace of gluten on the horizon. Noglu treats gluten free, and even offers a lactose-free option.
From December 27 € 39 for 4/6 people and € 6.80 per share. More info on the Noglu website.
© Instagram / @french_restaurants
In the zero guilt category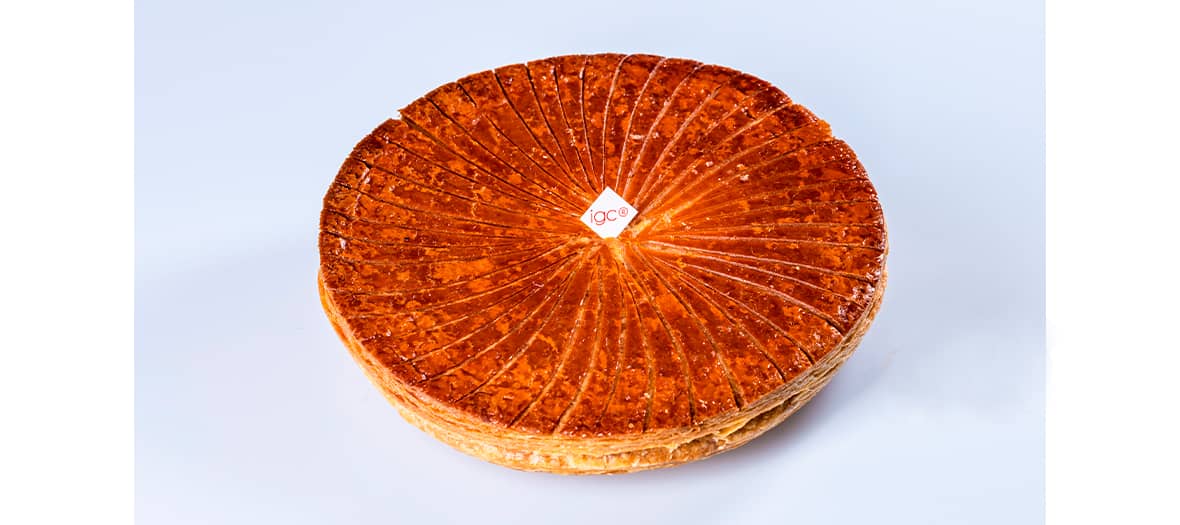 Are your good resolutions too fresh to be abandoned? Count on Les Belles Envies to enjoy it without (too much) feeling guilty. The Parisian pastry shop rose to the challenge with this delicious frangipane pancake labeled IGC® (for Controlled Glycemic Index). His secret? The white sugar is replaced by coconut sugar and the semi-complete flour is rich in fiber which has the effect of slowing the absorption of carbohydrates. A small revolution for everyone, especially for people with diabetes .
Les Belles Envies, € 29.50 for 6 people. More info on the Les Belles Envies website .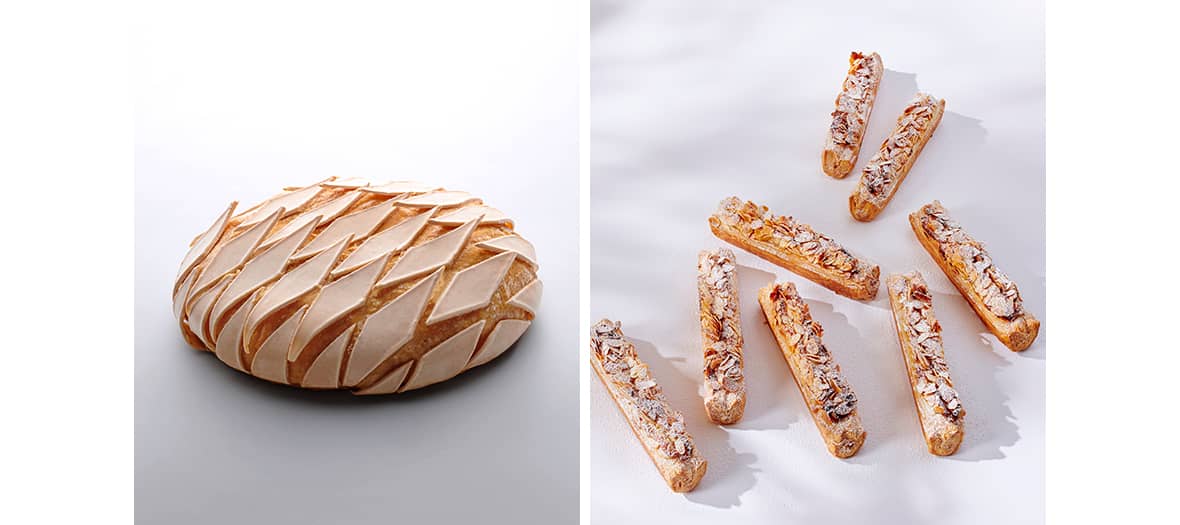 A palace cake, if not nothing! Newly inaugurated, Cheval Blanc Paris unveils its first cake created by Maxime Frédéric . The prodigy pastry chef pays homage to the Pont-Neuf with a frangipane cake decorated with diamonds, recalling in passing the decoration of the forgotten cake which bears the same name as the bridge.
At the Ritz , pastry chef François Perret delivers his serene pancake with inverted puff pastry and flaked almond macaroon. Are you going solo? Opt for the crousti-galette bar format to grip with your fingertips at the Ritz Paris le Comptoir.
Between the galette and the brioche, Michael Bartocetti , pastry chef at the George V , could not choose. Result: a treasure of delicacies like puff pastry brioche garnished with a cassia cinnamon frangipane.
Cheval Blanc Paris, by reservation 48 hours in advance on 01 79 35 50 44, collection of pancakes on January 6, 7, 8 and 9, € 68 for 6 people. More information on the site.
Ritz Paris, from January 1st, € 59 for 6 people in click & collect. € 9 per individual portion at the Ritz Paris Le Comptoir. More info on the site.
Four Seasons Hotel George V, 95 euros, for 6-8 people. More info on the site.
In the kings babka category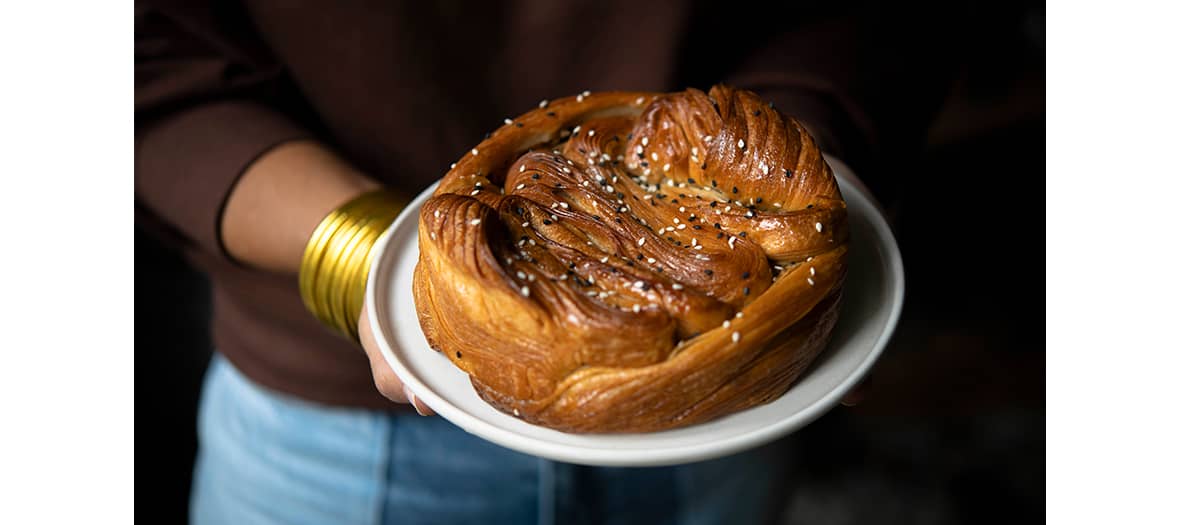 Can the babka of Kings dethrone the galette? The challenger is to be taken very seriously! Babka Zana returns with not one, but two recipes created especially for Epiphany. To the one that had already made us crack last year (puff pastry brioche, frangipane, acacia honey) is added the Babka des Rois with two sesames and its delirious frangipane with white and black sesame.
Babka Zana, Babka des Rois signature, at p. from 16 € for 4 people. Babka des Rois with two sesames, € 38 for 8/10 people. More info on the Babka Zana website .
© Geraldine Martens
In the category "This is not a pancake"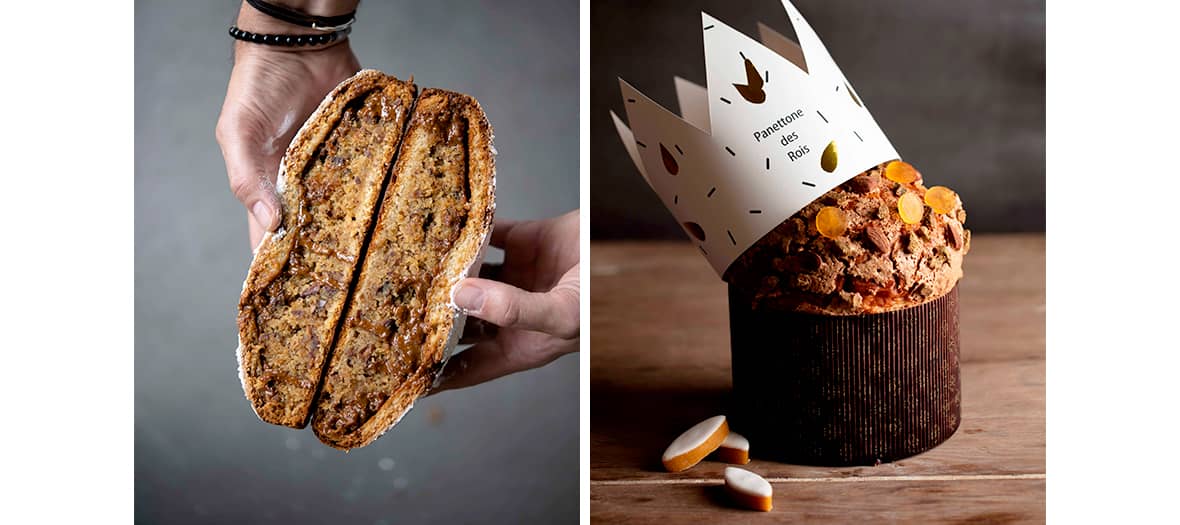 Some troublemakers manage with traditions. This is the case of Christophe Louie who diverts his amazing panettone into panettone des Rois calisson style with citrus fruits and candied melon. For its part, La Meringaie stashes the bean in a crispy-soft cake composed of almond-pear-raspberry whipped cream and its inimitable meringue.
The confectioner Maison Carrousel unveils a box of almond marshmallows and puff pastry pieces, one of which is the winner.
As for The French Bastards , trendy bakers have decided to shoot kings with pastry chef François Daubinet . The result: a highly food porn galette that looks like a rye pie. Do not judge on appearance ! Finally, Lenôtre plays the starlets in tropézienne .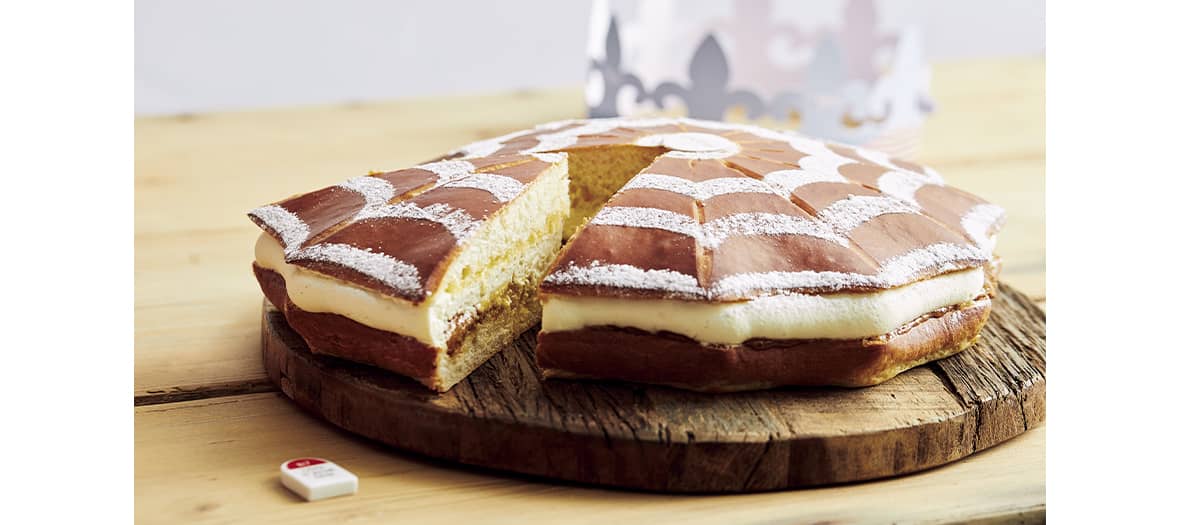 Christophe Louie, € 42. More info on Christophe Louie's website . La Meringaie, € 37 for 6/8 people. More info on the La Meringaie website .
Maison Carrousel, box of 36 marshmallows, € 46. More info on the Maison Carrousel website .
The French Bastards x François Daubinet, Saturdays January 8 and 15, Sundays January 9 and 16, € 50 for 8 people. More info on The French Bastards website.
Lenôtre, from January 1, € 61 for 8 people. More info on the Lenôtre website.
© Geraldine Martens / © The Travel Buds
In the scoundrel category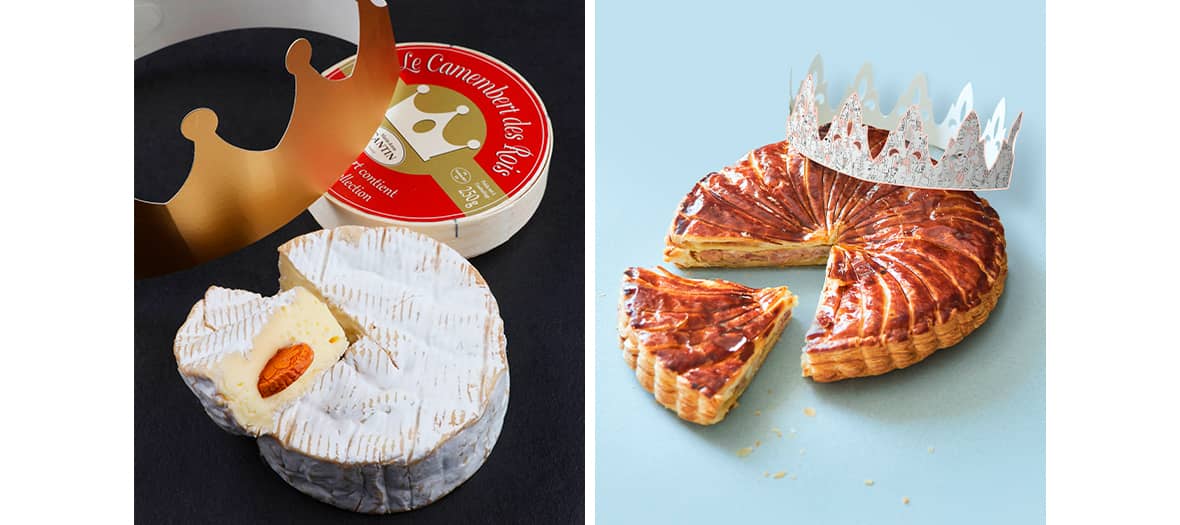 Among the Vérots , the Epiphany will be… dirty. The charcutiers family combines the savory pancake with a stuffing of Perche pork and duck foie gras in a pure butter puff pastry. The (good) fat is life. Here is some blood sausage! The restaurant Les Bichettes de Belleville rolls out a devilishly naughty apple pudding pancake.
For cheese addicts, cheese maker Marie-Anne Cantin creates Camembert des Rois, an authentic Camembert from Normandy, molded with a ladle and of course, a bean is hidden inside!
Maison Vérot, from January 7 to 23, 2022. € 26 for 4 people, € 39 for 6 people. More info on the Maison Vérot website .
Les Bichettes de Belleville , on order from January 3 to 9, € 26 for 4 people.
Marie-Anne Cantin, from December 15, 4/6 person format, € 5.90. More info on the Cantin website.
In the thousand and one nights category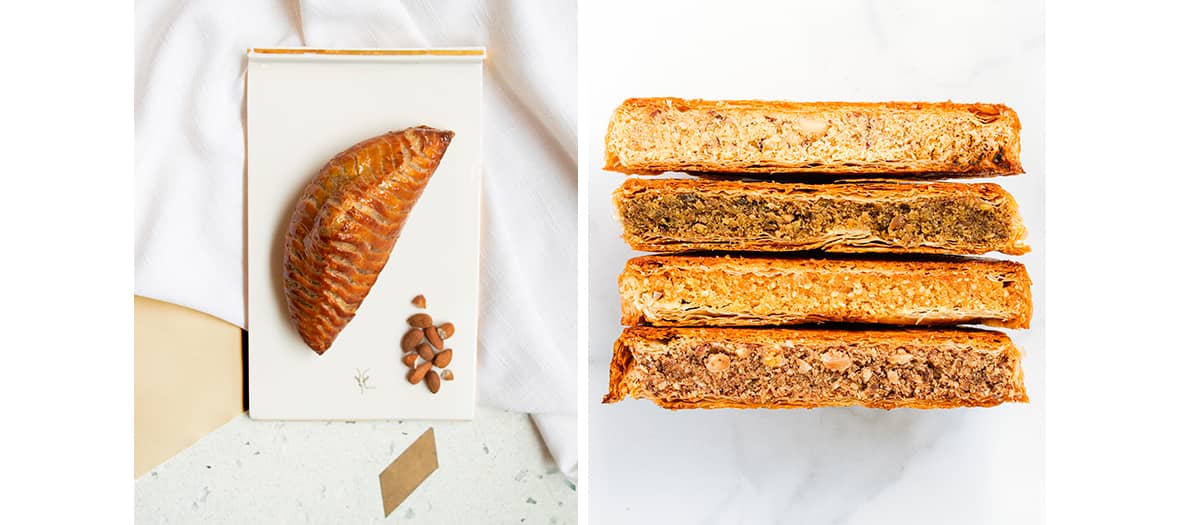 Need to escape ? At Maison Aleph , the pancakes are imbued with Levantine flavors through four captivating variations: almond-orange blossom, Iranian pistachio and sesame-halva and the little news with cinnamon. In addition to honoring its star ingredients, Myriam Sabet unveils a puff pastry made from caramelized filo pastry sheet by sheet.
The Meilleur Ouvrier de France Yann Brys , head of the sweet creation of the hotel group EVOK, also went to seek his inspirations beyond the borders with his star-shaped pancake studded with dried fruits grilled with honey, which contains an almond cream. and sesame with orange blossom. Finally, Maison Gazelle unveils two gazelle horns in the form of a frangipane pancake and orange blossom for one and hazelnut frangipane from Piedmont.
Maison Aleph, from January 2, € 28 for 5 people, € 38 for 8 people, € 6 per individual share. More info on the Maison Aleph website . Photo credit Joann Pai.
EVOK, from January 1 to 15, 2022, order 48 hours in advance. 52 € / 6 people. More info on the EVOK website.
Maison Gazelle, € 16 for 2/3 people and € 30 for 4/5 people. More info on the Maison Gazelle website .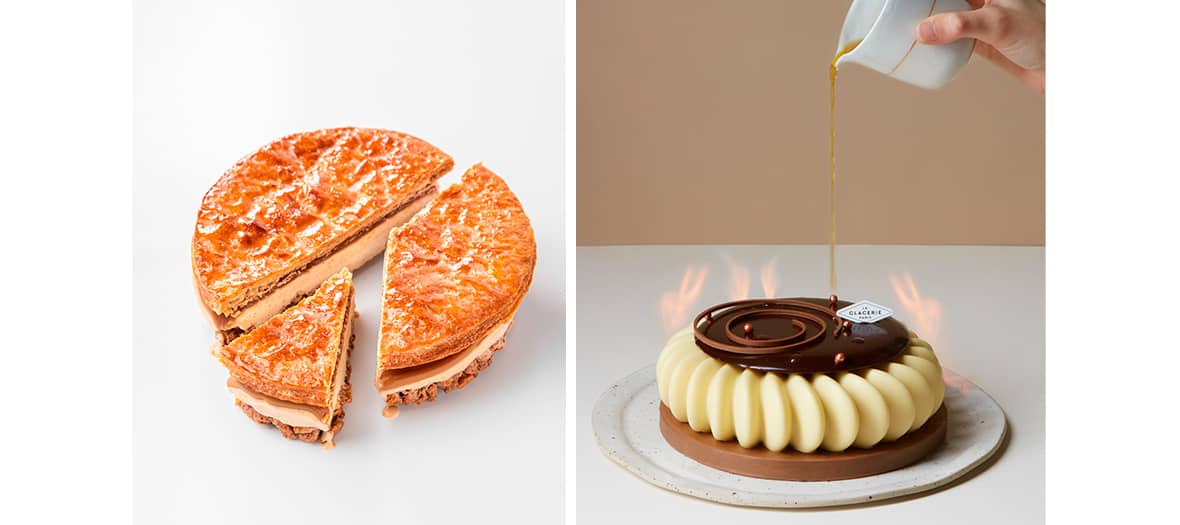 You will not be left with ice! La Fabrique Givrée transposes the codes of the galette in a frozen version. Prepare to melt with pleasure for its delicate puff pastry coated with Valrhona milk chocolate, and its almond and bitter almond ice cream topped with caramel.
For its part, La Glacerie du Meilleur Ouvrier de France David Wesmaël blows hot and cold with its flambé pancake. In this frosted dessert hides a frangipane ice cream, a vanilla ice cream parfait, a two vanilla apple sorbet and a raisin crunch. And for the final touch, we sprinkle it with an old agricultural rum before lighting the flame.
La Fabrique Givrée, available from mid-December in stores and throughout France via the site, € 25 for 6-8 people. More info on the La Fabrique Givrée website .
La Glacerie, available from January 2 in stores. 68 € for 8 people. More info on the La Glacerie website .
© Aurélien Bailly
In the solidarity category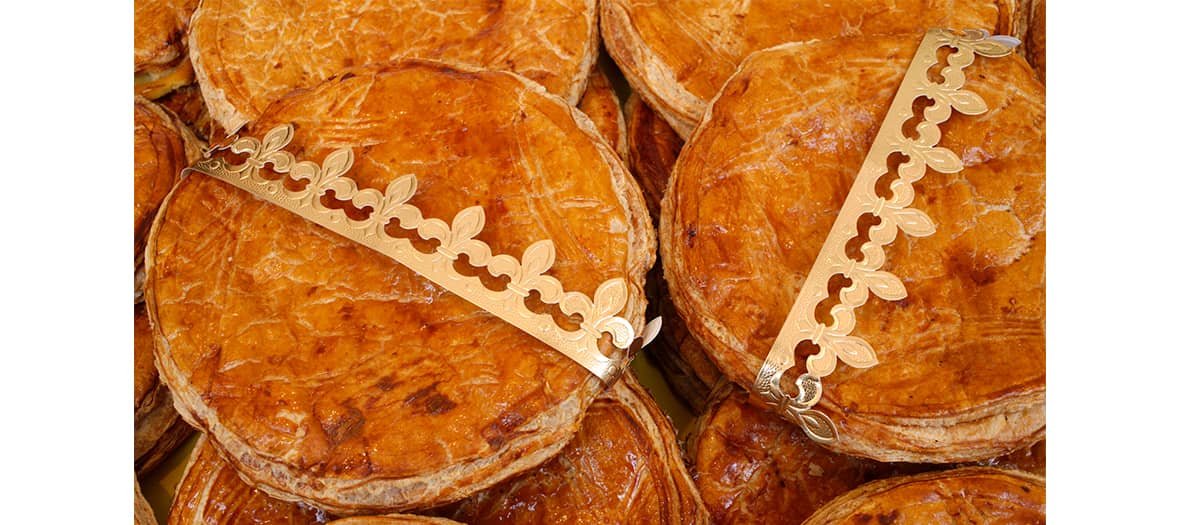 Pierre Hermé, Thierry Marx, Hélène Darroze and even Guy Savoy … around thirty chefs, pastry chefs and exceptional houses are joining forces on January 8 for a solidarity galette party at the initiative of the Disciples of Escoffier Paris. Their creations will be sold throughout the morning on the church square of Saint-Germain-des-Prés for the benefit of POIC (Pseudo chronic intestinal obstruction). A friendly and gourmet meeting not to be missed.
La galette des chefs, Saturday January 8, from 9 a.m., Place de l'Eglise Saint-Germain-des-Prés, Paris 6th.
In the chocolate category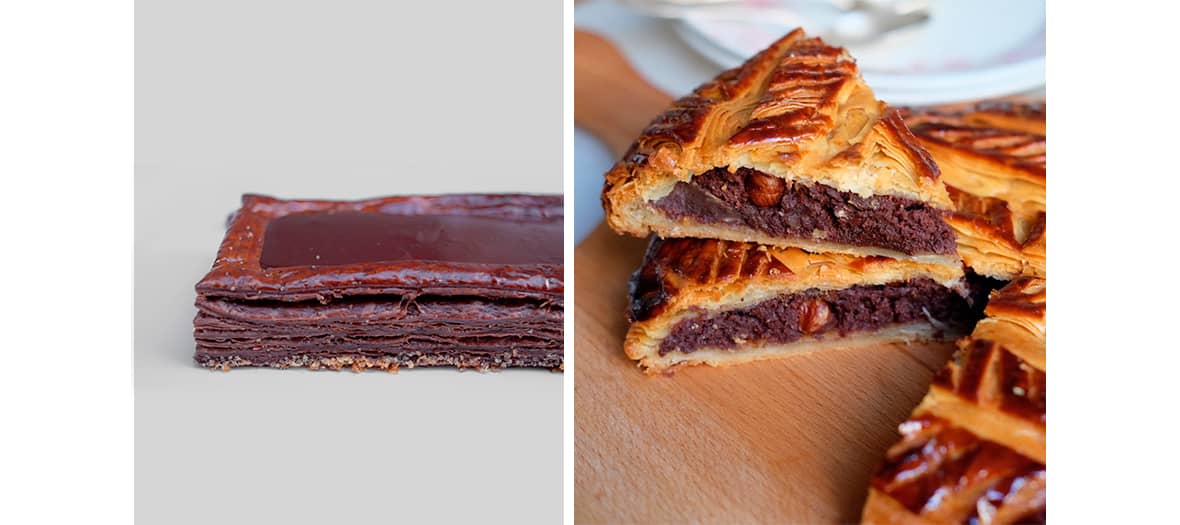 Passionate about chocolate, Jean-Paul Hévin brought his cocoa by sailboat from Mexico for a carbon-friendly and mmmh, divine pancake: puff pastry with vanilla butter and dark chocolate paste, fine cream studded with chocolate chips based Grand Cru cocoa from Mexico, lime cream.
Notice to cocoa fondues, the Sain bakery has supplied itself from Carrés Sauvages , a Parisian chocolate factory specializing in raw, organic and vegan chocolate. Result: a chocolate cake twisted with cardamom and macadamia nuts.
The Plaq manufacture puts a layer on it with its 100% chocolate cake: cocoa puff pastry, soft almond chocolate, all covered with a pure chocolate glaze. It's good for morale !
Jean-Paul Hévin, € 36 for 6 people. More info on Jean-Paul Hévin's website .
Healthy, € 37 for 6 people. More info on the Sain website.
Plaq, from January 7 to 9 and from January 14 to 16, € 18 for 2/3 people, € 36 for 4/6 people, € 54 for 8/10 people. More info on the Plaq website.
Also find Pauline Séré that opens her signature bistro in Ménilmontant and Yannick alleno that opens a chocolaterie .