Looking for the perfect traditional galette , a signature brioche or a deluxe version? We have prepared our best-of galettes des rois to order fissa for the Epiphany of January 6th. There's more to draw!
The most creative: Lenôtre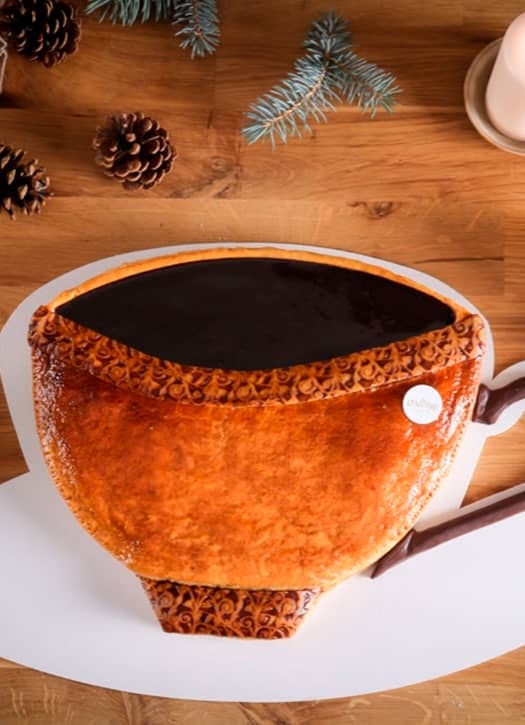 This new signature galette from the house is a bit like the embodiment of our winter in the form of a dessert: a cup of hot chocolate that warms the heart, like those little delicacies that we allow ourselves without feeling guilty on very cold days... without obviously forget the marshmallow option! As adorable as it is addictive...
Its composition: a crunchy caramelized inverted puff pastry filled with a fondant mixture of almond cream and dark chocolate. The decorations that make it so charming are in chocolate sauce and volutes of marzipan. Mmmhh…
Galette hot chocolate , €70 for 6/8 people, available online and in Lenôtre boutiques (pre-order recommended) from January 2 to 31.
The most luxurious: Dior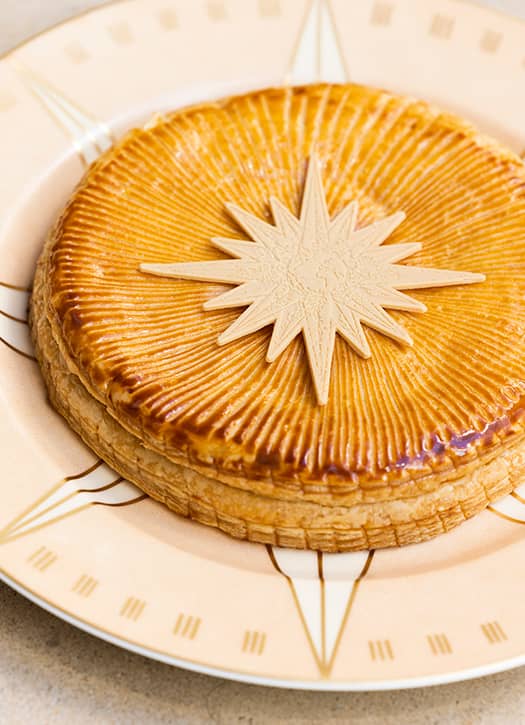 It's the most glam nugget of this selection, to be grabbed at the pastry shop at 30 Montaigne : this canonical space where you think Dior , dress Dior , breathe Dior and eat Dior . This unique galette imagined by Jean Imbert and his pastry chef Romuald Bizart is a real little luxury to put on a beautiful plate to honor it (and to honor the well-known delicacy of the couturier), unless you taste it directly on the spot!
Its composition: a delicate almond frangipane sublimated with a biscuit in the shape of a wind rose , this iconic code of the house.
Galette Dior , available at the end of December at the 30 Montaigne pastry shop , 30 avenue Montaigne, Paris 16th
The most Girl Power: Nina Métayer x Frichti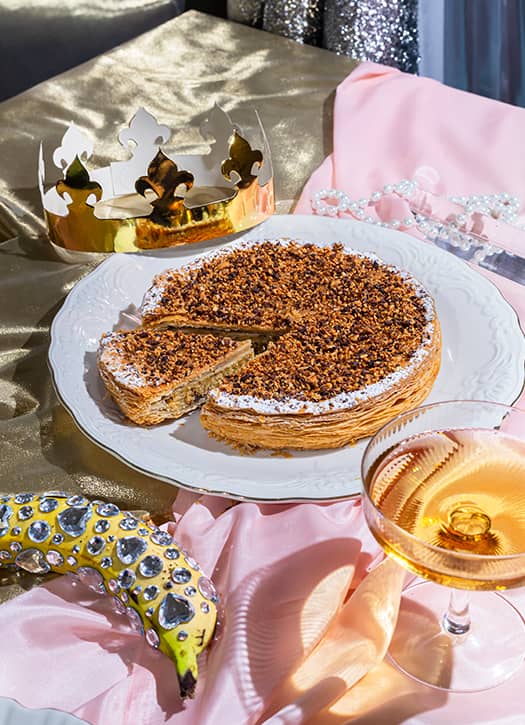 This year, we are not celebrating the galette des Rois but the galette des Reines ! A collab' under the sign of responsible consumption that sublimates the taste and flavors of the season.
Its composition: a hazelnut filling that steals the show from traditional almonds. Nina Métayer has made for the occasion an exclusive frangipane made up of a sugar-free pastry cream that mixes with French hazelnut chips, all on a bed of puff pastry low in gluten thanks to the use of a small flour spelled for an ultra-crispy effect.
Galette Nina Métayer x Frichti €34 for 6 people, available only on the Frichti platform , from Saturday 7 to Monday 9 January, from Saturday 14 to Monday 16 January and from Saturday 21 to Monday 23 January
The most foodporn: The French Bastards x Le Royal Monceau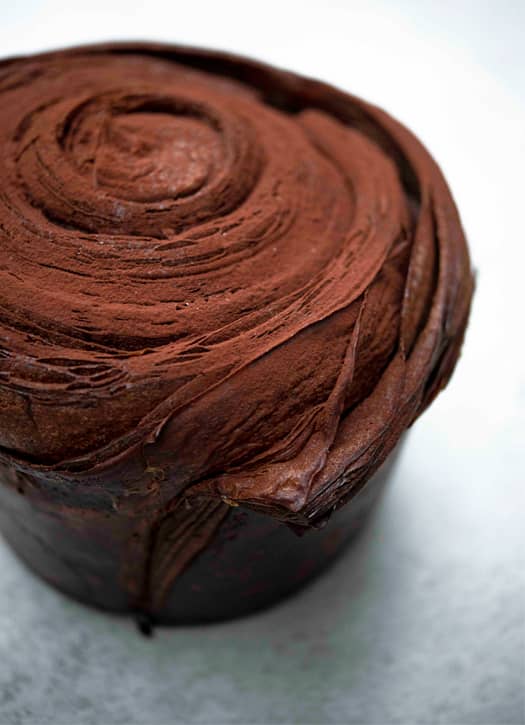 Who else than Quentin Lechat , Pastry Chef of the Royal Monceau , and the insolent team of The French Bastards to imagine such a foordporn and delicious cake? Understand: a Cruffin XXL , hybrid delicacy between the croissant and the muffin in total overabundance of chocolate kif.
Its composition: an indecent frangipane with a chocolate-hazelnut spread, a chocolate ganache and more and more chocolate in a flowing heart that explodes with generosity , all wrapped in a puff pastry (chocolate, what a surprise!) with PDO butter from Isigny-Sainte-Mère. In other words: the regime is dead.
Le Cruffin des Rois , €60 for 10/12 people, available in The French Bastards boutiques and in click and collect on the weekends of January 8 and 15, and at the Royal Monceau-Raffles brunch on Sundays January 9 and 16
© Geraldine Martens
The most delicious: The Lutetia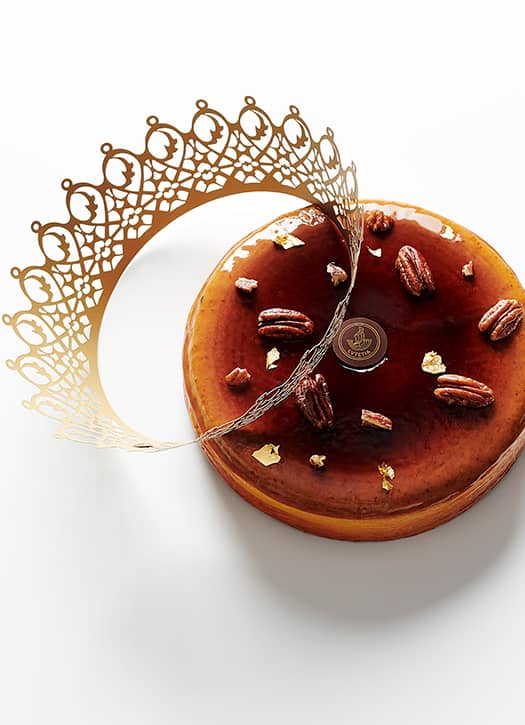 Nicolas Guercio , pastry chef at Lutetia , tells all his travel stories in his galette . Nice: a golden bean will be hidden in a single cake to save the King and Queen a night in one of the extraordinary suites of the palace .
Its composition: a gustatory odyssey around the pecan nut where a fondant crumble, a butter cream and a praline mix with the subtle taste of a perfect puff pastry brioche.
The Hôtel Lutetia galette , €75 for 8 people, available in a limited edition and only by reservation by telephone on 01 49 54 46 00, collection to be made at the Hôtel Lutetia throughout the month of January
The finest jewelry: Persée x Shangri-La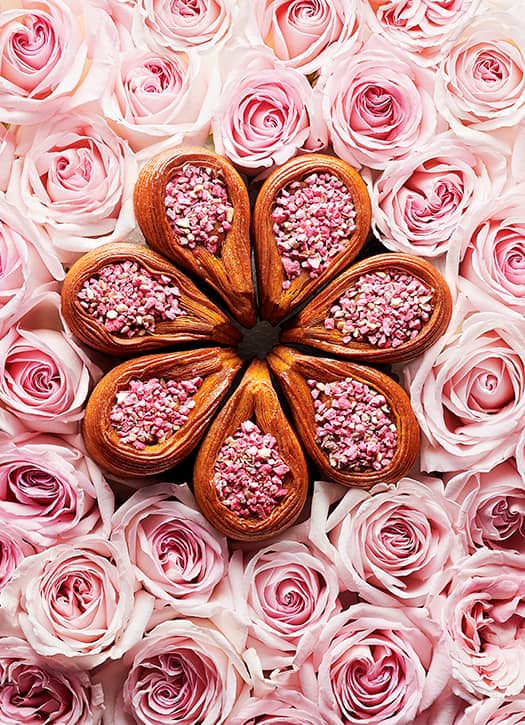 Or when the finesse of Persée Paris fine jewelry meets the know-how of a Parisian palace… Shangri-La pastry chef Maxence Barbot imagines a pastry creation like a bouquet of delicacies in which rose quartz beans are hidden . Among them, 100 winning fèves numbered from 1 to 100: those from 1 to 99 will allow you to win a magnificent Eternam bracelet in silver, yellow or pink gold. For n°100, it's the jackpot: an iconic round floating ring from the house worth €1,180.
Its composition: a soft frangipane, a few notes of Tonka beans infused with rum for a creamy and airy texture and a delicate puff pastry brioche that takes the form of distinguished petals . In other words: chewable refinement.
The Galette des Rois from Shangri-la x Persée Paris , €72 for 6 people, available from December 26 to January 12 (01 53 67 19 91), online or to take away atLa Bauhinia from January 1 to 15 from 10 a.m. to 8 p.m. (on reservation of a time slot).
© Laurent Fau
The most graphic: Potel and Chabot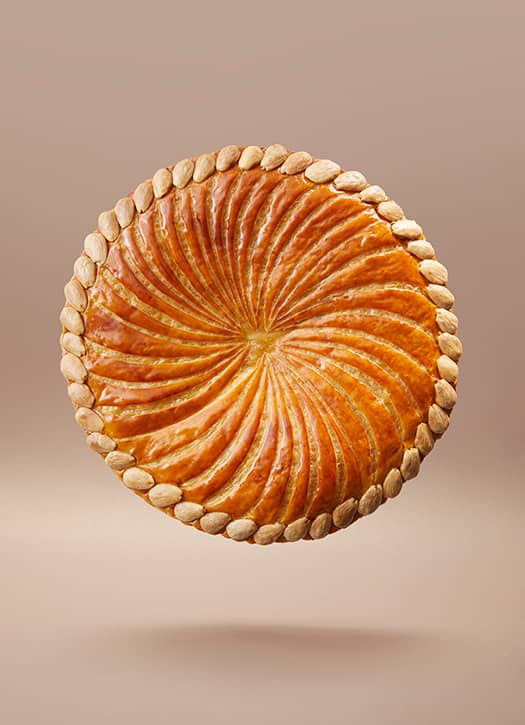 Pastry chef and world champion Marc Rivière signs a deliciously subversive recipe for the very famous Potel et Chabot house , this Parisian institution which adorns the tables of the most chic events in Paris, including Roland Garros .
Its composition: a unique encounter between citrus fruits and the sweetness of almond cream, with Ardèche chestnut frangipane from Maison Imbert and a subtle confit of sun-kissed Corsican mandarins. The puff pastry ? Inverted: either crispy on the outside and super tender on the inside.
The 2023 collection cake , €58.50 for 6 people, pre-order to be made online 3 days before the collection date
© Thomas Dhellemmes
The most brioche: Babka Zana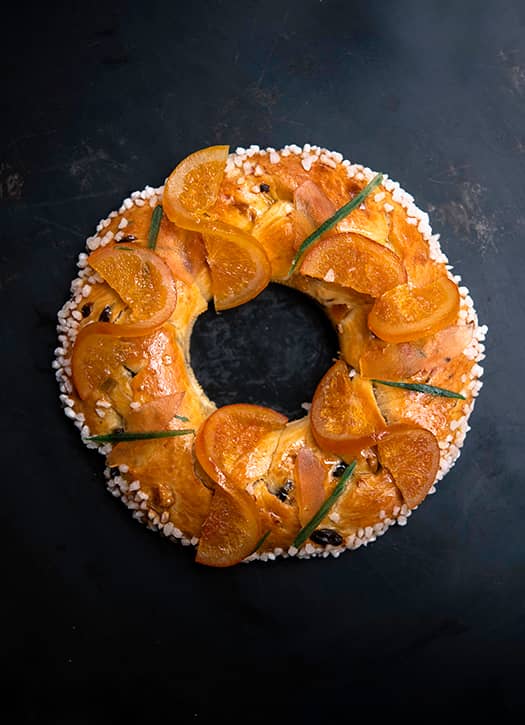 Welcome to the sanctuary of brioches where the only watchword to respect is the following: fluffyness . Here, Epiphany is celebrated according to the rules of the art and according to Mediterranean traditions , as in Provence , Spain or Portugal .
Its composition: a crown of very soft brioche braided in three strands, covered with an orange blossom syrup and garnished with lemon, orange and vanilla zest, all covered with slices of oranges and citrons candied and sprinkled with a few brown and blond grapes soaked in honey. Delicious…
La brioche des Rois , €23 for 6/8 people, available in a limited edition from January 2 to 31 in Babka Zana boutiques
© Geraldine Martens
The most pistachio: Ladurée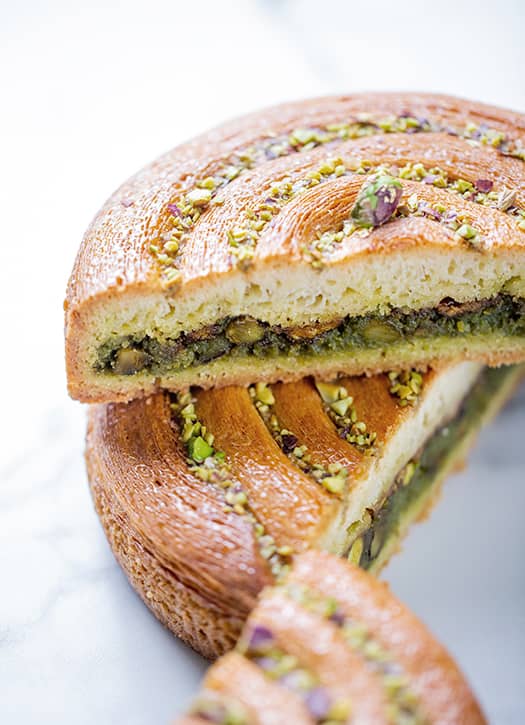 A pastry creation by Julien Alvarez (formerly Café Pouchkine and Bristol ) where the puff pastry spiral is just a foretaste of the whirlwind of flavors that awaits us inside. A little clue? The chef's favorite is pistachios ...
Its composition: imagine the delicious suppleness of a Basque cake and the crispiness of puff pastry. Add a generous almond and pistachio cream and a few notes of orange blossom , pistachio chips and an infinitely melting praline heart. Guaranteed comfort.
Ladurée signature galette , €45 for 6 people, available from January 1 to 31 in Ladurée boutiques and online click and collect
© PMonetta
The most classic… with a twist: Maison Mulot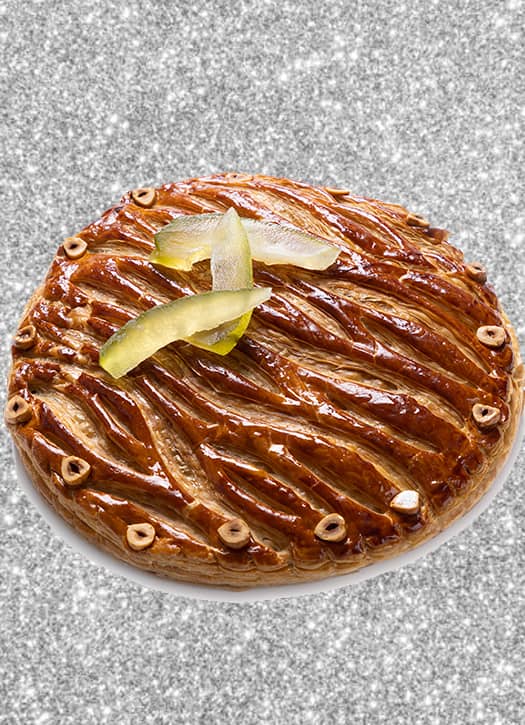 The illustrator Claire Morel Fatio brings a touch of tenderness to this month of January by illustrating the beans and the crown of the mythical Maison Mulot cakes . A timeless classic that will delight fans of the real frangipane pancake, perfectly executed and therefore resolutely addictive...
Its composition: a very crispy puff pastry that hides a frangipane where the sweetness of the hazelnut comes to team up with the acidity of the candied citron, this fruit of the sun which gives airs of Sicily to our winter.
The Taormine galette at Maison Mulot , €28 for 6 people, available from January 2 to 31 in the shop or on order at orders@maison-mulot.com or 01 43 26 85 77
The most fashionable: Sébastien Gaudard x Patou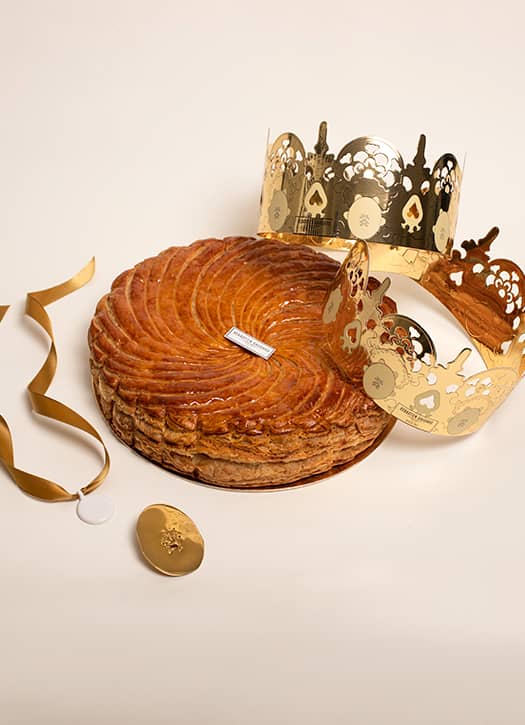 A meeting at the top! Sébastien Gaudard , guardian of the temple of the French pastry tradition , teams up with the iconic fashion house Patou . The lucky Kings and Queens who will be lucky enough to come across the white fèves imagined by Guillaume Henry (DA de Patou) will be able to exchange them for real jewels. The ceramic bean painted in real gold can be worn as a pendant while proudly displaying its jeweled crown.
Its composition: a purely Parisian frangipane and made in the purest respect for tradition , where the scent of agricultural rum from Martinique delicately flavors the almond cream . On the puff pastry side, we are on a perfect balance between crispy and fondant.
The Sébastien Gaudard x Maison PATOU frangipane galette , from €26, available from January 1 to 23 in stores and by phone on 01 71 18 24 70
The most Japanese: Kitsuné x Liberté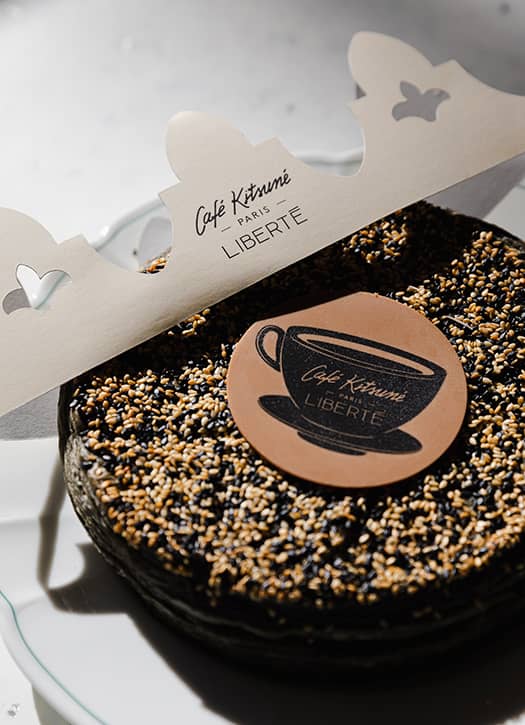 A wind of novelty is blowing over this Epiphany 2023 with a mix of pastry know-how from Liberté bakeries and a touch of the Japanese culture that defines the identity of the famous Café Kitsuné so well .
Its composition: a puff pastry with vegetable charcoal and a frangipane with roasted black and white sesame , topped with a caramelized white chocolate disk in the image of the signature cup of Café Kitsuné .
Galette des Rois Kitsuné x Liberté , €15 for an individual galette available from January 2 to 22 only at Café Kitsuné 2 place André Malraux, Paris 1st, open every day from 9 a.m. to 6:30 p.m.
Also discover the best hammams in Paris and 6 unmissable tables for partying