Still confidential a few years ago, the panettone grabbed a place of choice among our favorite pastry chefs , grocery stores and bakers . Everyone rushes to raise this brioche cake with raisins and candied fruit , the ultimate symbol of Christmas in Italy .
More exotic and less greasy than the log, this new best-seller for Parisiennes also allows you to set a more relaxed table , a festive Xmas brunch between seafood and an exquisite foie gras , but also to pimp up a Christmas breakfast. , the new favorite of blended families. Small best-of of the good houses where to get them.
Fiasconaro x Dolce & Gabbana: fashion panettone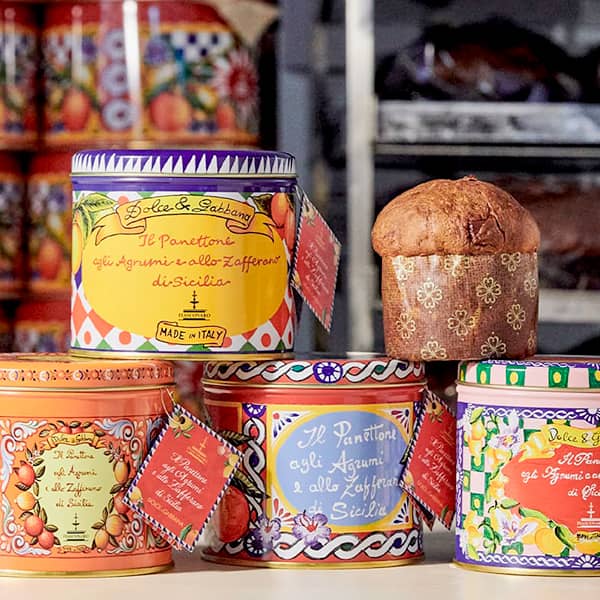 With its beautiful branded and colorful kaleidoscope -style box , this panettone finds its place under the tree! The result of a collaboration between Fiasconaro, master Sicilian confectioner since 1953, and the Maison Dolce & Gabbana , the collection offers several devilishly gourmet versions of the iconic brioche, available online at the Felicina delicatessen specializing in Italian products from exception .
Our favourite: the panettone with Sicilian hazelnuts accompanied by its small jar of cream to spread which brings the pleasure all over ! (69 €)
Christophe Louie: the maestro!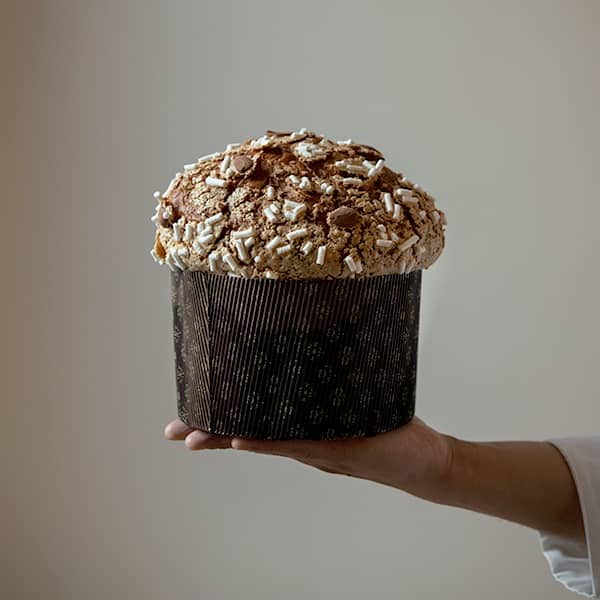 After working in the kitchens of Jules Verne , Dalloyau and Le Meurice , pastry chef Christophe Louie propelled panettone straight into the spheres of haute cuisine . Already initiated into the art of sourdough, he refined his know-how in the Aosta Valley with the famous Italian pastry chef Mauro Morandin who coaxes a century-old sourdough in 37-degree sugar water.
By adding high-quality ingredients to his recipes, Christophe Louie has made his panettones little gems with a unique texture, available this year in a traditional version stuffed with almonds from Puglia , candied oranges from Calabria and honey from Ile-de-France (€35, 750g) and in a crazy cocoa mix of Nicolas Berger chocolate from Cuba Dark 65% and milk chocolate from Madagascar 40% (€37, 750g).
On sale from 4 p.m. to 7 p.m., December 9, 10, 16, 17, 22 and 23 at 12 rue Dupetit-Thouars, Paris 3rd and online
© Geraldine Martens
Bulgari Hotel: the ultimate Italian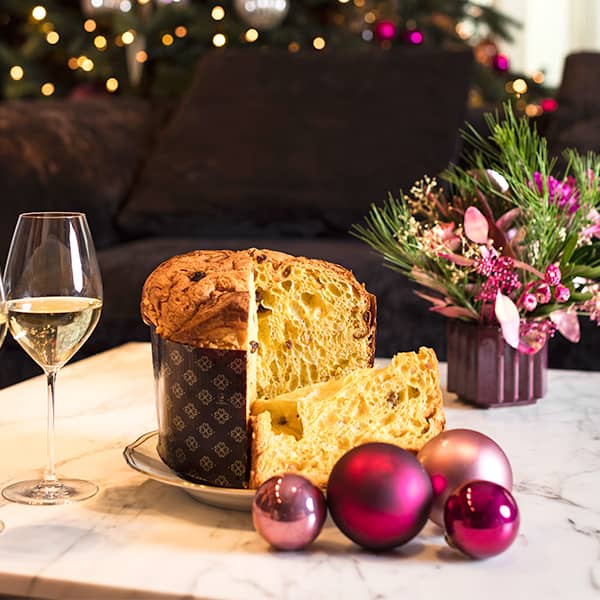 With all the passion for which he is known, Niko Romito , three-star chef at Restaurant Reale , which signs the menu of Bulgari hotels throughout the world, fell in love with yeast-based dough products. In his hands, the panettone becomes a vertiginous sweetness of lightness , ultra-digestible.
His secret? The butter is partially replaced by an organic almond emulsion and in its dough, no preservative . Made in the lab of its bakery and pastry shop in Castel di Sangro , this divine creation is coming to Paris in a limited edition and in two versions: the Classic with candied oranges and raisins, or the Chocolate with candied fruits and chocolate chips from Tanzania (€55). Bellissimo!
Hotel Bulgari Paris 30 avenue George V, Paris 8. 01 81 72 10 80
Cova: the Milanese class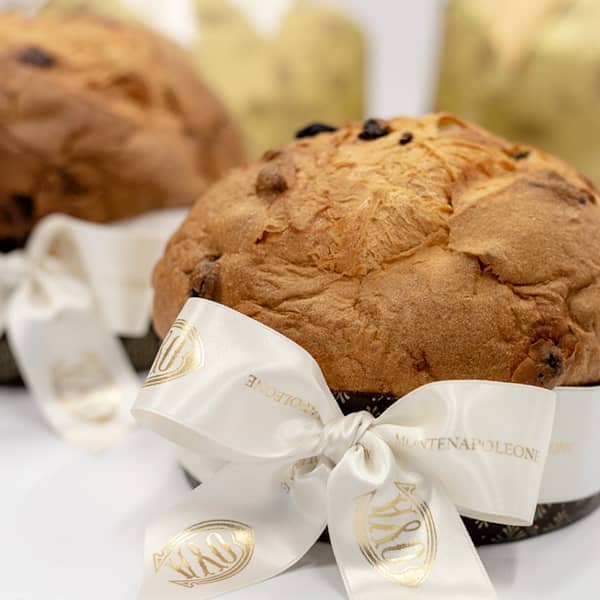 Duplicated in Paris and bought since 2013 by the LVMH group , this bicentenary Milanese pastry shop does not mess with the panettone whose recipe it has kept secret from generation to generation.
A true icon of the House, the panettone is the result of a long process carried out by an expert who perfectly masters each stage of the process for a top-notch brioche . All that remains is to choose between the traditional version with its candied orange and citron zest (€26, 500g), the chocolate version (€27, 500g) or the apple-cinnamon variant with semi - candied Trentino Granny Smiths (€50, 1kg). PS: Cova offers a big kif of panettone displaying no less than 10 kilos on the scale!
Available online or on site at Cova Paris, 1 rue du Pont-Neuf, Paris 1 er . 01 44 82 58 52.
Eataly: panettone madness!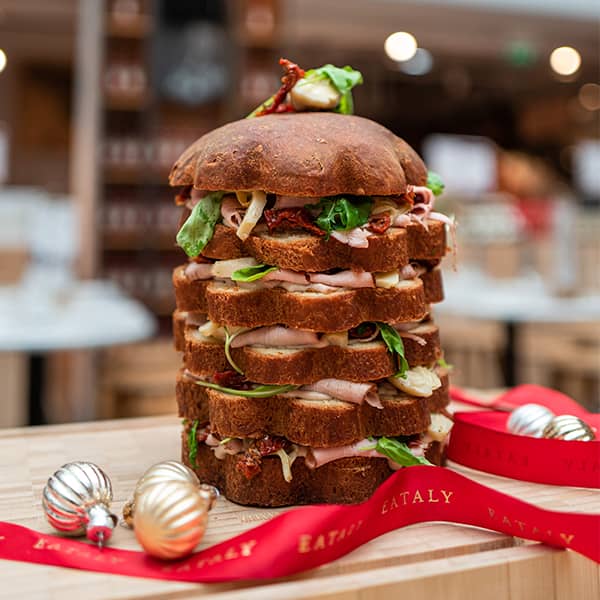 The panettone in all its states, it's here! With shelves stocked with around fifty references, Eataly thinks big and good to satisfy all tastes. The classics are on the menu: candied fruit, chocolate, pistachio, hazelnut cream, lemon (from €12.50). The " without " provide a safety net: gluten free (€17.10) and vegan with vegetable margarine (€19.50). For thrill seekers, the limoncello or amaretto version will lighten up the end of the meal (€14.90), while the mascarpone panettone and red fruits unanimously delight young and old (€17.50).
Crush on the savory version with vitello tonnato and candied tomato, presented like a surprise bread : yummy! (€40).
Available online or on site at Eataly , 37 rue Sainte-Croix de la Bretonnerie, Paris 4th.
Pierre Hermé: the French touch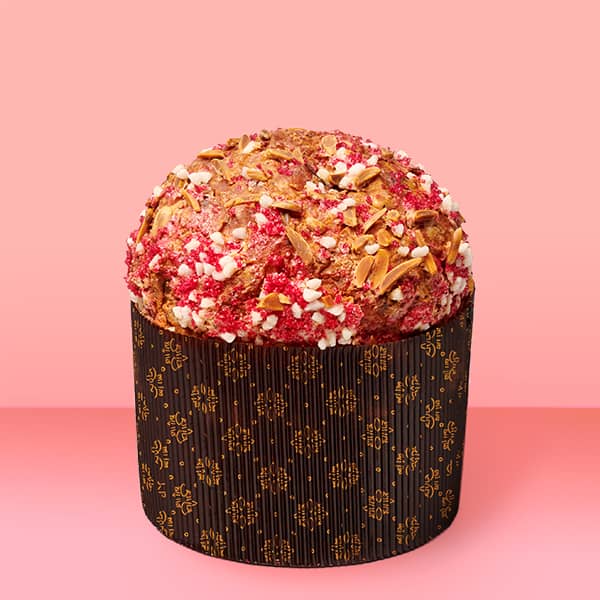 For the first time , the king of macarons offers its star flavor Fetish Ispahan in an infinitely soft panettone. Rose, lychee and raspberry flavor this crazy brioche with their delicately tangy notes softened by rose marzipan and crunchy almond shards (€29). And pleasure is guaranteed with every bite.
Available in Pierre Hermé boutiques in Paris and online

Also discover the best Italian restaurants in Paris and the best pasta restaurants in Paris