Here is our listing of the 9 most foodporn burgers in Paris to dig into on International Burger Day.
The most green: Bio Burger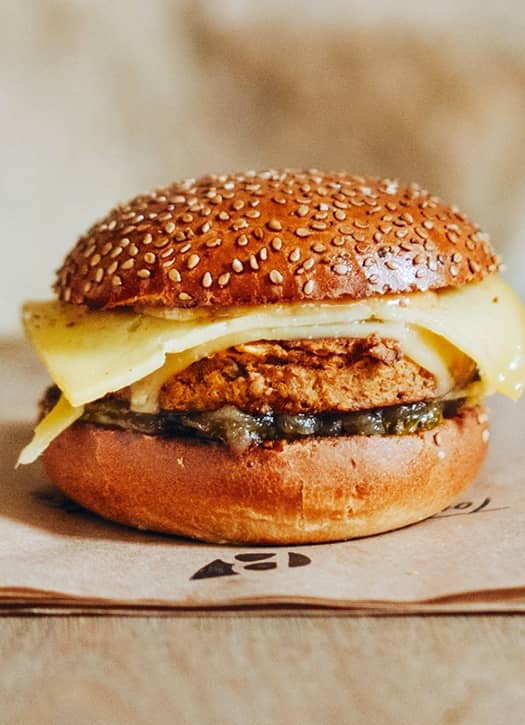 Burger buffs and trendy foodies all mention it in their top 3. Between the respect of short circuits, fresh organic products without any GMO and really cool prices: the greenest fast-food in Paris manages to play the glam' mix of an address that combines eco-responsibility and foodporn.
Amongst the stars on the menu: the perfect classic (brioché bun, steak, farmer cheddar made in England, tomatoes, salad, glazed onions, cornichons and the house sauce. Or a Californian version with an avocado bacon and homemade mayo. Also to be noted: versions with veggie steaks worth the detour. Before allowing yourself to be tempted by torrid ice creams and milkshakes.
€1.70 for the burger menu with fries or coleslaw + drink
Bioburger 45 Rue des Petits Carreaux, Paris 75002 and 3 other Parisian addresses in Montparnasse, the Marais and La Défense
The most Smash : Dumbo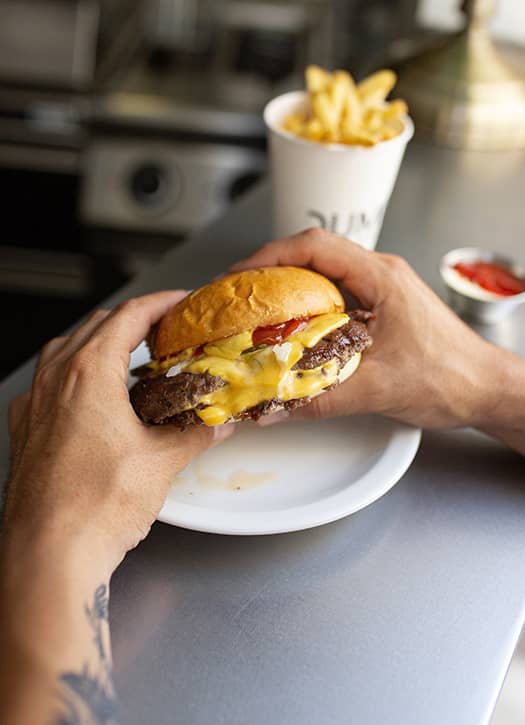 The XXS counter of Dumbo is the first location dedicated to the smash burger in Paris, a technique that consists in cooking an ultra-slim steak on a very hot plancha until you obtain a slightly caramelized "patty" with crispy edges. In total, only two recipes and a minimum of ingredients. Less is more.
The Cheeseburger offers a smash patty for 130 g with a slice of American cheese, ground pepper, raw minced onions, iceberg salad, house and pickles sauce. And a double version with the Classic Cheeseburger (two smash patties of 65 g). Same quantity of meat, but even more crispy. Careful: there are only 100 burgers each evening and no seated places. Real street food in super limited edition.
Take-away burgers at €9 as take away, €10 € on Deliveroo
Dumbo 64 Rue Jean Baptiste Pigalle, Paris 75009
The most Emily In Paris: Ralph's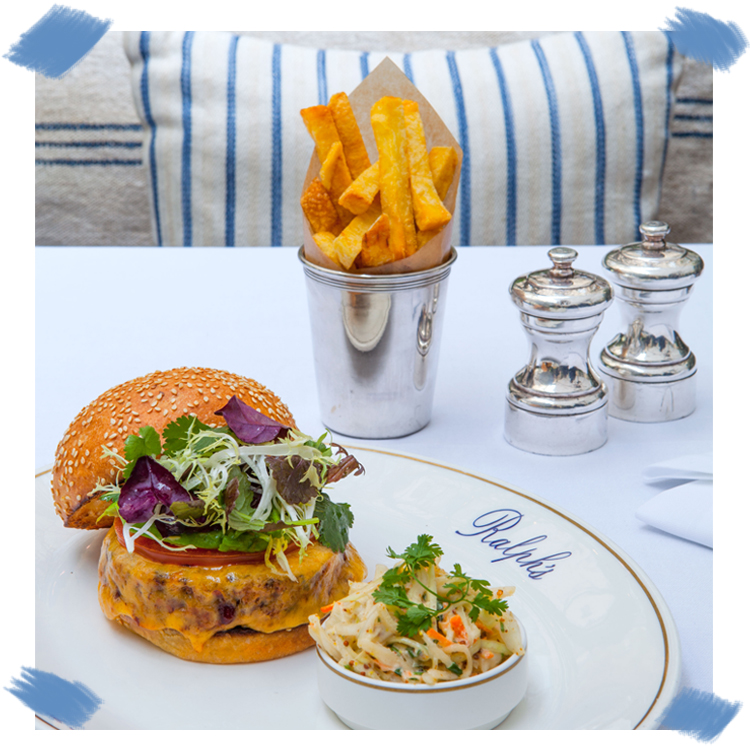 Season 1, episode 9 of Emily in Paris, the buzzing Netflix series: Emily takes a photo of the resolutely couture cheeseburger of her neighbour at the next table. In the Boulevard Saint-Germain restaurant, decorated like a hunting pavilion, one finds the most chic burger of the Left Bank, served in a pretty porcelain plate with fries in a small side container.
A small elegant and gourmet luxury: old fashioned tomatoes, fresh salad, pickles, onions, crispy bacon, melted cheddar and beef from Ralph's ranch in Colorado… To be tested at least once in a lifetime, if only just for the atmosphere.
Ralph's Burger €31
Ralph's, 173 Boulevard Saint-Germain, Paris 75006, 01 44 77 76 00
© Ralph Lauren
The most breakfast: Blend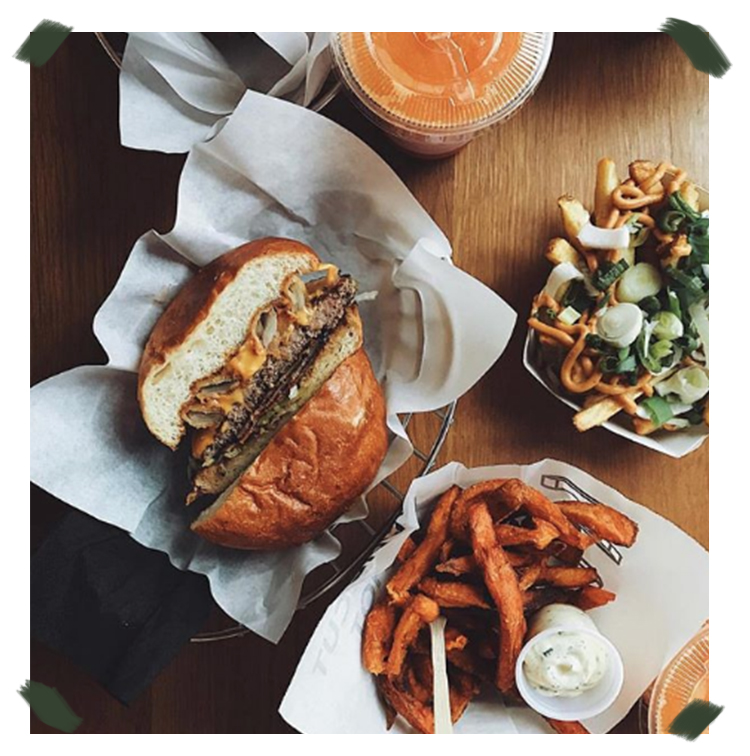 Precursor of the gourmet burger, Blend is more than ever the sensation in its setting at Madeleine with a Mad Men decor worth the detour, especially on the weekend: American style breakfast.
To honour this gastronomical Yankee tradition, Victor Garnier Astorino, the founder, opens starting at 10am the doors of his special address on the Rue Cambon every Saturday and Sunday: his star Breakfast Burger is devilish with its incredible brioche bun filled with cheddar, scrambled eggs, caramelized onions and spicy mayo with a Thai sausage or bacon option.
€ 9 the Breakfast Burger, also available on UberEats
Blend, 18 Rue Duphot, Paris 75001, 01 40 15 06 69
The most Big Mac: PNY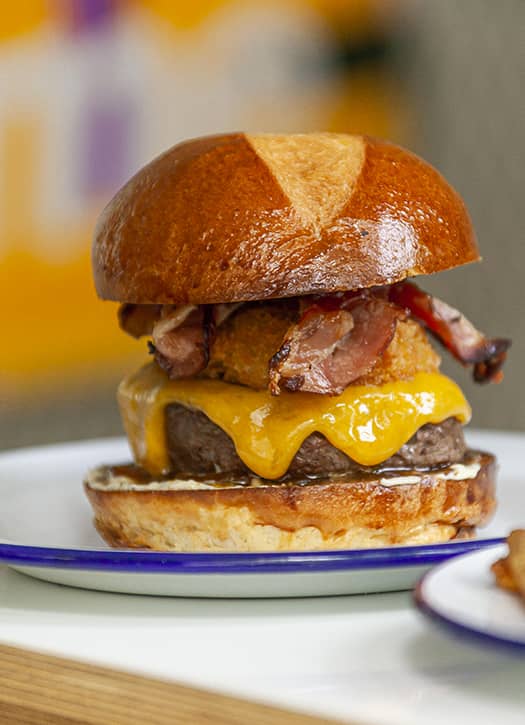 McDo' is not happy. The burger "whose name must not be pronounced" can be found at PNY, the hottest burger venue in Paris under the helm of Rudy Guénaire, known for his super cool potential and furiously stylish restaurants.
We are already salivating at the idea of this homage to the cult Big Mac and its magical sauce, prepared here with deluxe products, starting with the bread and organic steak from Picardie farms. A far cry from McDo. Veggie steak option!
€12.50
PNY, 15 Rue de la Gaîté, Paris 75014
The most star chef: Clover Grill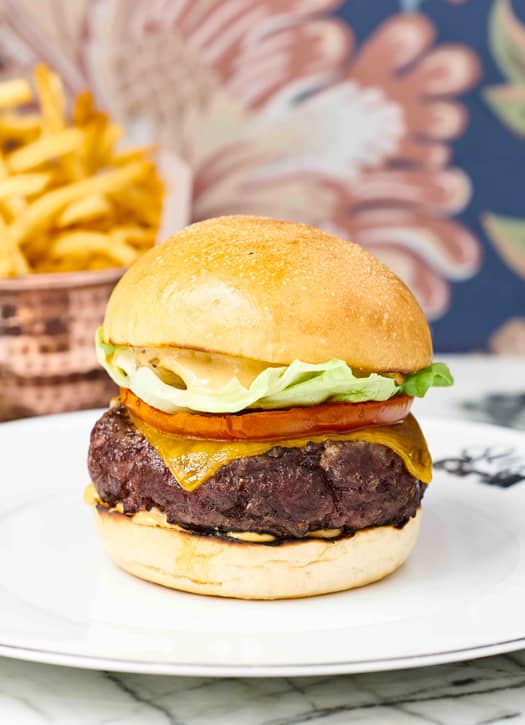 Jean-François Piège signs the most gastronomical burger in Paris, of course served onboard of his incredible Parisian grill, right near the Les Halles district. Rare feat: here, the deluxe steak (sourced from Olivier Metzger, star butcher, if you please) is cooked on embers for an inimitable BBQ effect.
The steak is then served palace style, on a plate, slightly grilled with farmer cheddar, salad, cornichons, an addictive secret burger sauce. Glass of Crozes Hermitage and perfect fries. You will never look at a burger the same way.
Burger& fries €28
Clover Grill, 6 Rue Bailleul, Paris 75001, 01 40 41 59 59
© Nicolas Lobbestael
The most fishy: Le Ruisseau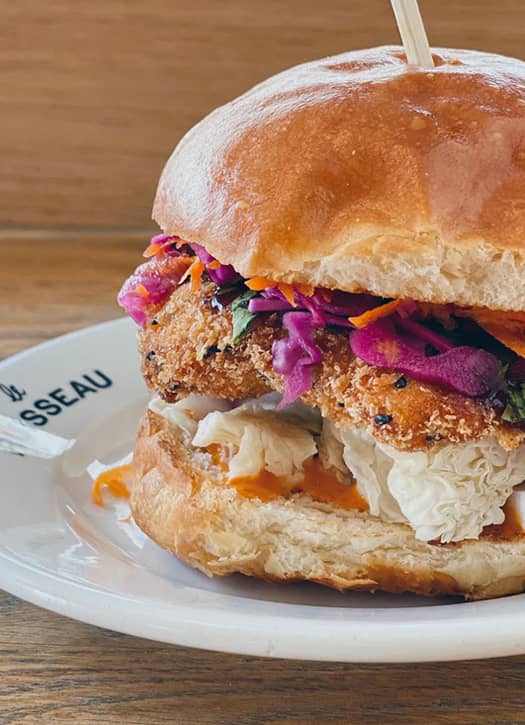 It happens to offer the best quality/price ratio in Paris. The burger du Ruisseau is top of the mark for its brilliant bun, its melt-in-the-mouth meat and totally foodporn runny cheese.
The most famous burger joint in Montmartre has opened a small address in the Marais. Its fish version is a must: crunchy filet of bass, tartare sauce, capers, green lemon juice and iceberg lettuce. A high-end Filet-O-Fish in other words.
Fish Burger €11, formula €14 with fries and drink
Le Ruisseau Burger Joint, 22 Rue Rambuteau, Paris 75003, 01 43 70 02 21
and Le Ruisseau, 65 Rue du Ruisseau, Paris 75018, 01 42 23 31 23
The most earthy: The Farmer Burger of the Enfants Rouges Market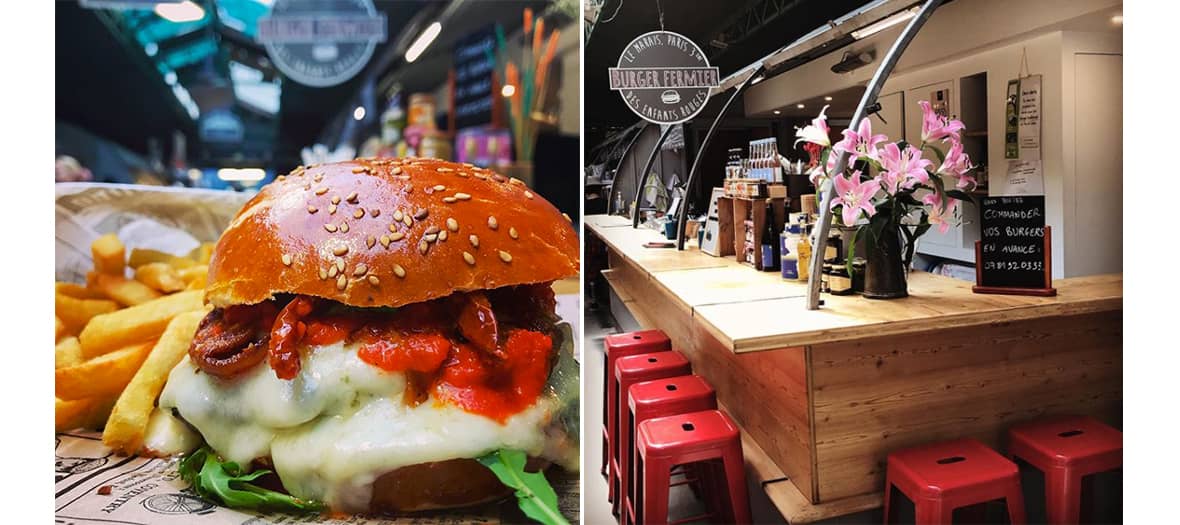 Local fresh products: house bread made with organic flower from the Brimeux mill, Pas-de-Calais meat, producer cheese, English cheddars, tomme cheese with Picardie cider, house sauces … Here everything is sourced.
Star of the Enfants Rouges covered market, the Burger Fermier stand is always filled. Its heart asset? The possibility of choosing all the ingredients to garnish your brioché bun: marinated chicken, Angus beef and veggie steak, your choice of cheese (fresh goat, tomme de Savoie, maroilles, Saint-Nectaire, cantal…) and extras for gourmets (farmer bacon, pan fried mushrooms...).
Classic formula €10 with fries as take away, €12 on site
The Farmer Burger of Enfants Rouges, Marché des Enfants Rouges,
39 Rue de Bretagne, Paris 75003, 07 81 92 03 33
The most Japanese: Shiso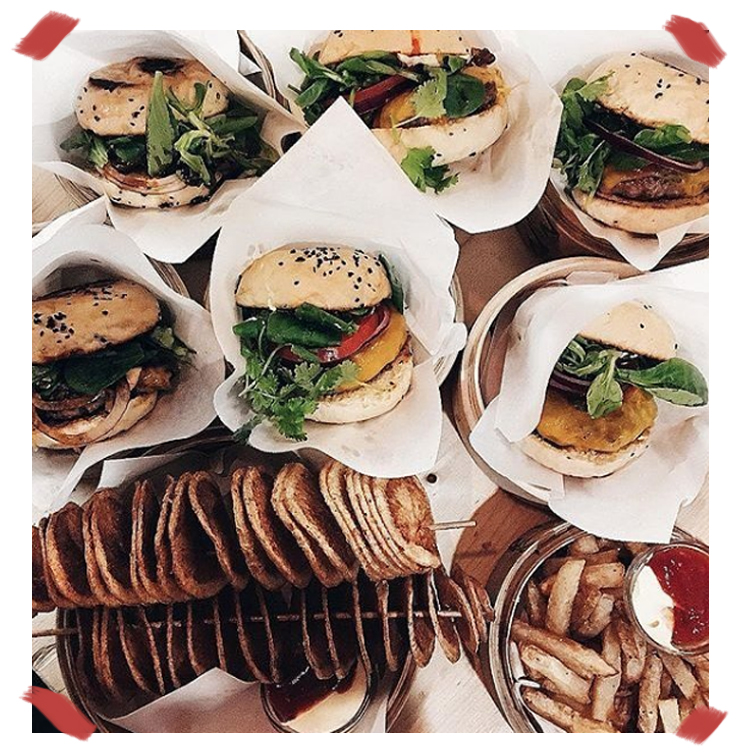 If you like Asian curiosities, this address should be high on your short-list of small nuggets.
In fact, a rather classic burger except that its bao pain with rice flour happens to be orgasmic.
A must- test:
Burger starting at €9
Shiso Burger, 21 Quai Saint-Michel, Paris 75005, 01 77 16 96 93
Also discover Augustin: the must-go natural wines bar and the new brunch of Cali Sisters.