This year for sure, we are really going to party or then nothing. Translation? We want sequins, rhinestones, gold, the entire gamut... And let it shine!
It's now or never the time to whip out a scintillating boyish suit, rhinestone pumps, a bag in Barbie pink velvet, a glitter jumpsuit and an army of showy jewellery. Only one marching order: to have fun. Demonstration with turn-key looks.
Bombesque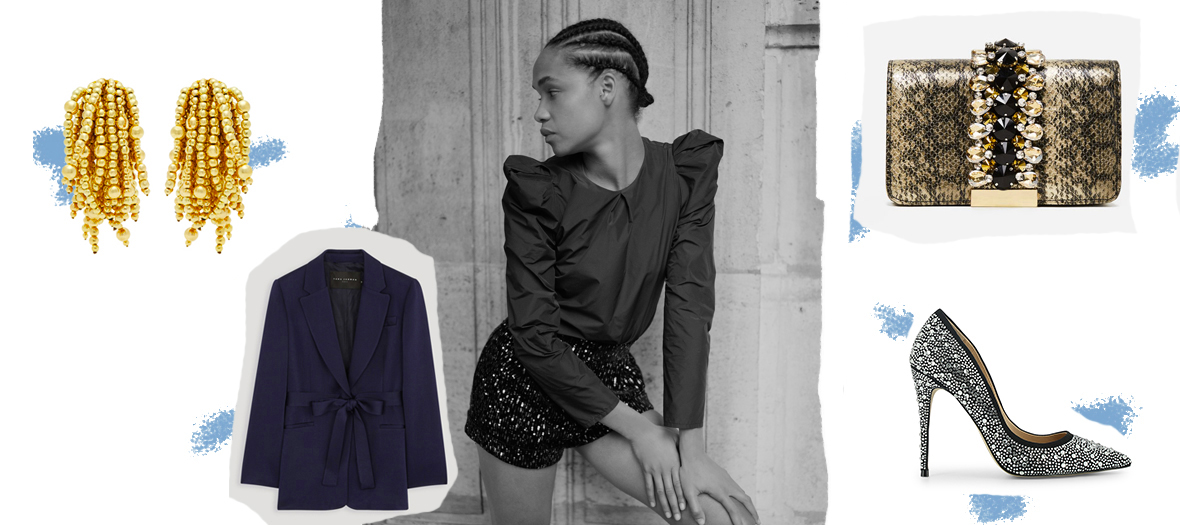 Volume on the shoulders, sequins on the fanny, with a satiny vest, rhinestones on the stilettos, to be accessorized with a super bling pouch and golden clip-on earrings. Who said #Always more?!
Shouldered top in taffetas €150, shorts with sequins €195, all by Maje
Midnight blue jacket in hammered crepe, Tara Jarmon, €365, on sale at €255
Jewellery bag with snakeskin effect, Uterqüe, €125
Pointy pumps with sequins, Jonak, €95. Available in the boutique
Shower earrings with pearls, Vanda Jacintho, €306 on www.matchesfashion.com
Boyish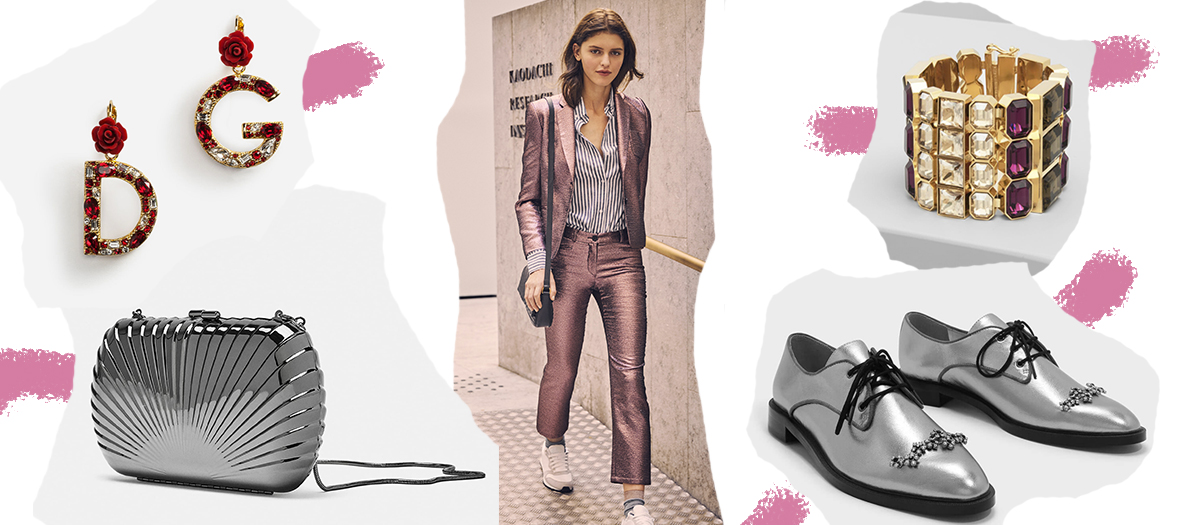 It's the clever fashion tip for those who are too lazy to stay perched on 10 cm high heels all evening long: go for the boyish look. A dream-like occasion to wear a handsome pink pants suit that shines, with great looking derbies and a slew of showy jewellery ornamented with crystals.
Jacket €285, pants €165, all by Pablo. Available in the boutiques.
Derbies in metallic leather, Charles & Keith, €85
Tilly cuff in golden brass ornamented with crystals, Chloé, €540
Long earrings with logo, Dolce & Gabbana, €595
Rigid bag in metal, Zara, €49.95
Fatale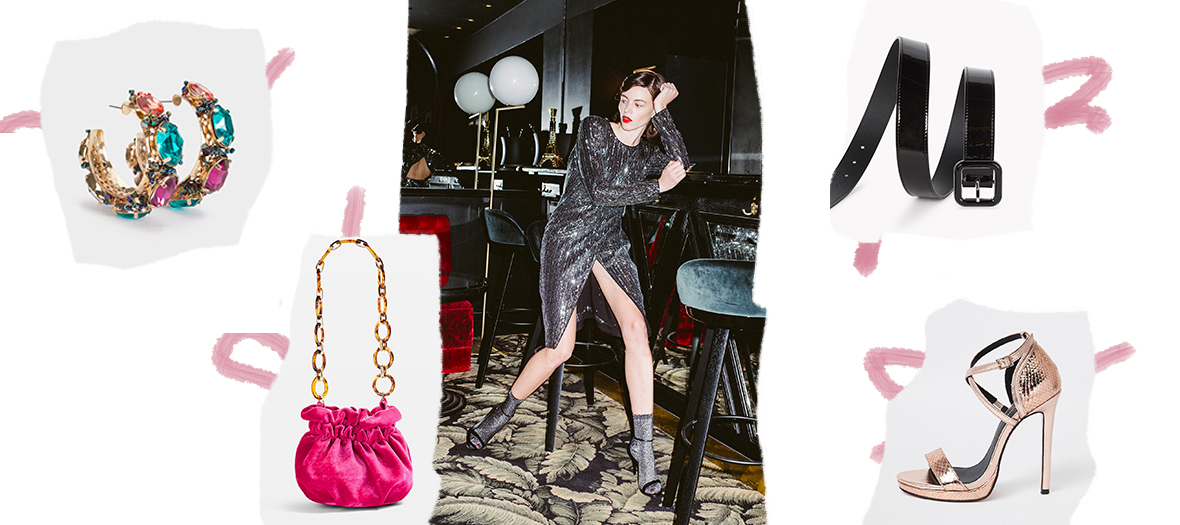 You will certainly not go unnoticed. And that's the purpose! Mission accomplished with this incredible dress with sequins crossed on the front and the back, presenting the advantage of being sexy on both sides. And for a little colour (indispensable that evening), go for bling maxi hoop earrings, very high heel sandals with a pink gold aspect, a patent leather belt and a devilishly desirable bag in fuchsia velvet.
Tonnerre dress with sequins, Idano, €185
Black patent leather belt, Burton of London, €29.95
Minimalist pink gold wedge sandals, River Island, €55
Party hoop earrings, Parfois, €9.99
Velvet pouch with links Viv, Topshop, €34, on sale at €26
Glam'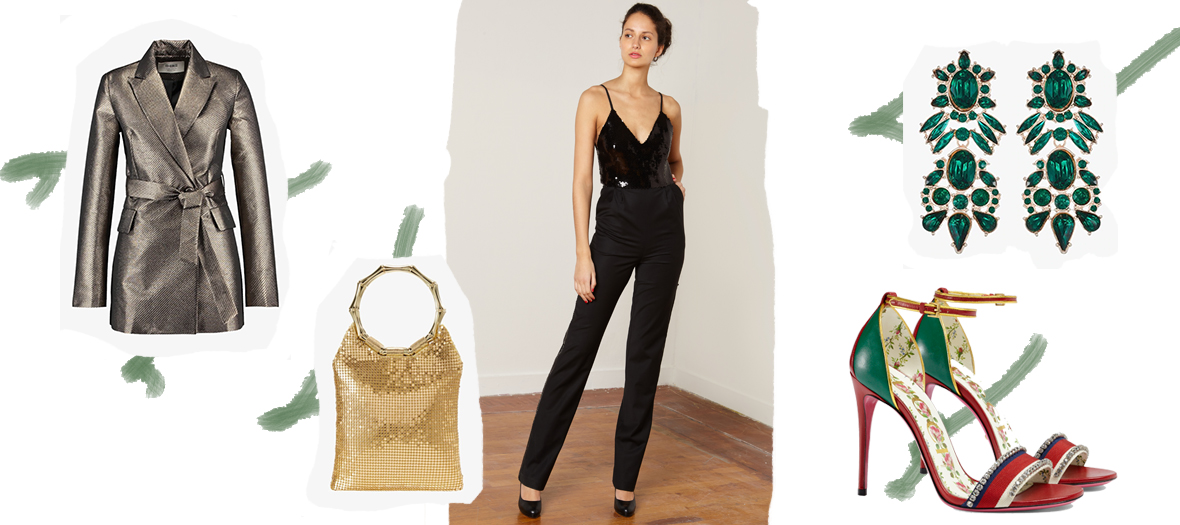 A black jumpsuit to go kick up your heels, yes, but only if your caraco top displays shoulders and the cleavage. Sexy of course, perch yourself on designer sandals, stand out from the crowd with a long iridescent jacket, whip out a pair of glitzy earrings and slip your  mat lipstick in a golden pouch. You are all set.
Metallic blazer, 4th & Reckless, €74.95
Caraco jumpsuit with sequins, Carolina Ritzler, €500
Leather sandals with crystals, Gucci, €980
Earrings, Liars & Lovers, €16.95
Mesh style golden pouch, Missguided, €44.99, on sale at €38.24
Party girl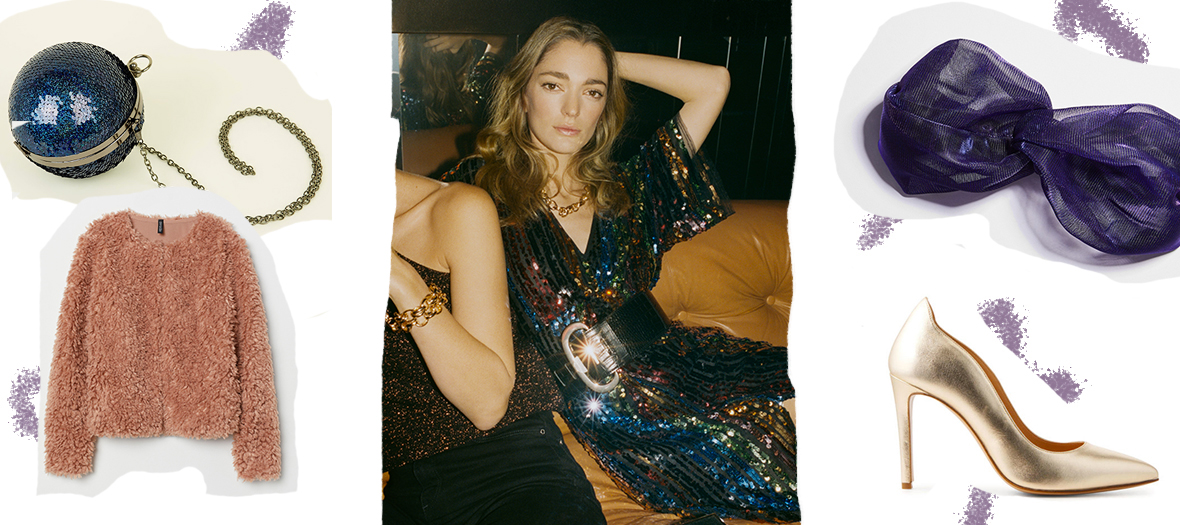 The colourful sequin dress and the multi-faceted spherical bag will be in the tone for a fiesta with DJ, while a bandeau will hold your mane in place and the fluffy pink jacket will prevent you from catching cold while waiting for your Uber to go home. All this balanced on golden pumps to have the longest legs of the evening.
Sequin dress with opening €89.99, necklace €19.99, large belt with croc effect €25.99, all by Mango
Vintage pink jacket, H&M, €29.99
Shiny bandeau, Bershka, €4.99
Blue spherical bag with sequins, New Look, €22.99
Also check out the top 10 of tuxedos and the new must-own accessories.