Small committee: check. Barrier gestures : check. PCR test : check. Translation ? Here we are ready to party at his BFF, at home or in the cool places provided for this purpose which will reopen one day. In short, the devil pyj 'flannel: we want the sequin high heel, of the straw, walleye, wow ... and it shines!
It's now or never to fart a tailor-short sparkling, precious mules, a clutch rhinestone pink, silky combi and an army of flashy jewelry. A single watchword: s'-mu-ser. Demonstration with these five turnkey outfits.
For a dinner that goes wrong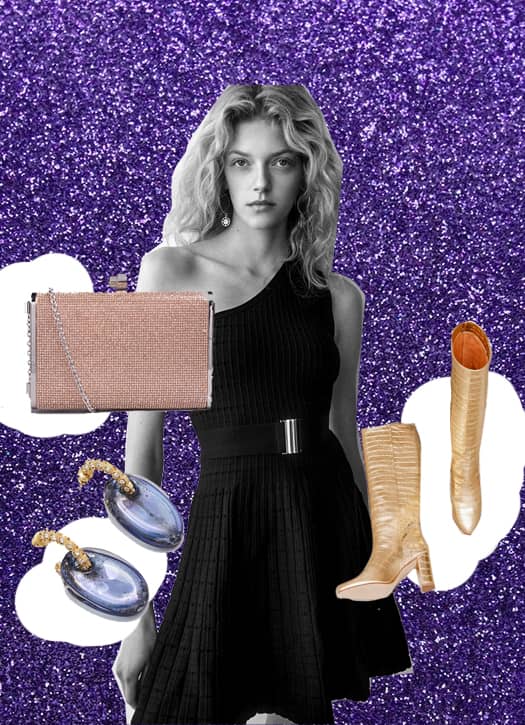 Looking for a party? Prepare for a chic dinner that gets out of hand with an outfit that adapts "just in case " to the eventuality of turning your living room into a new trendy club. New basic, Claudie Pierlot's well-cut asymmetrical black dress is highlighted by golden wow boots, stitched earrings illuminate the face and a pretty little handbag with pink rhinestones completes the set.
Asymmetric dress, Claudie Pierlot , 225 €
Golden Montrose boots, Bobbies , € 270, restocking expected mid-December
Clutch à strass roses, New Look, 29,99 €
Aegean earrings, Chloé , 420 €
To be embedded in a fashion week evening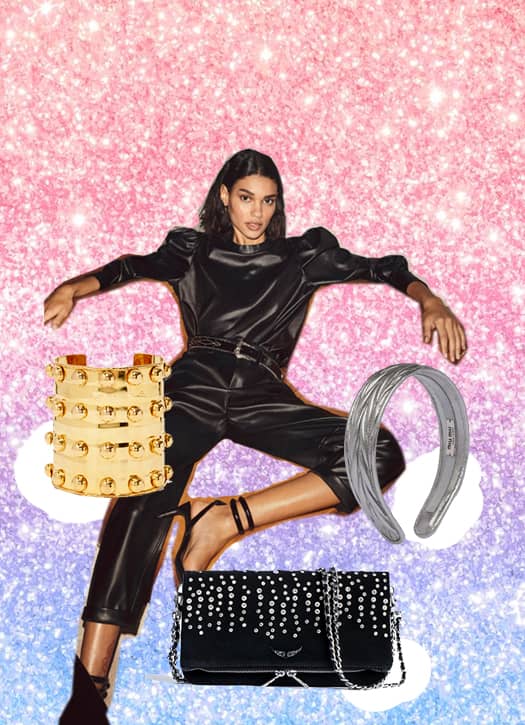 It's assumed, tonight, we imagine ourselves in the after show of the next Saint Laurent or Balenciaga fashion show . Sexy leather pants are automatically imposed, coupled with a silky blouse with puffed sleeves. It's time to put on dizzying sandals and slip a divinely rock by Zadig & Voltaire it-bag under your arm.
Blouse puffed shoulders , € 59.99, straight leather pants , € 199.99, all by Mango
Padded leather headband, Miu Miu, € 350 on www.farfetch.com
Stone Massai III metal bangle bracelet, Sylvia Toledano, € 250 on www.matchesfashion.com
Rock clutch in suede and rhinestones, Zadig & Voltaire , € 395
For the New Year's Eve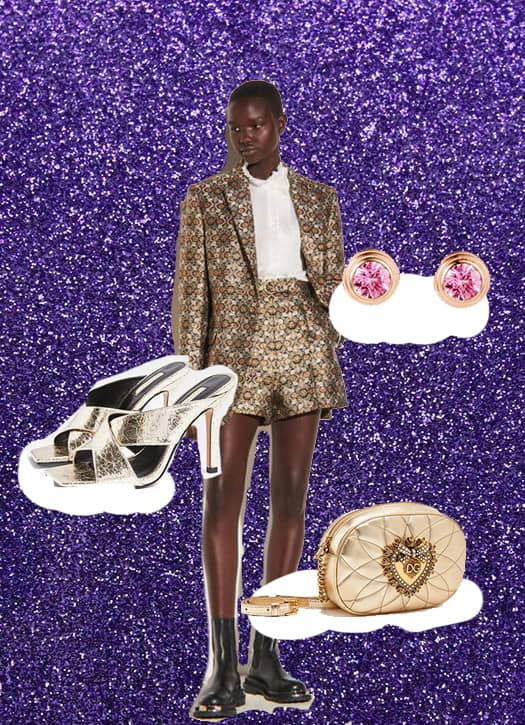 Let it be said: this New Year's Eve will be a milestone. Even if one is 4. unsheathed a short-legged golden brocade blouse on a rustling (#toujoursplus) with the golden slippers of the cool girl, chips very posh Cartier earrings with pink sapphires and camera bag highly bling by Dolce & Gabbana . Tonight, the star is you.
Short (195 €) and jacket (295 €) in brocade, all by Sandro
SHAY Golden Mules, Topshop , € 42 on sale at € 20
Devotional camera bag in quilted nappa leather, Dolce & Gabbana , € 995
Pink sapphire earrings, Cartier , € 1,430
For a red carpet on a carpet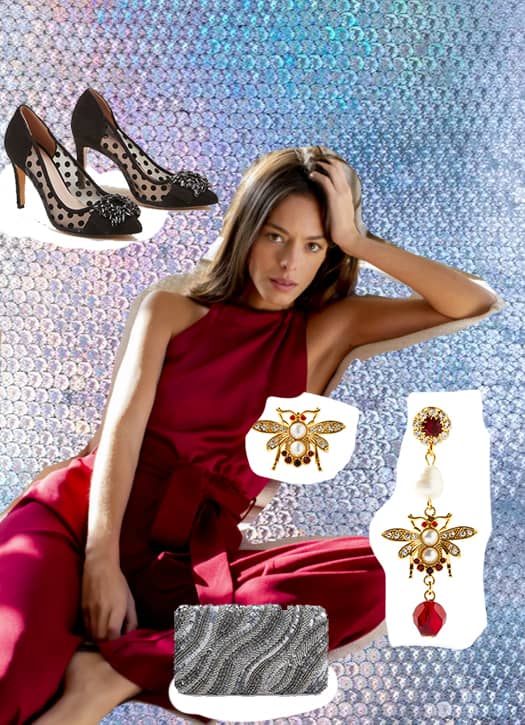 Being invited (or being encrusted, it comes to the same thing) to a (fake) Caesar party in an apartment implies great responsibilities . To toast at the Ruinart with his improvised buddies as big movie stars, we pretend " to be " by betting on the low-cut jumpsuit on the back of Septem Paris , sublimated by divine mismatched bees soundtracks and pretty retro pumps , without forgetting the small clutch in silver pearls. What to afford the necessary insurance.
Captivating burgundy jumpsuit, Septem Paris , 245 €
Mismatched bee earrings with crystals, Erdem, € 265 on www.matchesfashion.com
Pearl clutch , Sometimes , € 35.99
Manifika black pumps, Cosmo Paris , € 160
For a night all fire all flame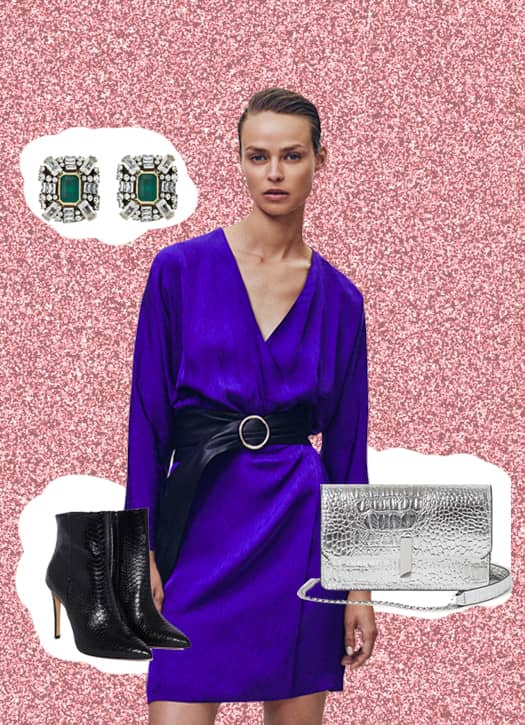 What if we made a mirror ball in his country house by wearing an ultraviolet kimono dress worthy of the most popular catwalks, without forgetting of course the pointy ankle boots with heels required, a bandeau belt , a silver bag at a price? mini H&M and flashy and colorful soundtracks to invigorate the whole.
Jacquard kimono dress with V-neck € 129 and leather bandeau belt € 59.95, all by Massimo Dutti
Boots Tanusha, Minelli , 199 €
Small shoulder bag, H&M , € 14.99
Earrings, Radà, € 124.95 onsale at € 68.95 onwww.zalando.fr
Did you take your mask?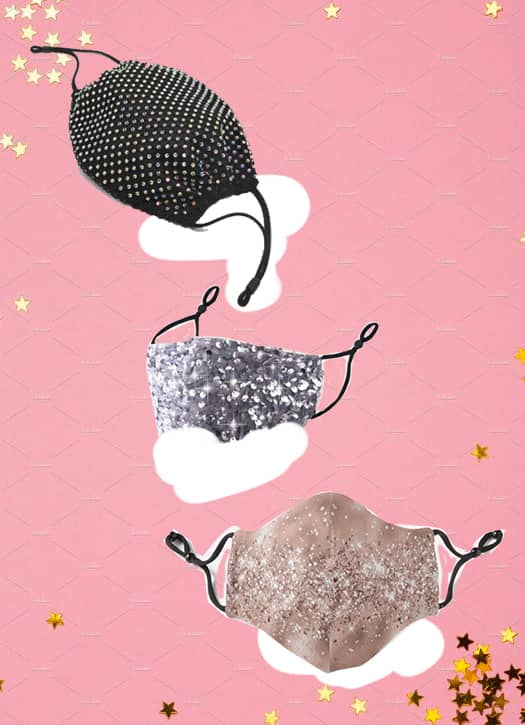 Hop hop hop! After all, you weren't going to go do the " bamboche " (cuckoo Pierre Pouëssel ) without putting on the sacrosanct protective mask , anyway ? Exit disposable dental surgeon razor models. It is high time to put some glitter in your life.
Rhinestone barrier mask, Bershka , € 9.99
Sequin facial mask, SheIn , € 2
Glitter mask, RedBubble , € 19.50
Also discover the new jewels of the Parisienne , 10 stylish protective masks and the new brands of bags spotted on Instagram .