You miss Val, Meribel or La Clusaz… You dream of dancing on the tables of La Folie Douce in your moonboots, nestling in a chalet, you have a wild urge for a tartiflette on a sunny terrace or a restaurant on the slopes along with the smell of a tempting cheese fondue on a crisp cold day? Without having to book a ticket, nor purchase a ski pass, the very best of signature mountain dishes are just a few metro stops away with your Navigo card. Follow the leader.
Auteuil Brasserie
Why you are going to adore going there? The nice heated terrace of the West Side in a Parisian Folie Douce mood, four-hands Coca Cola. Result : a XXL snowball with a polar bear like in the ad, set up in a pine forest. After the selfie, settle in this highly instagrammable fluffy decor: fur plaids, garlands, hygge cushions...
One the menu: sure bets. Bruschettes grilled with mozzarella, parmesan, prosciutto with herbs, tomato (€11), a slab to share (warm Mont d'Or vacherin, Parma ham, prosciutto with herbs, potatoes, €29), to be washed down with warm comforting cocktails (€12).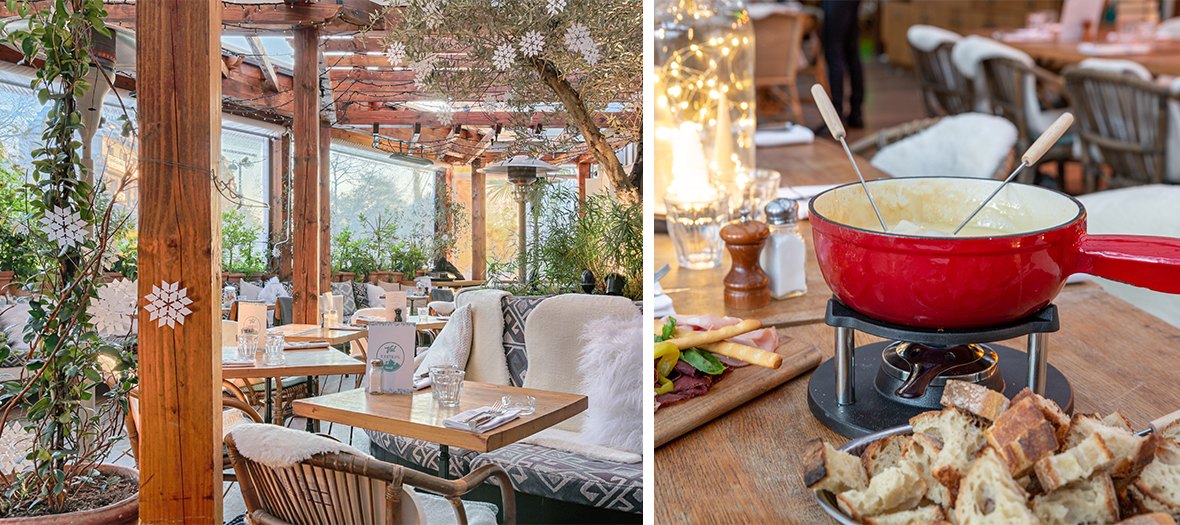 Open every day from 9am to 2pm.
Auteuil Brasserie, 78 rue d'Auteuil, 75016 Paris, 01 40 71 11 90
Rural by Marc Veyrat
Why you will adore going there? Because Marc Veyrat, "the" great Savoyard chef, imported in Paris with the help of Benjamin Patou (big boss of MOMA and inside-track Parisian lore) an old fashioned tavern worthy of the prettiest Alpine chalets. An ideal venue to satisfy the whimsies of mountain loving Parisiennes on the lookout for good products and who enjoy pit-stops on the slopes, in a typical decor where from morning until evening you can come taste regional dishes at affordable prices. The formula: starter + main dish or main dish + dessert at 30€ is just perfect.
On the menu: heavy duty eats: all the products and favourite family dishes of the great Marc Veyrat, starting with the tartiflette, Veyrat style, the péla, a plate of cheese - beaufort, reblochon, tomme, creamy chicken with polenta fries. For small appetites: a grilled cheese croque monsieur with a green salad (€15) and slabs of charcuterie and salad (€15). The irresistible buffet of desserts includes pink praline and blueberry tarts, a runny caramel, Savoie or chocolate cakes. Tobe noted : the divine local drinks such as the blueberry lemonade.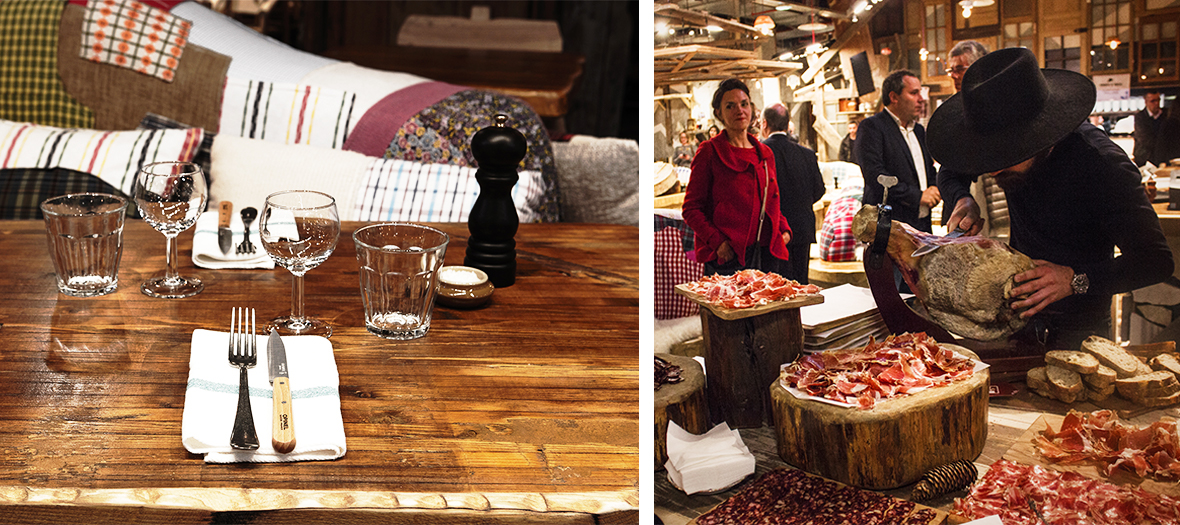 Open every day from 10:30am to 1O:30pm.
Rural by Marc Veyrat au Palais des Congrès, 2 place de la Porte Maillot, 75017 and 78 boulevard Gouvion St Cyr, 75017, 01 72 69 03 03
Paroles de Fromagers
Why you will adore going there? Cheese lovers have found their enclave. Open in September by a 30-year-old cheese buff, here is the very first all-round cheesery in Paris. What's the story ? A boutique of course, but also a cheese restaurant-bar (yes, yes), a cheese refining cellar and even a cheese workshop, so you can concoct your very own fresh goat cheese. Yum !
On the menu: cooked on the spot, croque-monsieurs with comté, reblochon, goat, raclette &Co, served with salad and a hot potato (€12), as well as the best fondue with Paris comté as we like it, with a fruity taste and white wine (€24.90) along with a nice assortment of charcuterie. To be tasted while sipping a nice Syrah and chatting about life and cheese with the charming and knowledgeable owner, Pierre Brisson.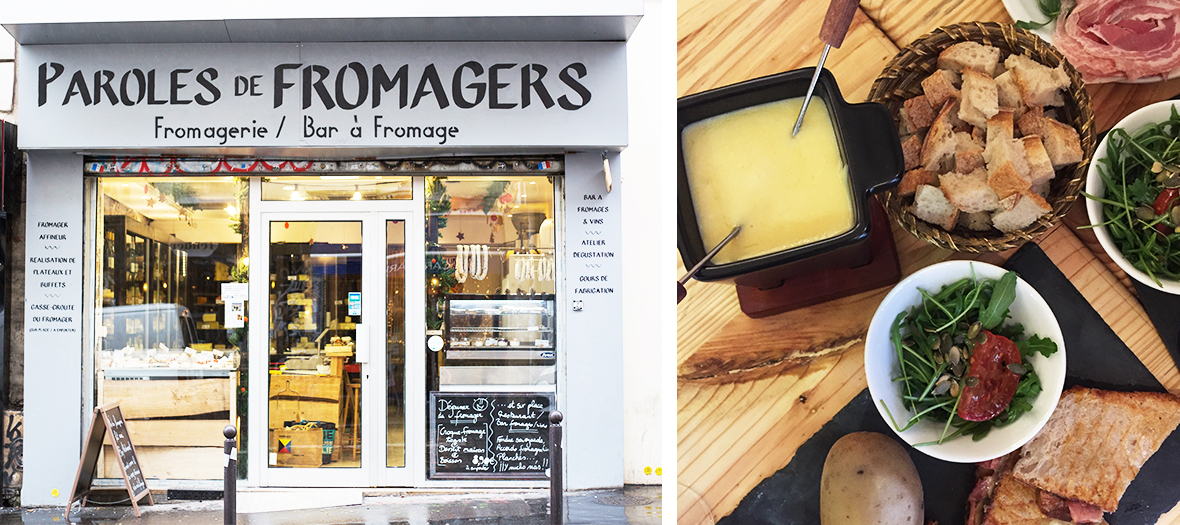 Open on Monday from 4pm-8:30pm and Tuesday to Saturday from 9am-10pm. Info and course hours on www.parolesdefromagers.com.
Paroles de Fromagers, 41 rue du Faubourg du Temple, 75010 Paris, 01 43 03 98 18
Il Cottage
Why you will adore going there? Less far than Megève, more accessible than Val d'Isère, yet you really feel the change of scenery. A kitschy polar bear, friendly staff in jacquard outfits and bonnets… Lots of laughs and glass clinking—in short, here you will find a delicious après-ski ambiance.
On the menu: antipasti to share, gnocchiflette peck and taleggio (€18), without forgetting of course the star fondues and raclettes with their army of potatoes, charcuteries, salad and cornichons (€24 /person), to be enjoyed with a good Sancerre (€34). Still hungry? The tiramisu nutella should do the trick (€11). For better digestion, try the herbal chamomile.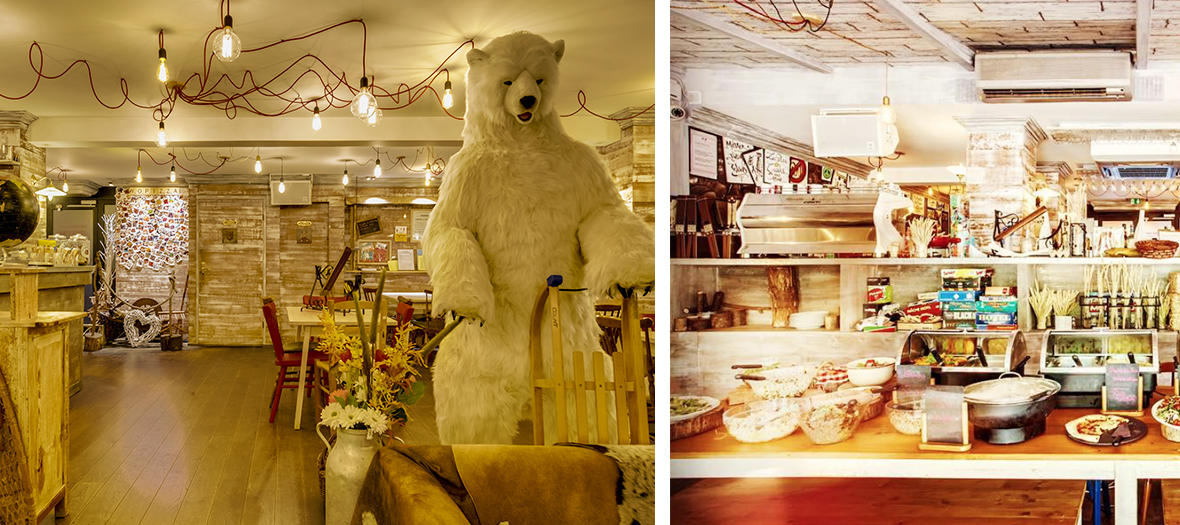 Open every day noon to midnight.
Il Cottage, 1 Boulevard Lannes, 75116 Paris, 01 44 05 11 70
Le Buffet de la Gare
Why you will adore going there? Because this ultra-cool HQ imagined by Mathieu Bussy (ex Floréal), Richard Moussié and Gérard Moussié knows how to appeal to its stylish clientele in this new-age interpretation of the railway station buffet concept (in this case the gare de l'Est). Its raclette, served at night, where a fabulous old style cheese melting machine is placed on the tables, to be enjoyed piping hot or on the heated terrace to push the "holiday" experience right down to the end of your mittens.
On the menu: raclette as much as you can eat for €25 - we adore the concept ! – with top notch cheese varieties (morbier franc-comtois, smoked, with pepper or classic) to be melted on potatoes. Two options: taste them with a plate of meats and charcuteries (chicken, ham, andouille, serrano, coppa, dried beef...) or for veggies, a plate of pickled vegetables, steamed carrots and an assortment of raw greens. To be washed down with a nice glass of organic white wine (€4.50). You are in heaven.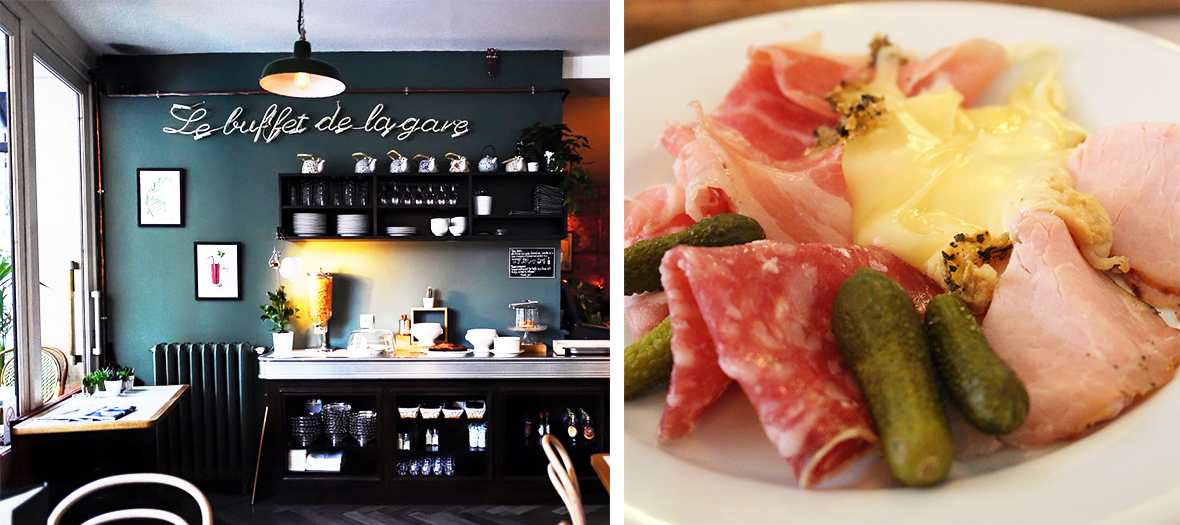 All you can eat raclette formula at €25— every evening starting at 7pm.
Le Buffet de la Gare, 70 Boulevard de Strasbourg, 75010 Paris, 01 46 07 36 05
Le Chalet de Neuilly
Why you are going to adore going there? Because this mythical restaurant in the Western part of Paris has turned this rustic chalet into a very popular venue where it's fun to go as a gang since decades in order to indulge into the après- ski whimsies of Val d'Isère or Méribel. All the political-business-beautiful people and their golden kids in relaxed mode m mode.
On the menu: a Savoyard special at 32€ is often the choice of large tables, souvent cheese fondue + charcuteries + a choice of dessert. Alternatives such as the smoked salmon raclette (€26) or the tartiflette (€16.50) are also a success.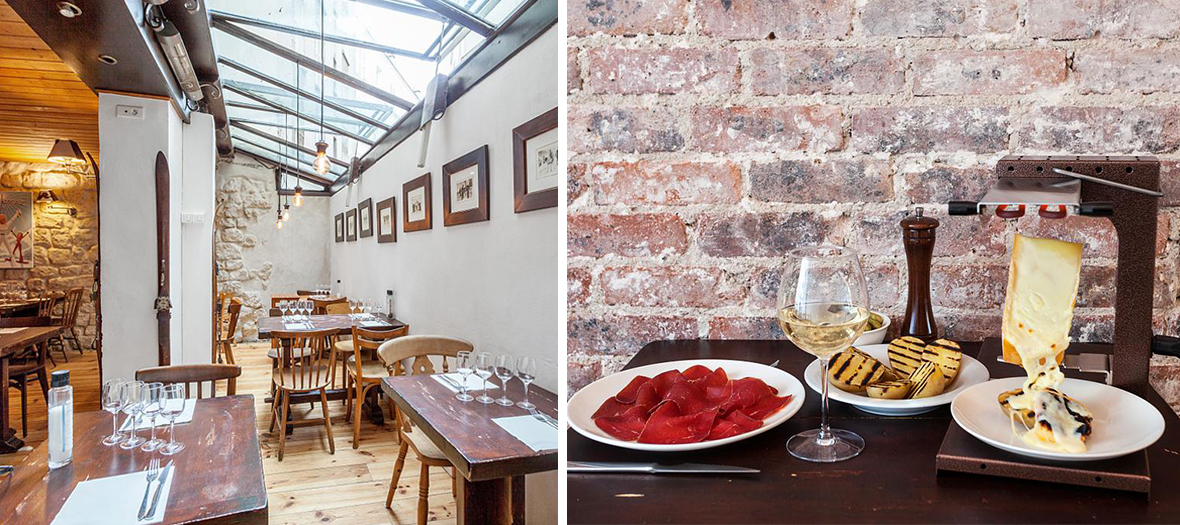 Chalet de Neuilly, 14 Rue du Commandant Pilot 92200 Neuilly sur Seine, 01 46 24 03 11
Monbleu
Why you are going to adore going there? Because this ultra SWAG cheese shop of the Grands Boulevards is reinventing the genre with a really cool and stylish restaurant. After their brunch, Monbleu is launching a raclette formula every Wednesday night with reservations that should appeal to the foodies and hipsters of the area.
On the menu: a selection of cheeses by small producers (plain, smoked, goat, Morbier) to be sampled with potatoes: all you can eat, served at the counter, along with a plate of charcuteries and a green salad. To be washed down with a brewed beer or a MOF chartreuse. A must!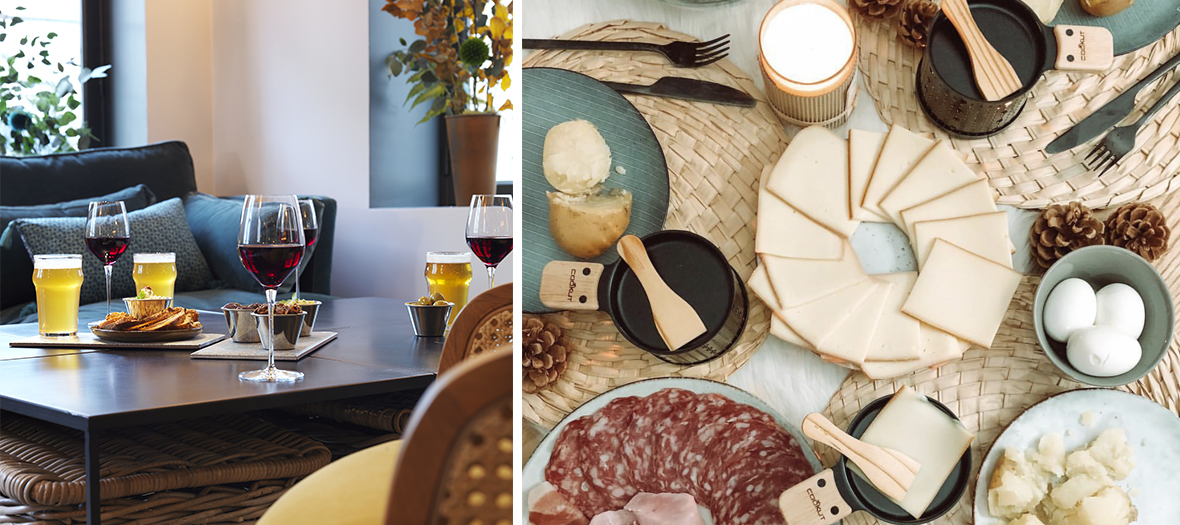 Monbleu, 37 Rue du Faubourg Montmartre, 75009 Paris, 01 45 89 23 96
Le Pigalle
Why you are going to adore going there? Because the collective Les Hôtels d'en haut (Les Roches Rouges, Alpaga, Le Val Thorens) has brought its restaurants from the mountain to Pigalle, the most trendy spot of the 9th, at the heart of Paris, each Thursday in November and December. In short: most melt-in-the mouth spot of the moment.
On the menu: hot wine, fondue and salad (€) 24€) or raclette with smoked cheese and all the potatoes you can eat / (€32) with a DJ set background.
Le Pigalle, 9 Rue Frochot, 75009 Paris, 01 48 78 37 14
Les fondues de la raclette
Why you are going to adore going there? Because this super kitsch spot continues to appeal to the cheese-addicts of Saint-Germain-des-Prés.
On the menu: a real mountain lover's feast that includes a cheese raclette with all the trimmings— charcuteries and potatoes— unless you up for the three-cheese fondue (comté, beaufort and emmental) with a small feel-good salad.
Count about 20-25 euros per person, or opt for the 14 euros lunch formula (Monday to Friday)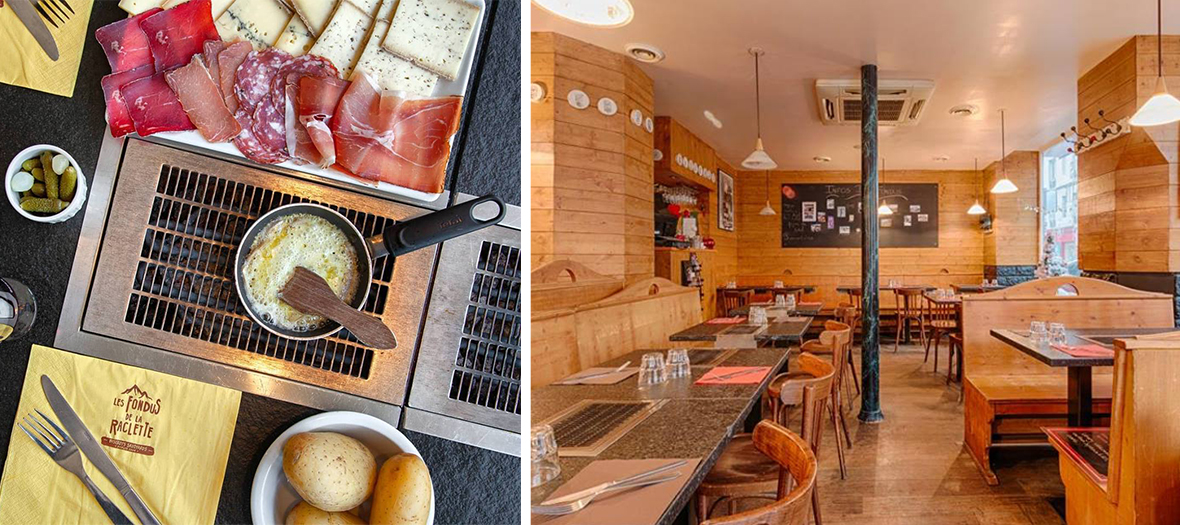 Open every day from 11:45 am to 11pm.
Les fondues de la raclette, 209 Boulevard Raspail, 75014 Paris, 01 43 27 00 13
Park Hyatt Paris
Why you are going to adore going there? Because this furiously couture chalet, installed in the courtyard of the most trendy palace on the Place Vendôme transports Parisiennes straight into the sheep pen of a Swiss forest.
On the menu: an exceptional dinner (€175) with chestnut soup as a starter, followed by a deluxe raclette signed Jean-François Rouquette, star chef of the hotel, with specially selected cheese avec by Saint Nicklaus, grilled potatoes, bib lettuce with Tête de Moine cheese and charcuteries. To end the festivities on a light note: the pavlova of pastry chef Jimmy Mornet.
Reservation mandatory at 01 58 71 10 60.
Park Hyatt Paris-Vendôme, 2 rue de la Paix 75002 Paris
Also discover the Terrass' Hotel rooftop is launching its raclette evenings.