Fashionistas don't have a monopoly on stylish accessories. And it is the hairiest of the tribe who prefers to be paid attention! It remains to invest in a very beautiful designer or high quality piece that will last a lifetime ... unless it has devoured everything in less than two!
Lily's Kitchen's little foodies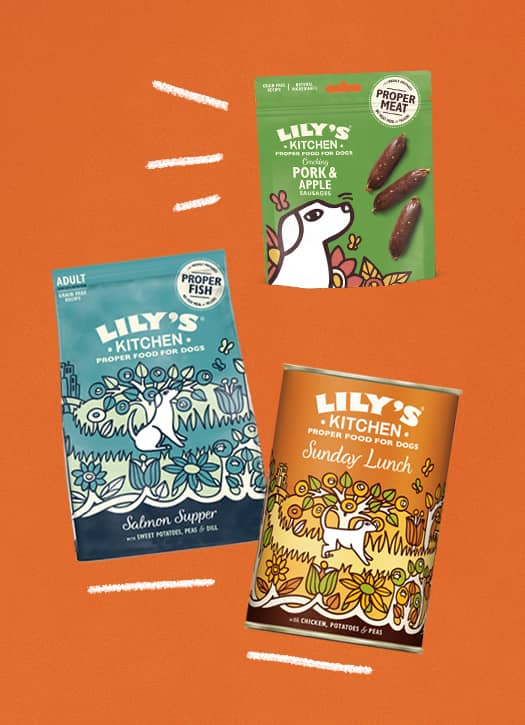 If there is one product line that every doggie will love, it is without a doubt the croquettes, pâtés and treats from Lily's Kitchen . It must be said that the healthy cuisine with the perfect sourcing of the English petfood brand would make the most picky addicted, between the Salmon Supper croquettes with salmon and sweet potato or the cereal-free pâtés with Sunday Lunch with chicken and good vegetables, the Fisherman's plate with salmon and herring and a pheasant / venison stew…
Psst: when he is wise, he may even be entitled to treats in the shape of small pork and apple sausages. We would almost eat it!
Lily's Kitchen , to find at Animalis, Mustaches, Wanimo.com, Amazon.fr and many pet stores throughout France.
Astré's matchy matchy leather harness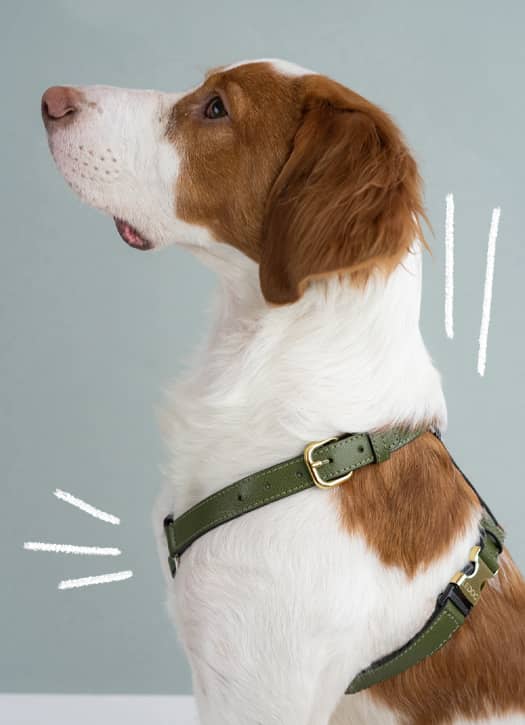 We are talking about a " mini-me " for children. The brand of fashionable bags in devil Astré offers a " Le Dog " collection to be able to match (or not) your favorite it-bag with the leash. (79 €) or the necklace (from 49 €) for his dog.
But the brilliant novelty is the H-harness which will have taken a year of research and development with an osteopath for dogs before going out. Made to order and even available to measure, it comes in the brand's iconic leather tones: ruby red, silver, lime, cognac, tangerine and khaki. Even more chic when you know that its creator Astrée went through Berluti, Chloé and Givenchy ...
Customizable Palais Royal harness, Astré , from € 149, tailor-made from € 219
Botaneo CBD products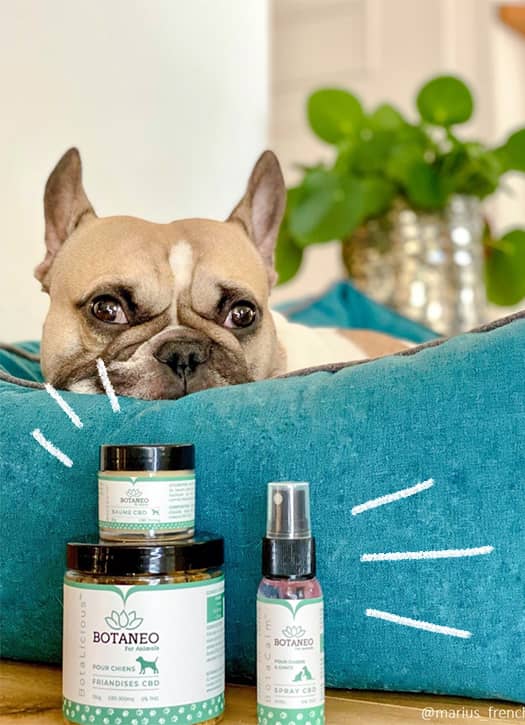 There are pros and cons, but one thing is certain: CBD is on the rise. Fans of its therapeutic virtues can now have their hyperactive dog tested them thanks to the new range of Botaneo products designed to soothe. Tested and approved: the chicken rewards, the calming spray to pshitter on the croquettes and the balm to hydrate the damaged pads, all infused with CBD… and guaranteed without THC to avoid making them high!
Treats (€ 14.90), calming spray (€ 29.90) and CBD balm (€ 19.90), all Botaneo
Bandit Paris LOL medals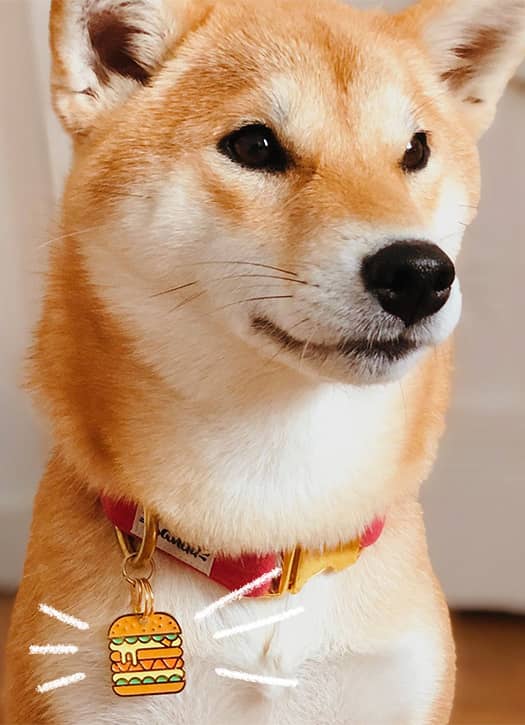 The medal all round or in the shape of nonos , very little for the Bandit creative team. The label which dresses the dogs of All-Paris with its collars and leashes offers the little jewel of the doggie in funny versions: pizza, cloud, princess, burger, cupcake, avocado, fries, sneakers ... To be engraved with his name and owner's phone number in case of escape. A great gift worthy of Beauty and the Tramp .
Medals to engrave,Bandit , € 14.50
Diesel's denim jackets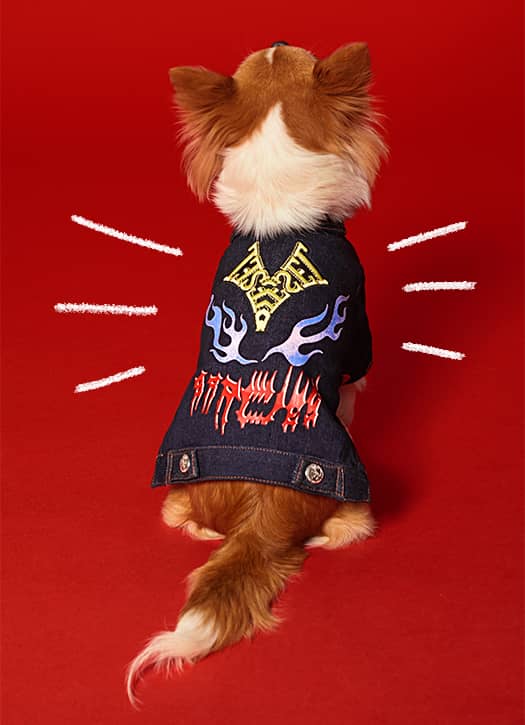 Those who lived through the Jean Diesel years know that it is a precious sesame to be part of the clan of stylish Parisians. Cool: now pet friendly, Diesel has just released two denim jackets for dogs, adorned with embroidery or downright badass flame patterns. Nice for the breed that we see everywhere at the moment: the dachshunds and their very elongated backs even have their tailor-made version.
Denim jackets with punk embroidery (€ 150) or flame pattern (€ 130), all by Diesel
Food supplements from Flouf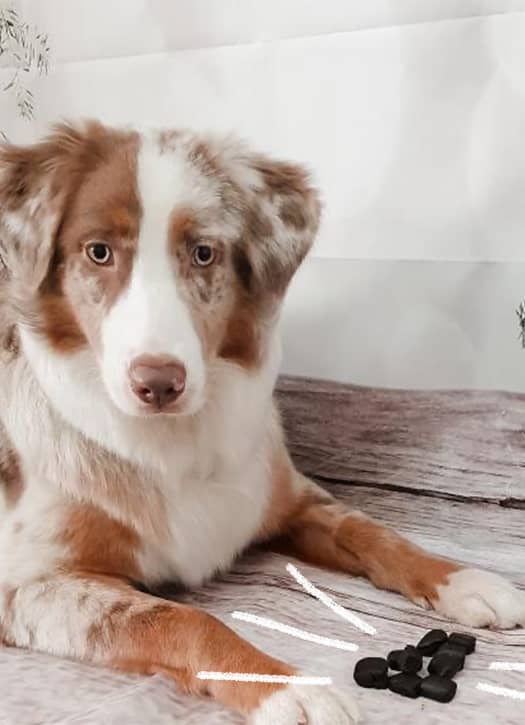 The first with relaxing herbs calms fear and anxiety, decreases stress and limits aggression. The second, packed with vitamins , preserves the dog's skin and coat, relieves the joints and fights against cellular aging. Formulated by a veterinarian and made in France, Flouf's food supplements have just arrived on the market and already promise to settle into the well-being routine of our doggies thanks to their appetizing taste and their soft texture that they love. .
Food supplements Serenity and Vitality, Flouf , € 34
The velvet sofa by Made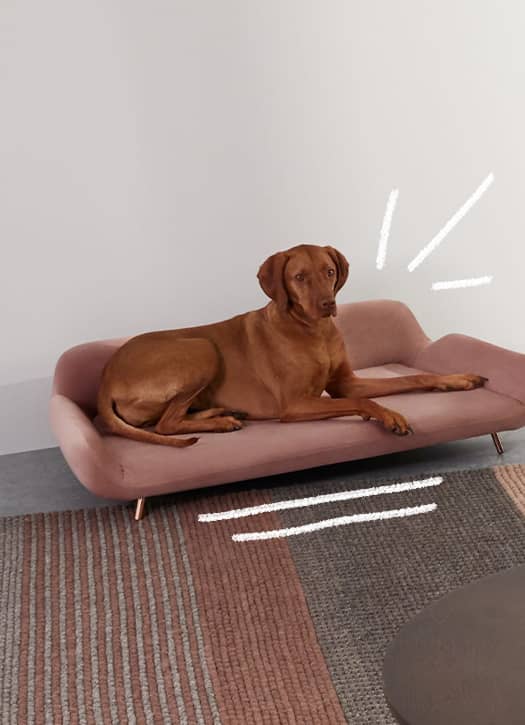 We have rarely seen such a designer basket. Quite a ceremonial sofa for dogs . Made's velvet layer will turn your living room into a pretty canine boudoir with its copper metal feet to elevate Her Majesty. Purely gadget, but so princess.
Moby basket, Made , € 199
and also
The Prada outfit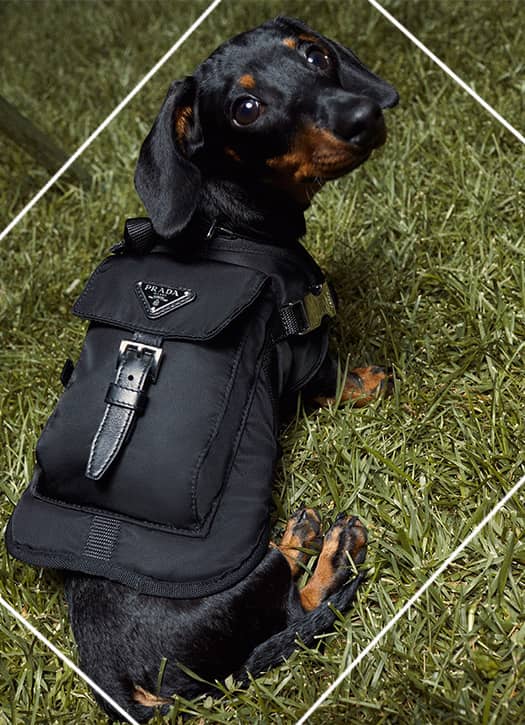 The height of joy: Prada has just launched an entire collection of products to dress our doggies from truffle to tail, using the codes that have made its reputation. According to the budget and the needs, one adds to his basket the brilliant nylon harness on the photo (490 €), a transport bag nickel for the plane (€ 1,750) or in a backpack version (€ 1,980), a hooded nylon down jacket (€ 420), a nylon leash (€ 420), a brushed leather collar (€ 320 ) or nylon (220 €). Or how to turn your animal into a fashion beast ...
Available in December, to find on www.prada.com
Christofle's luxury bowl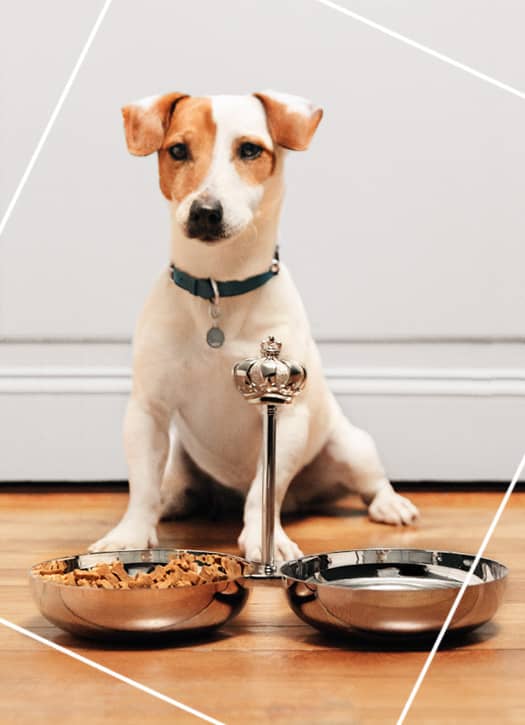 Recognized for its creations of tableware in solid silver , the venerable Christofle house now offers a truly royal canine range. In addition to the necklace and the leash in peacock blue leather, the double bowl in silver metal clearly has its effect. Decorated with a princely crown, the noblest bowl in the world is now one of the essentials to offer to luxury doggies.
Ultimate coquetry: the medal in solid silver to be engraved with his name and your telephone number (154 € with engraving).
Double bowl silver-plated bowl, Christofle , € 600
Ralph Lauren teddy sweater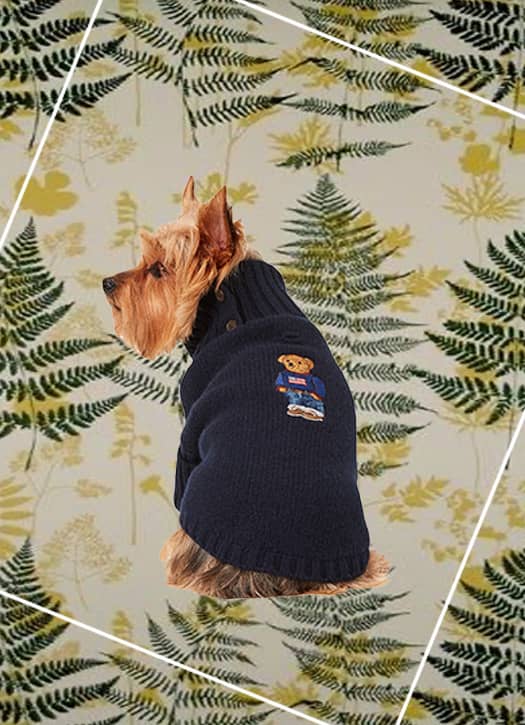 We already loved it for humans. Ralph Lauren's signature teddy bear is grafted onto a pretty little navy sweater in a doggy version. Made in very soft wool and cashmere, chic down to the detail with its turtleneck and buttons, your love on legs will look great and will never leave its very stylish must-have to brave the cold.
Also available in 100% cashmere (199 €), in a hoodie version (€ 85), very Balmoral quilted jacket (€ 169) or polo shirt for spring (55 €), but that's really to please yourself rather than for the useful.
Polo Bear sweater for dog in wool, Ralph Lauren , € 169
Kerzon x Bandit Bath Kit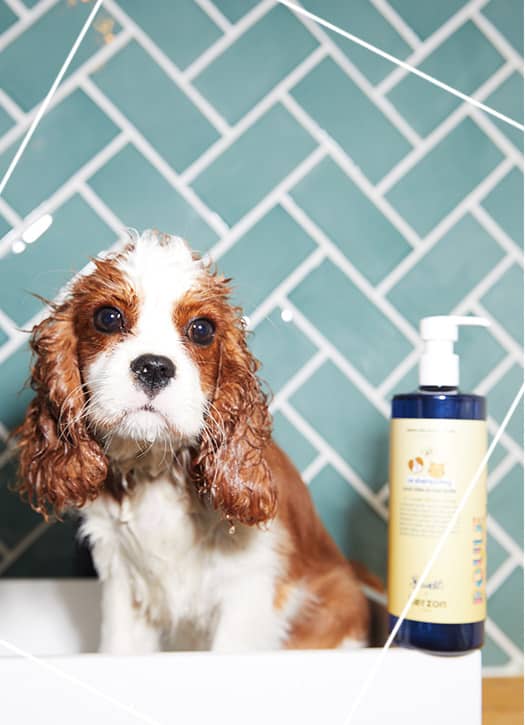 If your furball has dragged its paws a little too much in the slush (yes, but it's so good), then bath time is approaching. The Kerzon scent diffuser, spotted by colette, L'Exception and Le Bon Marché, joined forces with the dog accessories dealer Bandit to imagine a care kit worthy of the most popular spas.
Inside, a shampoo based on coconut oil that smells too good and a double brush to remove the mop before and after the bath. Top: you can even have it personalized with a love note for € 2 more.
Bath kit, Kerzon x Bandit , 38 €
Klep's crochet toy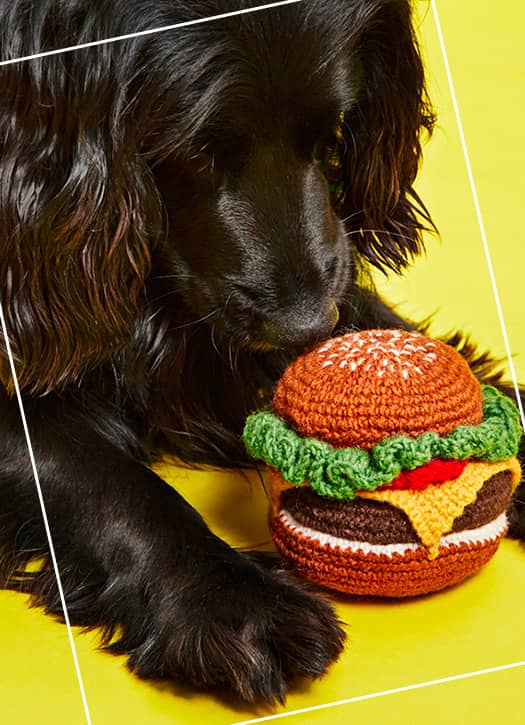 It is pretty, sweet, makes us hungry and makes us goofy. Klep's crochet burger is definitely a real eye-catcher and will delight freaks who are tired of putting away ugly plastic toys lying around all day. This one has the right of citizenship in the most opulent interiors and is more resistant than it looks, for the doggies a little destructive.
Colorful with vegetable dyes, handcrafted in Nepal in a very soft lamb's wool, this beautiful burger is also available in reindeer , crab , Christmas tree , frog or flamingo version . Shall we take them all?
Handmade & Fair Trade Crochet Burger Toy, Klep's , € 19.90
Barbour's waterproof coat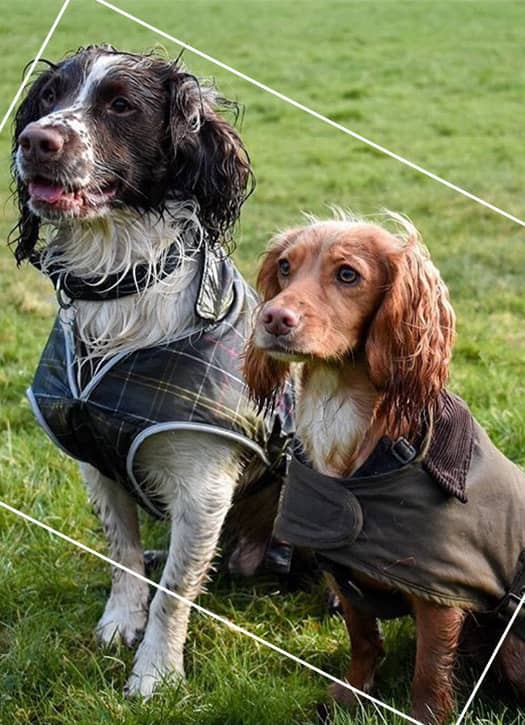 Style icon for all vintage bikers and Sunday hunters , the oiled cotton Barbour remains the best solution to endure the big clouds while staying dry. The same goes for dogs (and we know how much they hate rain) who would love to avoid looking like mops at the slightest drop.
Barbour is offering its star tartan- lined coat for dogs (hunting or not!), And it is definitely the ultimate all-terrain piece. A lifetime investment that is unlikely to go bad anytime soon.
Find all models from € 55.20 on www.champgrand.fr
Also find the leather goods of Parisiennes and their dogs and the first Klep's boutique in Montorgueil .