This weekend will be punctuated by crazy evenings and Halloween parties in a cool, chic and resolutely trendy fashion. Tour of the most stylish spots.
A glam 'and haunted program at COYA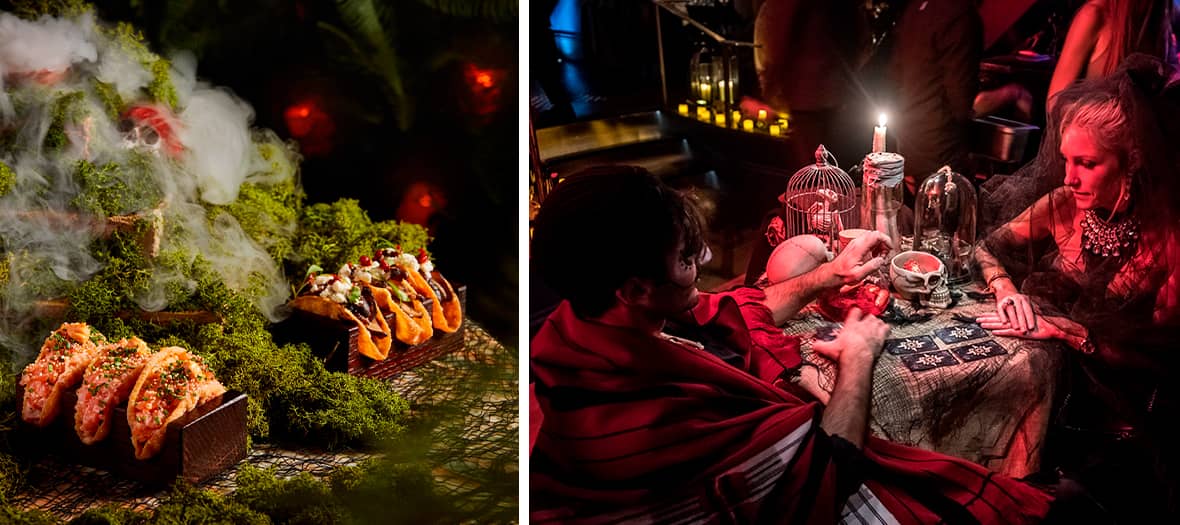 Installed in an old church in the heart of the most cutting-edge gourmet gallery of the capital aka Beaupassage , the very socialite COYA restaurant celebrates the dead over several days in a scary scenography on the forbidden jungle theme of Latin America.
Meet at the Pisco Bar on Thursday 28 October (9 p.m.-1 a.m.) : haunted sets, cocktails, tapas and DJ set, tribal and electro music atmosphere with South American influences from international guests Yamil & Bensy . The opportunity to flirt with strangers and show off your best moves.
Then we dress up for the Forbidden Jungle evening on Saturday October 30 (7 pm-3am) : special menu (€ 80 per person) , DJ set, Halloween shots, live performances…
To recover from our emotions, we come for brunch on Sunday October 31 ( 12:30 pm-4pm, 60 € per person ) around a special Halloween menu: empanadas, tacos, ceviche, piña colada… ¡Salud!

COYA , 83-85 rue du Bac, Paris 7th. Reservations directly on the site.
A frenzied party at the Hoxton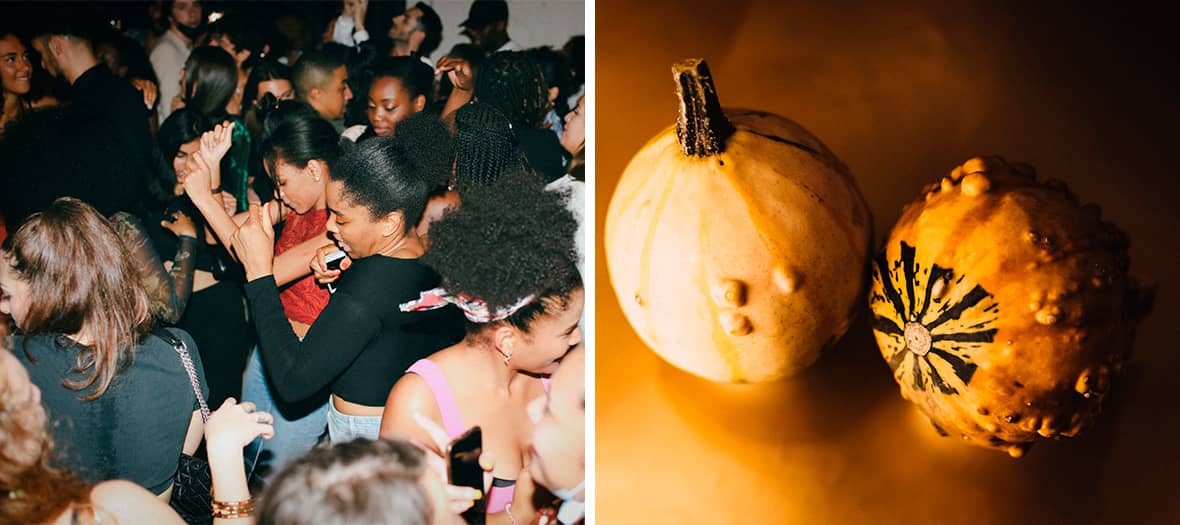 We no longer need to present the Hoxton , a sumptuous Sentier hotel where we meet every day the cream of Parisian gratin. What is less known is that this now cult place once housed Étienne Rivié, Grand Master of Water and Forests of France and former adviser to Louis XIV .
For a weekend, the Manoir Rivié bar reconnects with the ghosts of its past, in an electric atmosphere thanks to the high-end line-up programmed by Jangal , the ultra-select club based at Opéra. So we infiltrate their parties on Saturday or Sunday , we share shots of Blow Your Brain and Ghost Affair, and we dance with beautiful people, a Bloody Rivié or a Virgin Nightmare in hand.

DJ sets: Livoo and Malrow on Saturday, October 30, 7:30 p.m. to 1:30 p.m. Sonny Amerie and WØMAN on Sunday October 31, 7:30 p.m. to 1:30 a.m.
Hoxton Hotel , 30-32, rue du Sentier, Paris 2nd. Free entry.
A halloween party in the new trendy bar at Le Perchoir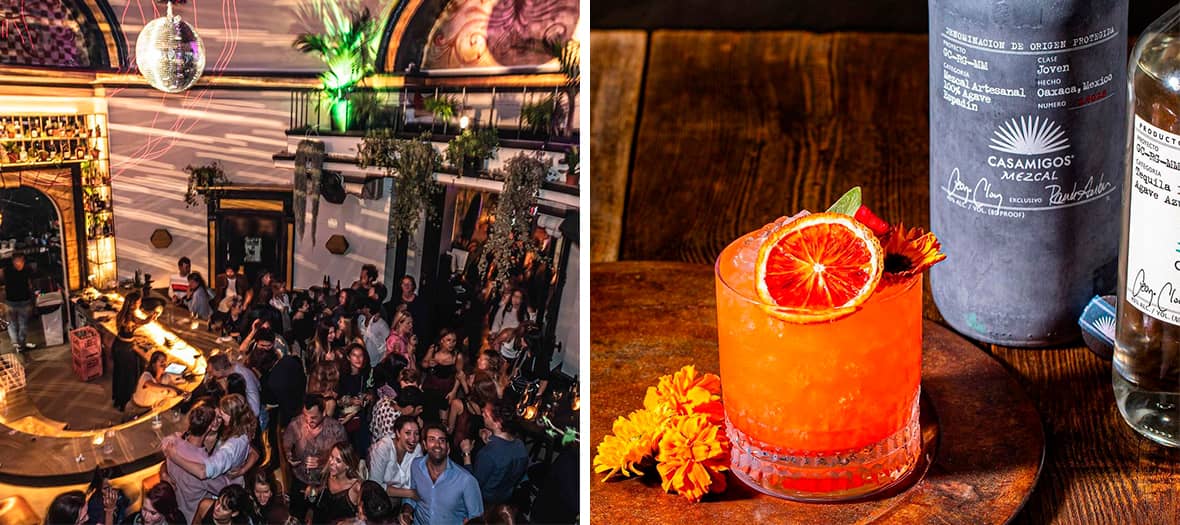 Cheper is the festive bar in the Marais entirely renovated by the Perchoir band.
Tuesday, November 2, this new trendy spot joins forces with Casamigos , the exceptional tequila brand created by George Clooney , to organize THE Halloween party not to be missed.
It gives: a decoration well in the theme (wreaths of flowers, candles, Mexican garlands), cocktails specially imagined for the occasion (Bloody Maria, El Cartel, Rita de la muerte ...), drag shows of the House of crew. Flowers , a photocall to show off on Insta, a DJ set by the Naive New Beaters , an electro-rock band (from 10:30 pm), and lots of other surprises… Book early.
Tuesday November 2, at the Cheper , 53 bis rue des Francs Bourgeois, Paris 4th.
Reservations online .
El Día de los Muertos on the rooftop of Terrass "Hotel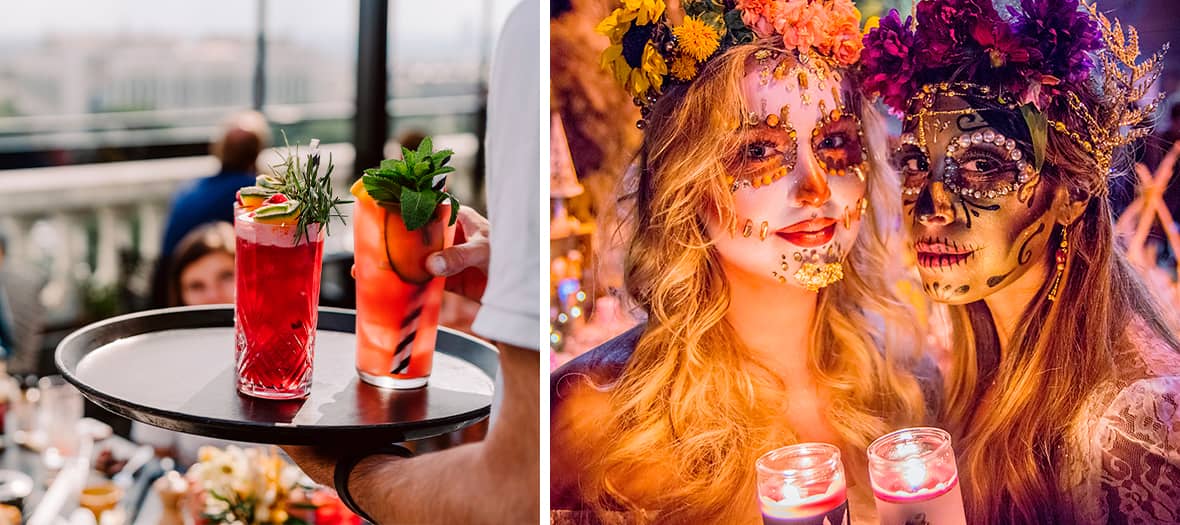 It is the most coveted rooftop in the 18th arrondissement. What better occasion than the Día de los Muertos to transform its perched high terrace into a trendy fiesta mode like in México City .
On the program: DJ set of Latin music to enjoy on the dancefloor, make-up session to transform into Catrina (emblematic figure of the Day of the Dead in Mexico), tasting of mezcal , this alcoholic drink made from agave (like tequila), performance of traditional dances… Caliente atmosphere guaranteed!
Saturday October 30, 2021, from 6 p.m. to 11 p.m., free entry.
On the 7th floor of the Terrass '' Hotel , 12-14 rue Joseph de Maistre, Paris 18th
© Adam Morton
A magical evening to dance the night away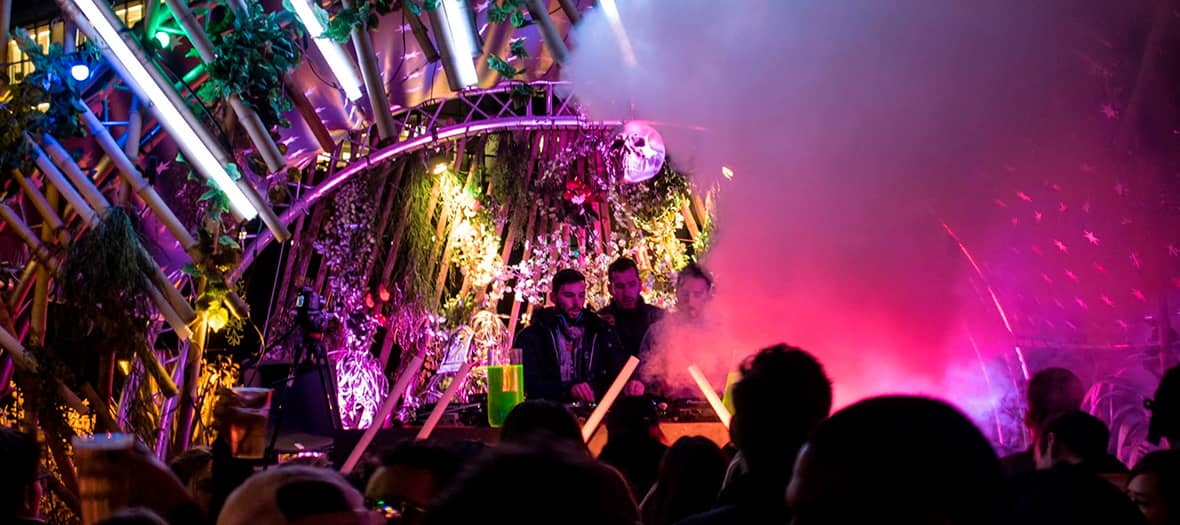 After 4 years of absence, the troupe of professionals from the Manège show takes over the 3 floors of the Seguin Sound , completely redecorated with an incredible staging by the best magician in France, Adrien Quillien .
For this spectacular evening, the collective has everything planned: haunted path, costume contest, fluorescent painting , cocktail bar, photo and make-up stand, magic tricks , light show and above all a crazy house and techno line-up. , with Q-cue , Charlie Oohlala , Baba , Mask and Nikita who follow one another on the decks from 10 p.m. to 5 a.m. Please note, the evening is limited to 300 people for an ultra immersive experience: hurry up to take your seats.
Sunday October 31st, ticket on p. from € 26.25 (one cocktail free), 300 seats.
Seguin Sound, 1 Parvis de l'Île Seguin, Boulogne-Billancourt
Ticketing: shotgun.live
And also: to laugh, and more if affinities , the Demonia Night at Faust , a great fetish evening with a dress code straight from the BDSM universe (leather, latex, wetlook, vinyl).
Le Faust, under the Alexandre III bridge in Paris, Saturday October 30 from 10 p.m. to 6 a.m.
Practical information and ticket purchases: demonia.com
Also discover What to do in Paris on weekends? and Chateau Voltaire, the new Parisian hotel that obsesses the stars