Jean-François Piège has opened his new grand restaurant, a skip and a hop from the Elysée palace, leaving Thoumieux to a new chef…
Good news, the mythical Thoumieux brasserie now has a new star at its helm, Sylvestre Wahid: remember his name. Because this true Southern star (2 stars at l'Oustau and in Les Baux de Provence) and talented chef is bringing many of his sunny recipes to Paris.
A very good occasion to rediscover the sensational vintage decor of this bistro (now owned by Thierry Costes) and to taste the affordable cuisine of Wahid who is setting up his gourmet ovens on the 1st floor in the still warm two-star slippers of Monsieur Piège.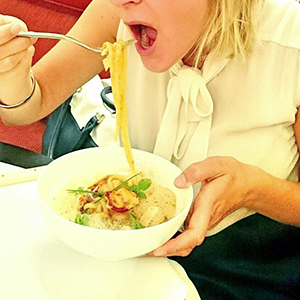 To be tested absolutely: the kale, quinoa and avocado salad (12€), or the big Thoumieux burger with fries (28€).
Heads up for the cult dish: langoustine ravioli (24€). A killer in gourmet comfort-food mode.
We like: a very good quality/price ratio.
Open every day from noon to 2:30pm and from 7pm to 11:30pm.