Fashion week has just ended. This is not a reason to put away your instinct to find trends ... What are the novelties to discover before all the best of the sape grabs hold of them?
Emerging labels, decorative objects snapped up by the most cutting-edge fashionistas, denim obsession in a mythical concept store… It's time to run through pretty pop-up stores to find inspiration. Starting signal !
Talent To Trend at Galerie Joyce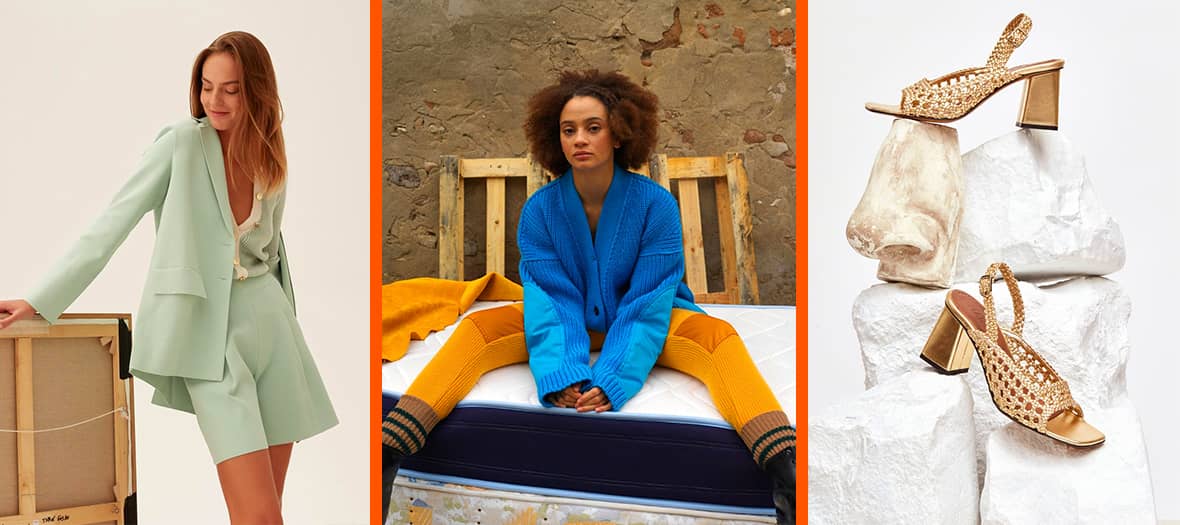 Four fabulous young houses offer themselves a setting to introduce themselves to Parisiennes thanks to the Parisian showroom Talent To Trend , which is inaugurating its very first pop-up store.
The first opportunity to discover the divine summer collection of Martinez shoes with artisanal but resolutely contemporary creations, woven by hand in Spain. Crush Collection will showcase its incredible responsible cashmere with sets, pastel shortsuits and sleeveless vests (whatever we love about it, right now). The totally insane links to the Japanese-Catalan know-how of Bielo will also be present. and its Egyptian organic cotton masks or the sculptural bags inspired by the design of Naturae Sacra .
We take the opportunity to grab a coffee at Kitsuné and relax in the gardens of the Palais-Royal .
Monday to Friday 11 a.m. to 5.30 p.m., Saturdays and Sundays 12.30 p.m. to 5.30 p.m.
Joyce Gallery, 168 Galerie de Valois, 75001 Paris
Alexandra Golovanoff at Exemplaire Paris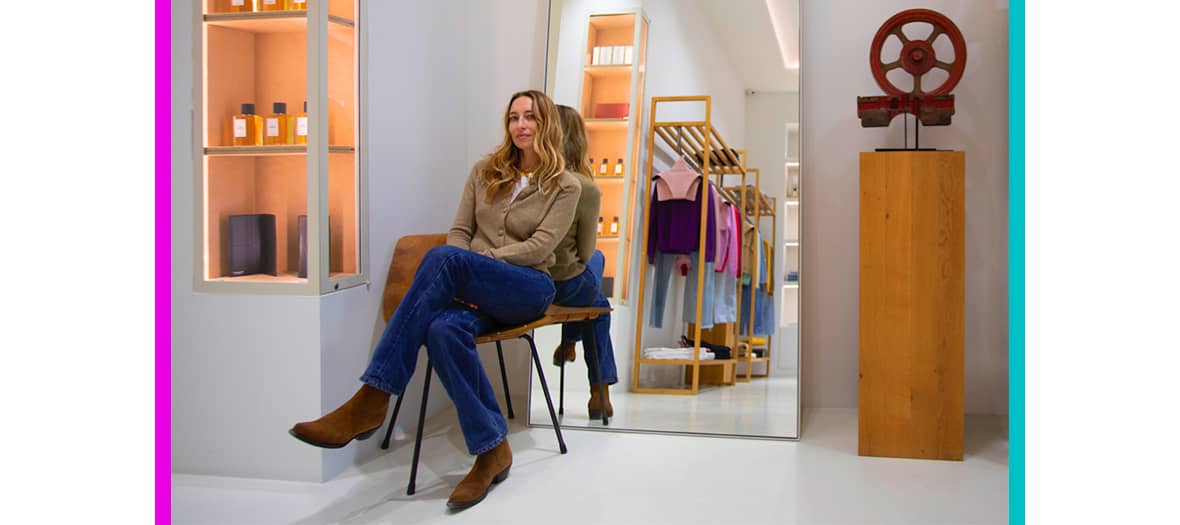 The mesh, the mesh, the mesh! Fashion journalist and now designer with her eponymous cashmere brand, Alexandra Golovanoff settles down for a pop-up in the beautiful men's boutique of Exemplaire Paris . We obviously find his cashmere knitwear there, but not only.
The darling jewelry of fashionistas who count Timeless Pearly , 501 Levi's mottled and signed by Alexandra herself , vintage furniture and even her favorite beauty products will be there. A real little ephemeral concept-store!
From Thursday March 11 10 am-6pm
Copy Paris, 334 rue Saint-Honoré, 75001 Paris
Seletti at Galeries Lafayette Champs-Elysées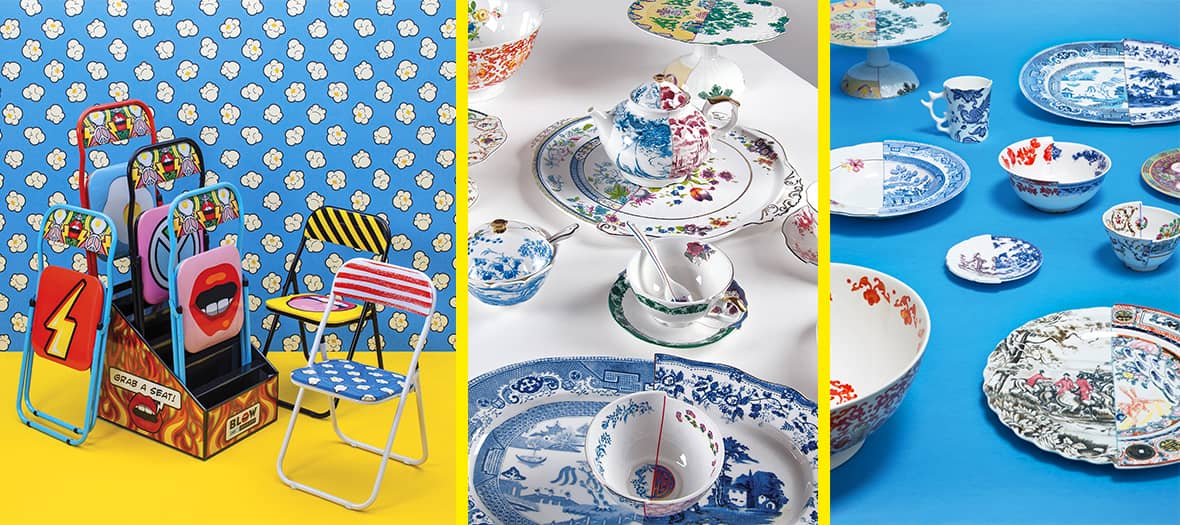 Definitely, Italians are always more inspired in terms of design. A true icon of decor inspired by pop culture, Seletti is installing its 100% good vibes pop-up on the first floor of Galeries Lafayette Maison as part of the Happy Galeries event.
Sometimes baroque, sometimes rock, there is a selection of his coolest creations with lighting , crockery , small objects, folding chairs , armchairs and cushions . Among the perfect finds for a gift: the ceramic Canopie Pepa vase (119 €), the mouse lamp (72 €) or sassy notebooks in collaboration with the magazine ToiletPaper .
Until March 22 from Monday to Saturday 10 am-6pm
Galeries Lafayette Paris Haussmann Espace Maison, 1st floor, 35 boulevard Haussmann, 75009 Paris
Denim in style at Merci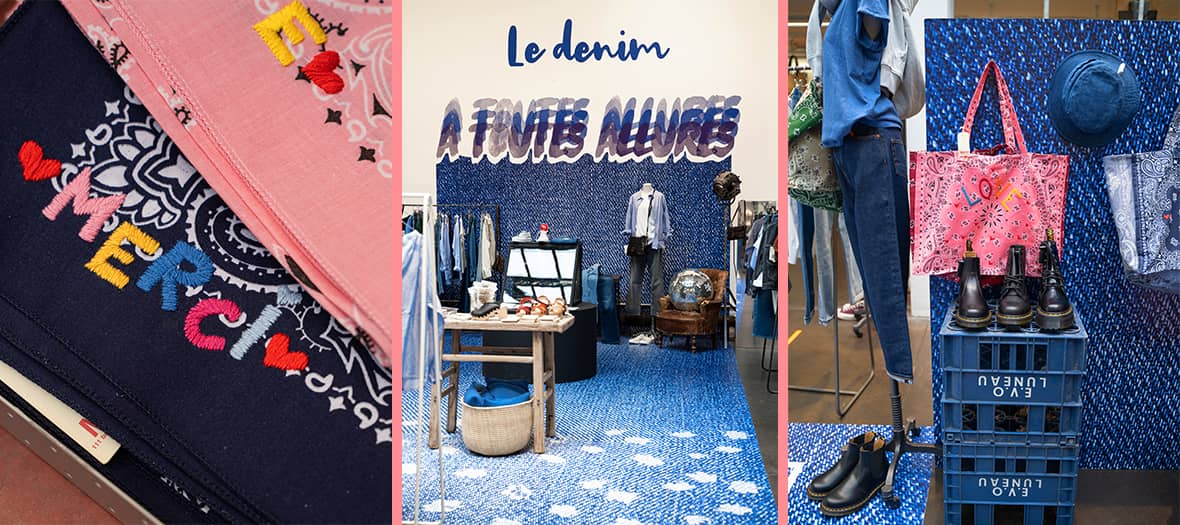 Always up to date with the obsessions of the moment, the Merci concept store shares its vision of a world all in denim . Under its cult dome, we find three universes that symbolize the omnipotence of indigo canvas: the workwear look of the 90s, the nonchalant muses of the 70s and the romantic silhouettes of today. Frame jeans , Levi's denim jackets and pants, checked or embroidered blouses, flowing dresses and loose t-shirts are presented like works exhibited in an extremely cool setting.
As a bonus, all the accessories to enhance your jeans: upcycled and embroidered bandanas from Call It By Your Name , wooden and leather clogs from Youyou , from Dr. Martens , Converse or Vans sneakers, Carel 's patent babies or even Arizona Love ' s light sandals (bandanas) and bobs galore.
Until April 4, open every day from 11 a.m. to 6 p.m., Saturdays from 10:30 a.m.
Thank you, 111 boulevard Beaumarchais, 75003 Paris
Laboté Hack LA BEAUTÉ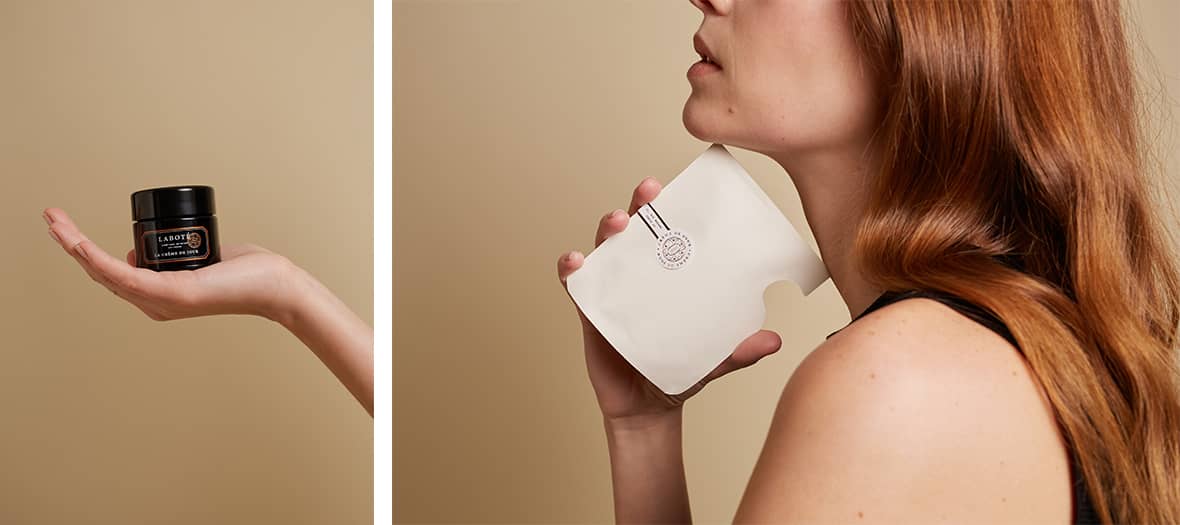 The custom cosmetics brand Laboté continues to innovate and launches an anti-waste campaign until March 18. The idea? Instead of throwing it in the trash, you bring back to the store a jar of cream - in glass - that is finished or that you are not satisfied with (no matter the brand). And even if it's not made of glass, you can bring in old plastic tubes/caps and co, which will ideally be recycled thanks to a partner and exchanged for a Laboté glass jar.
There, an expert performs an ultra-precise diagnosis of your skin to determine the problems and solutions. Your bottle is disinfected and repackaged with a day cream with a custom-made formula, just for you, based on plants and with the texture and fragrance you have chosen. It's hard to imagine a shorter circuit! Count 36 € for a 30ml eco-refill format, 48 € for a silk-screened jar.
Until March 18, Monday to Saturday 10am-6pm
Laboté, 3 rue Keller, 75001
Also discover Polène, the it bag shop that Parisiennes have been waiting for and our visit to Dover Street Little Market in the courtyard of Comme des Garçons .