The signature of Stella Pardo? Pullovers, vests and coats in snuggly alpaca wool, as light and comfy as blankets. In short, everything we are dreaming of at the moment. And the good news is that the Parisian label has opened its very first boutique on the Rue de Turenne, in the trendy Marais, to finally be able to slip on in real life all these marvels in a beautiful setting. A quick tour.
70's charm
Wearing her hat, high heel booties and a long coat, designer Cinthya Guerrero has created in her boutique a 70s and green atmosphere with great taste. Vintage designer furniture (Baumann screen, Ravello table...), velvet, organic and biodegradable materials such as sheet metal, metal, dried flowers, mannequins in recycled cotton, a banquette pimped with fabric from the Marché Saint-Pierre…
A boutique where everything is for sale
Each detail was chosen to convey the impression of being in an apartment worthy of Loulou de la Falaise. And good news: everything is for sale.
Not just the clothes, obviously, but also everything mentioned above, as well as vases, fantastic carpets and cushions in alpaga— so chic to warm up your living room. In addition, just take your pick from the vintage belt baskets filled with leather marvels (between 30 and €40) spotted by the designer and capable of accessorizing the best looking pullovers of the house.
Gypset wardrobe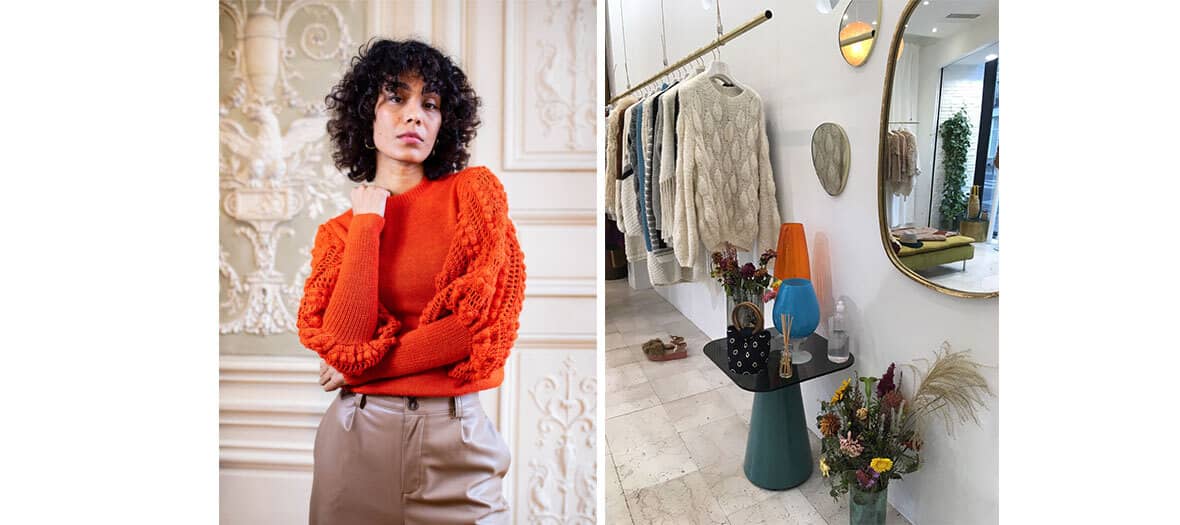 Here, it feels as though one were in gypset paradise, this fashionista, halfway between the chic bohemia of Ibiza and the jet-setter of Monaco. It's a little like being on holiday with Yves Saint Laurent: trying on dozens of pullovers: sable vest (€445), chocolate coat (€780), long fringed cardigan (€480), soft turtleneck (€260)... Each knitwear piece is made by Peruvian women (the owner's native country), from where the wool also comes.
In addition to her signature knits, Cinthya Guerrero uses recycled fabrics found in Peru, for her colourful skirts made in small quantities: pink and red with motifs (€250), violet with ruffles (€235 €)... But also airy shirts embroidered in India using the best silks (€365), pink sandals lined in alpaca (€390) and a pretty hand-made bag in organic cotton and sac fait golden lurex (€355). Finally, the last touch of the concept-store effect, Stella Pardo will regularly be inviting friendly brands to present her fave pieces. At the moment: the small wooden bags of Helena Denize (€270).
Open from 11am to 7:30pm Tuesday to Saturday and on Sunday afternoon.
Also discover the 3 new cashmere boutiques in Paris and the new boutique of Laurence Bras.