No need to look for a small glam cantina near Villiers: Mum Dim Sum has opened and is sending Asian gourmets into a tizzy.
Decor : wood, concrete and dim-sum baskets for a very des Brooklyn-style result.
On the program : a wide choice of dim-sum! Beef and lemon grass, the traditional shrimp, veggies, pork with 5 spices and marvelous coconut balls.
Tops : the non-stop service on Saturday for a late nibble. And the dim-sums, even in the evening (generally it's just a snack to nibble on in the morning or at lunch time.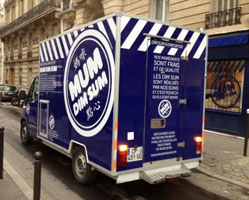 We love… their brand new food-truck to rent for your evenings and events…
Count less than 10€ for the lunch menu.
Count 15-20€ at night.
Open Monday to Saturday from noon to 10pm.