Experience a burst of activities this radiant June with surprises galore! our must-go list for this month includes a myBlend Treatment, dinner in the gardens of Shangri-La, Nightfall gastronomic festival, exquisite collection at Van Cleef, a cinematic Rendezvous at Champs Elysée Film Festival, and a Pop-Up Gala.
Indulge in a new, exceptional treatment combining technology and expert techniques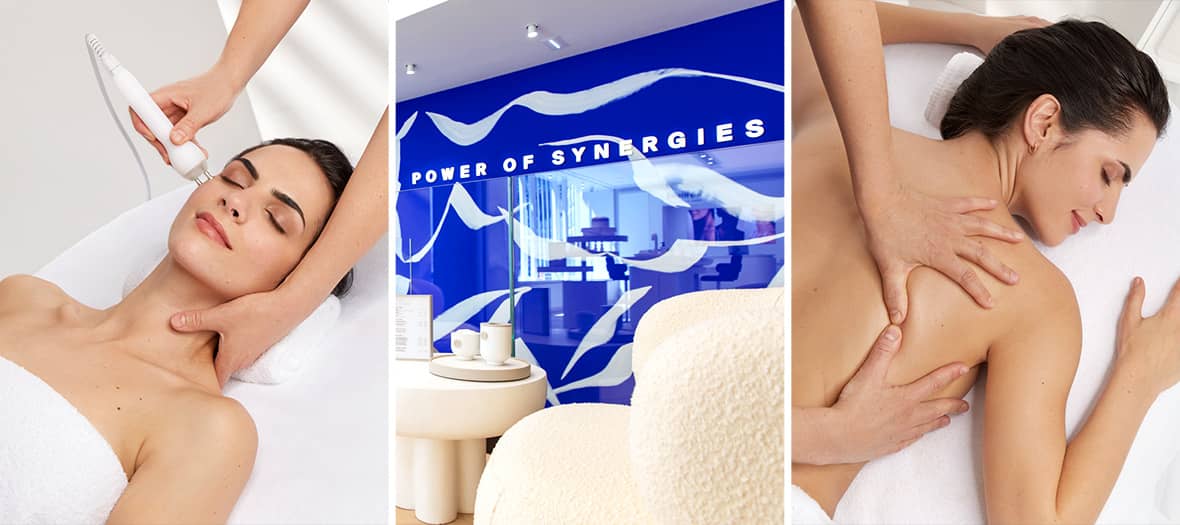 Discover the revolutionary beauty destination that has taken the Parisian beauty enthusiasts by storm. Located in the heart of Le Marais, Maison myBlend and its spa with three spacious and comfortable cabins offer highly specialized protocols co-developed with Chantal Lehmann, an expert in manual therapy. The standout feature? The guidance of Beauty Experts who can provide a personalized treatment (products, technology, techniques) tailored to your skin's "emotions."
Try the custom synergistic treatments in the cabins. Our favorites include The Express, a 30-minute facial treatment perfect for refining your skin texture with expert techniques and the power of the myBlend LED mask (Express treatment: €90). Another favorite is the 90-minute Signature Treatment, which includes a back massage to release tension, a facial contouring enhanced by the myBlend LED mask, and gentle vibrations, mobilizations, and belly movements (€260). In two words: pure bliss.
This is a perfect well-being experience to treat yourself or gift to your mom on Mother's Day! Gift cards available here.
Maison myBlend, 23 Rue Debelleyme, Paris 3rd. +33 1 88 80 18 76. Open Tuesday to Sunday, 11:00 AM to 7:30 PM.
Enjoy the Most Beautiful Dinner of Your Summer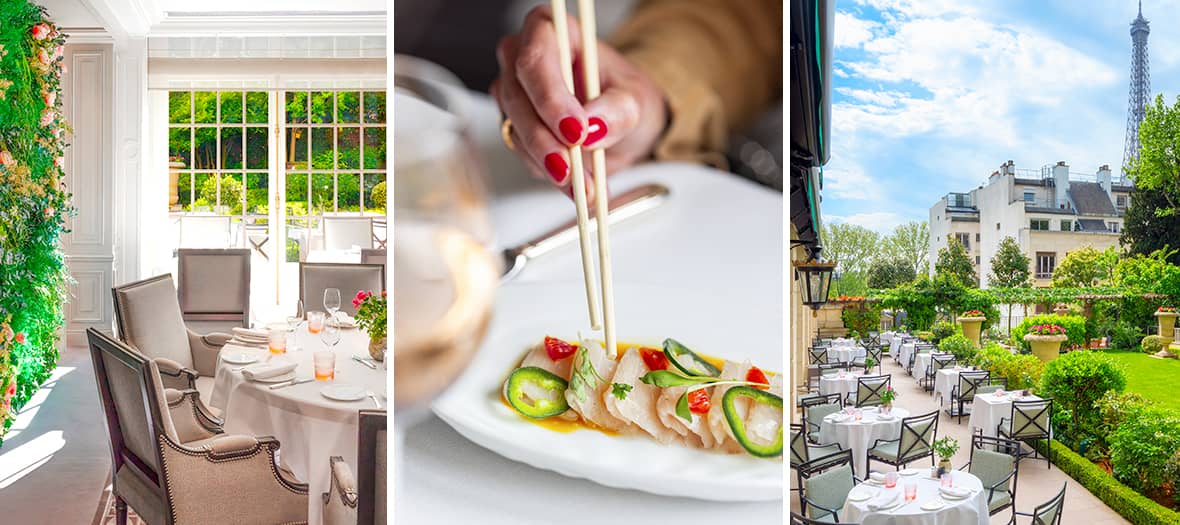 You must experience, at least once in your life, the La Bauhinia table at Shangri-La Paris—an exquisite journey where the newly appointed chef, Quentin Testard, excels at enhancing the flavors of fish with a menu of great lightness. Summer by La Bauhinia is the perfect time to book a table, whether in the open-air dining room adorned with an incredible floral green wall or in the extraordinary garden—one of the most beautiful and hidden gems in Paris, offering a view of the Eiffel Tower. It can't get more romantic than this...
Our advice to fully savor this suspended moment? Book an early dinner around 7:30 PM and relish the sun's warmth for a long time with this palace menu focused on the sea: citrus-marinated amberjack sashimi (€28), crispy rice and prawns (€32), delectable lobster ravioli (€48), lobster roll served with homemade fries (€62), or langoustine linguine (€48). And, of course, don't miss the divine desserts by pastry chef Maxence Barbot, including the irresistible La Fraise, which takes you back to childhood in one bite.
Another option is the all-fish lunch menu, consisting of two starters and the catch of the day, available Monday to Friday at noon (€68). Don your sunglasses and a pretty dress to welcome the arrival of summer...
Summer by La Bauhinia, until September at Shangri-La Paris, 10 Avenue d'Iéna, Paris 16th. Reservations at +33 1 53 67 19 91.
© Cyril Mouty
Discover your summer dress at the Gaâla Pop-Up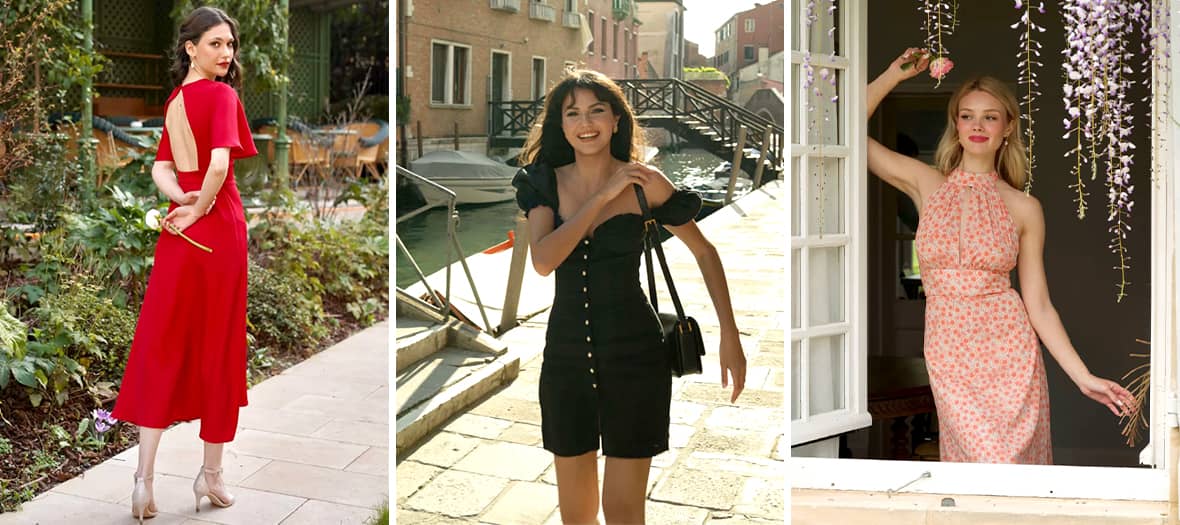 If you haven't yet heard of Gaâla, we bet you'll love it. The young brand created by Kelly de Gaalon and her husband Alexandre Zhalezka is inaugurating a temporary boutique in Le Marais for just a few days, showcasing their brand-new collection inspired by the French Riviera. Expect glamour, backless designs, ethereal fabrics, and ultra-feminine cuts.
While the dresses, starting from €150, are clearly Gaâla's signature pieces, you can also find sets, skirts, and lovely tops perfect for summer. They are made from cotton, silk, viscose, and wool sourced from luxury houses or Italian couture productions, dormant stocks, and other natural materials with low environmental impact.
Gaâla Pop-Up, from June 13th to 18th. 28 Rue Saint-Gilles, Paris 3rd. Open Monday to Saturday, 11:00 AM to 8:00 PM, and Sunday, 11:00 AM to 7:00 PM.
Discover Nightfall, the artistic and foodie event of the moment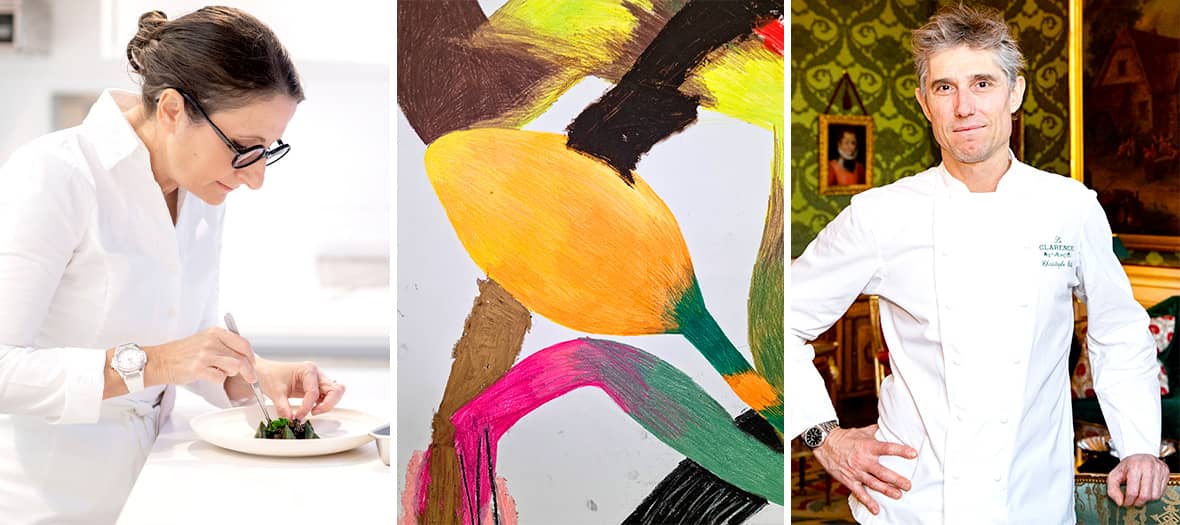 Launched by the chic Art Genève gallery, the Nightfall festival is back for its second edition and promises to be sensational. The concept? Combining culinary and visual arts by having a chef draw inspiration from an artwork to create an ephemeral dish, which will be served in partner restaurants throughout the festival. This year, the focus is on "urban gardens," and the festival expands with artistic and gastronomic walks in the cities of Paris, Nice, Monaco, Menton, and Turin.
To taste these ephemeral creations in the capital, visit participating restaurants such as La Dame de Pic by Anne Sophie Pic, Habile by Eric Fontanini, or the restaurant Derrière orchestrated by Lionel Delage. On the fine arts side, you can explore Bruno Serralongue's work at the Air de Paris gallery, an installation by Loris Cecchini at Galleria Continua, and a painting by Man Ray at the Eva Meyer gallery. Free talks are also scheduled, including a philosophical and artistic roundtable discussion on "urban nature, its colors, and its forms." Quite a program!
Nightfall, from June 24th to July 9th. Free entry to exhibition venues.
Embrace your love for Cinema at the Champs-Élysées Film Festival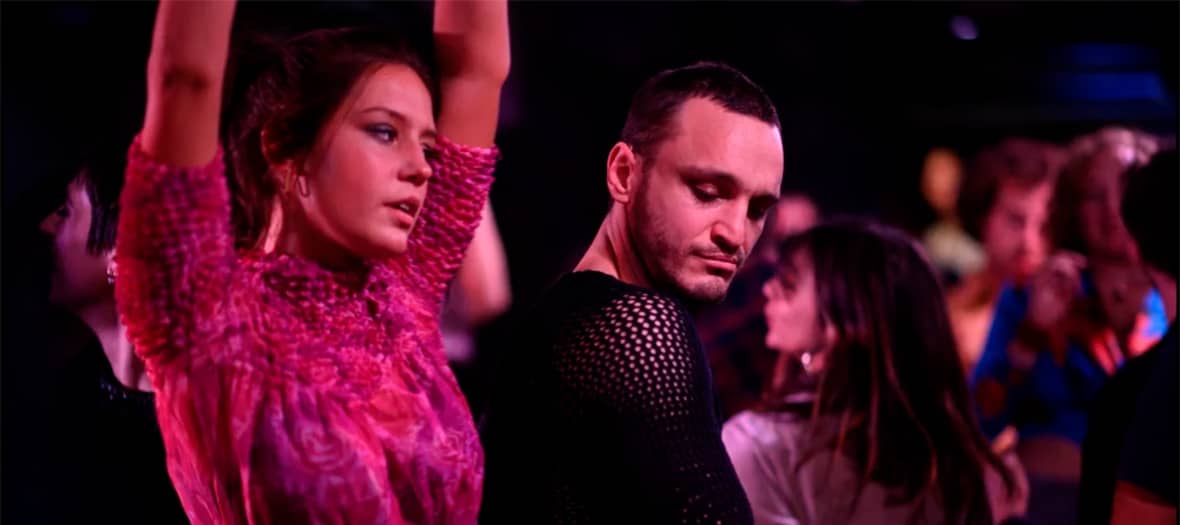 Did you know that in the 1960s, theChamps-Élyséeshad more than 65 cinemas, compared to just 5 today? Since 2012, the Champs-Élysées Film Festival has been on a mission to bring the public back to these cinemas by showcasing contemporary French short and medium-length films and American short films. It's a top-notch event!
The 12th edition opens with Ira Sachs's latest film, "Passages," starring Adèle Exarchopoulos, Franz Rogowski, and Ben Whishaw in a love triangle. This cutting-edge event features daring productions such as the American short film "Lollygag" by Tij D'oyen and "Euridice, Euridice" by Lora-Mure Ravaud, a poetic romance between women. These films will be judged by an exceptional jury led by Bertrand Bonello (Saint Laurent), who will announce the awards at the end of the festival. Suspense...
Don't miss the free masterclasses and talks, all accompanied by exciting post-screening parties featuring a stellar lineup including Rebeka Warrior, Léonie Pernet, and Marina Trench. Run, don't walk, to this festival!
Champs-Élysées Film Festival, from June 20th to 27th, 2023. Online reservations available. Unlimited pass for €69, €39 for students. Single ticket for €8.

Join a fiesta at the racetrack!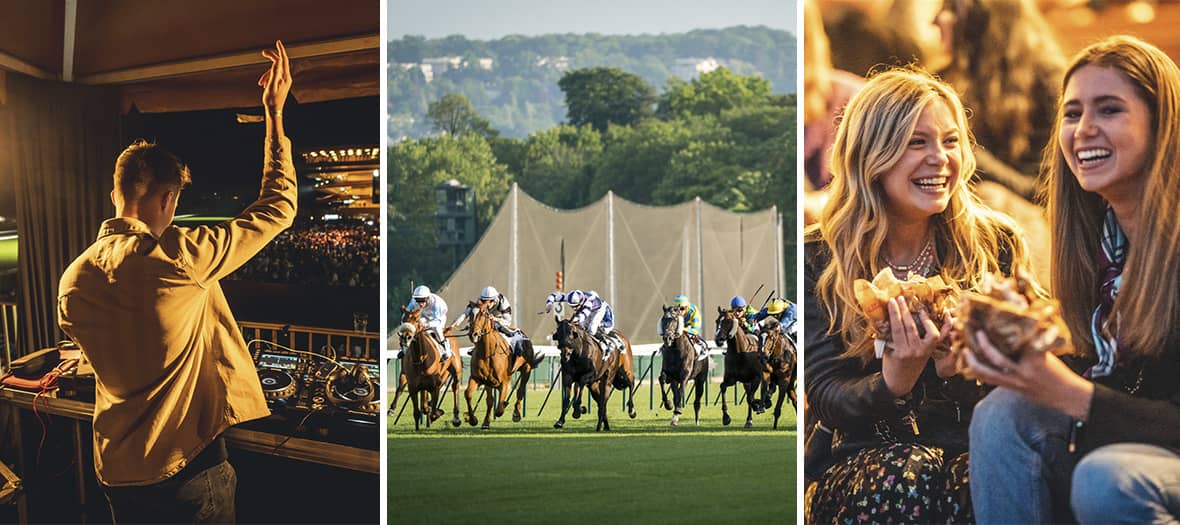 The favorite spot of chic Parisians is back! France Galop is relaunching its wild Jeuxdis By ParisLongchamp parties to have fun on the lawns of Hippodrome ParisLongchamp, nestled in the Bois de Boulogne. In other words, it's the perfect place if you're nostalgic for rallies, want to impress your crush, or simply let loose with your group of friends.
Every Thursday during the racing season, the Hippodrome welcomes everyone for a trendy aperitif with your feet in the grass, set to chill music and filled with activities such as battles, horse races, and quizzes with many prizes to be won. Did you take the afternoon off? Come at 3:30 p.m. to soak up the sun, or come in a group at 7 p.m. for the chicest after-work event in Paris. As for snacks, street food kings will be offering hot dogs, grilled meats, and baos to be enjoyed in a highly exotic holiday atmosphere.
Jeuxdi by ParisLongchamp, 2 route des Tribunes, Paris 16th. Next dates on Thursdays, May 11th, 18th, and 25th. €7 entry before 7 p.m., then €10 before 9 p.m.
Playing coffee artists in a feel-good workshop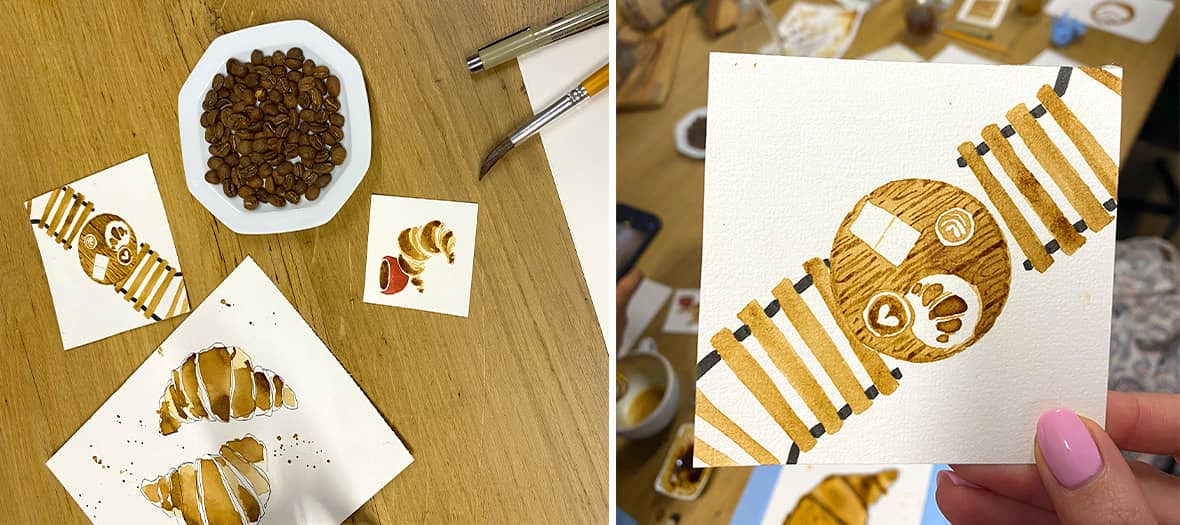 Alert for a super cute and easy workshop in the heart of the capital. After seeing her daughter drawing with coffee, Parisian photographer and watercolor fan Anna Gorvits launched her painting workshops using our favorite drink instead of classic paint. Not great at drawing? Even better! Anna teaches you to reproduce simple motifs (croissant, bistro tables...) so you can leave with your own pieces ready to be framed.
We love these spontaneous workshops to learn how to draw with a BFF over a delicious coffee (to drink, this time!) while chatting with other students. The drawing tips are very easy to reproduce at home, for the price of one or two espresso capsules!
Coffee drawing workshop, reservation at coffeeillustrator@gmail.com for €35 per person, including a hot drink and painting material. 2-hour workshop.
Swinging in jazz nights in Saint-Germain-des-Prés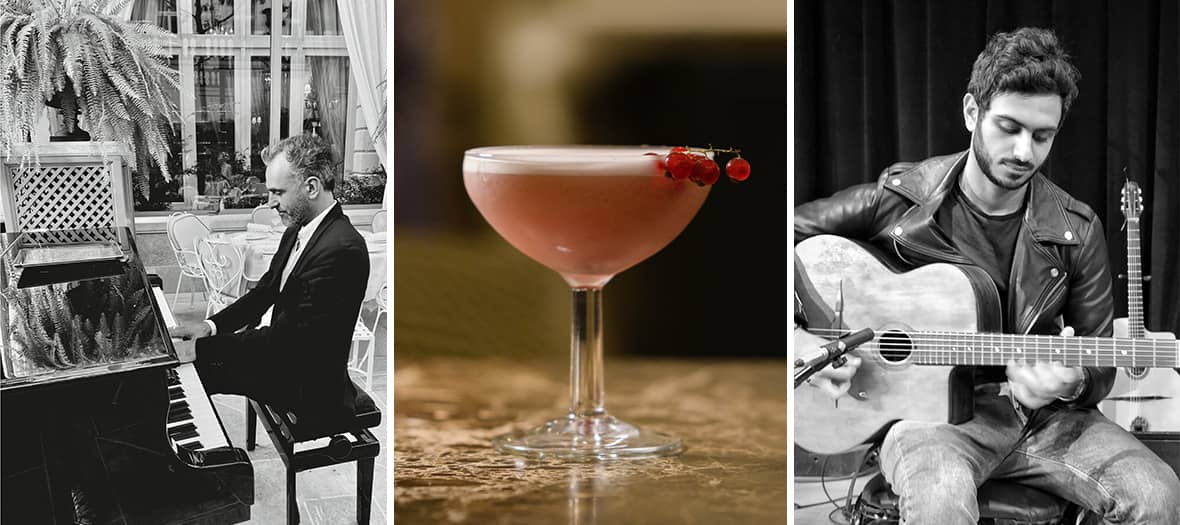 In the heart of the historic Saint-Germain-des-Prés district, the very chic Madison Hotel hosts a jazz program with a clandestine club atmosphere: the perfect opportunity to enjoy their Art Deco bar for a wild night a la Gatsby.
If you've always loved the world of gangster films, this is the ideal place! Come for one of the house's sublime cocktails, such as the Saint-Germain Martini or Dry Marguerita (€14), and listen to the super live program concocted by the hotel in an intimate setting. At the center of intellectuals, the place knows perfectly how to combine culture and nightlife, in an atmosphere as glamorous as it is festive. Let's groove tonight!
Madison Hotel, 143 Boulevard Saint-Germain, Paris 6th. 01 40 51 60 00. Free entry every Friday night from 7 pm to 10 pm.
Also discover 10 adresses that makes vegetables sexy and best flea markets in Paris